Over-Optimized Anchor Text: What Is It and How to Fix It
Many online marketers are familiar with anchor text, which can be an essential part of search engine optimization (SEO).
What most don't know, however, is that there's actually something called over-optimized anchor text, which can affect your site's reputation and even get you in trouble with Google.
Fortunately, if you see that your site has over-optimized it, it's fairly easy to fix (even though it may take some time)!
This article will walk you through and show you exactly how to fix it on your own site!
What Is Anchor Text?
Understanding exactly what they are can be a little confusing at first.
When we talk about links with anchor text, we're talking about what a visitor sees when they hover over a link (or click on it).
For example, look at this picture.

That "Audiit.io" text is called anchor text.
The term itself comes from search engine optimization (SEO) because when you get someone to click on your link, it helps you have more control over where they land—it becomes an anchor that brings them back to your page.
So, this anchor text tells readers and search engine algorithms what the content is about.
The importance of not over-optimizing your anchor text
Sometimes anchor text optimization is used as a way to trick search engines into ranking a page higher than it should be.
This isn't good practice if you are trying to use your own website for business.
Using your own website for business means keeping things simple with your pages, not using over-optimized anchor text.
Adding too much emphasis on one keyword, in your link can hurt your site.
This happens because Google is a highly developed search engine that is able to easily decipher semantic relationships between keywords.
Overly emphasizing a keyword can actually tell Google that you do not have an original page or are spammy—and if you aren't original, why should they want your page?
You can always utilize the tools and expertise of professional freelancers on Legiit. if you are not sure how to correctly optimize it.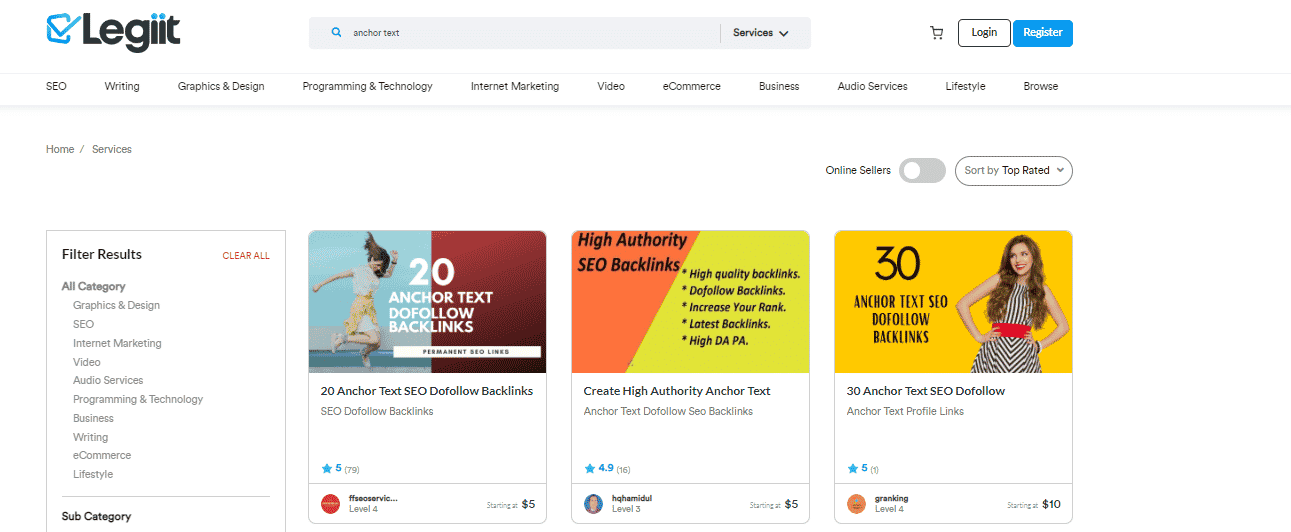 Steps to Fix Over-Optimized Anchor Text
1. Dilute keyword-stuffed anchor texts
If your backlink profile looks spammy, you have to fix them.
Go through your website and dilute any keyword-rich anchor texts.
If the text link is exactly the same as your keyword phrasing in your blog, Google would likely see this as an attempt to manipulate the rules.
While fixing your anchor texts can take a lot of time, it can benefit your ranking by cleaning up your backlink profile.
2. Make relevant anchor text
Since Google released the Panda update, Google has focused on ranking pages with original and valuable content.
So, only input a text link if relevant to the content on the page and use them sparingly.
If you include lots of anchor texts in your article or blog, it makes Google think that you are trying to spam.
If Google discovers that you have multiple text links linking to the same page elsewhere, it will only count the first anchor text.
In a sense, make all of it counts.
3. Use alternatives to your keywords
Many SEO professionals use a single keyword multiple times within their anchor text.
While that might seem like a good idea, it can actually have a negative impact on your search rankings—especially if your keyword is very competitive.
When you see anchor text over-optimization violations, most of those are examples of trying to rank for one keyword using variations of that exact keyword repeatedly throughout your web pages.
Sometimes, they may not even be related to your business.
They're just there because there's not much content in that spot otherwise.
Instead of focusing on optimization, work more on creating relevant, authoritative content—and get rid of those unnecessary repetitions wherever possible.
The page will be better for it—and you'll avoid any potential demotions for over-optimization.

4. Optimize your anchor text for humans, not for robots
Optimizing it for search engines is a great way to get penalized by Google.
Anchor text should be a reflection of what your link is pointing to, not an attempt at keyword stuffing.
Most of us are already wary of spammy links, so it's easy for Google to spot over-optimization.
Plus, if you're trying to optimize your page around keywords instead of making that page good, chances are you won't see a big increase in traffic anyway.
So optimize wisely!
Conclusion
Always utilize anchor links that are for actual real people when optimizing anchor text.
So select keywords and phrases that are relevant to them, and be cautious when choosing.
Do not sacrifice your grammar or clarity of your content simply because a term has a high search volume or low competition.
Poorly written material will turn off your viewers and make you appear unprofessional while also helping search engines steer clear of your site.