eCommerce Chatbots: How They Can Help Boost Your Sales
It's no secret that some of the most talked about brands in eCommerce today are those that make use of chatbots to deliver great customer service and enhance their brand at the same time.
What may be more surprising, however, is just how effective eCommerce chatbots really are as a sales tool.
In fact, many brands have reported a better than 20% increase in sales by using eCommerce chatbots in their marketing strategies.
According to CBInsights, companies like H&M and Sephora have benefitted from using chatbots in their e-commerce sites.
What Is an eCommerce Chatbot?
An eCommerce chatbot is a tool that helps answer customer questions about products, orders, and other queries in real time.
The best eCommerce chatbot platforms are those that can handle multiple tasks and allow for easy integration into your website.
If you're already in search of one, here are the best eCommerce chatbots platforms:
How Can a Chatbot Help with Sales?
1. eCommerce Bots Are a Powerful Lead Generation Tool
As an online business owner, you know how important it is to have a solid strategy for lead generation.
The process of generating leads and, at the same time, engaging with the visitor is a great opportunity for eCommerce businesses to build positive relationships with their customers.
Based on the information provided by the customer, the virtual assistant can segment users based on demographics, interests, and psycho-graphics.
This will help eCommerce players reach the right customer with the right messaging!
2. eCommerce Bots Help Retain Old Customers
The best eCommerce chatbots can help you retain old customers by making it easier for them to find the information they're looking for.
The best eCommerce chatbot platform will also allow you to integrate with a variety of other platforms to provide your customers with a wider range of options.
Moreover, they can immediately alert your customer to any discounts or promotional offers and offer them discount codes or coupons or redirect them.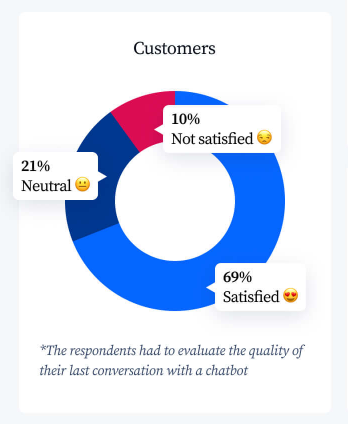 Leveraging the power of NLU (Natural Language Understanding), the chatbot can engage prospects in conversations, and guide them toward the products they want.
This further boosts the eCommerce platform's customer retention and acquisition efforts.
3. eCommerce Bots Assist Customers at Every Stage
eCommerce chatbots can be used to assist customers at every stage of their shopping experience.
AI assistants can help acquire new customers by analyzing their purchasing funnel position and making product recommendations accordingly.
These bots can help customers with questions about products and services or help them find the information they need to make a purchase.
The second most popular use of bots is to automate tasks that allow customers to complete their shopping experience from start to finish.
This includes things like making purchases on social media sites and adding items to a cart before checking out.
The most common way, though, through which chatbots help is customer service.
This leads us to one important benefit of eCommerce chatbots…
4. eCommerce Bots Offer Post-Sales Support
Ecommerce chatbots offer post-sales support, and they're a central hub of customer service.
With eCommerce chatbots, you get timely and effective post-sales customer service.
That is essential for building a long-term relationship with your customers.
And chatbots are a great asset to online retailers in this regard.
A major source of frustration for customers is how long it takes to get hold of a "real" customer care representative compared to phone calls and e-mails.
A recent study shows that 62% of customers would use an online chatbot.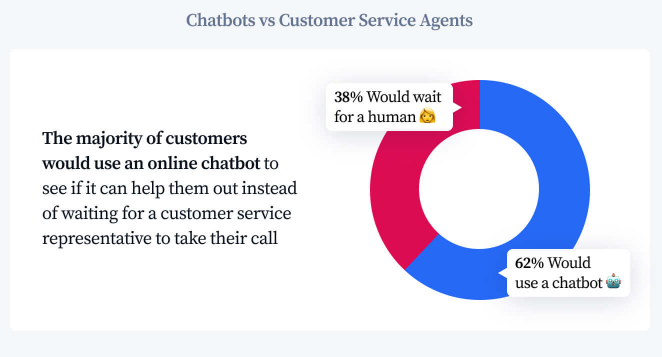 eCommerce chatbots solve this problem of long wait times.
They can swiftly and seamlessly resolve any inbound queries about order tracking, refunds, cancellations, payment issues, etc.
With most of your query resolution being automated, you can benefit from a massive reduction in operational costs, as you do not need to maintain an extensive customer support staff.
The Bottom Line
It's no secret that chatbots are on the rise and are changing how consumers interact with brands.
In this post, we've highlighted some of the best eCommerce chatbot platforms on the market and how they can help boost your sales.
If you're looking for a way to enhance your eCommerce customer service and make buying more accessible to shoppers, chatbots are the answer.
To find a chatbot that's right for you, look into what features they offer. Some of the best features include personalized product recommendations based on past purchases, offering assistance with placing orders, and providing assistance with returns.