Different SEO issues and how to solve them | 2022
Using your website to attract new customers can be an easy way to grow your business, but it can also be fraught with complications and SEO issues if you're not careful.
The following list includes 10 SEO issues that will have the most significant impact on businesses in 2022 and how to solve them as well as what steps to take now to prevent them from happening to you.
If you want the help of professionals with anything related to SEO, you can do so on Legiit – a freelancing platform where you can get more things done in less time.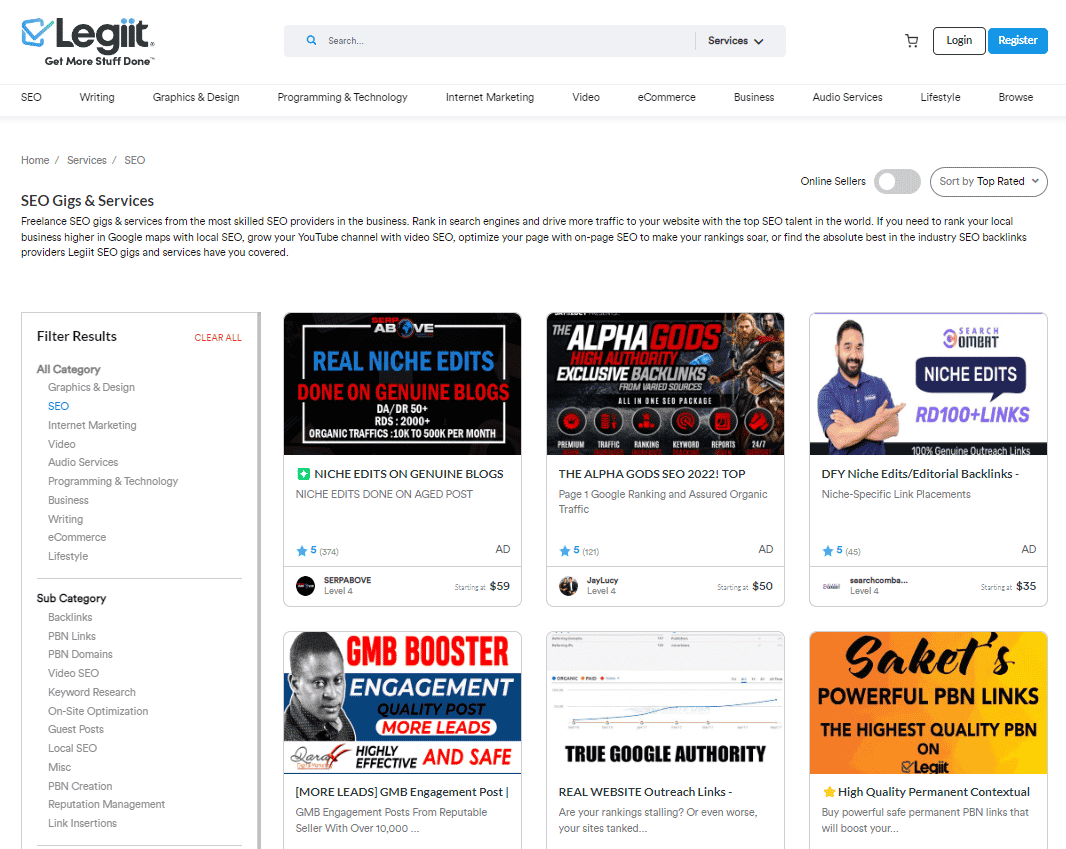 Helpful tips for search engine optimization
There are various pieces of advice that every business owner who has a website should keep in mind.
In a nutshell, here's how to avoid SEO issues and attract enough organic traffic to your site.
When choosing keywords for your site's content, always go for the long-tail keywords with low competition.
Make your website easily accessible so that Google or any other search engine can access it and show it in the relevant search results.
Make sure that you are taking care of mobile SEO, and keep in mind that a mobile-friendly website must adapt to different screen sizes, offers load times, auto-refresh, etc.
Make sure to create new content while optimizing old (but relevant) content so you stay up-to-date with the searcher's query and improve your website ranking
Make sure that your website loads fast and that you have a user-friendly creative interface to give the viewer a good experience when navigating your site.
Provide content that can be shared on social media or other platforms that will actively promote your website through links and citations.
The importance of organic traffic and having an SEO strategy in place
People are moving toward online methods of buying things because it's faster, more convenient, and easier than going out to shops.
Making your website visible to people in search engines is essential for gaining organic traffic that converts into actual sales.
Although there are many technical SEO issues you'll have to contend with when you optimize your site, you must have an SEO strategy before diving in head first.
If not, some of these strategies might start hurting your organic traffic if implemented poorly or without consideration for other parts of your strategy.
Good preparation will ensure all aspects of your site (technical + non-technical) help each other reach their full potential instead of competing against each other or having one take away from another as a result of poor implementation.
Common problems and how to fix SEO issues
1. Service localization
Service localization is a major SEO issue in most businesses IF it's not implemented correctly.
It's critical that you set up your site in such a way that users can understand it in their native language.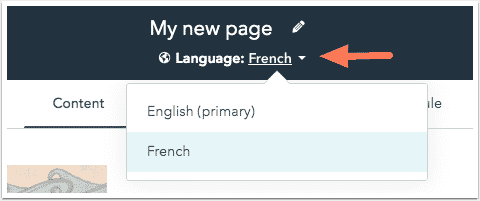 Inadequate service localization is also a common reason why search engines may choose not to show your website as relevant results.
So, when you use a URL structure for that localized text, you have to set up an HREFLang on the website for it to work correctly.
Beware that HREFLang codes depend on the country and language you are trying to target.
Even though you can get this information online, there may be codes that no longer exist or that are incomplete.
In this case, there will be a lot of duplication that you need to index properly.
2. Keyword cannibalization
Keyword cannibalization happens when you use an important keyword phrase on several website pages.
What happens is that these different pages are competing against each other by targeting the same keywords.
So, Google will choose only to show one of them, which might not always be a great choice for your website as it causes changes in your ranking.
For example, you have an old article that may no longer be relevant, but it may be better optimized than a new and more relevant article.
Different search engines will choose to show that old article in search results, negatively impacting your traffic if you don't know how to fix it.
Of course, there are platforms and tools that can automate some of the work for you, like Google Search Console.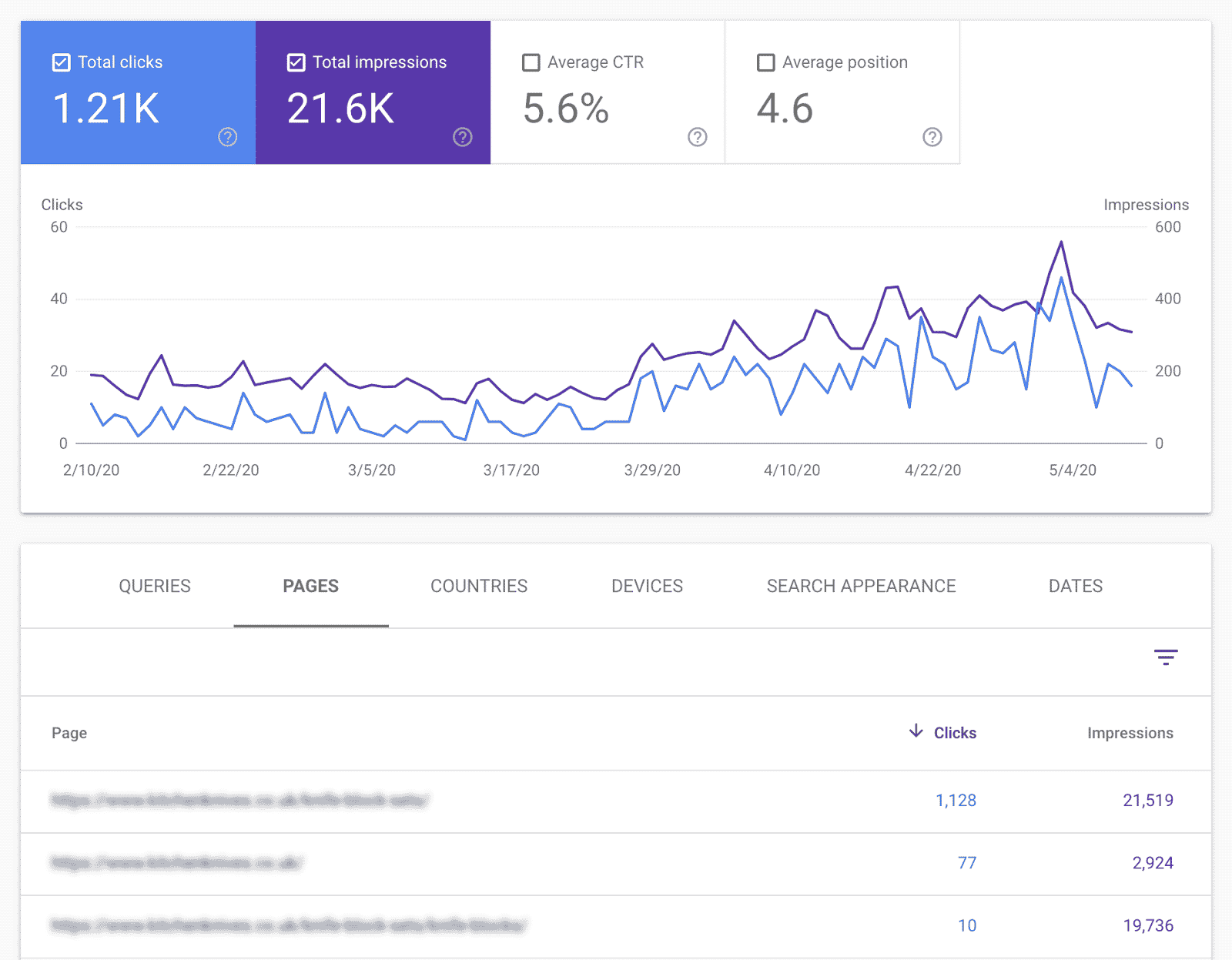 They can help track the keywords commonly used throughout your site and give you the information to adjust them.
Also, they can help you track the success rate of these keywords.
3. Over-optimized anchor text
Anchor text is a highlighted text easily accessible to visitors (like shown below), which takes them to another page within your site and helps increase website traffic.

Keyword stuffing is a practice that people have been avoiding for a long time, but most still do it unknowingly.
If you use repetitive, identical anchor text in your articles, it can negatively impact your website ranking because search engines can see right through it.
Moreover, adding too much emphasis on one keyword can actually tell Google that you do not have an original page.
If you aren't original and aren't providing any real value to readers and visitors, why should any search engine want your page?
Sometimes with SEO, trying too hard is seen as a red flag.
So, if you are trying hard to hard to get people to click on a link within your article – you will hurt your website ranking.
Don't forget that Google is a highly developed search engine able to decipher semantic relationships between different keywords.
As you can see, the solution is simple: don't go overboard with your anchor texts.
And don't worry. It's easy to fix even though it may actually take you a bit of time.
4. Low quality or broken links
Spammy, low-quality links will hurt your website's search ranking, so regularly check that there aren't any broken or irrelevant links on your site.
If you want an expert opinion on whether or not a specific link is working for you, you can use a tool like Ahrefs to analyze your backlinks.
Broken links also plague pages with high traffic but low-quality content; simply clean up your pages by updating dead content.
Keep in mind that finding and fixing internal links (links on your site) it's easier than fixing broken backlinks (inbound links to your site)
The latter issue happens when another website makes a mistake when linking to you or if you have removed/moved/deleted a page that had existing backlinks.
Either way, broken links are like an obstacle that doesn't let search engines reach certain parts of your site.
Translation: it could lead to lower rankings.
So, if you find a broken link, make sure to add a 301 redirect so that you can lead the traffic to another relevant page on your site.
You can also replace and/or recreate the missing content and contact the webmaster of the other website to fix the mistake or link to the proper webpage.
5. Canonicalization
When two pages have different URLs with identical content, Google will choose which one is canonical.
Search engines use canonical URLs to aggregate content that's similar under one single URL.
This way, it can display it in one place instead of copying and pasting multiple links into its index.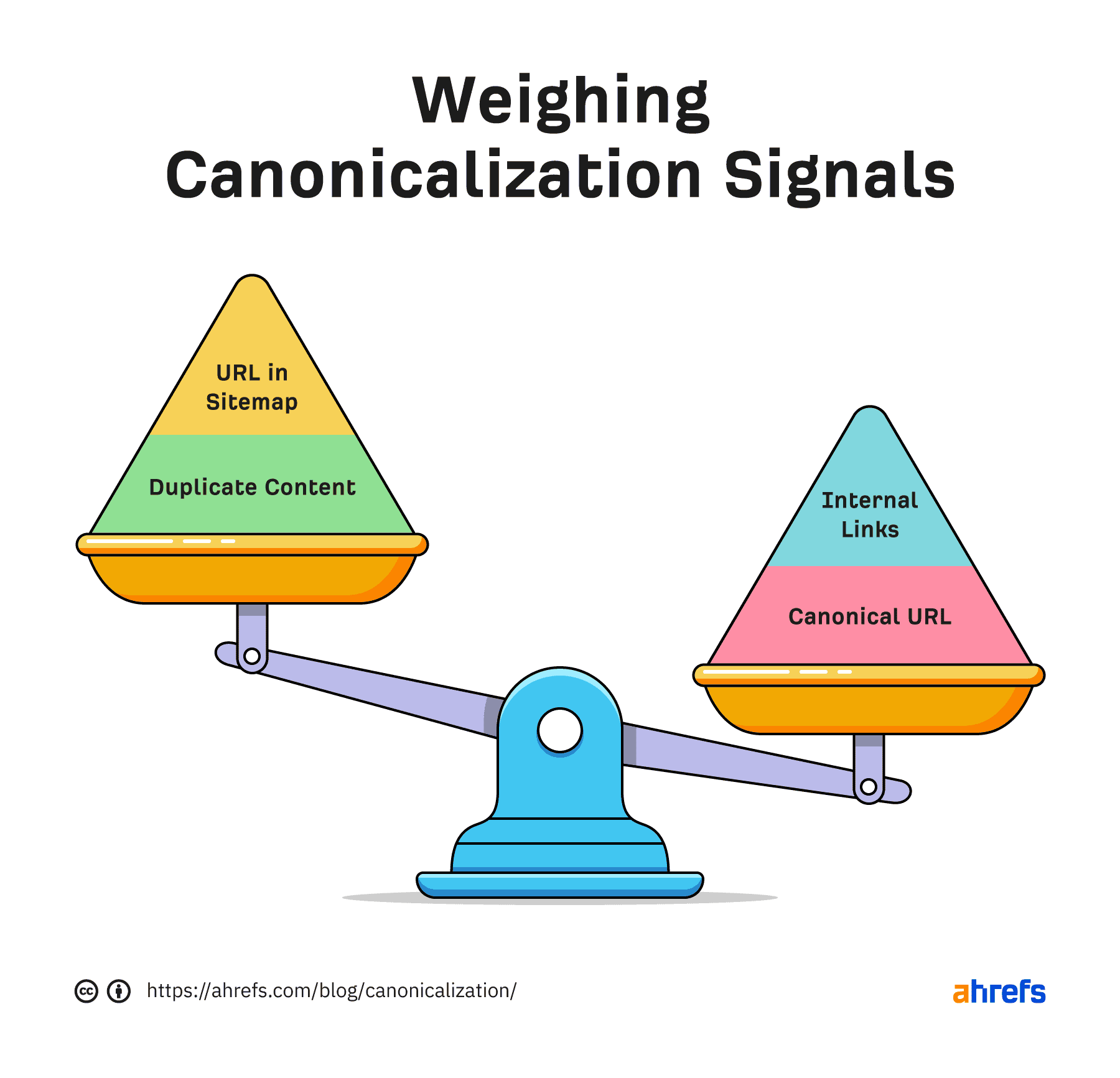 Additionally, canonical URLs help search engines crawl through the site faster since they only need to read one URL rather than many different (similar) ones.
So,
Add a canonical tag to every page on your site.
Make sure that websites that republish your content will add canonical tags pointing to your URL
Check your canonical tags as well as your URLs occasionally.
If you find issues along the way, there are several things you can do, including 301 redirects, picking your canonical version, etc.
6. Not having an XML sitemap
If you're not actively creating a sitemap for each of your web pages, there's no real reason not to.
Building an XML sitemap is an easy way to get in front of crawling problems and improve your visibility in search engines, especially if you don't use any link-building strategies.
A search engine has two main ways of crawling through links: it either clicks on every single hyperlink on a page, or it uses its spider bots that crawl URLs one at a time.
Either way, building an XML sitemap will help tell search engines which links they should follow next.
To check if you have an XML sitemap, type your domain name into Google and add "/sitemap.xml" to the end, just like shown below.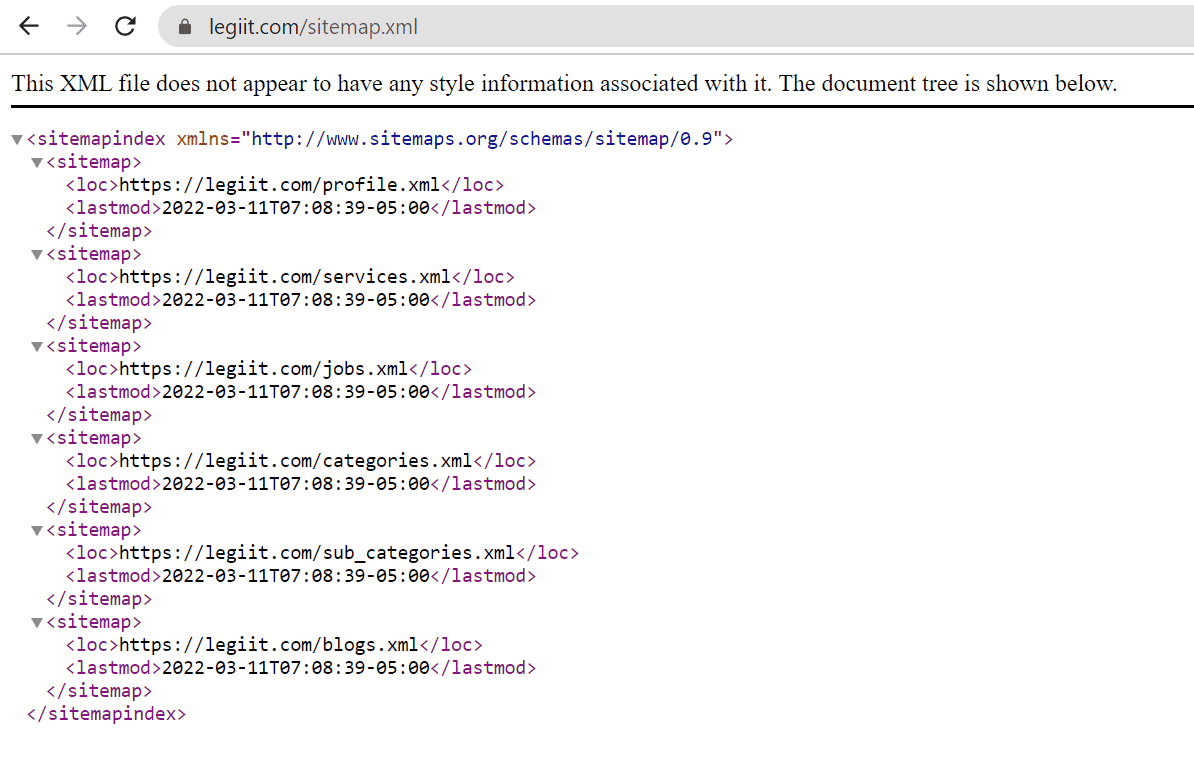 If your website doesn't have a sitemap, this means that you will end up on a 404 page.
In this case, you can create one yourself, and the easiest option is to use an XML sitemap generating tool.
But if you are not up for the task, you can hire a web developer.
Conclusion
Hopefully, you now are better able to identify and fix these SEO issues.
If you're still having trouble with a certain aspect of SEO, you'll likely have to hire an outside consultant so you can get the high-level advice you need.
Just be sure to make sure that they know what they're doing – there's nothing worse than getting bad advice from someone who doesn't understand the true technical aspects of SEO.
In the end, SEO is not that complicated.
It's just a matter of using the right approach and keywords and ensuring your site is as functional and accessible as possible.
If you have further questions, remember that there are plenty of resources online devoted to helping business owners like you with search engine optimization so you can find what you need.