Perfect SEO: Smart Content and Architecture
The best way to build a website that has high search engine rankings and delivers results is to begin with the right architecture and create smart content that is easily discoverable by your audiences.
Smart content can be summed up in these simple words; give them what they want.
When it comes to content, this means writing relevant and interesting articles that solve your customer's problems and questions, ultimately leading them to buy more of your products or services.
But it's not only about that – it's also about the website architecture.
This article will explain what smart content is and some examples of smart content and architecture, so you can get the most out of your SEO strategy.
What Precisely Is Smart Content?
It's vital to have well-organized website architecture if you want your site to rank well on search engines.
But it's not just about organization–your content also needs to be relevant, interesting, and fresh.
That's where Smart Content comes in.
Smart Content is designed to appeal to search engines and human readers, using different techniques like keywords.
That means using keyword-rich titles, taglines, and descriptions, organizing your content into logical, easy-to-navigate categories, and ensuring your site's clean and error-free code.
Smart Content and Website Architecture Examples
You can create smart content independently from the website user experience.
However, it's fundamental to implement it with an architecture that is built to display content in a semantic view.
Why does that matter?
It can improve the ranking of specific content and your entire website as well as improve your traffic, link equity, crawl paths, and user engagement.
Think of it like this…
Smart content + website architecture = highly optimized website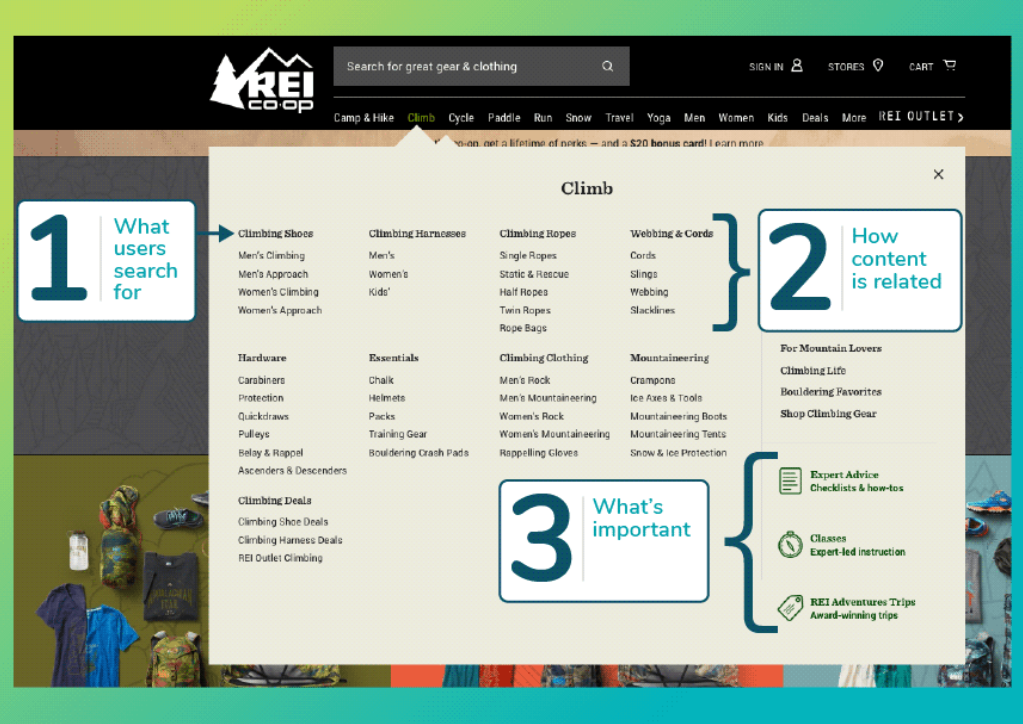 If you want your website to rank high in search engine results pages (SERPs), you need to ensure you have both smart content and well-thought-out website architecture.
Smart content refers to creating quality, keyword-rich content that is relevant to your target audience.
Website architecture encompasses everything from your site's navigation to how your pages are linked together.
A well-optimized website will have both.
Creating Smart Content Tied to Your Site's Architecture
1. Create a Site Taxonomy
Your site taxonomy is the framework you'll use to organize your website's content.
A well-organized website will have a hierarchy of categories, subcategories, and pages.
The goal is to make it easy for visitors to find the information they want.
But… Let's face it…
Creating a site taxonomy can be painful and sometimes complex.
It will need you to make collaboration across multiple organizations within a company possible (the SEO team, product teams, UX, UI, etc.)
However, keep in mind that this categorization process should be transitioned to the website's architecture and UI.
2. Create Topic Clusters That Target Search Intent
Long gone are the days of keyword stuffing.
In order to improve your website's SEO in 2022, you need to create topic clusters that target search intent.
This means organizing your website's content into silos based on related topics.
So, for example…
Assign a primary keyword to each topic in your taxonomy that reflects search behavior.
Moreover, each of these keywords should have its own semantically related keyword clusters that that specific content can take advantage of.
Leveraging long-tail keywords based on your primary keyword in your keyword clusters is advantageous.
After all, this will help expand the authority of the website.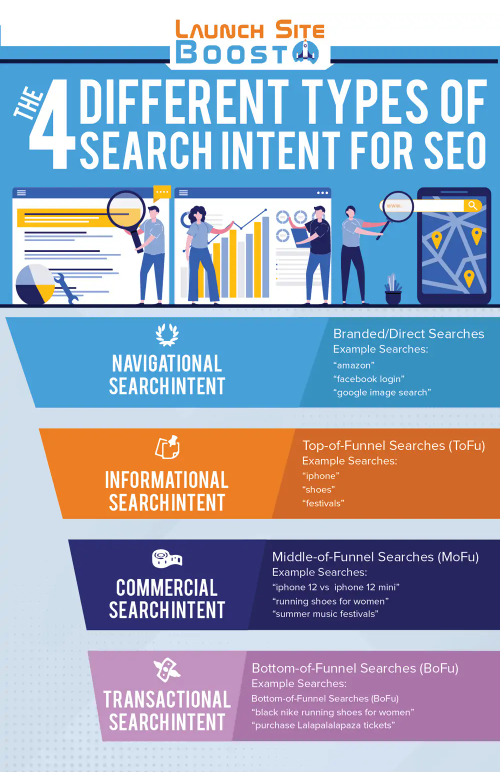 3. Add Relevant Internal Links
Internal links are essential for two reasons:
First, they help search engines understand your website's structure;
Second, they help visitors navigate your website.
So, relevant on-site links play an important role in creating your on-page smart content and building your website's authority on the topics that the site covers.
When adding internal links, be sure to use keyword-rich anchor text and to link to pages that are relevant to the page you're linking from.
Also, these links should be contextual to your content's primary and secondary keyword targets.
It's these contextual cross-links that, in the end, assist with smart content architecture.
If done correctly, the related on-site links will add value to your audience and increase your page KPIs.
4. Build Your Content Architecture
A well-organized website is a key to good SEO.
Your site's structure should be intuitive and easy to navigate so that search engines can crawl it effectively.
If you have created your website taxonomy perfectly, you won't have trouble building your content architecture.
You need to develop your website's user interface in a way that reflects the content silos, directing your audience to their desired location.
This way, you will also provide Google with a crawl path to discover your landing pages and their content.
Final Words
If you want your website to rank high in search engine results pages, you need to make sure you have perfect SEO.
This means having smart content that is keyword-rich and well-written, as well as a sound website architecture.
Smart content creation, combined with your website architecture and internal linking techniques (among other things), will result in a highly optimized website that will rank and attract your target audience.
Looking to Learn more about seo?
Get Content Directly From My Inbox To Yours That You Won't Find Anywhere Else.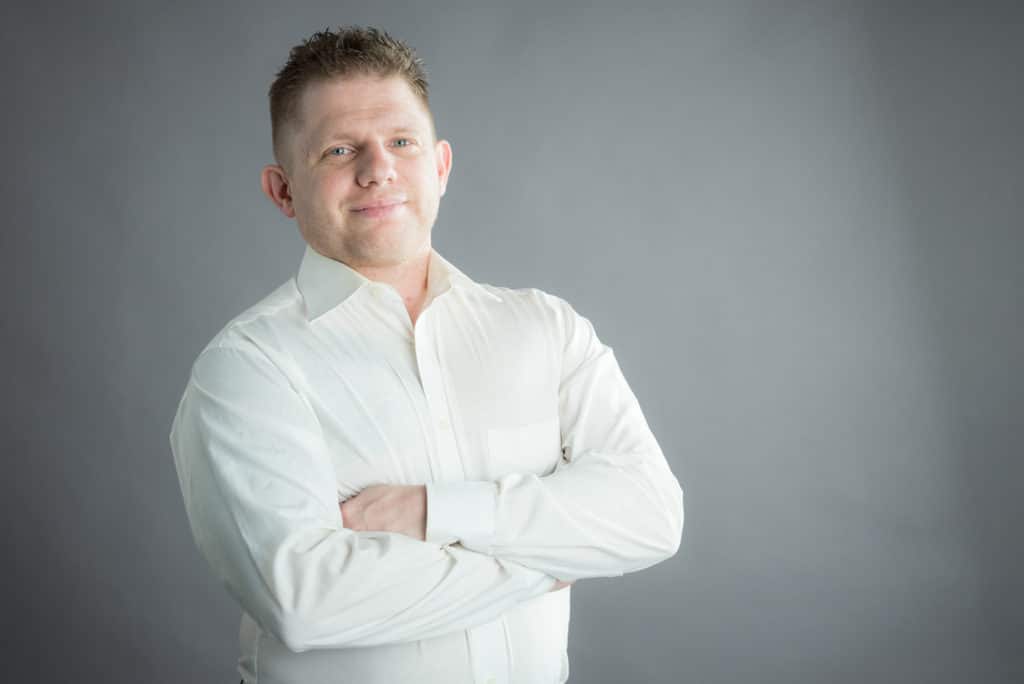 Chris has been active in the Information Technology industry for over a decade. In 2013 he began working in Search Engine Optimization and internet marketing. He has a proven track record of helping businesses reach their full potential with a combination of SEO, PPC Advertising, Social Media and Reputation Management, Custom Mobile App Development. Turning his clients businesses into Superstars.
Looking to Learn more about seo?
Get Content Directly From My Inbox To Yours That You Won't Find Anywhere Else.