How to Sell Short Stories – Write Short Stories for Money Guide
There are numerous methods to sell and write short stories for money, and they've got a larger market than you might expect! Turn your short stories into opportunities and in turn, make money selling them.
Short stories come in a variety of forms, including flash fiction and romantic novels, and they may be sold in a number of different publications. In this guide, we're going to show you exactly how to write short stories for money.
Defining Short Stories:
A short story by definition is  a work of fiction that typically features fewer than 5,000 words. They may be accompanied by illustrations and published in magazines, newspapers and online publications due to their shorter length.
Short stories must detail pivotal moments in a character's life or important events that impact them, with the purpose of creating an engaging and emotional story.
They use elements such as literary techniques and irony to create a single effect – either humorous or serious.
Short stories don't always have a protagonist or antagonist, but they often feature a moment of realization for the main character.
Common Short Story Genres
You may already know some of the famous genres for short stories such as:
Crime

Horror

Science Fiction & Thrillers

Romantic Short Stories

Romance is one of the more popular genres when it comes to short stories and novels.

Erotica

Historical

Humor

Literary Fiction

Mystery & Thrillers
What amount of money can you make writing short stories?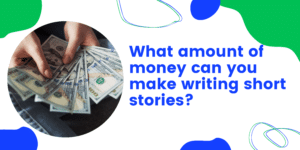 The sky's the limit as writing and selling your short stories comes with business opportunities.
You can make between $25 to $35 per 1,000 words on average with short stories.
However, your potential earnings are largely dependent on the quality of your work and how popular it is among readers.
How popular is competitive making money from writing short stories?
The competition between short story writers is something that you have to juggle as a writer. Most of your competition is other writers who are looking to make a dollar from their writing skills, but there's good news:
There has never been a better time to be a short story writer! There are so many opportunities for writers and ways to sell short stories online.
In the past, popular magazines were the only publications accepting submissions from authors; now websites like Medium offer publication deals with little or no cost.
Short story fiction is long overdue in what it represents – diversity- because this kind of literature reflects reality which can be vastly different depending on where you live.
Why do people want to write short stories?
People love reading short stories! Short story writing is a way to provide entertainment and escape from reality, which is why people love to read short stories about their favorite characters.
It lets the reader feel as if they're involved in the story and allows them to become a vital part of it by developing feelings for these fictional characters.
Short stories are also engaging and entertaining, so people will always want something new and interesting.
Selling Short Stories to Blogs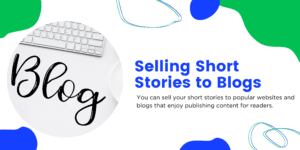 You can sell your short stories to popular websites and blogs that enjoy publishing content for readers.
These blogs will request that you write short stories based on specific topics, which makes it easier to come up with an idea.
Here are some of the most popular blogging platforms that accept submissions from authors:
Ramon Reed (Link: http://ramonreed.com/writers-wanted/)
I Love My Books (Link: http://ilovemybooksblog.com/submissions)  – This site is looking for Romance, SciFi and Fantasy short stories.
Selfgrowth (Link: https://selfgrowth.com/contributor-guidelines/) 
Short Story Submissions (Link: http://creativeshortstory.com/submission-guidelines/)  – This is a creative writing website that accepts short stories on a variety of topics.
Here's what you need to know about having your stories published on a blog:
The creative writing product must be entirely original and not previously published elsewhere. If your tale is turned into a short film or expands to another platform, you won't get paid or credited for it.
Start selling short stories on Amazon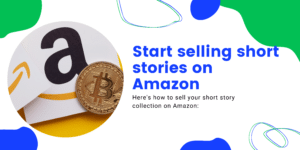 Here's how to sell your short story collection on Amazon:
Step 1: 
Place your short story collection on Kindle Direct Publishing (KDP). There's a waiting period of 30 days from the date you publish your book to start selling it.
Step 2:
Set a price for your short stories and remember to check if people are buying them.
For example, some writers have found success by pricing their collections at $0.99 or higher so they can generate more profit per sale.
If you decide to sell your books for less than $2.99, Amazon will take a 45% cut from every sale of your digital book.
Earnings potential is unlimited with this platform because there's no limit when it comes to how many copies you can sell! However, keep in mind that if you give your work away for free, you won't make any money.
Pros and Cons of Selling Stories on Amazon
Pros:
– You can get paid more per sale on this platform.
– There are no set deadlines or publishing schedules to follow. You can publish on Amazon whenever you want.
Cons:
– Your book's price may be too low for people to buy it – remember that if your work is priced lower than $2.99, Amazon will take a percentage of the money made from every copy sold.
Pro Tip: Building an email list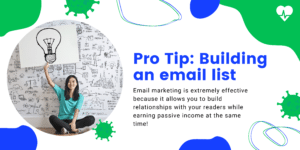 Email marketing is extremely effective because it allows you to build relationships with your readers while earning passive income at the same time!
Once they subscribe to get updates from your short story writing business, you get their email address which means they're interested in receiving any information or promotions that you have available.  
It's also a great way to gather reviews from your fans. As long as you keep them engaged and interested, they'll be more likely to visit your book sales page and buy your work!
How to sell short stories on Medium
You can publish your short story collection on the popular content publishing website, Medium.
Medium is a popular place to share ideas with other users and read interesting stories that are posted every day. It has almost no restrictions when it comes to what you're allowed to post, which allows all types of writers write about their experiences.
Though this site doesn't pay its writers, releasing your work on Medium will help increase traffic because it's open to everyone who wants to read your works.
The more people who go onto Medium, the more likely they are going to find your blog or profile where you have links to places where they can purchase your short story collection.
How to sell short stories as EBooks: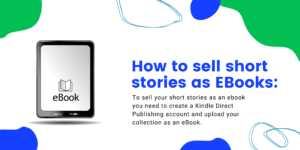 To sell your short stories as an ebook you need to create a Kindle Direct Publishing account and upload your collection as an eBook. Once you're done, it will be available for sale worldwide!
Sell short stories with Amazon's CreateSpace
Amazon's CreateSpace is one of the most popular paperback self publishing platforms and is free to join.
There is the cost of buying the paper and cover page, which varies depending on what you need. But overall, this method offers writers a way to release their work without charging money or withholding copyright privileges from anyone who wants to sell it.
Just like with Kindle Direct Publishing (KDP), Amazon takes a fixed amount out of every sale based on how much you're selling your book for: 10% if you're selling between $2.99-$9.99, 15% if your book is $10.00 or more.
Write Short Stories For Podcasts and Earn
You can sell your short stories and write them for money pretty consistently when it comes to podcasts. Here's what you need to do:
Step 1:  Send your short story to the podcast's producer, who will offer you a fee for reading it out loud.
Step 2: Read your selected short story on the show so people can hear your voice and tone. Sometimes they'll hire several different writers and ask them to read their works. You can also be asked to both write and read stories depending on the budget and what the production team is looking for!
Step 3 Bonus: Another way to find new audiences is by adding audio clips of your work onto Soundcloud since anyone can listen to them. If there are no restrictions as far as geographical boundaries go, consider uploading the same clips via YouTube as well as Vimeo—especially if you're more concerned with building your personal following than trying to make money.
How to sell short stories on Wattpad
If you're looking for a place to share your work and gain readers, consider uploading it onto the popular site Wattpad!
The experience here is very similar to that of blogging because you create an account, write your short story collection, publish it and then wait for people who want to read what you wrote.
The more active users there are on Wattpad, the better chance you have at connecting with people who like the same type of content as yours.
Make sure you put out good material or else no one will click on your work or follow along with what happens next. If your writing is up to par with other authors' works then you will be able to make money with your writing relatively quickly.
Write and sell short stories as Audio Books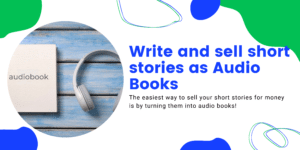 The easiest way to sell your short stories for money is by turning them into audio books! You can find production companies online who are willing to pay you upfront (or at least offer to split the profits) if you read out loud and record a story using their studio equipment.
Other places where you can do this include the library, a local community center or a computer program that allows anyone to upload footage onto YouTube so people can watch it.
A word about YouTube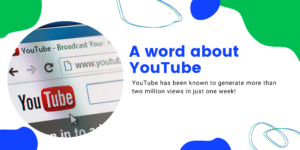 YouTube has been known to generate more than two million views in just one week! That means there's an audience out there looking for content just like yours that could turn into long-term customers and avid readers.
Make sure you write short stories that are easy to read, fast paced and most importantly—entertaining. Don't forget to include characters who feel real and situations they're going through that people can relate with the most.
It's always better to focus on quality over quantity since there are plenty of other audio book services out there that will offer more than enough customers for you to make money from your writing!
Writing for money on Duotrope
Duotrope is one of the best spots matching short story buyers with sellers! You can upload your manuscripts and submit them to users who Buy or Publish short stories.
Buyers: These writers are looking for content they can repurpose into audio books, podcasts and/or film scripts! For example, you might write something about a man and his dog going on a journey in the woods.
If someone is producing an audio book of adventure stories then this would be perfect for them to use!
The good news is that if they like what you wrote then chances are they'll offer to pay you for it with one flat fee rather than splitting any money made from sales between both parties.
This option gives writers more opportunities to make money off their writing while also protecting their rights as the original creator of the content!
Publish: This option is for writers who want to give something they created to someone else in the industry with certain guidelines in place.
The Grinder Offers Short Story Selling
The Grinder is a great place to sell and write your stories for money.  The cool part is that you can find writers who are looking for the exact same thing as you and connect with them to make a deal!
In addition, The Grinder lets writers create their own page where anyone from around the world can visit and read your work. If someone likes what they see then they have the option of making a monetary offer.
If both parties agree then it's time to start selling short stories online! Everyone gets paid up front so stakeholders have nothing to worry about when it comes to getting their money back.
The important thing here is that everyone has something in common: a love for good writing which makes it easier for all parties involved to sell stories for money without worrying about anything going wrong down the road.
Readers Digest is a short story sellers haven
You can earn money for your short story writing skills at Readers Digest. The pros of this platform include:
Very Short Stories that are easy to read

The option of including photos with your work

A submission process that's quick and painless

Longer stories only available through a premium membership you can purchase for $29.99 per year
If someone is looking for good material to repurpose into an audio book then they'll know where to look first!
Readers digest also offers memberships for writers who want access to exclusive content published on their website, which means it's another great place to sell short stories online!
Fireside Fiction vs Vestal Review for Short Story Authors
Fireside Fiction and Vestal Review are great platforms to write short stories as an income stream. These platforms have their own benefits:
Fireside fiction Pros
-More options to make money through different types of content (for example: Podcasts and anthologies)
-Pays 30% of profits made from your work and offers royalties if you're a published author with them
Vestal Review Pros:
-Great place to get your foot in the door when it comes to writing for an audio book company like Audible.com
-The good news is that they pay $20 per story (if it's accepted) which usually takes 1 year after submitting something before someone decides whether or not it gets accepted by their team.
BBC Short Story Program
We've all heard of BBC and there is indeed a way to sell your short stories for money. Here's what you need to know about it:
-You'll get paid $160 for stories between 500 and 1,200 words.
-You can only sell one story per year which means it's not the best platform to make money off your writing skills.
-BBC is looking for writers who want to join their team of freelancers so this makes them an even better choice when it comes to selling short stories online!
Short Story Sale Sites (Selling ideas on platforms like Reddit)
Reddit is another great place that experts at making money on short stories recommend.
Buyers are likely to find experienced people there who love working with other writers in order to create something special. Here are some more things you need know about marketing your work on Reddit:
-You'll have to build a following on the site in order to attract people who are serious about making money writing short stories.
-At first you should focus on creating good content that gets shared which will increase your chances of selling short stories for money.
-Start by finding subreddits where there is already a community of writers such as r/writing and r/selfpublish among others.
Succeeding on Flash Fiction Online
In order to do well on Flash Fiction Online by earning an income with short stories, follow these steps:
Join their writing community where they publish stories for people who are looking to get published.

Focus on building up your reputation as a writer here which means that you should submit around 5 or 6 pieces of work until you eventually decide to write something that stands out from the rest.
Tapping into a big audience with East of the Web
East of the Web is another excellent platform to sell your short stories on. The most successful sellers or writers have  the following things in common:
Social media accounts with tens of thousands of followers (which means you should be active on Facebook and Twitter)

Having a good sales page where your potential customers can buy your material (This is important for selling short stories online since not everyone wants to jump through hoops just to get access to written material).

Successful writers are able to write pieces that speak to their audience which keeps them coming back for more.
Non Profit Strange Horizons
Strange Horizons for short story writers is  a great platform to work with because they have been around for more than 15 years which means writers who want to earn a living selling short stories can improve by working with them.
Strange Horizons also offer a form of royalties if you're a published author so this is one of the best platforms out there when it comes to selling short stories online.
Paid Writing Classes and Courses: Getting Started Today
If you don't have any experience writing or marketing your writing skills in order to sell short stories, getting paid writing classes and courses will help you achieve what you need in order to get paid to write fiction! Here are some elements that successful students focus on:
The importance of making sure you know how to market yourself as an expert in the topic you're writing about.

Knowing how to use different social media platforms which will increase your chances of reaching a big audience through your content. (this also means that you should focus on having a website or blog where people can go and find out more about yourself as an author).

Getting paid writing courses will help you understand what works and what doesn't when it comes to getting attention online.
The importance of building up relationships with publishers, bookstores and other writers in order to sell short stories profitably online!
Having good relationships with people who are interested in the same things you are, is one of the best ways to make money selling short stories since they can become your customers if they like what they read.
In the end: Writing short stories is a great source of income
Many methods exist for selling short stories for money, and they may be had at a greater price than you would believe!
If you made it this far into our guide then you know that short stories are your passion and you can sell them for money. There are plenty of opportunities to make money selling short story pieces and now you know how to go about it!