Affinity Designer Review: A Great Graphics Tool for Freelancers
Your design tool should be able to help you create any look your heart desires, whether it's something formal or something more artistic and creative. If you're looking for the best graphic tools available to freelance designers, however, you may find that there are a few things to consider before choosing one over another. That's why we took the time to write this Affinity Designer review, so you can see whether it is right for you or not. Affinity Designer has earned its reputation as one of the best graphic tools because of its powerful performance, intuitive interface, cheap(er) price, and compatibility with both Windows and Mac computers.
What is Affinity Designer?
Affinity Designer is a graphic design tool that allows you to create and edit different graphics, including those for print, web, and mobile.
It's a powerful program that provides amazing functionality at an affordable price.
It's a big competitor to Illustrator in its functionality—and even has several features that make it a great choice for everyone who isn't very fond of Adobe.
It runs on both Windows and Mac OS and is definitely a capable and reliable piece of software.
Of course, there is a learning curve associated with it (like with many other similar apps), especially for new users.
However, the sheer quantity of easily accessible tutorials should help you create stunning vector art in no time at all.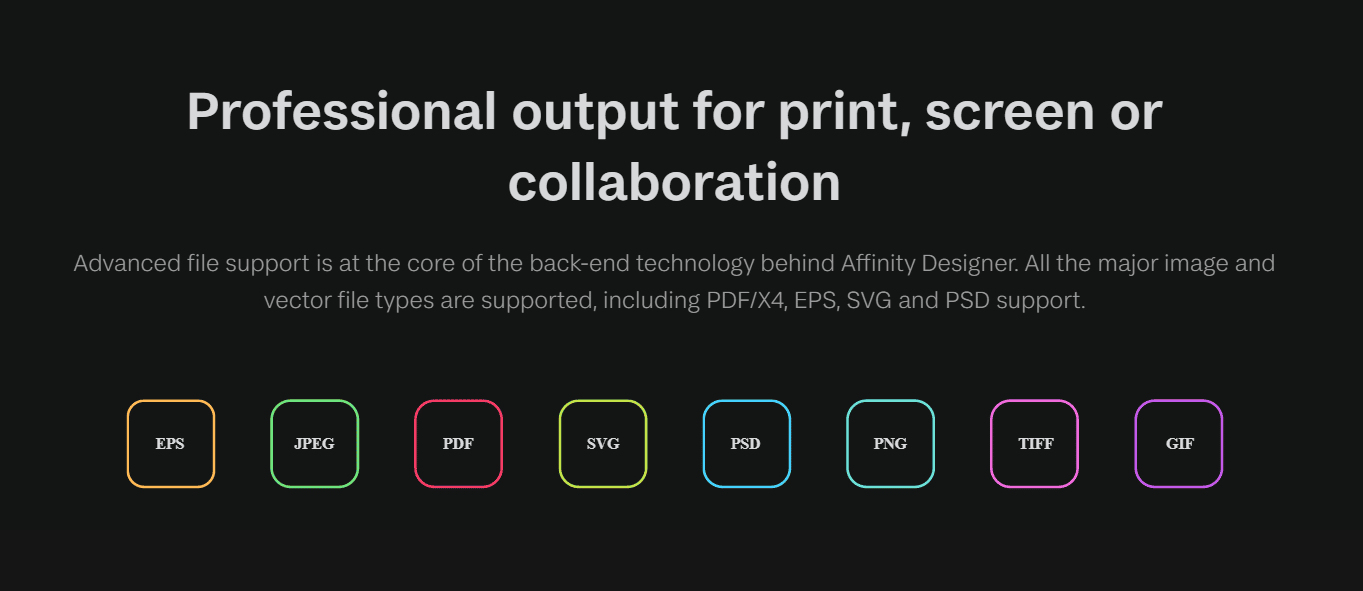 Affinity Designer review vs. Illustrator
While it's obviously not as well-known as Adobe's Illustrator, Affinity Designer is a fantastic choice for anyone who needs a powerful vector graphic design tool.
One of its greatest strengths is how easy it is to use.
Even if you don't consider yourself a designer (or aren't great at using other graphic tools), it's likely that you can create something great with minimal training or tutorials.
The appeal of Affinity Designer is that it's less cluttered than Illustrator.
It's also easy to get to grips with and a high-performing piece of design software open to general users and professionals.
You will like the price too. It's more affordable, and you only have to pay once.
For both the Mac and Windows version, all you have to pay is $54.99 (versus $20.99/month for Illustrator.)
You also get a free trial, so you get a feel of what you can do with Affinity Designer.
If you want the iPad version, you have to pay $21.99.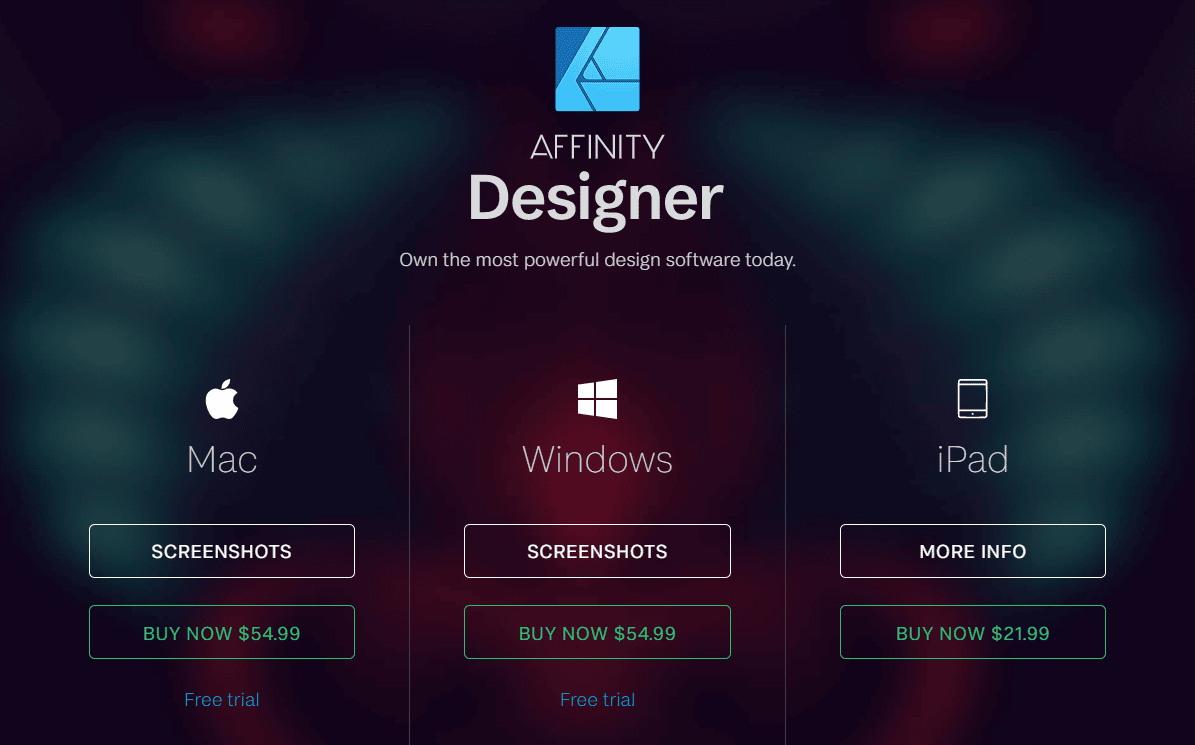 Who is Affinity Designer best suited for?
Affinity Designer is for anyone who wants to create vector graphics and doesn't want to pay for Illustrator.
All design professionals, from novices to experts, should give Affinity Designer a try.
Although it doesn't yet have advanced features that allow you to create unique looks, mesh fill, object warp, or image tracing, it makes up for it by being easier to use and having a lower learning curve.
Even if you haven't used graphic design software before, you should be able to quickly pick up on how to use Affinity Designer and make quality designs within minutes.
It's also an ideal tool for people who want to learn how to use vector software since it's much easier to use than Illustrator and gives you a lot of control.
So, overall, if you are a freelancer or a graphic designer just getting started, it is definitely for you.
But if you find that you can't get the hang of it quickly, try these online tutorials.
What are the key features?
First of all, there is no subscription fee; you get everything in a single software package.
A Designer Affinity suite contains three applications: Designer, Photo, and Publisher.
It provides a plethora of fantastic choices that combine pixel and vector tools.
It's one of the top graphic design software programs on the market, luring customers with its low cost and effective features.
Affinity  offers:
Intuitive Interface
Convenient Designer Persona Set
Easy Import and Export
Adaptable Workplace Features
Set of Illustration Tools
Photo & Image Tools
Good Printing Ability
Complete Vector Toolset
Good Typography Tools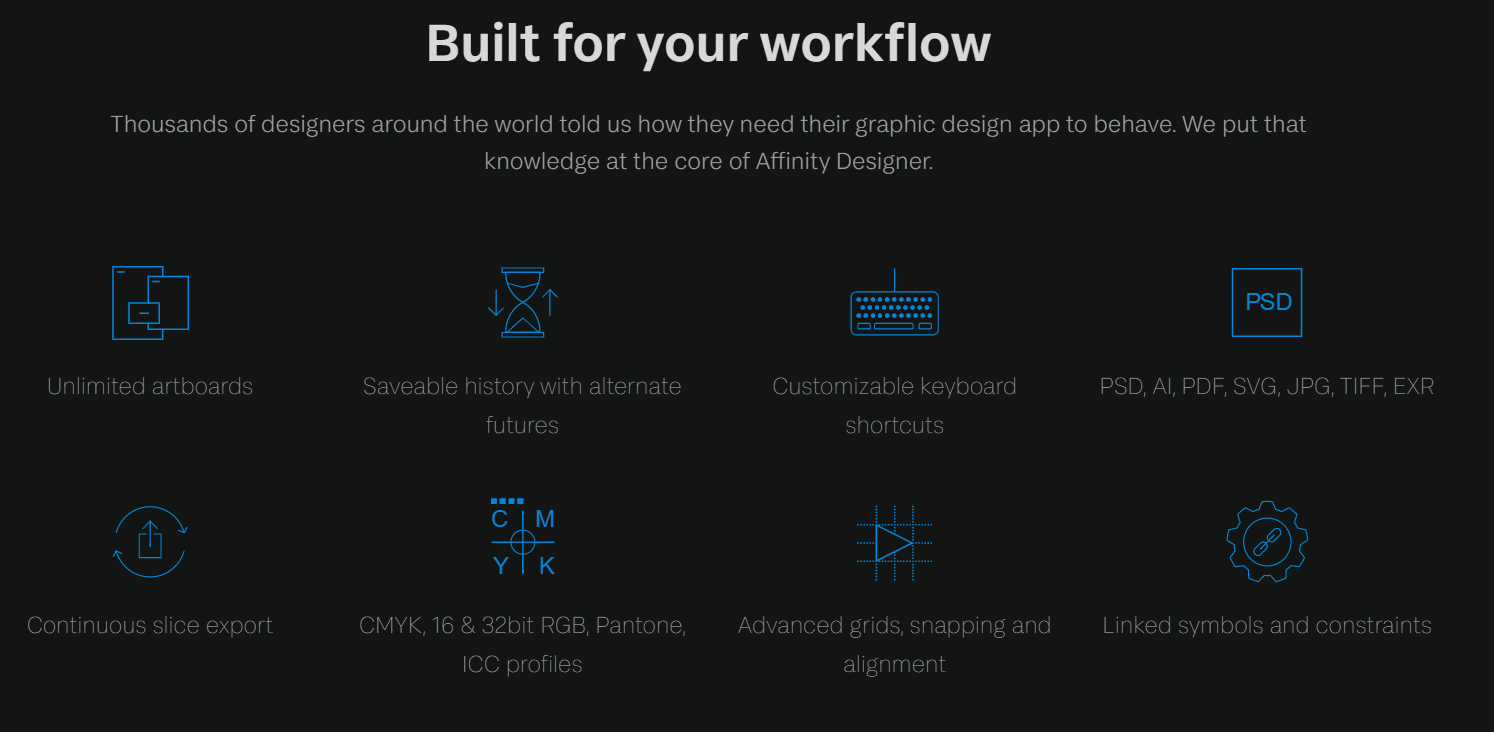 Conclusion
Affinity Designer is a great graphic design tool that makes it easy to create vector-based graphics and complex illustrations.
If you're looking for a graphic design program that gives you free rein on your graphics and you don't mind working in a program outside of Photoshop, then Affinity Designer is your best bet.
This drawing tool is ideal for designing logos, banners, social media images, and more.
It has a clean UI and is easy to use.
It is much more intuitive than Photoshop and Illustrator and cheaper than InDesign.
Our Affinity Designer review found that users should take advantage of online tutorials to master its most advanced features.
Overall, we think freelancers who need an affordable vector tool will find Affinity Designer useful.
All-in-all, if your budget doesn't allow for Photoshop or InDesign, but you want something that mimics those programs closely enough without a steep learning curve and affordable price tag, then Affinity Designer will get the job done!