Ahrefs Pricing Plan & Cost Guide in 2022
You are looking for an honest Ahrefs review, but do you have some concerns regarding Ahrefs pricing? You are in the right place. Keep reading!
You spent top dollar building the best website to showcase your products or services. However, your sales remain dismal despite the promise of reaching more clients with an online presence. And with vast amounts of content on the web, your website is like a drop in the ocean.
So, how can you stand out among all that noise and get value from SEO?
Regardless of the size of your business, having a solid SEO strategy is essential to your business. SEO helps drive traffic to your website, which can be converted into sales. Not only that, it also helps you establish your reputation online and grow organically.
However, companies often overlook SEO, with only 74% of businesses factoring SEO in their digital marketing budget. Many businesses miss out because search engines generate 68% of all web traffic and influence 88% of purchase decisions.
Note that SEO does not instantly make your business rank higher. However, the incremental gains make your website more visible, which is a positive metric you want when you are selling online.
But your competitors already know about SEO, and their SEO game puts them miles ahead. So to give your business an edge against the competition, you can use premium SEO tools like Ahrefs.
Ahrefs is a popular online service that offers several helpful SEO tools. In addition, it provides a unique toolset that helps you optimize your website for search engines.
This article delves into Ahrefs pricing plan and cost guide for 2022.
Ahrefs Overview
If your business's niche is highly competitive, you need to track and analyze your competitors' digital marketing activities to gain a competitive edge. In the ever-evolving digital marketing sphere, premium SEO software, services, and tools enable you to stay competitive. Premium SEO tools help you analyze aspects such as backlink profile, keyword performance, and content strategy. This Ahrefs pricing & plans guide will help you make up your mind about this tool.
Ahrefs began as a website backlink analysis tool back in 2011. It profiled numerous websites for a snapshot of the sites' link destinations and sources to create backlink profiles. The service has grown significantly since 2011 to include clients like Netflix, LinkedIn, Facebook, and Uber.
Ahrefs crawls millions of websites and generates reports that companies can use to:
Figure out the most popular searches on the web
Use keyword analysis to create content ideas that can drive traffic
Recognize link-building opportunities
Optimize their websites to achieve high-ranking scores.
Ahrefs' keyword analysis tools generate helpful suggestions that you can use to develop SEO-optimized content that ranks high on search engines. It also helps you determine the difficulty in ranking for specific keywords and provides alternative suggestions.
As a backlink profiler, Ahrefs can also suggest a list of sites worth approaching to build a backlink profile.
Ahrefs' suite of tools allows you to perform a complete SEO technical audit on your site. The report generated can help you implement the technical suggestions to optimize your website for the best ranking results.
Ahrefs Services in a Nutshell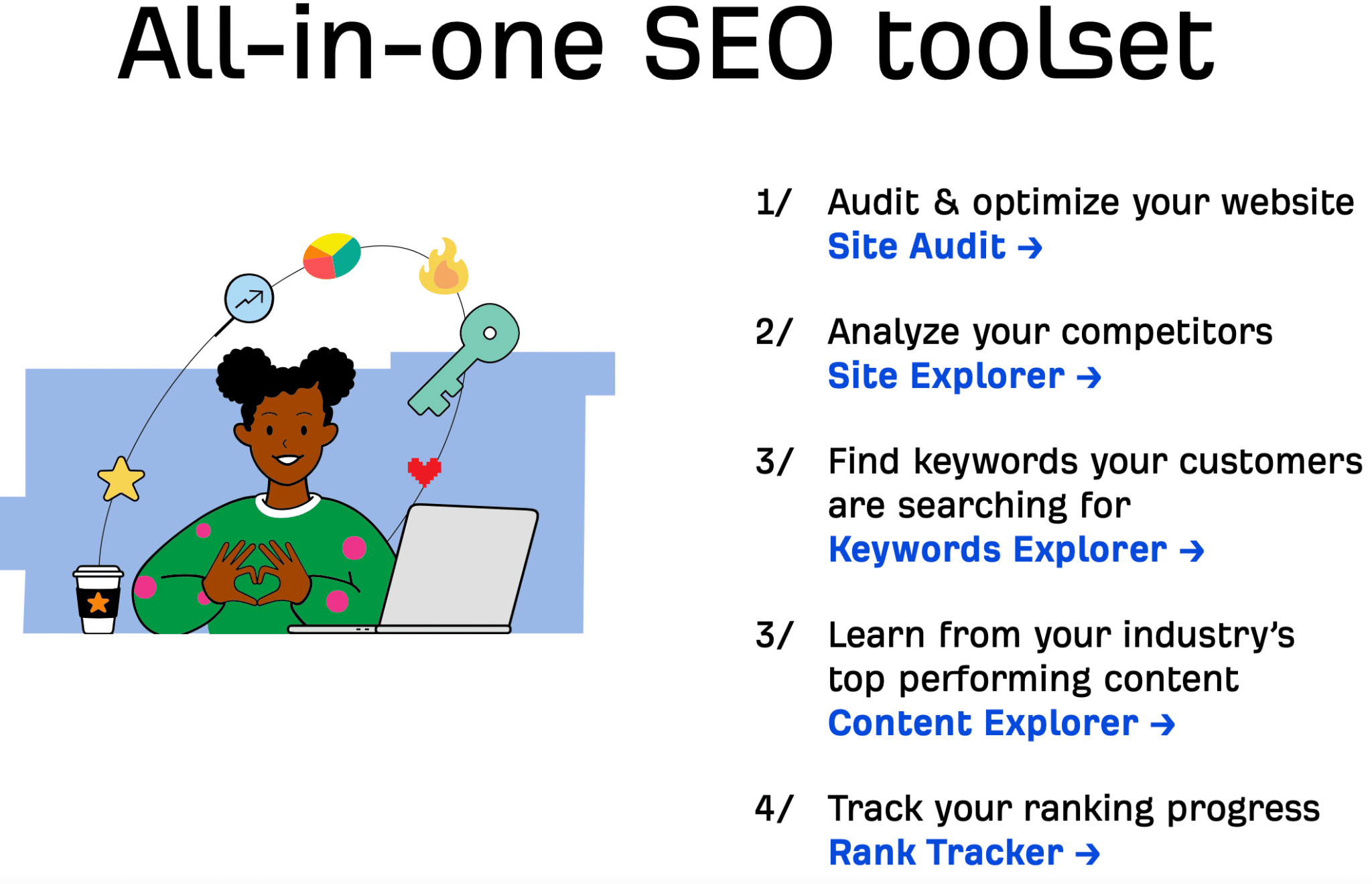 Domain Analysis
This service allows you to analyze a domain and determine how well it ranks for specific keywords and the amount of traffic it is likely to attract. With Ahrefs' domain rating tools, you can generate reports about your domain or your competitor's. Domain analysis also helps you recognize great candidates for building a backlink profile. Ahrefs pricing is totally legit for this kind of quality results.
A typical domain analysis report includes:
The domain rating score
Traffic report for a specified domain
Total number of referring domains (backlinks)
The keywords that a specified web address ranks for
The cost of creating a Google search pay-per-click (PPC) campaign.
Historical information on the domain's backlink profile
Keyword research tools
With these tools, you can build your content around popular and high-ranking keywords by getting information on your top competitors. You also gain insights on the difficulty in ranking for the specific keywords and get alternatives for alternative keywords that can help you gain a competitive edge.
A keyword report includes the following:
The number of search hits in a given month for the keyword
A list of suggested alternative keywords that you can also rank for
A list of competitor websites that currently rank highly for the specified keyword.
Backlink analysis
A content's rank performance on search results depends partly on its backlink profile. Therefore, doing a backlink profile on your competitor can help you reverse engineer their process to build a more robust link profile on your content. In addition, you may be able to approach the websites that link to your competitor's content for link-building opportunities. Ahrefs pricing is also worth it based on this feature.
A backlink analysis gives information on:
The websites linking to your content or your competitors' content
The anchor texts used to refer to the content
The domain extensions that link to the content (.com, .edu, .org etc)
Any broken links
Website Audit tools
Search engines rank responsive websites higher than non-optimized ones. The site audit tools help you analyze your website's technical aspects, including responsiveness, resource optimization, site speed, and overall user experience.
Ahrefs' bots crawl through your website to identify pertinent technical issues that need optimization to improve ranking.
The site audit reports identify issues such as:
Slow loading content such as images, video, audio, or fonts
Missing link descriptions and image alt texts
Security issues relating to SSL
Ease of bot crawling
Missing or malformed site headers
Duplicate content
Ahrefs Pricing and Cost Guide
Like other SEO tools on the same level, Ahrefs' tools are relatively expensive. The Ahrefs pricing covers a full range of features, broken down into four tiers:
Lite Plan, which costs $99,
Standard Plan at $199,
Advanced Plan at $399, and
Enterprise Plan at $999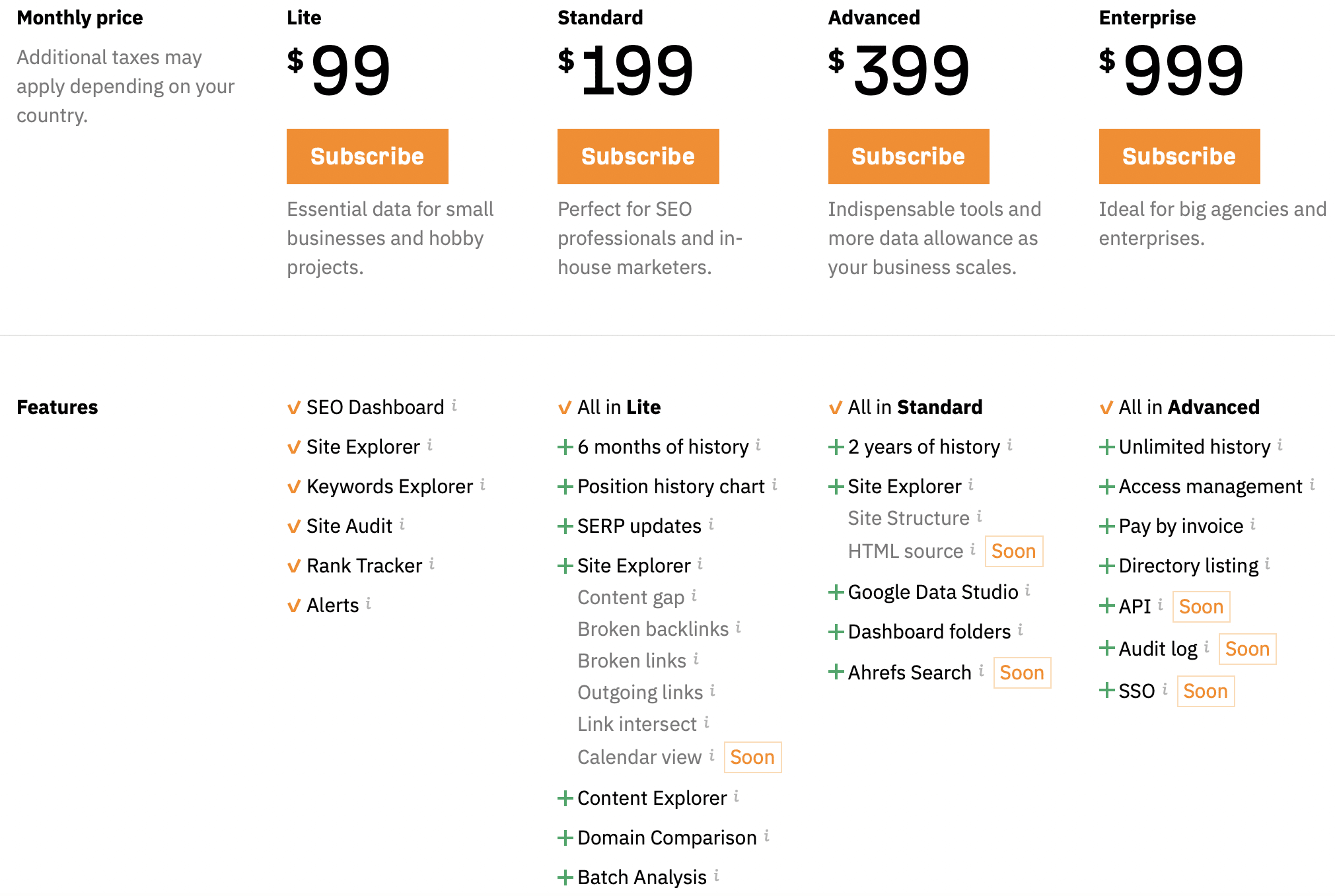 The Ahrefs pricing options are comparable to key competitors like SEMrush, Majestic, and Moz.
Most digital marketers know not to focus on the price of SEO but instead on the results generated. The services and toolkit offering justifies the Ahrefs pricing structure, as they give you access to top-notch functionality, vast amounts of data, and valuable competitor intelligence.
Individual pricing plans differ in the following ways:
Number of projects
The Ahrefs pricing plan you choose determines the number of projects you can track. Each pricing plan allows the following:
With the Lite Plan, you can only add five projects per user.
The Standard Plan allows up to 20 projects.
You may add up to 50 projects in the Advanced Plan, and
One hundred projects on the Enterprise plan.
Project number limitations depend on the customer's needs. For example, lower tiers may not be favorable if you are a superuser who manages multiple projects. However, domain verification does not count towards your project limit, and therefore there is no cap on that.
The following steps apply if you need to verify multiple domains without the project cap:
First, connect the Google search console to your Ahrefs account.
Second, upload the website's homepage HTML markup,
Third, record the website's Domain Name Service by adding a plain text file
Finally, on the website's homepage, add an HTML meta tag
This ability to verify multiple domains is a huge advantage as you can do so at a relatively low cost. However, you must add the URLs as individual projects to use the audit and rank tracking features.
The Number of Reports You Can Generate Per Session
The number of daily reports you can generate on Ahrefs is comparatively lower than its competitors. The reason is that each pricing plan only allows up to 500 records per month. However, if you need additional information, you may:
Pay a $20 monthly flat fee to add a 'casual user" who may generate between five and 100 records within that period.
Pay $50 per month for a 'power user.'
The number of reports allowed remains lower than those offered by Ahrefs' key competitors. For instance, you can generate up to 150 records on keywords, 5,000 backlink profile reports, and unlimited page and grader monthly reports with a Moz entry-level price plan.
Ahrefs also falls short on the number of rows on its reports compared to its competitors. For instance, Ahrefs pricing $99 Lite plan only allows 2,500 rows, while you may generate up to 10,000 rows on SEMrush's 119.95 Pro plan and Moz's $99 standard plan. In addition, the number of rows in Ahrefs reports increases as you climb the tiers but remain low compared to its competitors.
The number of Keywords you can track with Ahrefs Pricing plans
Ahrefs pricing plans also differ in the number of keywords you can track per session. On each pricing plan, the following limits apply:
In the $99 Lite Plan, the limit is 750 keywords
The $199 Standard Plan has a limit of 2,000 keywords
A limitation of 5,000 keywords applies to the $399 Advanced Plan, and
The $999 Enterprise plan has a limit of 10,000 keywords.
The keyword limits in Ahrefs are essentially on par with its close competitors.
Ahrefs gives flexibility to its subscribers as the company allows the purchase of additional Rank Tracker Pro add-ons. The add-ons enable you to track 100,000 keywords with daily position monitoring emails. However, the extra add-ons are expensive as 1,000 keywords cost $100, with the 100,000-keyword limit costing a whopping $10,000 per month.
Final Thoughts on Ahrefs Pricing & Plans
Ahrefs remains a leading SEO solution provider. Its entire toolset and services grant you access to vast intelligence to help you stay ahead of the curve. In addition, it's user-friendly and integrates with more search engines than its competitors.
A notable drawback with Ahrefs pricing is the relatively high cost of using the service. However, its price range remains comparable to that of its key competitors. And unlike the other services, Ahrefs does not have a free trial plan to help customers get a feel of their services before committing financially.