Clearscope Review For Writing And Editing Content In 2022
Whether you're just starting out in your career as a freelance writer or whether you've been at it for decades, it's imperative that you have the right tools to make your work more effective and valuable. Clearscope is an all-in-one solution that helps writers and editors organize their writing, edit, and optimise their content so they can be more productive, efficient, and profitable.
Read our complete Clearscope review to learn more about this tool to see if it's worth it.
What's Clearscope?
ClearScope.io is a powerful tool for keyword research and content optimization.
With its "Optimize" feature, you can grade your content based on "content relevance and comprehensiveness".
This feature scans your content for key LSI keywords that Google considers closely related to your target keyword and hands you a letter grade based on how well your content is optimized for SEO.
So whether you're looking to improve your website's ranking in search results or simply want to create more relevant and engaging content, ClearScope.io is the perfect tool for you!

How does it work?
It's simple, really.
If you're looking to improve your content and make sure you're using the right keywords, Clearscope is the tool for you.
You type in a keyword you think ranks.
Then Clearscope will find related latent semantic indexing (LSI) keywords that you should use in your content.
Mind you that while this tool helps with SEO, its only purpose is to guide you in your efforts.
It grades your content based on how many relevant keywords you've used and provides suggestions for other keywords to include.
This way, you can be confident that your content is optimized and targeted to your audience.
As someone who wants their articles to rank, you probably understand the importance of keywords.
That's why we suggest you take the time to compile a list of keywords using Ahrefs or any other tool of your choosing.
Once you have your list, you can refine it with Clearscope before creating reports.
Clearscope is a great tool for writing articles (again, you do the writing) or editing finished versions.
With its help, you can ensure that your content is of the highest quality before publishing it on your website.
Plus, thanks to the Clearscope link, you can easily track your content's performance once it's live.
A look at some features of Clearscope
Clearscope is an amazing tool that helps you research topics, create content briefs, and optimize your content before or after publication.
With Clearscope, you can easily attract more organic traffic by creating reports for topics you want to publish content about or by researching keywords.
The intuitive dashboard makes it easy to get started with Clearscope and get the most out of your content marketing efforts.
Some of the features of this tool include:
Keyword research
AI-powered content reports
SEO content outlines
Content optimization
Competitor analysis
Google Doc and WordPress integrations
Clearscope pricing and plans
The pricing for this tool is very straightforward (like many other tools out there.)
It offers three packages, of which one is customizable according to your monthly/yearly needs.
Clearscope Essentials costs $170 per month.
The app supports three users and 20 reports, and 100 keyword discovery credits.
Clearsope Business costs $350 per month.
And it supports ten users, 50 content reports, and 250 keyword discovery credits.
Its pricing depends on the needs of your company, and it offers everything that's in the Business Package plus Google TLDs, custom reports and more.
As you can see, in terms of pricing, Clearscope definitely falls on the higher end.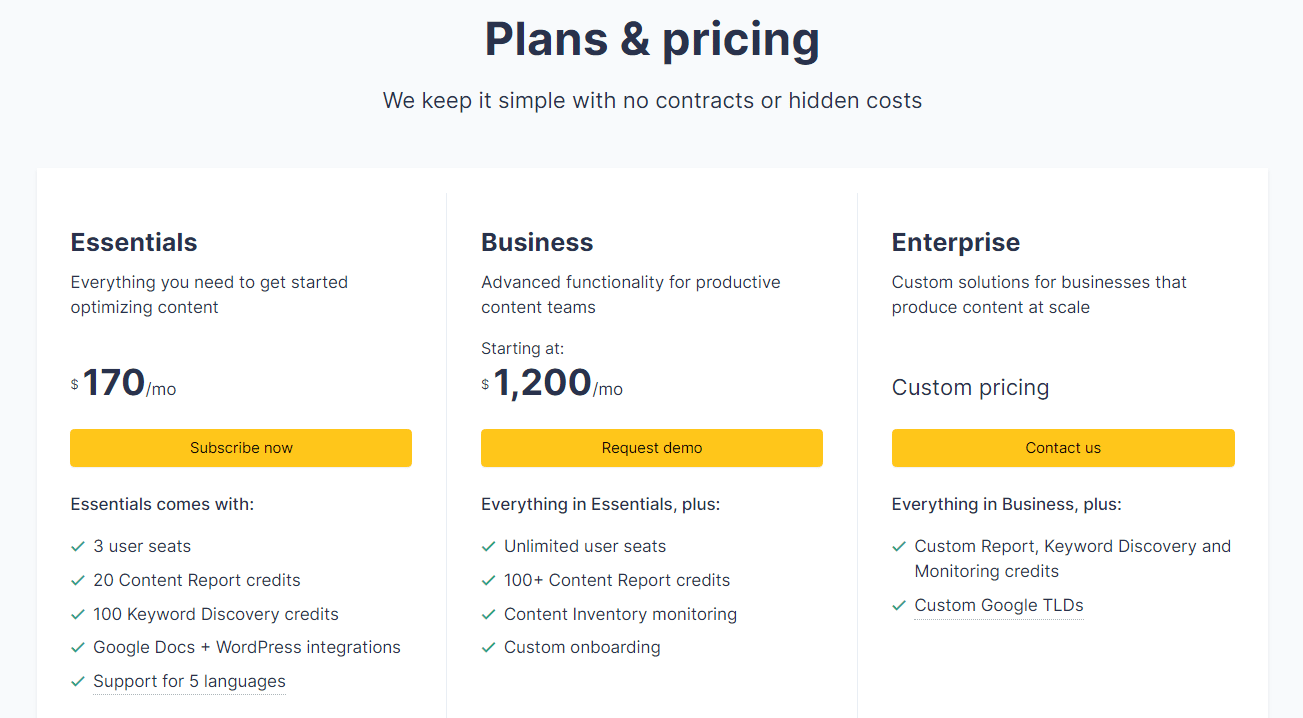 When should you consider using Clearscope?
Clearscope is not the cheapest option out there, costing $150 per month.
However, we have found it to be worth the price thanks to its features and ease of use.
Since it's more expensive than other similar tools (like Ahref, for example), it's not the best choice for freelancers or anyone that's just starting out on SEO.
So, if you have a limited budget for SEO tools, then I'd skip Clearscope.
Content optimization tools are vital for any website looking to improve its search ranking results.
If you're looking for other content optimization tools, we recommend checking out Surfer SEO or SimilarContent (more affordable.)
They all work in slightly different ways, but they share the same goal of simplifying content planning and making it easier to achieve better rankings.
Clearscope advantages
It produces simple, collaborative reports with all of the keywords and data you may need
It's easy to use and practical.
It helps optimize your content for SEO, so you easily increase the organic traffic to your website.
It's great for on-page SEO
It shows the readability score of your writing and the ideal length for the article.
It easily integrates with Google Docs and WordPress.
Clearscope disadvantages
You have to come up with keywords yourself.
It is a little bit expensive, even for the basic plan.
It isn't a great choice if you are a freelancer or a smaller business.
Its credit-based system for reports may put some people off.
Its keyword research tool can use some optimization.
Conclusion
To sum it up…
If you're looking for a tool to help streamline your research and writing process, Clearscope is definitely worth checking out.
The team behind it is constantly innovating and adding new features, from outline generation to WordPress and Google plugins.
While the price tag might be a bit off-putting for some, keep in mind that most good quality tools like this tend to be expensive.
However, we think it's worth trying it, especially if you are a big corporation.