Daz 3D Review: The Best Graphic Tools For Freelancers
You've got a freelance graphic design business going; you don't have any time to waste on low-quality tools that give you nothing but headaches and the same results as everyone else. Today, we're reviewing Daz 3D to see how it holds up against other graphic design software and if it's worth adding to your arsenal.
What is Daz 3D?
Daz3D is an advanced toolset featuring cutting-edge 3D models, images, and animations.
For many people, it's simply a place to buy models that they can use in their own projects.
It is a tool used by digital artists and designers to create stunning, lifelike images.
They offer a number of animation and modeling tools as well as hundreds of fully detailed models that you can use in your projects.
Some of their most popular models include realistic people, animals, monsters, ghosts, dinosaurs, and elves.
These high-quality models make it easy to create realistic images that bring your clients' ideas to life.
You can even buy bundles that give you access to thousands of great models at a reduced price.
If you're just getting started with Daz 3D or want to learn more about what they offer, watch their free training videos before you spend any money on their products.
DAZ Studio can make the often-daunting task of creating your own 3D models easier.
The program combines complex existing models with a user interface that is accessible to everyone, saving you time and leaving you with just the creative aspects of design.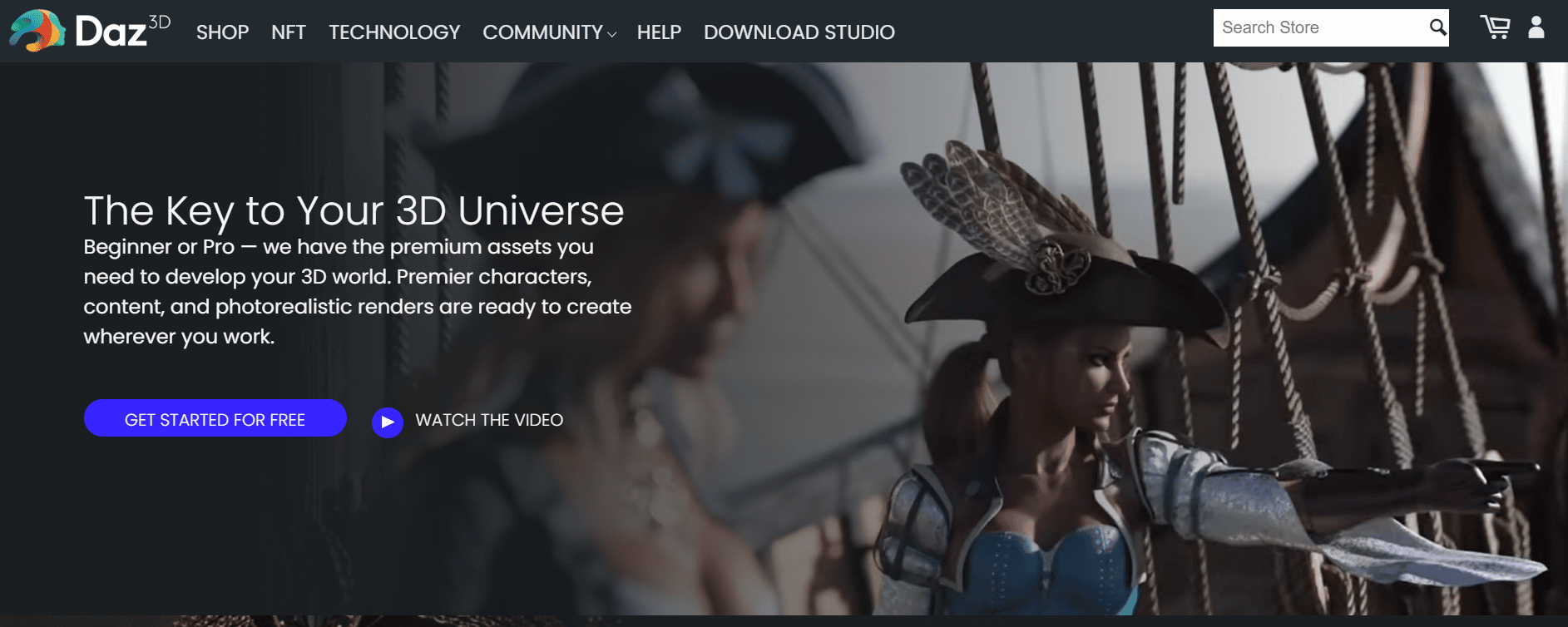 Features and Capabilities
Realistic character development
Daz 3D enables users to create lifelike characters by giving figure platforms with extensive capabilities.
This Genesis platform can produce not just unique individuals but also other creatures.
It also has the ability to morph, allowing for the combination of various body and extremities sizes, forms, and muscularity. Genesis 8 includes tools that will enable users to dress up figures and characters based on gender.
Daz 3D animation and rendering
Hexagon is an app for creating, rendering, and animating 3D content.
It's like a Swiss Army knife of 3D modeling software—it's packed with powerful capabilities and features yet still presents them in a user-friendly interface.
It enables users to access tutorials, which will help them become more proficient in 3D art.
It also allows the creation of very realistic 3D art, content, and animation.
Daz 3D provides a library of HD morphs that gives users an extensive selection of 3D human figures with realistic details and body parts.
It can also apply facial expressions to the characters created, enhancing them further.
And in order to have the characters move more realistically, Genesis 8 enables users to perform flex on significant groups of muscles while posing and bending.
How much does it cost?
Now, here comes the good news.
Everything you need to start creating your own stunning artwork with Daz 3D is now free.
This 3D software suite used to have a combined retail value of over $800!
You can download it for free from here after quick registration.
However, Daz Studio has developed a broad marketplace where you can download a vast collection of models.
They serve as assets to your projects, clothing, and even settings such as natural landscapes.
If you want to save more, then you might want to become part of their Daz + membership.
So, the company offers license-based pricing on items from the marketplace, such as models for Genesis 8, utilities, plugins, tutorials, and many more.

Who is Daz 3D best suited for?
Daz3D is suited for someone who loves to create.
If you've got a vision in your head, Daz will allow you to make it real (or as real as computer graphics get).
If you are a freelancer and your clients want 3D characters for their books, presentations, book covers, sketch animations, phone case covers, short movies, or online short videos and games, then you should really try it.
It is very beginner-friendly even though, just like with every new software, it may take a bit to get used to.
Users tend to be passionate about creating–and they love sharing what they create with others.
People of all skill levels use it for a variety of reasons.

Conclusion
If you're a freelancer, it can be quite challenging to find top-notch graphic design tools that are beginner-friendly and provide a good value for the money.
However, even if you don't want to get involved in hiring someone to create some awesome graphics for your business, Daz 3D offers all sorts of ready-made graphics that you can use with just a click of a button.
Freelancing doesn't have to be difficult—simply sign up on Daz 3D, browse through their various categories, choose a design and enjoy!
What DAZ 3D lacks in modeling tools, it makes up for in detailed models and morphs controls.
Overall, it's a great software that combines complex existing models with an accessible interface.