Frase.io Review For Writing And Editing Content In 2022
Frase.io has emerged as one of the leading automated content writing and editing services in the world.
Its smart-system platform makes it an important resource for organizations or freelancers looking to keep up with increased demands on their content creation without breaking the bank.
But despite Frase priding itself on being an all-in-one SEO tool, it is more focused on content optimization and briefing.
So, read our complete Frase.io review to learn more about this tool to see if it's worth it for your business.
What exactly is Frase?
Frase is a content-optimization platform that can help you create content your audience will love.
It identifies the questions your target readers are asking and helps you create more in-depth content, so you can rank on the first page of Google's search results.
Frase.io lifetime deal managed to build the biggest AppSumo launch ever in just a month.
But…
How does Frase.io work?
It is pretty straightforward.
If you want to write the next blog post, just type your keyword phrases into Frase (there are other tools you can use for that purpose), and it will go off and fetch the top 20 results from Google.
It will then offer up all sorts of fascinating statistics about those articles—e.g., the average number of words used in each piece, the average number of images, the most common headings utilized, etc.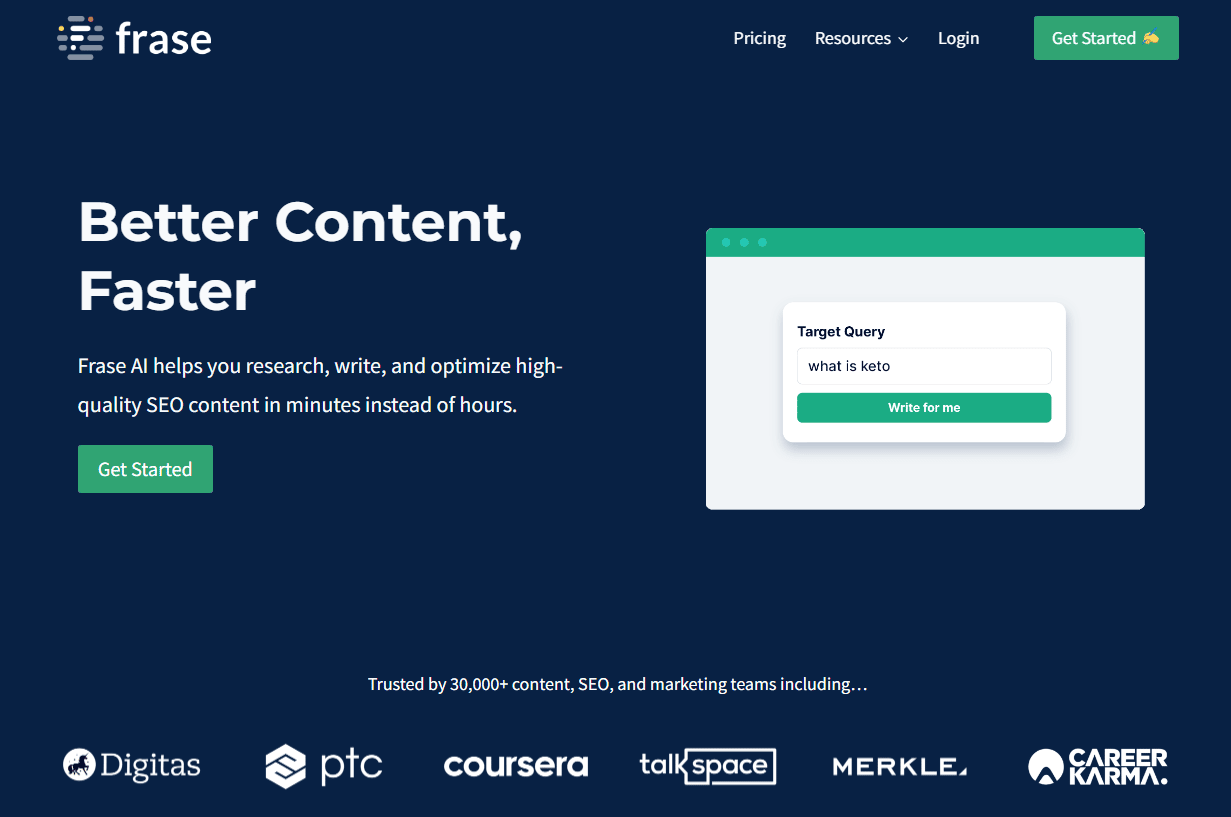 When you write content in Frase, it scores it ranging from 0% to 100%. The goal is to make your article score as high as possible, or at least higher than the average score among rivals, by avoiding crucial topic gaps.
This tool is great for anyone writing blog posts or for those people who need to brief their writers to create articles for them.
However, if you want to write other types of web content (landing pages, product descriptions, about us pages, or anything related to eCommerce), this is not what Frase is designed for.
And they might be better tools out there for that purpose (like Copysmith, for example.)
Frase.io core features
Frase is an AI-powered tool that identifies your audience's questions and creates detailed briefs for content focused on answering those questions.
So, let's take a look at some features of this tool you might like.
Frase has 4 main modules:
Content Brief: You can automatically create content briefs that help based on your search query in minutes.
Content Writing: It helps you generate high-quality articles which are SEO friendly. It can either auto-complete your sentences or rewrite entire new paragraphs.
Content Optimization: It assists you in optimizing your content compared to your top-ranking search rival.
Content Analytics: The content analytics module allows you to identify new content possibilities.
However, keep in mind that Frase cannot magically understand Google's exact content ranking algorithm.
This means that even if Frase shows you a perfect 100% topic score, this does not mean that your article will instantly rank in 1st place on Google.
Pricing structure
Frase starts at $44.99/month when billed annually, and it has 2 main packages and one that's customizable.
The Basic package at $44.99/month for the annual plan and includes just one user and 30 documents a month. It's perfect for freelance content marketers and small agency owners who work on a few projects a month.
The Team package starts at $114.99 per month for the annual plan. It has 3 user seats and unlimited documents. Of course, you can even choose to add extra seats for extra money ($25/month.)
The Enterprise package is customized to your needs and requirements, perfect for big organizations.
The Team and enterprise plans might be a better fit for agencies and startups that produce content daily.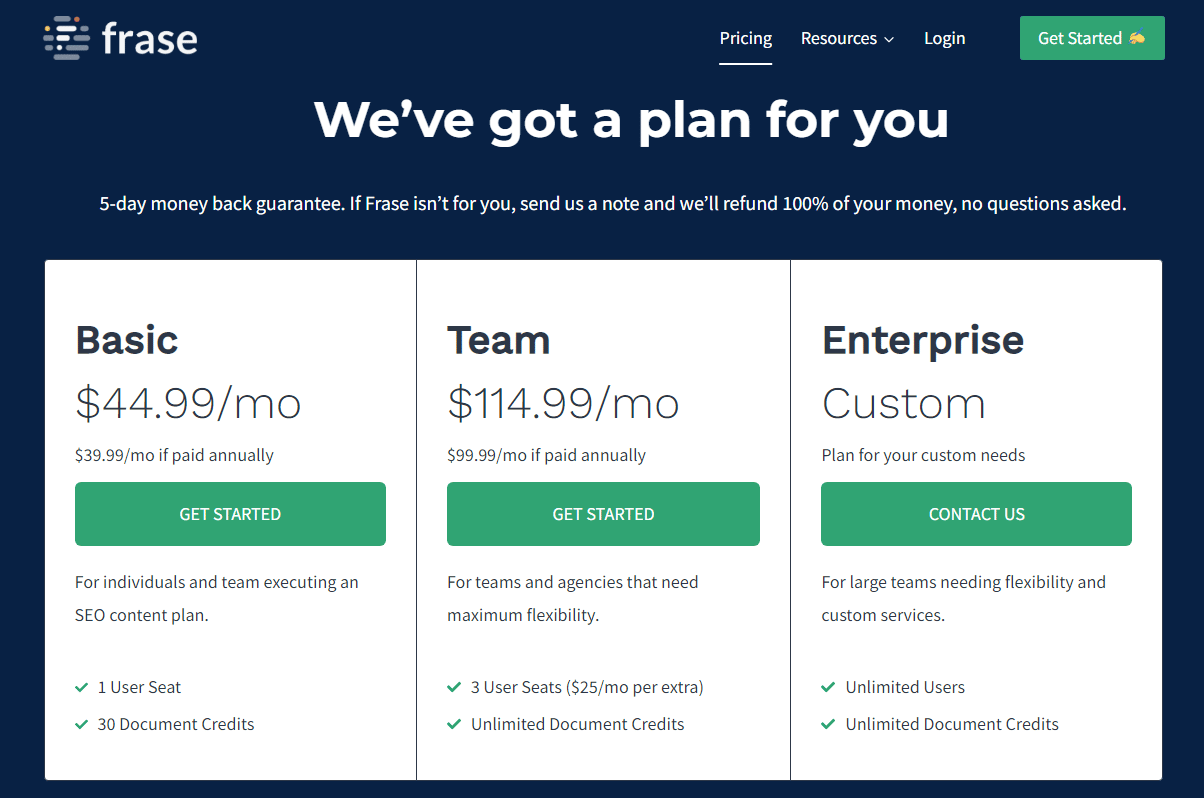 Moreover, if you need the SEO Add-on, you have to pay $35/mo, which gives you unlimited access to the AI writer.
Frase integrates with other tools and services available out there, such as Google Search Console, WordPress, Hubspot, and FAQ Schema.
However, beware that some of these features don't always work correctly and that they may even cause security issues.
Frase.io advantages
Time-saving. Just like many other tools out there, it helps you write and optimize full articles.
SEO optimization. It's great at showing you all the keywords to use, LSI keywords, synonyms, what sort of length it needs to be etc.
Very easy to use. It is pretty intuitive, especially when it comes to generating blog outlines and content.
Integration. It connects to Google Search Console and gives you actionable recommendations.
Frase.io disadvantages
You have to pay extra for the AI writer.
Sometimes the AI writer can produce unrelated and poor content.
Search results in other languages (apart from English) are not as good and accurate
While it is intuitive, it may take some time till you get the hang of this tool.
Conclusion
All in all, the Frase tool can be great for all those freelancers or bloggers to add to their arsenal.
The price is competitive compared to other alternatives, but keep in mind that each tool has its strengths and weaknesses, which makes their comparison somewhat invalid.
Surfer Seo, Marketmuse and Clearscope are all great alternatives, even though pricer.
However, the best thing about Frase is the speed at which it churns out quality content briefs.
With those briefs in hand, you can target specific niches of your choosing.
The icing on the cake is the AI's ability to produce unique content that will get you on the first page of any search engine.
It will definitely save you hours of your time and help you produce better, more thorough articles.