Gmass: Pros, Cons, and Everything in Between | 2023
What Is GMass Email?
GMass email plugin is an email marketing tool that allows you to use it directly from your Gmail account.
It is a Chrome extension that integrates with Gmail and allows users to send personalized emails to a large number of recipients.
With GMass, users can create email campaigns, schedule emails to be sent at a later time, and track email opens and clicks.
The tool is commonly used by small businesses, startups, and freelancers to reach out to their clients, prospects, and subscribers in a more effective way.
g2 score: 4.7/5 stars

GMass Pricing: $ 19.95 / month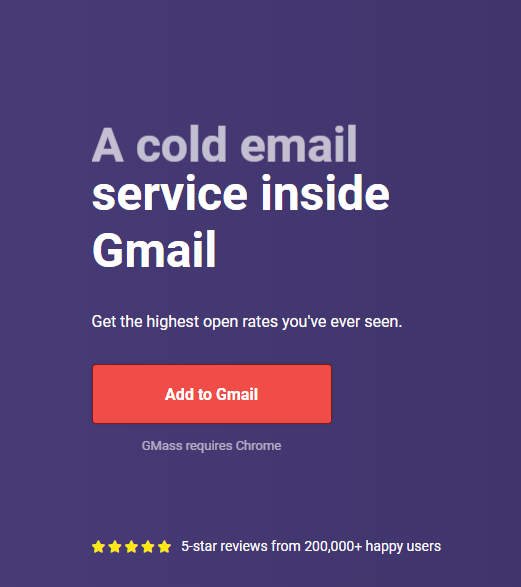 How to Use GMass?
It's pretty straightforward, to be honest.
Simply install GMass. (Once installed, you'll see a new GMass icon in your Gmail account.)
Compose an email.
Personalize it
Send the email and track email opens and clicks.
Overall, GMass is a powerful tool for sending mass emails and automating your email campaigns, and it's relatively easy to use once you get the hang of it.
GMass Email: Main Features
Send Speed Selections: GMass allows users to control the speed at which their emails are sent, which can help avoid Gmail's sending limits and ensure that emails are delivered successfully.
Google Sheets integration: It integrates with Google Sheets(this was obvious since it's a Chrome plugin, huh), making it easy for users to manage and organize their email lists.
Personalization: This doesn't need any more explanation.
Email address verification: Super helpful as it reduces the number of bounced emails.
Live reporting: GMass provides real-time reporting on email campaigns (including open rates, click-through rates, and other metrics, so users can see how their campaigns are performing.)
Automatic follow-ups: You can set up automated follow-up emails to be sent to recipients who haven't opened and/or responded to their initial email.
What Are the Pros and Cons of GMass?
Pros
1. Affordable and Simple
It is an excellent tool for beginners who want to start their email outreach campaigns without breaking the bank.
Its ability to personalize messages to specific audiences makes it ideal for reaching out to potential clients or customers. Additionally, its affordable pricing model is perfect for small businesses or entrepreneurs just starting.
2. Integration with Google Suite
GMass works within the Google suite, which means it can be easily integrated with other Google products like Gmail, Google Drive, and Google Sheets.
This makes it an ideal solution for companies already using Google's suite of tools, as they won't need to switch to a new platform.
3. Mass Email Communications
One of the primary benefits of GMass is its ability to send mass email communications.
This feature is particularly useful for businesses looking to reach a large audience quickly and efficiently.
4. User-Friendly
It is incredibly user-friendly and straightforward to set up.
Users can easily send their first campaign in minutes without needing any special technical knowledge.
5. Suitable for any Business Size
It is suitable for businesses of all sizes, whether you're a small startup or a large enterprise.

Cons
1. Limitations on Email Warmer
The email warmer feature is no longer practical due to Google's recent API restrictions.
This can limit the tool's effectiveness for some users who rely on this feature to improve deliverability and inbox placement.
2. Complex Training Materials
Some users may find the training tools/guides provided by GMass to be too complex or difficult to follow.
While the setup process is relatively straightforward, some users may require additional support or guidance.
3. Limited Team Management Options
GMass does not offer many options for team management, which can make it challenging for teams to coordinate their email campaigns effectively.
This can be a significant limitation for larger companies or teams that need to manage multiple campaigns simultaneously.
Also…While it is suitable for businesses of all sizes, it may not be the best solution for those with more complex email marketing needs.
Some users may require more advanced features or integrations with third-party tools that are not currently available in GMass.
Final Conclusion
In conclusion, GMass is a fantastic tool for sending mass email campaigns and is particularly well-suited for beginners or smaller businesses.
However, users may encounter some limitations, particularly in terms of advanced features and team management capabilities.
Nonetheless, its affordability, ease of use, and Google suite integration make it a worthwhile option to consider for any business looking to improve their email marketing efforts.