Gumroad Alternatives: Sell Digital and Physical Products Elsewhere in 2023
It's been nice knowing you, Gumroad.
The platform has long been known to provide content creators with the best way to sell digital products, online courses, and others.
But come January 31, 2022, Gumroad will change its commission structure.
Instead of a tiered fee based on lifetime revenue milestones (ranging from 9%-2.5%), the platform will charge everyone a flat 10% commission off every sale.
That means Gumroad will charge the same amount of sales to all sellers. Whether you're a beginner or an experienced one who has reached $1,000,000 in lifetime revenue won't matter.
This is unfair to the latter because they worked hard selling their digital downloads and reaching the seven-figure mark. The previous fee structure allowed them to keep more of their earnings.
But Gumroad had to pull the rug from under them and bring them back to the start. Instead of making more money this time, however, they'll even be earning less!
The sudden change in fee structure has caused every seller on Gumroad to move to another site for selling digital products.
If you're in the same boat but unfamiliar with Gumroad alternatives, you're in luck!
This post discussed the top sites where you can sell your digital and physical products while making more money. Let's begin!
Legiit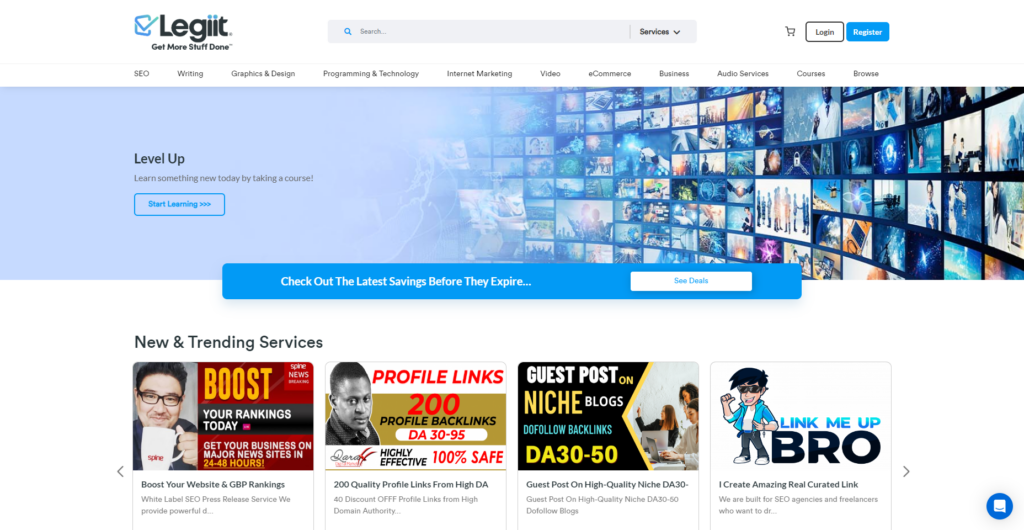 Legiit started as a place to sell your services. However, the platform has expanded to allow users to sell online courses as well.
First, Legiit helps freelancers offer their skills to their target audience. Create multiple services from your account that play to your strengths.
From here, you can set up the pricing for each, bundle different services together, ask for requirements customers must provide for you to process their orders, and more.
Upon completing the job, you can receive your payment via PayPal, Skrill or Payoneer.
As mentioned, you can create online courses for sale on Legiit. Upload your materials on the site, divide them into sections, and provide instructions to students. Wait for the platform to approve your course before it goes live.
Aside from one-time payments, you can offer subscription-based prices to regularly provide clients with consistent work.
If you want to generate more sales, you can put occasional coupons up for grabs for a limited time. This should help convince prospects to buy your services.
Also, its affiliate program allows you to get other people to promote your services and courses for you. In exchange, they receive commissions from every successful order placed.
Pricing Plans
Sign up for a free Legiit account. You'll get access to all the features mentioned above.
But if you want to get the most out of the platform, sign up for Legit+.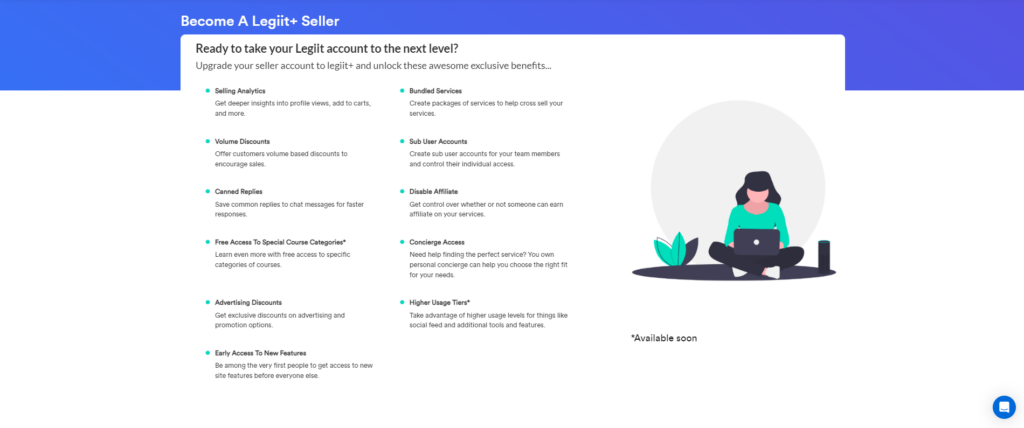 For $27/month, you can access advanced features like more in-depth analytics data, canned responses (useful for engaging with prospects while you're away), cross-sell your products, and more.
If your services and courses appear prominently on the site, you can buy a spot based on where you want them to appear.
You can make them appear on the site's homepage (which is more expensive) or your desired category or subcategory (more affordable and targeted prospects).
Pros and Cons
Pros:
Services and courses show up on the site, increasing your chances of getting sales without even trying!
Cons:
Can't sell physical products.
DPD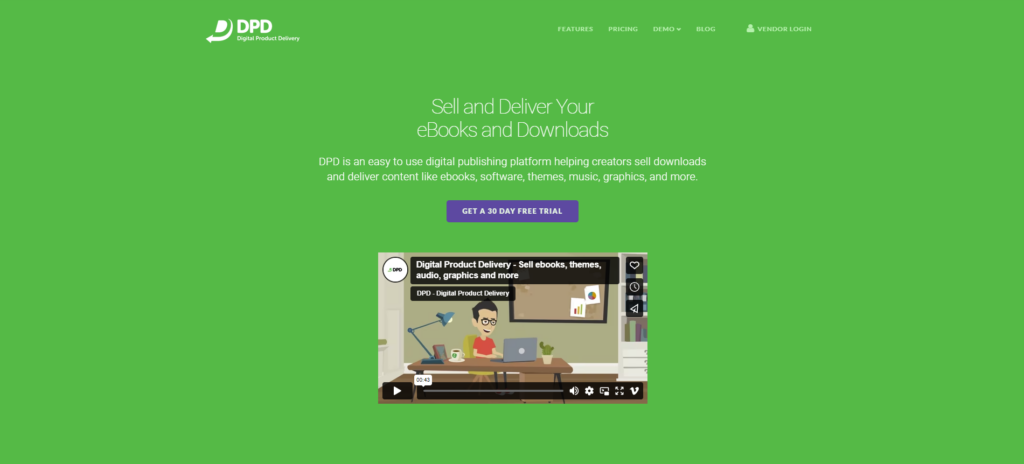 Also known as Digital Product Delivery, DPD lets users sell digital products like software, ebooks, themes, photos, and graphics, among others.
Just create an account and upload the file you want to sell. DPD will generate cart buttons that you can embed on your own website or socials.
Just like Gumroad, DPD takes care of processing and accepting customer payments. It supports many payment gateways, such as PayPal, Authorize.net, Sage Pay, and more.
There are two ways you can sell on DPD.
The first is by using the Shopping Cart method. It allows customers to buy as many items from you as they want. From here, you can embed the checkout system onto your website so people can purchase directly from your site!
The second is the Subscription method. Create a membership area where people can sign up to receive exclusive content from you. Schedule the content so subscribers receive it at specified dates or in parts at regular intervals (drip content).
Even better, DPD doesn't collect fees on all your customer purchases. That means you receive ALL the money you charge to customers.
However, the platform charges $0.69 per succeeding subscriber after the first five.
Pricing Plans
DPD has a 30-day free trial you can sign up for so you can take the platform for a spin. Users can access all its features, as well as 1.5GB space and 30 product slots.
Before the 30 days elapse, DPD will remind users to subscribe to one of its paid plans.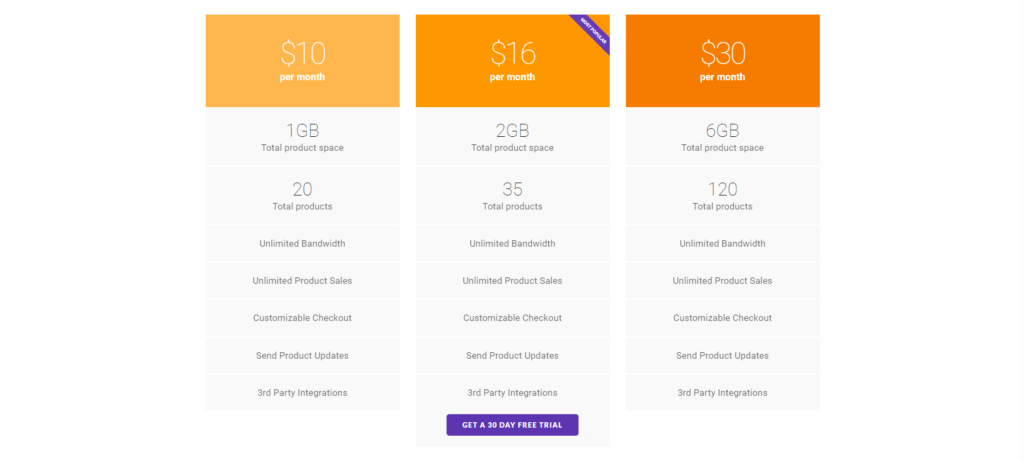 All plans have unlimited bandwidth and product sales with customizable checkouts and extensive third-party integrations. The only difference across the three plans are the GB space and number of products.
First-time sellers will do best with the platfor'ms $10/month plan. On the other hand, established content creators will need the space and total products allowed for selling in its $30/month plan.
Pros and Cons
Pros:
DPD doesn't take fees from all payments for all single or multiple product orders.
Cons:
Required a paid subscription to use it.
Platform takes monthly fees from all your subscribers after the first five.
Lemon Squeezy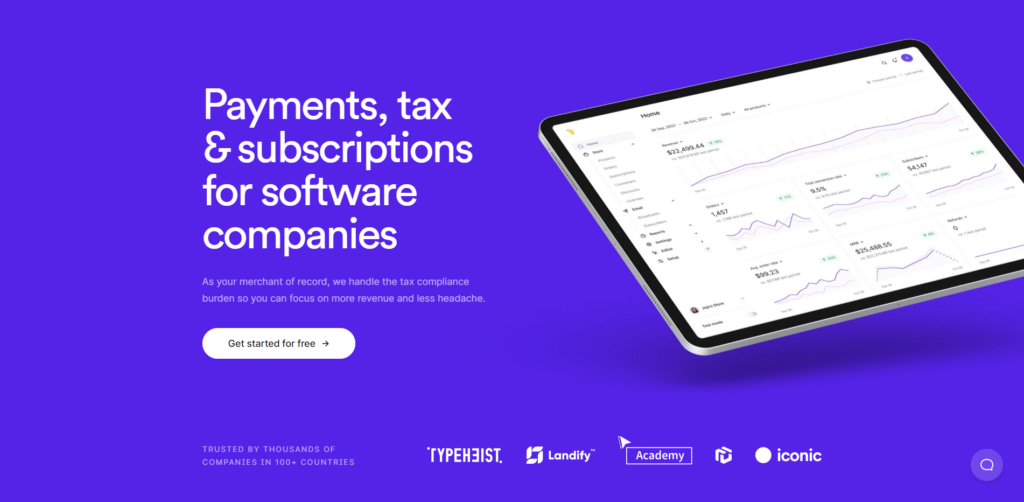 As a direct Gumroad alternative, Lemon Squeezy is a free platform for selling digital downloads and others while charging transaction fees.
For every sale you make, Lemon Squeezy takes 5% + 50¢ from the total cost.
There are no tiers where the fees decrease as you generate more sales from the platform. Nonetheless, it's a fair compromise considering that the fees are around half of what Gumroad collects.
What makes Lemon Squeezy a viable alternative for disgruntled Gumroad users is the ability to help you collect more payments and worry less about chargebacks.
For one, its fraud protection feature lets you identify risky customers who are either spam or highly likely to cancel or return the purchased products.
You can focus on making more sales by identifying these fraudulent buyers from the start.
There's also the abandoned cart and failed payment recovery systems.
The former allows you to send automated emails to people who didn't check out their carts yet. The latter also lets you send emails to people whose payment failed in the middle of the process.
To help you increase sales, Lemon Squeezy lets you show your product prices in the currencies where your prospects reside. The platform supports 95 currencies in the hopes of increasing conversions.
Pricing Plans
As mentioned, people can sign up for a freeLemon Squeezy account. In exchange, they incur transaction fees for every successful sale of their products.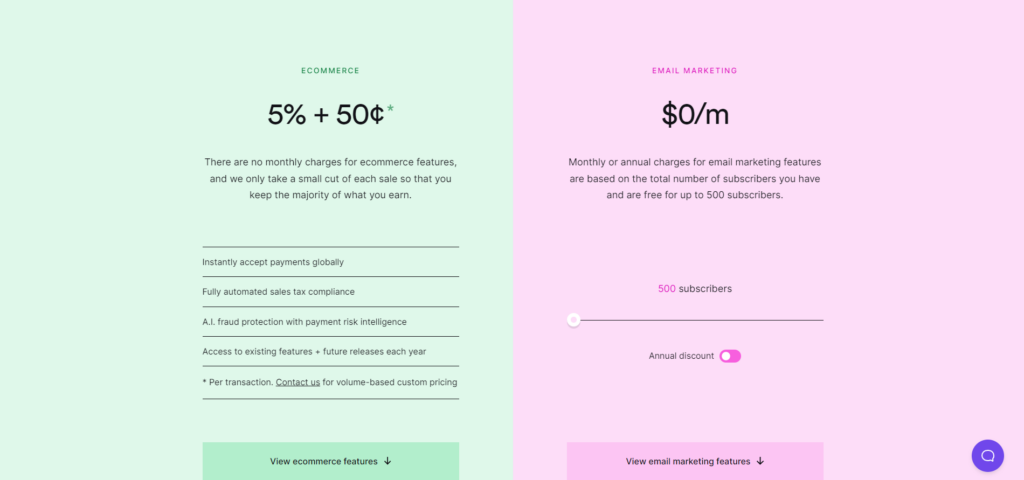 The platform also has email marketing tools available at your disposal. It is free for the first 500 subscribers, but its paid plan starts at $10/month for 1,000 subscribers. Price increases as users gather more subscribers.
You can segment subscribers depending on the product or package they brought from you. From here, you can send them highly targeted emails to convince them to purchase from you again.
Pros and Cons
Pros:
Email marketing and analytics features comparable to, if not better than, Gumroad.
Features to help maximize your product sales.
Cons:
Payhip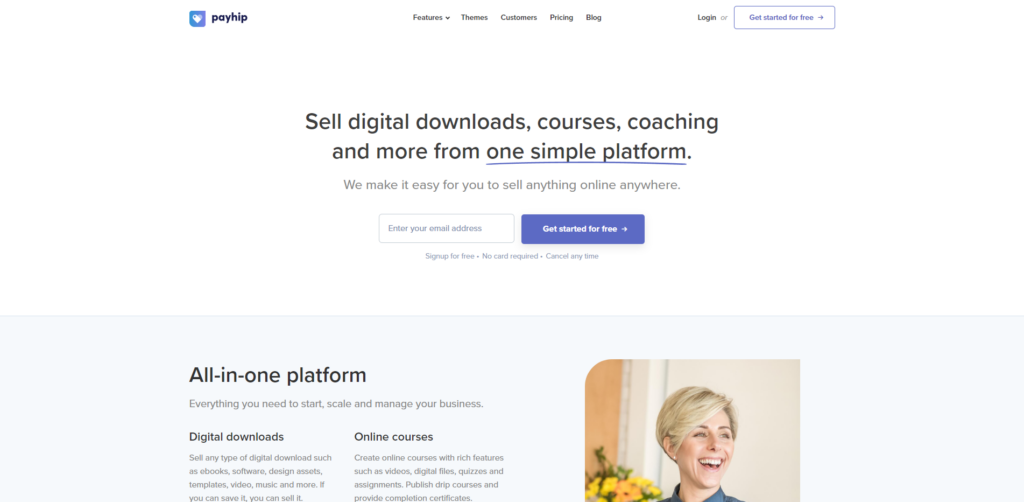 Payhip strives to be the complete online store for content creators. It allows you to sell physical and digital products, online courses, and coaching services.
It starts by creating a website using Payhip's easy-to-use design builder. Edit the colors and text to match your brand.
You can even use a custom domain and upload your brand to help set the foundation for your online brand.
From here, display your items for sale in an attractive way to drive more sales, even without design experience.
If you already have an existing site, you can embed your Payhip store there. Doing so makes the ordering and payment process via PayPal and Stripe simple.
To help you generate more sales, its marketing tools provide you with ways to reach out to your audience more effectively.
First, the affiliate program turns your customers into your promoters. In exchange for helping your brand get more customers, they receive commissions from you.
Then, you can cross-sell and upsell multiple related products in-store at the checkout page. Offer them at special, reduced prices to convince customers to purchase.
You can also release discount codes during the holidays to take advantage of the special occasion.
Pricing Plans
Payhip offers three plans with the ability to sell unlimited products and earn unlimited revenue.
The only difference among each plan is the varying percentages for transaction fees.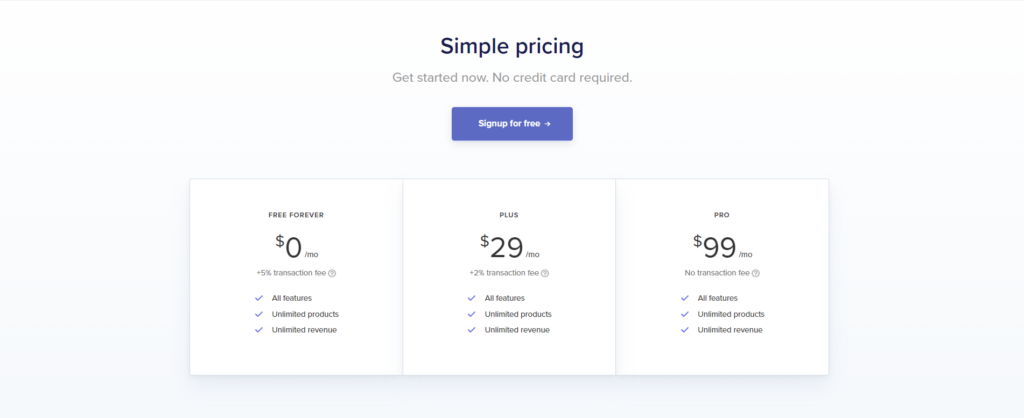 The Free plan takes a 5% transaction fee for every purchase. Subscribe to its Plus plan ($29/month) to lower the fees to 2%. Or sign up for its Pro plan ($99/month) to waive the fees.
Pros and Cons
Pros:
Ability to create a fully-functional website.
Email marketing software lets you build an email list to engage with and convert into customers again.
Cons:
Payment gateways limited to only PayPal and Stripe.
Podia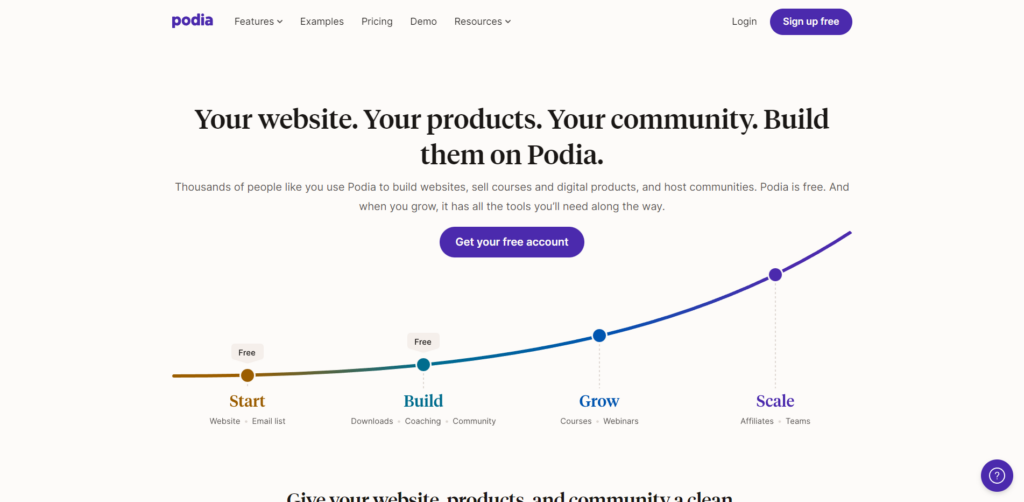 Podia is another alternative to Gumroad that lets you build a website from scratch and sell digital downloads and other products.
Using its drag-and-drop website builder, customize its appearance to achieve the look and feel you want for your online business.
To help build a site you want for your online store, engage with their online community for help and suggestions.
You can build the checkout page as you develop your website to facilitate the payment process. Include upsells and cross-sells to generate more sales for your digital products.
You can also give away coupons to sell your products at a lower price. This helps grease the wheels in your marketing and sales campaign.
If customers love your products, you can invite them to your affiliate program and ask them to sell on your behalf. In exchange, they'll earn commissions you can set for every successful sale.
Finally, Podia's email marketing feature allows you to build an audience to build relationships with each customer.
Segment each one based on their purchases so you can send them highly targeted emails. Use this to deepen your engagement with them and make them purchase again.
Pricing Plans
Podia offers four plans, all of which offers the ability for users to build a website with email marketing and chat functionalities.
The difference among plans is the number of products users can sell from their account and the transaction fees.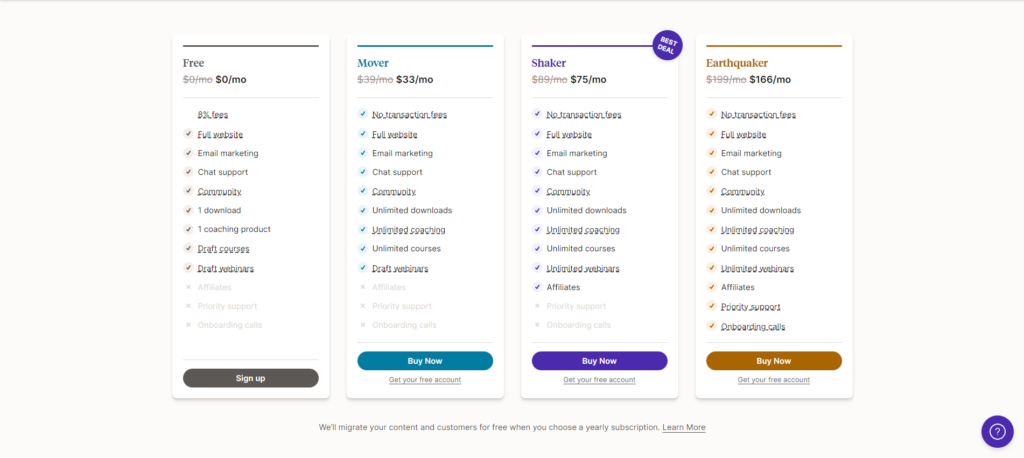 The free plan has an 8% fee on every successful sale and only lets users sell one (1) downloadable product.
To eliminate the transaction fees and sell unlimited products, subscribe to its paid plans starting at $33/month.
Subscribing to higher plans starting at $75/month lets you unlock advanced features like an affiliate program, priority support, and more.
Pros and Cons
Pros:
Features to help you not only set up an online store, but a business.
Lets you sell webinars and Zoom workshops individually or bundle them with other products.
Cons:
Sellfy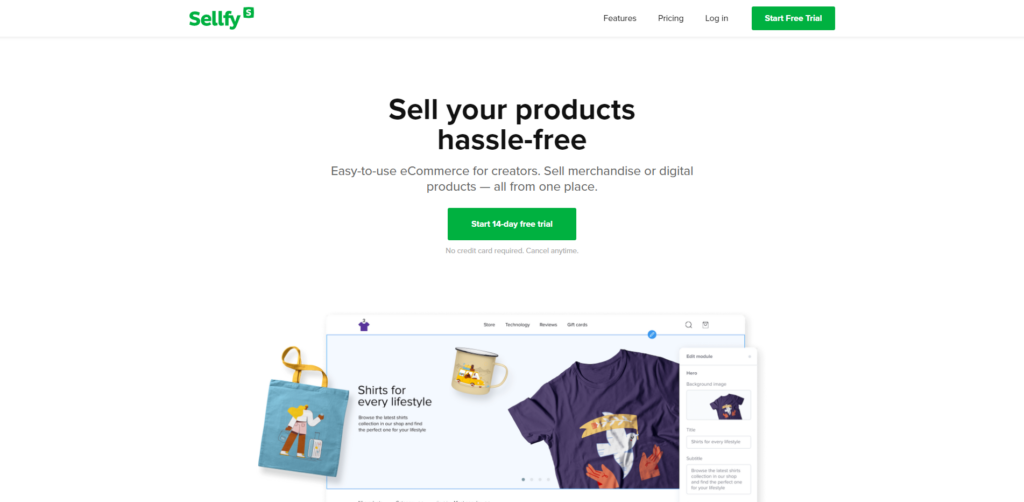 Sellfy aims to uncomplicate online selling so creators can get their products out to their target audience with no hassle.
It starts with creating an online store with a few clicks. Then upload your digital products for your prospects to purchase. That's it!
Sellfy is also the perfect platform where you can sell print merchandise. Upload the design you're selling on the platform. From here, Sellfy will take care of printing the design on your desired apparel.
You can launch a subscription business model using the platform. Once people subscribe to your store, you can schedule when they'll receive the content from you periodically.
To help you get more buyers of your products, use its marketing features. For instance, releasing discount coupons help create FOMO for your products.
The same goes for upselling—offer products at lower prices on checkout to convince people to make the purchase.
You can also sell your products outside your Sellfy website. Embed "Buy Now" buttons and product cards on your existing site . You can even feature them at the end screen of your YouTube videos if you have a channel.
Pricing Plans
Sellfy offers three paid plans. All plans let you sell unlimited products and give you access to its email marketing features.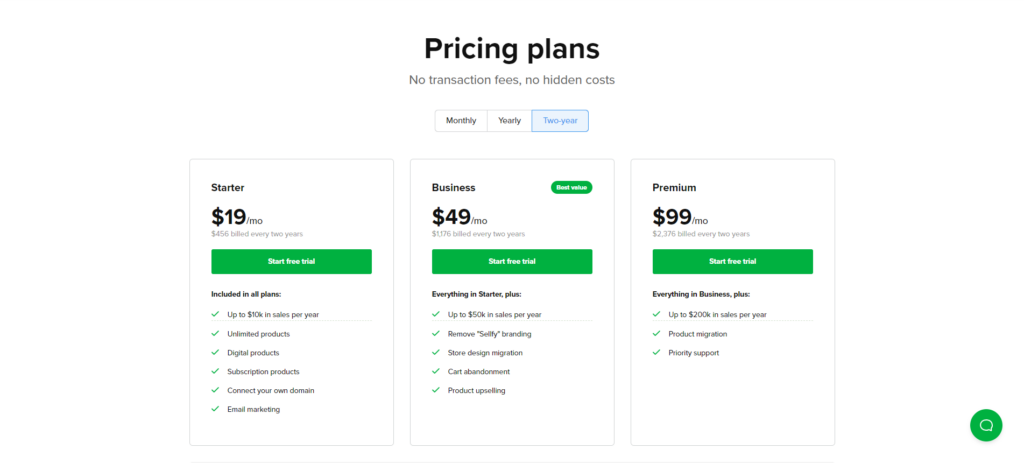 The plans differ from the maximum annual store revenue. For instance, the Starter plan ($29/month) only allows up to $10k yearly sales. If you exceed this amount under this plan, you must subscribe to a higher plan.
Also, higher plans starting at $49/month give you access to features such as product upselling, cart abandonment, priority support, and more.
Pros and Cons
Pros:
Perfect for setting up a print-on-demand merch store.
Extensive embed features.
Cons:
Payment gateways limited to PayPal and Stripe.
Can only remove "Sellfy" branding on its second paid tier.
SendOwl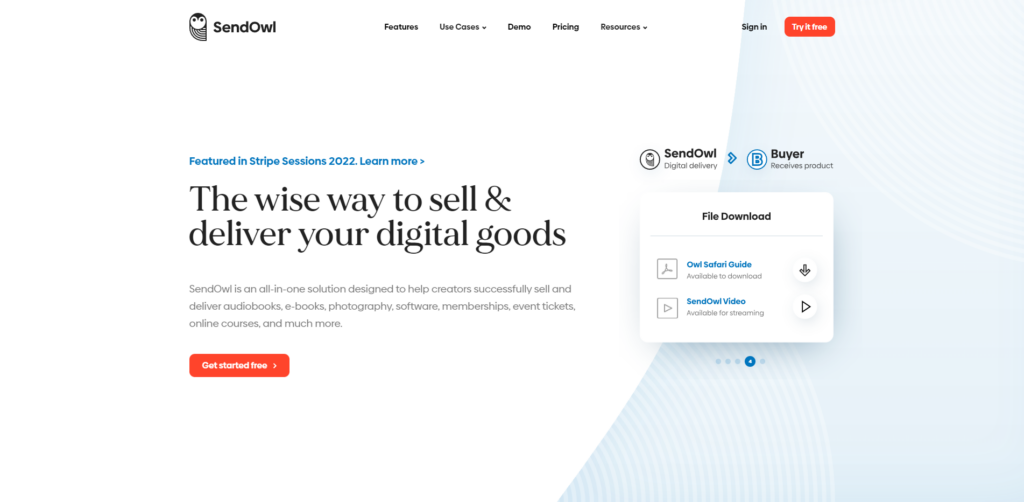 SendOwl is one of the best Gumroad alternatives that doesn't let you build a website.
In a nutshell, it sells you create a shopping cart with a checkout page that you can embed on your website or social media.
You can choose from cart and email templates to capture the essence of your brand. If not, you can customize their appearances to achieve your desired look.
What makes SendOwl great is the ability for users to provide its customers with flexible payment options. Giving them the power to decide how to purchase from your store could help increase your conversions and sales.
Its multi-currency and multi-location features let you sell your products to potential customers based on their location. SendOwl adjusts the language so prospects can understand better and the conversion to quickly help them decide whether or not to buy.
The platform lets you send various physical and digital products according to their format. For example, if you're selling online courses, using the platform's drip functionality lets you automatically send the content on time.
To get more buyers, use its marketing tools like affiliate marketing, 1-click upsells, discount coupons, and more.
Finally, you can analyze the performance of your products using its gathering analytics data. See which products sold the best over a period and determine why. Conversely, find insights on how you can maximize your underperforming products.
Pricing Plans
SendOwl has two plans, both of which give you access to the tool's checkout, delivery, and marketing features.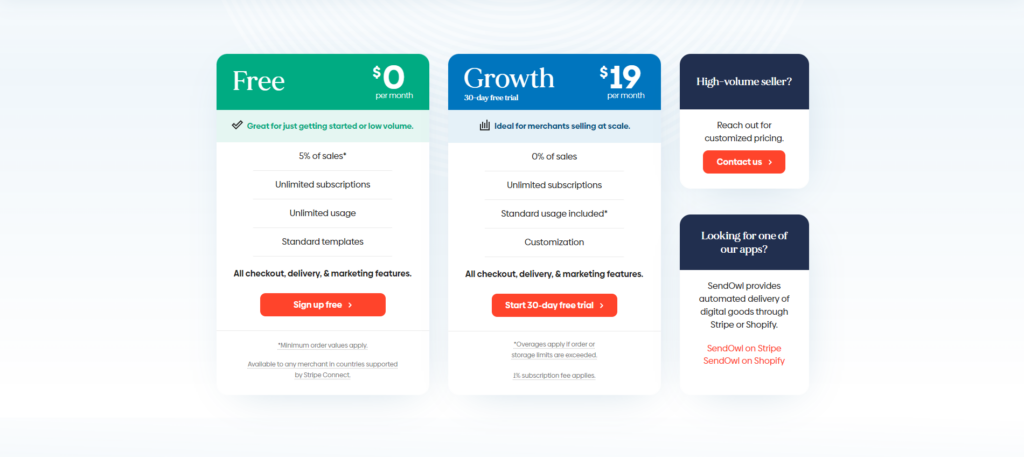 For the Free plan, the platform takes 5% of sales from every successful order (with a minimum fee per sale of $0.25). Signing up for the Growth plan ($19/month) will eliminate the transaction fees.
The Growth plan also includes 100 monthly orders and 15 GB storage space. The platform will charge you $0.25 for every succeeding order if you exceed the maximum number volume of orders. It will also charge you $0.15 per extra GB of storage.
Finally, SendOwl requires sellers to offer a minimum value of $1 per product.
Pros and Cons
Pros:
Flexible payment options give customers complete control over how they want to pay for your products.
Extensive marketing and analytics features help you uncover insights on maximizing sales and profitability.
Cons:
Limited monthly orders and GB space could put a damper on your ability to sell your products.
Shopify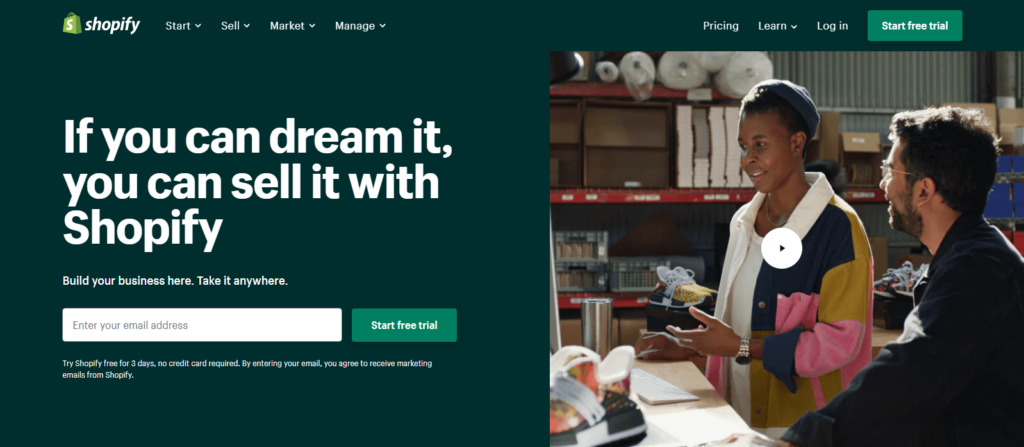 Shopify is arguably the most popular ecommerce platform in the market. In fact, if you've successfully sold products on Gumroad, expect to have even more success as a Shopify seller.
One of the platform's best features is its online store builder, unlike any other in this list.
Most Gumroad alternatives allow you to create a storefront to display products your audience can buy. With Shopify, you have better control over your store's backend.
For one, you can organize your products and items more efficiently such as bulk editing their information and prices. This way, you can save more time on menial tasks and focus more on getting your products out there for sale.
Its customer management features also help you keep track of their orders and send them invoices.
You can then message customers using Shopify's email marketing tools. These let you build better relationships with them and get them to buy from your store again.
Not to mention, its extensive app ecosystem allows you to get the most out of your Shopify store.
Think of the apps as WordPress plugins you can download and activate on your site to get more email subscribers, collect customer reviews, and more.
Some are free, but others are paid. Regarding the latter, consider which apps you must pay for to grow your online business.
Pricing Plans
Shopify has three plans. All of them are different based on their credit card rates and features.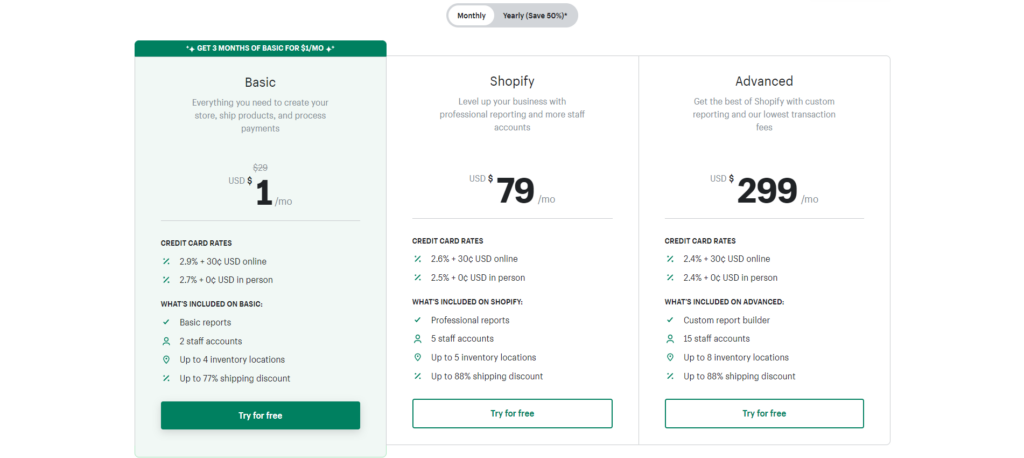 In a nutshell, the higher the plan you pick, the lower the credit card rates become. You also get better reporting features, more staff and inventory locations, and higher shipping discounts.
As of writing, it's currently running a $1/month promo (normally $29/month)
Pros and Cons
Pros:
One of the best and more comprehensive ecommerce platforms available—you won't need anything else!
Wide variety of Shopify apps to help supercharge your online store and generate more sales.
Cons:
The platform charges you credit card fees regardless of plans.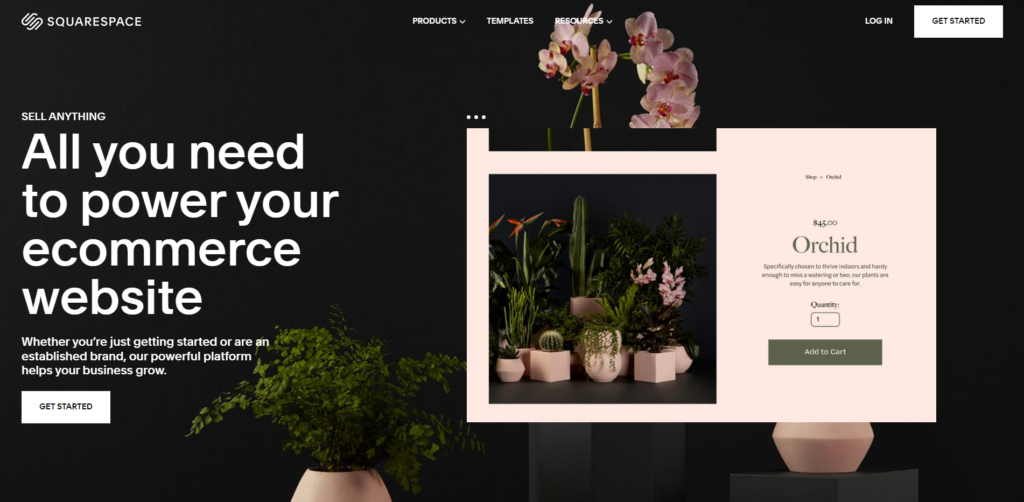 Like Shopify, Squarespace Ecommerce helps set up your online store using the platform's extensive selling tools and features.
First, you create a website by choosing a template or designing from scratch. From here, you can customize the colors, font, and layout to match the look you want for your online store.
Next, upload photos of the products you wish to sell. Set up the site to show your products in an appealing way that will convince people to buy them.
Potential customers can place as many products as they want in their carts.
From the checkout page, Squarespace lets you offer multiple shipping options such as weight-based, flat-rate, and others. This gives customers the power to decide which option is best for them.
As a Gumroad alternative, you can use Squarespace to sell physical and digital products. There's also an option for you to sell services from the platform to expand your offerings.
If you're always on the go, you can keep track of your storefront's performance via Squarespace's mobile app.
Finally, the platform has marketing features like email marketing, SEO, and social media integrations to help get your brand across to your untapped target audience.
Pricing Plans
Squarespace has four plans.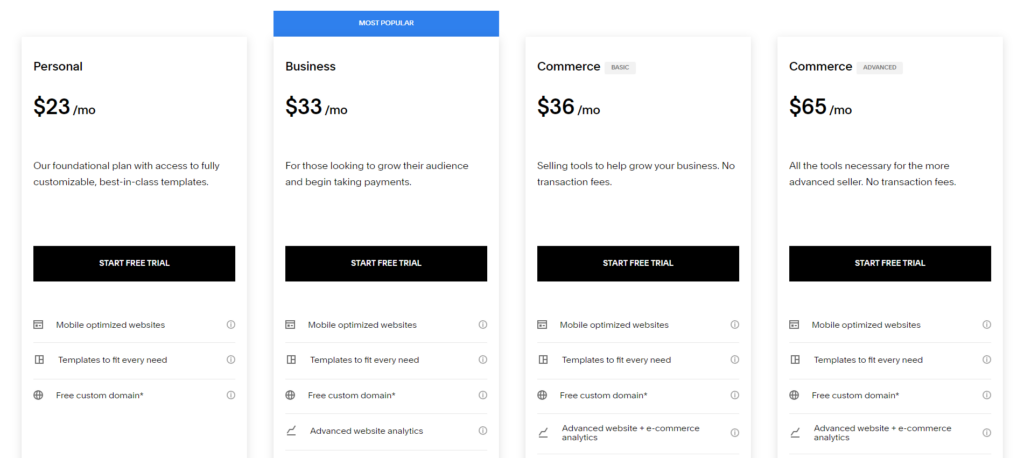 The first plan ($23/month) doesn't allow you to sell products like in Gumroad. Sign up for its Business plan ($33/month) or higher to do so.
The Business plan charge 3% transaction fees on all successful purchases. To get rid of free, sign up for the Commerce Basic or Commerce Advanced plans.
Higher plans give you access to better features, like advanced ecommerce analytics, advanced shipping and discounting, and more.
Pros and Cons
Pros:
Ability to sell services.
The mobile app allows you to stay in touch with your online business anywhere and anytime.
Cons:
Self-contained in its platform. For instance, you can't embed your cart or storefront on your site or social media.
Teachable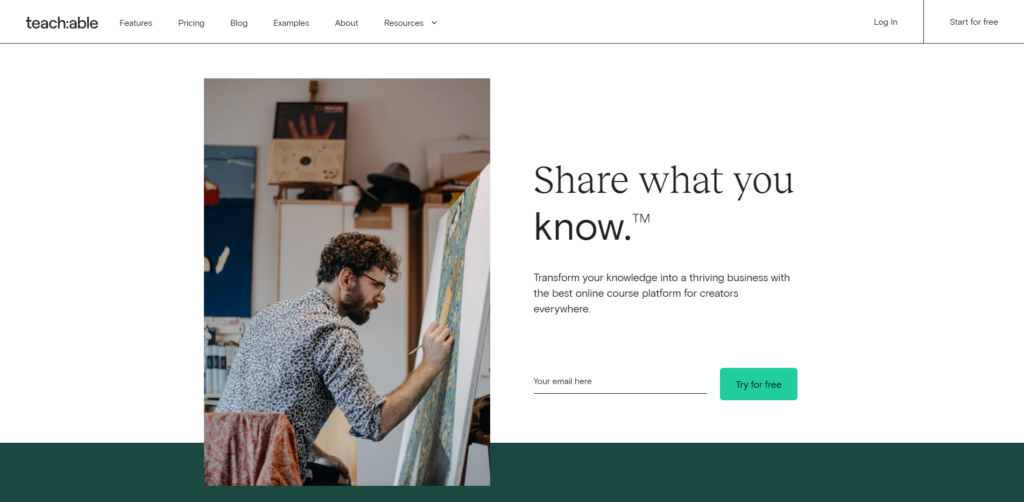 If you sell courses from your Gumroad account, consider moving to Teachable.
The platform lets you create a landing page for your online courses. Its simple design builder helps get your message across to your audience, like the contents of your course.
Upon uploading the course materials, you decide to release the lessons upon purchase, drip-feed them, or do live coaching. Choose the best method to help your students get the most out of your courses.
You can then sell your courses as a one-time payment or subscription-based. You can use teachable:pay or third-party gateways to receive and process payments. Teachable's payment gateways can take care of automated tax filings, fraud monitoring, and more.
Over time, you can use the gathered data about your business performance. From here, you can then unearth insights on how to get more students and keep more students on board.
To help students remain as one, use Teachable's comment management to reply and provide additional value to them.
Conversely, you can get convince them to join your affiliate program. They will help promote your course to their audience. In exchange, they will receive commissions for every successful sale.
Pricing Plans
Teachable has three plans available.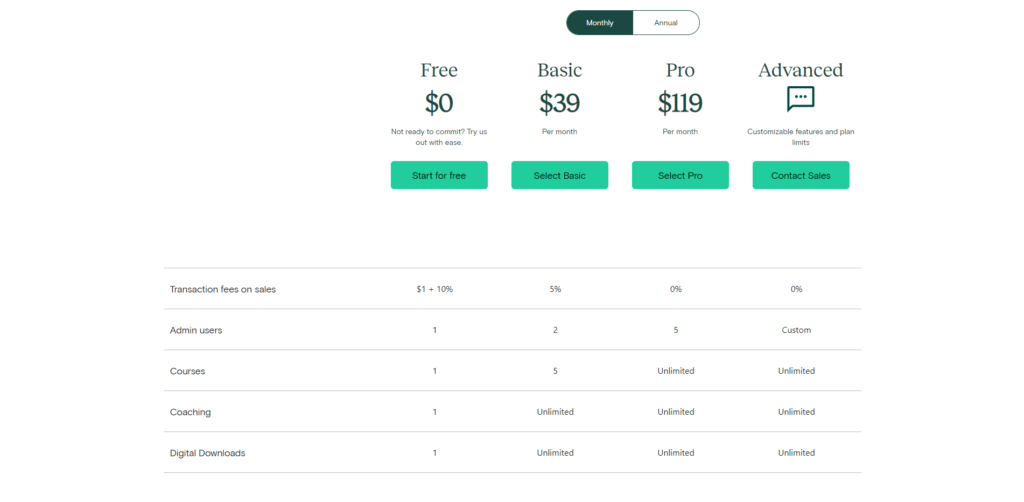 The Free plan is ideal for creators with only a course available. Aside from that, another caveat is the $1 + 10% transaction fee for every payment they receive.
The Basic plan ($39/month) lowers the fees to $5. It also allows you to sell four more additional courses on top of unlimited coaching and digital downloads.
The Pro plan ($119/month) removes the transaction fee and gives you five admin seats in total.
For users who require more limits and custom features, they can reach out to Teachable for its Advanced plan.
Pros and Cons
Pros:
Sell courses with confidence and ease.
teachable:pay helps make managing payments and taxes much easier. It can also initiate upsells and order bumps at the checkout page to optimize conversions.
Cons:
The focus is on promoting and selling courses only.
ThriveCart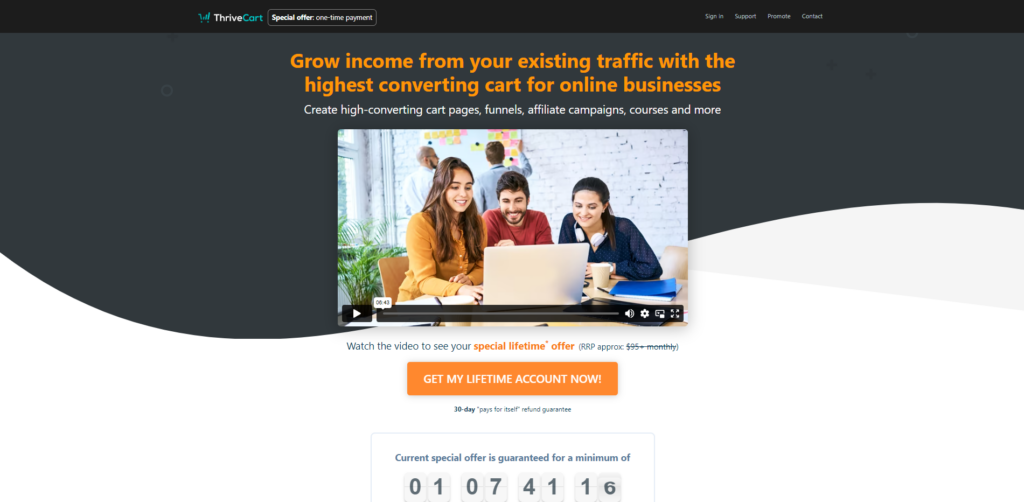 ThriveCart is a shopping cart tool and conversion funnel builder that lets you sell any product imaginable to an audience.
As a funnel builder, its goal is to maximize your sales and revenue.
First, you can use ThriveCart's bump offers to show up on a buyer's checkout page. Offer your product at discounted prices and for a limited time to get more people to purchase.
Once you've set up your cart, you can embed the cart on your website so potential customers can buy it from there.
Over time, you can check the performance of your carts using the tool's real-time metrics and forecasting. See which carts and products are selling like hotcakes.
You can also view your products' lifetime value, churn rate, and average daily revenue. From here, you should be able to make informed decisions on improving your carts' conversion rates.
Even before viewing your analytics data, you can make an effort to increase revenue by setting up cart abandonment follow-ups.
You can also offer flexible subscriptions, split payments, and "pay what you want" pricing to help encourage people to buy your product.
If you activate your affiliate program, you can tweak the commissions that referrers will receive based on the refund rate. This way, you encourage referrers to drive the right audience down your sales to lower refunds and increase their commissions.
Pricing Plans
Unlike all Gumroad alternatives, the ThriveCart Lifetime Account is available for $495. It includes 1-click bum offers, A/B testing, third-party integrations, funnel stats, and more.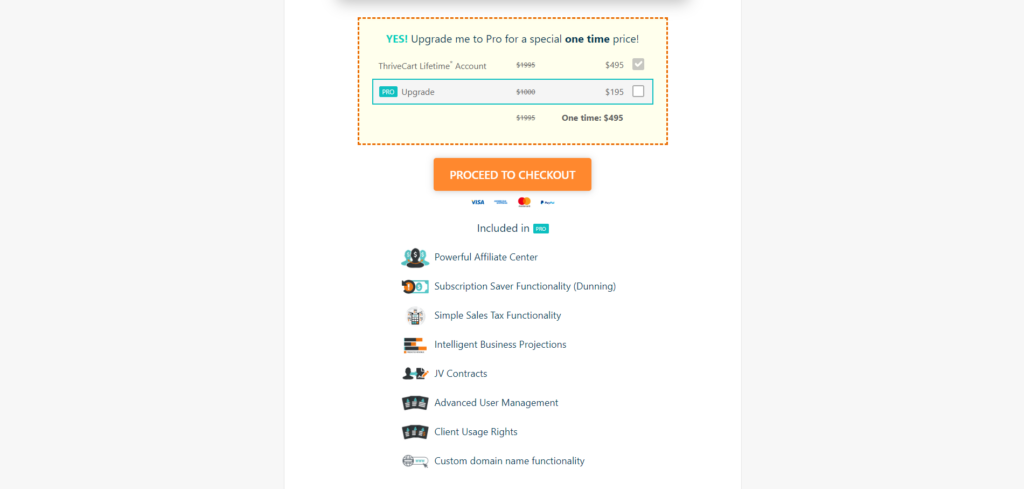 You can sign up for its Pro Account by adding $195 (a total of $690). It includes the affiliate center, simple tax functionality, and others.
Special mention goes to the Subscription Saver Functionality, which emails customers regarding their failed payments. This allows them to provide a credit card or payment details that work.
Pros and Cons
Pros:
One-time payment allows you to get the payment part out of the way.
Powerful automation features to ensure that your audience purchases your products or stays as members and subscribers.
Cons:
It doesn't have autoresponders, invoicing, tax calculations, etc. You must integrate with other third-party tools to use these features.
WooCommerce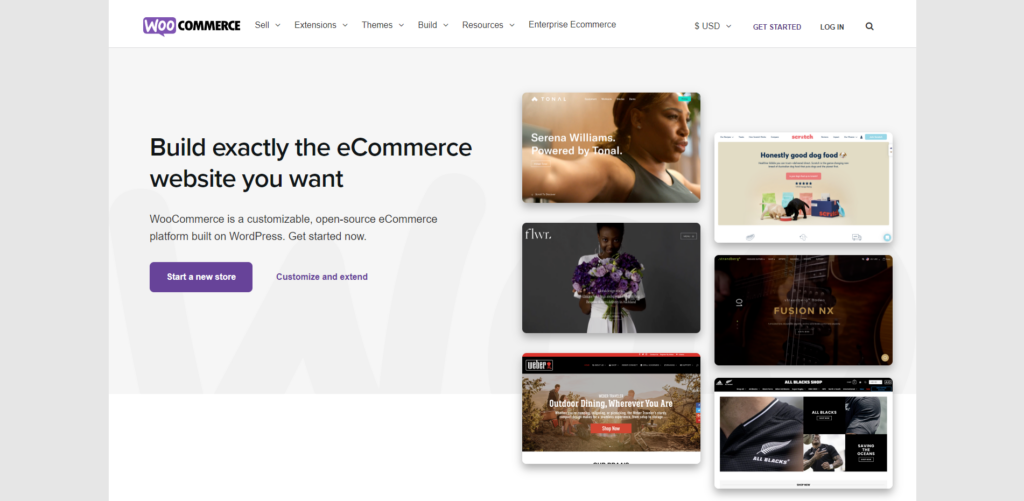 WooCommerce is an open-source ecommerce platform built on top of WordPress.
Install this plugin on your WordPress website, and you can enjoy all its features.
If you're already using WordPress, you can integrate the platform into your existing design and layout. The plugin will set up the relevant pages to create your online store on the same site.
Simply tweak the pages from the dashboard to achieve the look and feel you want from your product, cart, and checkout pages. You can do all these without touching a line of code on your website.
After uploading your products for sale, you can offer multiple payment methods to accommodate your customers' purchasing capacity.
WooCommerce has a built-in email marketing feature. Send emails to get more reviews, tell them about your latest promos and updates, and send greetings to build deeper relationships with each customer.
If you're not generating enough customers, you can integrate WooCommerce with third-party marketing to target your audience on Facebook, Google, and other marketplaces.
You can also offer coupons to people looking to save on your products.
Pricing Plans
As an open-source platform, WooCommerce is free to download and use on your WordPress site.
However, just because the plugin is free, doesn't mean it's not without costs.
To use this platform, you need to run a WordPress website. It comes at a specific price depending on your web hosting and other variables.
Refer to this article for the complete breakdown of the costs of launching and running a WordPress site.
Pros and Cons
Pros:
Cost-effective ecommerce platform, especially if you already have a WordPress site set up.
Cons:
Setting up the platform isn't as user-friendly as the other Gumroad alternatives.
What's the Best Gumroad Alternative for You?
There's a lot to sink your teeth into regarding this post about Gumroad alternatives. But let's cut right to the chase:
Lemon Squeezy is your platform if you're looking for an exact Gumroad alternative. It possesses identical features but with a lower flat-rate transaction fee.
However, as with platforms with a free plan, you'll never know when they'll start increasing their fees.
In this case, you'd want a premium tool that offers transparent pricing (one without transaction fees), smooth checkout, and a host of payment gateways.
In this case, Legiit is a viable alternative for setting up a storefront for your services and courses.
As you can see, there is no clear-cut answer to the best Gumroad alternative for you. However, the best you can do is to try out the tool above and decide for yourself. Good luck!