Headless eCommerce in 2023: The Future of Online Shopping
As online shopping continues to be the go-to option for consumers, it's only natural that eCommerce will evolve with the times. In fact, headless eCommerce has become the norm within just a few years!
According to Statista, by 2027, online shopping revenue in the U.S. will exceed 1.7 trillion dollars.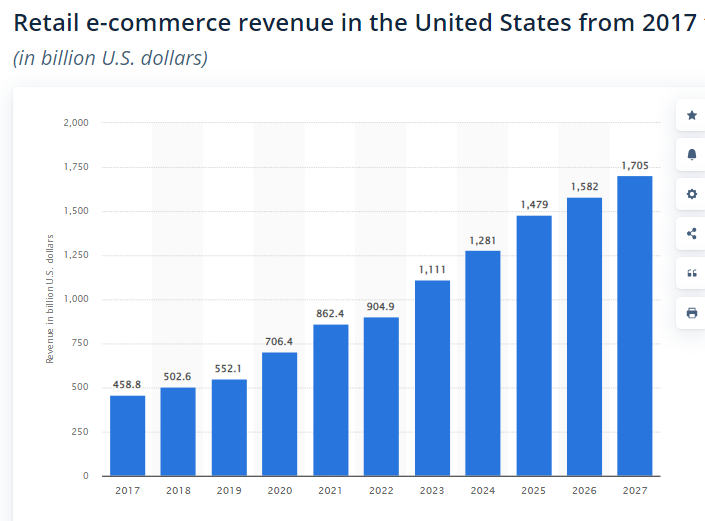 In order to succeed in this market, businesses need to harness creative, omnichannel experiences to convert their shoppers into customers.
That's where headless commerce comes in.
Traditional monolithic commerce platforms that have been commonly used are simple to set up.
However, there is little room for rich merchandising and design opportunities, and it is difficult to integrate your current systems.
On the other hand, headless offers you the freedom to create incredible shopping experiences for each customer at every touchpoint.
What Is Headless Commerce?
Headless commerce architecture separates a website's front end from its back end.
This separation allows you to tie other applications or systems into your site.
For instance, you probably want to use another company's CRM (customer relationship management) but still create the site in WordPress.
With a headless architecture, it would be possible to connect the two systems together seamlessly.
This way, it gives you more flexibility in the buyer experiences you create.
You have faster go-to-market timelines and lower development costs which can speed up innovation.
The secret is headless commerce API (application program interface.)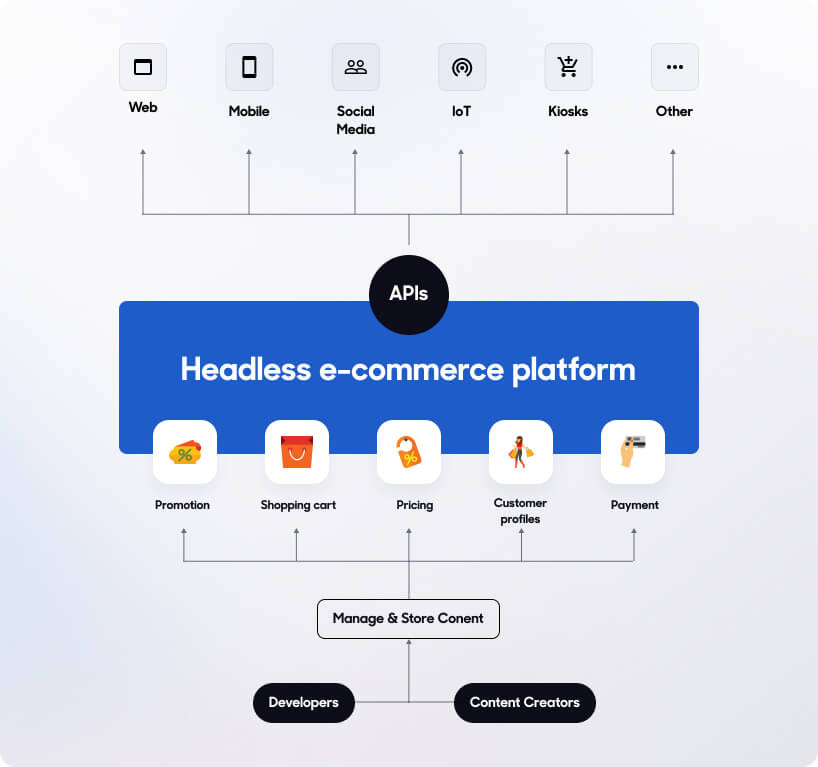 An API is a connection between the front end and back end, allowing information to be sent between the two in real-time.
Some of the most well-known headless eCommerce platforms are Shopify Plus, Adobe Commerce, BigCommerce, Foxy, etc.
Advantages of Headless Commerce
More flexibility for front-end developers.
You can integrate new features as your site grows.
Advanced technologies to create fast websites.
Speed to market for omnichannel experiences.
Marketing effectiveness without hurting backend processes.
Complete ownership over site architecture.
Perfect for big enterprises
Disadvantages of Headless Commerce
Setting up your online store is not that simple and straightforward
Lack of visual customization options.
There are no pre-installed tools
It's not a perfect choice for everyone
It has a higher cost
Is Headless eCommerce a Good Fit for Every Business?
Headless eCommerce is a new way to build and run an online business.
However, as I mentioned before, it's not the perfect choice for every shop owner.
Here are some things to consider before making a choice:
Do you already have an established infrastructure?
Is it challenging to re-platform another tool into your existing technology?
Are you moving slower than competitors because you can't simultaneously make front- and backend adjustments?
Is your website slow, which is impacting your shoppers' experience?
Do you want more control over the elements that impact your site's performance?
Do you have the time, money, and other development resources to go headless?
Do you want your storefront theme to be more customizable?
If you answer yes to most of these questions, then probably going headless is a good choice for you.
Otherwise, if the traditional architecture is working, the cost and time required are not worth it.
Conclusion
Today, headless eCommerce APIs are helping to shape the future of online shopping.
They're already being used by some of the world's most popular e-commerce companies and have helped them to scale up their operations without having to make costly infrastructure changes.
With headless eCommerce, retailers can offer a better experience for their customers and stay competitive with other brands.
As headless eCommerce continues to evolve, we'll see it continue to grow as a more viable option than the alternative.