Hemingway Editor Review [2023]: The Ultimate Guide
What Is Hemingway Editor?
The Hemingway editor free tool is like having the ghost of Ernest Hemingway himself sitting on your shoulder, giving you advice on how to write more…clearly.
The Hemingway Editor is a powerful writing tool that helps you to improve your writing style by highlighting common errors and suggesting improvements.
Now, you can even publish a draft on WordPress right from the Hemingway Editor free tool.
It's like having an editor but without the hefty price tag. And the best part?
The online version is free — available for anyone to use!
Meanwhile, Hemingway Editor 3 will cost you $19.99 (a one-time payment for Mac and PC users.)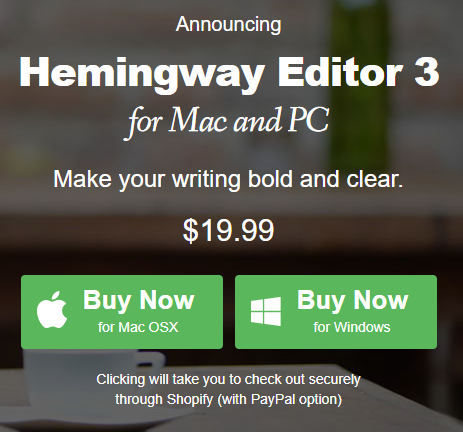 How Is It Different from Grammarly?
Before we get to differences, let's look at the similarities that make people think these are a competitor to one another.
Similarities:
Both Hemingway Editor and Grammarly offer free and paid versions with more advanced features.
They are designed to help writers improve the quality of their writing.
Both are available as browser extensions, desktop applications, and online tools.
Also, they use a color-coded system to identify problem areas in writing.
But what are the main differences between the two? Let's look at them.
Differences:
Hemingway Editor focuses on improving writing style. Grammarly focuses on correcting grammar and spelling errors.
Hemingway Editor's paid version is significantly cheaper than Grammarly's.
Hemingway Editor focuses more on readability. Grammarly focuses more on…grammar (obviously.)
Hemingway G2 score: 4.4/5 stars
Online Hemingway Review: Main Features
In this section of our blog, we'll examine its main features and how they can help you write more effectively.
Finds Unnecessary Adverbs
Adverbs can be helpful in writing, but too many can make your writing sound cluttered and… awkward (?).
The Hemingway Editor free tool helps you identify unnecessary adverbs in your writing by highlighting them in blue.
This allows you to reword your sentences to make them more concise and impactful.
Looks for Passive Voice
Passive voice can make your writing sound weak and impersonal.
It helps you identify the passive voice in your writing by highlighting it in green.
By using active voice instead, you can make your writing more engaging and dynamic.

The Hemingway readability score of this blog post
Suggests Synonyms
Repeating the same words over and over again can make your writing sound monotonous and boring.
It helps you avoid this by suggesting synonyms for words you use too frequently.
This allows you to keep your writing varied and interesting.
Color code: pink.
Highlights Complex Sentences
Long, convoluted sentences can be hard to read and understand.
It enables you identify complex sentences in your writing by highlighting them in yellow.
By breaking these sentences down into smaller, simpler sentences, you can make your writing more accessible and easier to follow.
Gives Readability Score
It also provides a readability score for your writing.
This score considers factors like sentence length, word choice, and the number of adverbs and passive voice constructions in your writing.
Aiming for a lower readability score can make your writing more accessible to a wider audience.
The rating is from 1-10, and you must aim for a score between 7-9 so that the sentences are not too simple but not too complex either.
To Wrap It Up!
In conclusion, the Hemingway Editor is a useful tool that can help writers improve the clarity and effectiveness of their writing.
Its features can be incredibly helpful in achieving this goal.
However… the Hemingway Editor's focus on brevity and simplicity can sometimes lead to suggestions for overly short sentences.
Sentences that lack substance or complexity.
So…the key takeaway? As with any writing tool, use this editor with a critical eye and consider whether its suggestions align with your intended tone and style.
Overall, this tool can be valuable for writers looking to improve their writing style and clarity.
As long as you use it in conjunction with your own writing skills and judgment, it can be an effective tool for taking your writing to the next level.