InLinks Review For Writing And Editing Content In 2022
Content creation is the most important part of any website or blog. And that's why InLinks focuses on helping those bloggers with their content so they can get more organic traffic.
If you don't have good quality content, you won't get any traffic.
That's why many people are looking for tools that automate some of the tasks related to SEO or links and keyword research.
So, let's see if InLinks should be the tool you should have in your arsenal this year.
What is InLinks, and how does it help you?
InLinkz is a powerful tool that I highly recommend for anyone looking to optimize their content or niche.
This software has an excellent free plan, so you can get started right away!
Its key features are as helpful in analyzing your competition as they are useful when it comes time to optimize internal linking on blogs or websites.
They are impressive at removing broken hyperlinks from web pages, which increases page load speed significantly.
So, let's dive a little bit more into some of the core features of this tool.
What are some of the main features of InLinks?
Other than creating internal link silos with InLinks, you can also use these tabs to create great content that is also optimized for search engines.
This feature lets you track the interest changes of thousands of topics and subjects, divided by industry, to create your own Trends Dashboard.
This means you can see what people are interested in right now—in real-time—to create on-trend content.
All you got to do is to input your topics and see the trends grow or fall on a graph and by a percentage.
With InLinks, you can see how many inbound links your competitors have and what keywords they are targeting.
You can find out a lot about a piece of content using InLinks.
You'll be able to see the main topic, how many links are within the article, and how long it is.
This is great for finding products to link out to, as well as knowing what internal links to place in your writing.
This way, you can stand assured that the competition won't get ahead of you.

This is a simple but super-useful feature of InLinks.
It works by analyzing the words and phrases that people who visit your site search for before they arrive.
The idea behind this feature is to provide insights that help you better understand what your audience is interested in and what they want from your site.
It shows you volume and interest trends as percentages and graphs.
This feature collates and organizes information by category and provides you with a high-quality data set to aid your understanding of the topic at hand.
For each topic, you can access useful information, including definitions, related topics and questions.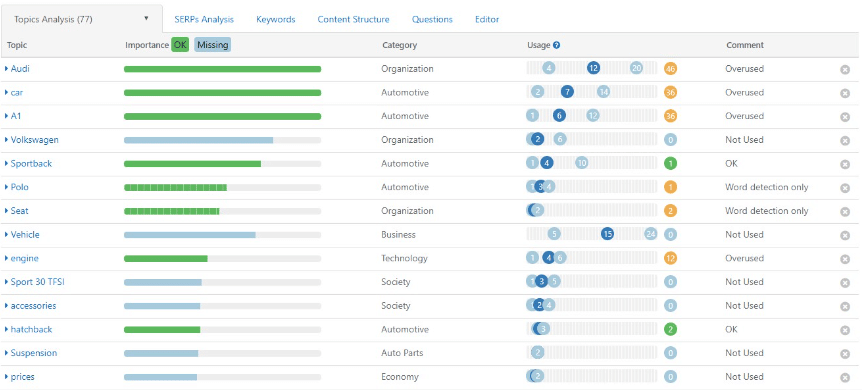 InLinks knows how to connect your content to knowledge graphs within popular search engines – which means that your content appears in Google's web services, including Search, Discover and Voice Search.
In a way, let's say that InLinks helps search engines better understand your content.
InLinks is an excellent link management system that connects all of your content, detecting all of your internal linking opportunities.
You can automate and manage links with a single line of Javascript Code and develop your links as needed to boost SEO.
Plans and pricing structure
InLInks offer three different packages depending on your needs.
It starts from $39/month, where you get access to content optimization, internal linking, 1 seat and 20-page reports per month.
As you guessed by the name, this is perfect for freelancers or those just starting out in the SEO journey.
It starts from $156 per month, where you get 86 reports, unlimited users, and everything that's in the first plan on top of some additional features such as API access, active URLs or white labelling reports.
It starts from $1999 and is perfect for those who want a dedicated infrastructure, support and contract to fit their needs.
It's a great choice for big corporations with several projects every day.
Of course, if you don't have 2 thousand dollars to spare, you can always create an account for free, so you get a taste of what this tool has to offer.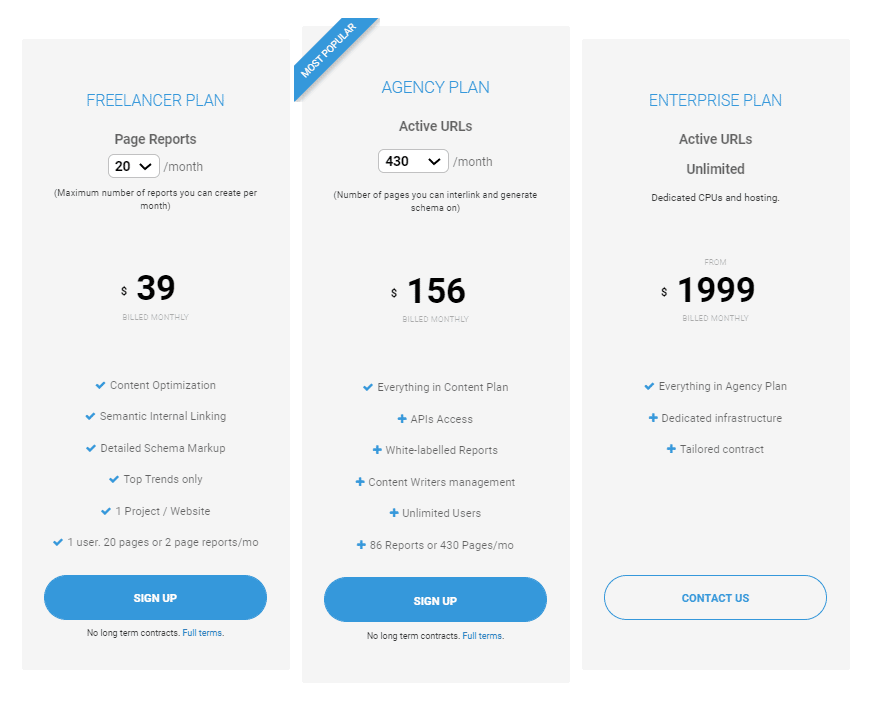 The nitty-gritty of InLinks
You got the general idea of how InLinks can help you, so let's talk a bit about the pros and cons of this tool.
InLinkes Pros:
It's a great tool for finding questions that people ask
It has a free version, unlike many other tools out there that offer the same features.
It helps a lot if you want to find the topics you need to better your writing objectives.
It's great for improving internal link silos for even hundreds of pages.
InLinked Cons:
It is a bit expensive, and there are other alternatives that may offer (somewhat) the same things at half the price, even for the basic package.
The 20 page limit for the first plan is not enough even for a freelancer.
It doesn't offer multilingual support (only English, French and Spanish as of now.)
It's not the most intuitive tool out there as there is a learning curve.
To conclude
InLinks is a great tool that allows you to see how the content you create performs in the Google ecosystem and where we should be improving.
It also helps you find topics that need improvement and helps you with content optimization, examining niches, keywords and more.
Although there are other alternatives available, InLinks it's worth a try if you want to really optimize your content.