Kwfinder Review Pricing Plan & Cost Guide in 2022
Did you know that approximately 75% of internet users end their search on the first page of SERPs? The top five listings receive more than 67% clicks, while the remaining pages attract only 5% of organic search traffic. While establishing an online presence is vital for your business, ranking your website (or content) on top of the Google search engine, or at least on the first page, is rewarding. That's why this Kwfinder review will help you determine if this is the best tool for you.
So how do you get your branded content on top of Google SERPs?
When you optimize your content for search, more people will find and potentially engage with your business. There are various SEO practices to improve your search results. Identifying and using solid keywords will rank your content high on search engines.
However, if you're new to SEO, determining the right keywords for your content can be challenging. And even if you're a pro in SEO, you don't have all the time to guess which keywords your target audience is entering in search engines.
You can get accurate results faster with a keyword research tool, but only if you use the right tool. In this post, we do a Kwfinder review, so a review for one of the best keyword research tools.

What is Kwfinder?
Kwfinder is a keyword research tool for search marketing offered by Mangools. It helps you find long-tail keywords with low SEO difficulty and optimize your content for search.
Kwfinder has powerful features, a beautiful design, and a seamless interface, ideal for beginner bloggers and veteran web admins. It's also Mangool's flagship product.
This powerful keyword tool has advanced features like filtering search results and analyzing SERPs. It can spew numerous keyword ideas and is perfect for SEO and paid search campaign creation.
Additionally, Kwfinder indicates search trends, cost per click (CPC), and pay per click (PPC) when performing a keyword search.
Kwfinder Review Pricing Plans
Kwfinder is a premium keyword research tool with different pricing plans. Depending on your preferred package, you can expect to pay anywhere from $49 to $129.
The SEO tool has three pricing plans, each with unique features. They are;
Mangools basic plan – costs $49 per month
Mangools premium plan – costs $69 per month
Mangools Agency plan – costs $129 per month
You can choose between a monthly subscription or an annual subscription. Annual subscriptions come with a 40% discount.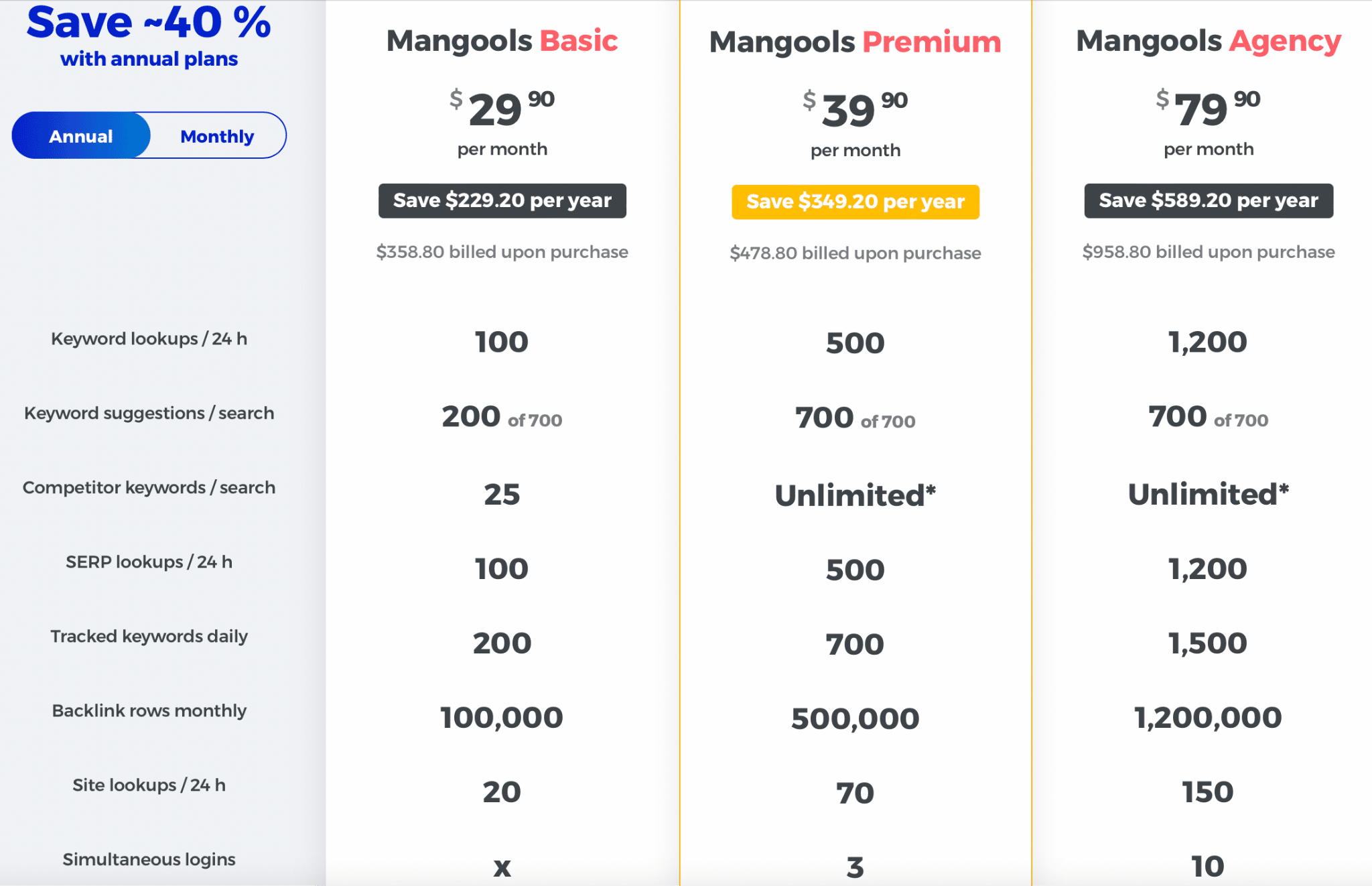 What's Included in Each Package
The three Kwfinder pricing plans come with different features depending on the cost. Here's a breakdown of each pricing plan and the packages included.
Mangools basic plan
This is the most affordable plan of all. With it, you can create keyword lists of related keywords. Features include;
100 keyword lookups/24hr
200 keyword suggestions per search
25 competitor keywords/search
100 SERP lookups/24hr
200 tracked keywords daily
100,000 backlink rows monthly
20 site lookups/24hr
No simultaneous logins
Mangools premium plan
Mangool's premium plan offers the best value. Features include;
500 keyword lookups/24hr
700 keyword suggestions/search
Unlimited competitor keywords/search
500 SERP lookups/24hr
700 tracked keywords daily
500,000 backlink rows monthly
70 site lookups/24hr
3 simultaneous logins
Mangools Agency Plan
Mangool's Agency plan, billed at $129 per month, comes with all the features you need to create keyword lists of related keywords. Perform keyword searches for target keywords. Features include;
1200 keyword lookups/24hr
700 keyword suggestions/search
Unlimited competitor keywords/search
1200 SERP lookups/24hr
1500 tracked keywords daily
1,200,000 backlink rows monthly
150 site lookups/24hr
10 simultaneous logins
How to Choose the Best Pricing Plan?
Which Kwfinder pricing plan is ideal? According to Mangool, the premium pricing plan offers the best value. However, the choice of a Kwfinder pricing plan varies depending on various factors. Here's how to find the best pricing plan based on the following kwfinder review.
Start with a free trial
If you haven't used a keyword research tool before, deciding on an ideal pricing plan might be challenging. Luckily, Mangool offers a free 10-day trial on their packages. This allows you to familiarize yourself with the tool's features and identify the ideal package.
And even if you pay for a particular package, you'll have 48-hours to claim your money back if the tool doesn't meet your expectations. Mangool offers a 48-hour money-back guarantee on all their pricing plans.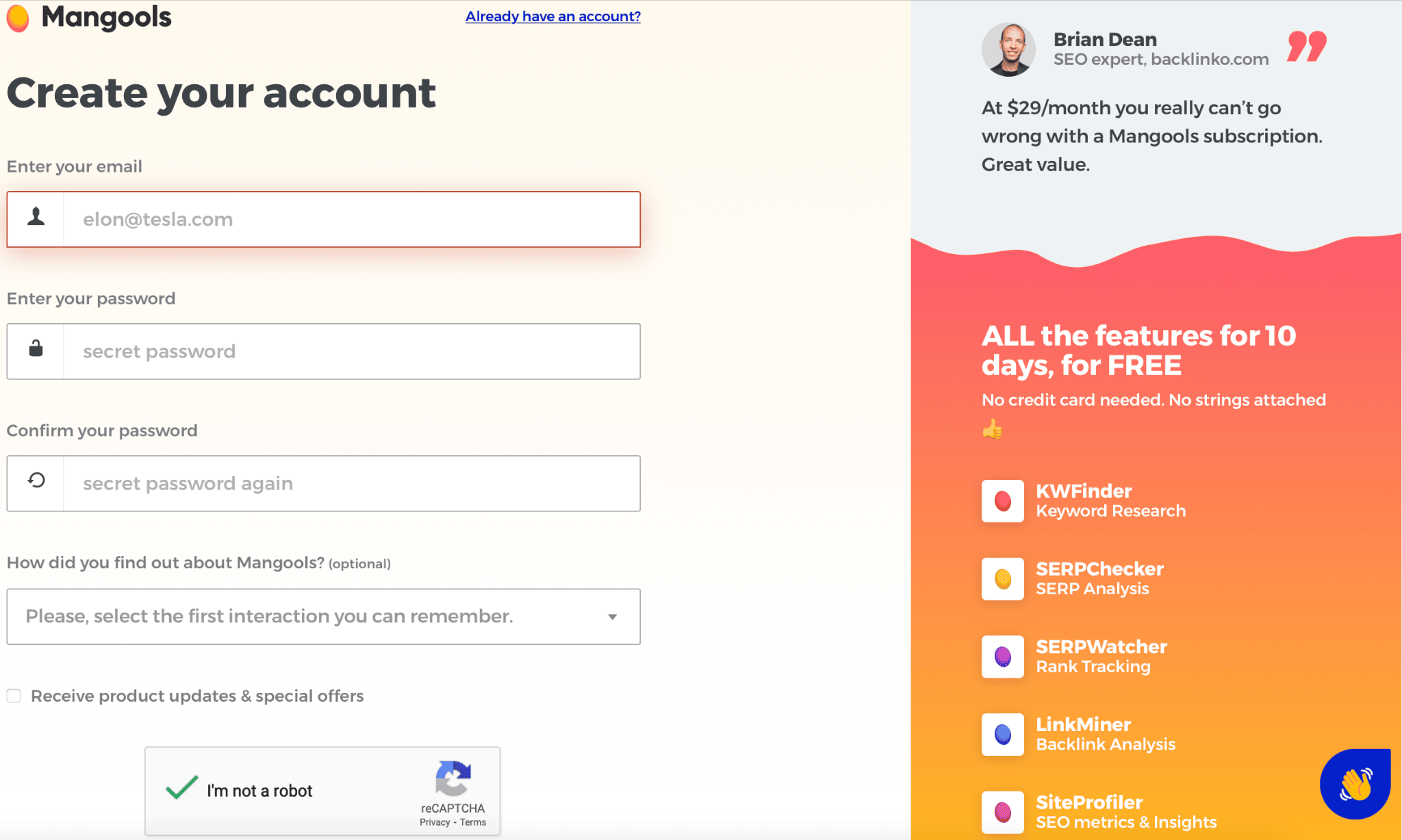 Consider your budget
One of the primary reasons for having different pricing plans is to suit individual budgets. If your budget is tight, you might want to start with Mangool's basic plan. Although you won't get the same features as Mangool's Agency plan, you can still rank on top of search engines.
If you can stretch your budget a little, you may consider the premium plan, which is regarded as the best value. If you have enough money to spend on a keyword analysis tool, Mangool's Agency plan is your best bet.
What do you need from Kwfinder?
Your specific needs may affect the choice of the Kwfinder pricing plan. How many keyword lookups and suggestions do you want per search? Or how many users will use the tool simultaneously? What is your monthly search volume?
Ideally, if you want more keyword lookups and suggestions per search, you'll have to subscribe to the premium or Agency plan. Also, if you'll be using the Kwfinder review tool simultaneously as a team, the premium and Agency plans will come in handy.
How to Save Cost With Kwfinder review?
While you may want to invest a fortune in finding the best SEO tools to help you rank on top of Google, it's essential to consider the cost and budget. There are various ways you can save cost using Kwfinder while still enjoying the premium features. Here are some money-saving tips for you.
Pay annually
Mangool has both monthly and annual plans for their Kwfinder review keyword analysis tool. If you subscribe to the yearly plan, you'll save up to 40% of the cost compared to monthly payments.
For instance, Mangool's basic plan costs $49 when billed monthly. However, if you choose the annual plan, you'll pay $358.80 upon purchase. This amount equates to $29.90 per month, saving you 39%. So, let's break down the 40% discount rates on Mangool's pricing plans.
Mangools basic plan – $29.90 per month (when paid annually) or $49 per month (when paid monthly)
Mangools premium plan – $39.90 per month (when paid annually) or $69 per month (when paid monthly)
Mangools Agency plan – $79.90 per month (when paid annually) or $129 per month (when paid monthly)
Why Should You Subscribe to Mangools' Keyword Research Tool?
After reading this Kwfinder review, you might be wondering if it's a sound investment to subscribe to one of Mangools pricing plans. It's a daunting decision to make, considering the stiff competition.
Mangools' Kwfinder isn't the only tool for keyword search. There are others like google keyword planner, with equally attractive pricing plans. What makes Kwfinder stand out?
User-friendly interface
Kwfinder has a simple and easy-to-use interface. The clean and straightforward layout is suitable for anyone that lacks knowledge about the technicalities of a keyword research tool. It's almost like the tool was targeted at beginner bloggers looking to rank on top of Google.
Kwfinder's design choices are aesthetic and make for an excellent learning curve. The central dashboard displays everything you need to evaluate a particular keyword. If you find value in embracing your dark side, Mangool got you covered with the dark mode feature.
You can quickly discover keyword competition level
The primary reason for using a keyword analysis tool is to beat the competition and appear at the top of Search engine results. This involves calculating the SEO difficulty score, a feature that comes with most tools. Kwfinder provides the most accurate keyword difficulty score, unlike other keyword tools. You can lear more about additional features in this Kwfinder review.
Money-back guarantee
What if you subscribe to one of Kwfinder's pricing plans and don't get what you need from the subscription? Mangool wants to make sure all their customers are satisfied with their keyword tool.
If not, you can claim back your money within 48 hours. This period is enough to test the tool and decide whether to keep it or cancel the subscription.
Free trial and massive discounts
Imagine having free 10-day access to a premium SEO tool? That's precisely what you get from Mangool. A 10-day trial period is enough to rank your page on the first page of search engines.
However, you'll need to pay for one of the packages once the trial period ends. But, it's not mandatory to subscribe to their plan once the trial period is over.
In fact, they don't need your credit card to activate your trial plan. This means you won't be charged automatically once your trial period ends, unlike some competitors.
Additionally, Mangools' 40% discount on the annual plans is enough reason to sign up for their Kwfinder review search tool.
Mangool offers special discounts on black Fridays and cyber Mondays or other occasions during the year. Also, there's a special-time limited early bird discount given an hour after registration.
One-stop search marketing tools
Mangool doesn't sell its SEO tools separately. Instead, they are all packaged as one and offered in three pricing plans. This means you can't buy Kwfinder as a stand-alone tool. Rather, all the tools are interconnected and work exceptionally well together.
For instance, you need the Kwfinder tool and SERPChecker to calculate keyword difficulty metrics.
Other Tools offered by Mangools
Mangools has various SEO tools to help your content rank higher on search engines. They include;

SERPChecker
This is an analysis tool offered by Mangools that helps you locate your competitors' weak spots. SERPChecker helps you determine the SEO page authority of ranking sites. You can use the information from a SERP analysis to outrank your competitors.
Additionally, the SERPChecker tool allows you to calculate the impact of a simple search box, carousels, featured snippets, and other rich snippets that influence organic search.
SERPWatcher
SERPWatcher is a rank tracking tool from Mangools that helps you track the performance of your website on SERPs.
With this tool, you get rank updates daily via email alerts. In addition, SERPWatcher allows you to track rankings in any location using any device.
Also, the tool comes with an interactive share feature that allows you to share the interactive report with your clients or teammates via a link. This is feature is included in this Kwfinder review to understand that Kwfinder is part of a bigger platform.
LinkMiner
LinkMiner is a backlink checker tool with a vast database that allows you to find powerful backlinks based on established metrics like Trust Flow and Citation Flow.
SiteProfiler
This SEO analysis tool has all the essential metrics and insights, allowing you to check the URL or domain authority.
When looking for link-building keyword opportunities or new blogging ideas, SiteProfiler is your friend.
If you're on a free plan, you can enjoy other tools from Mangools, including;
SERP simulator
Browser extension
SERP volatility checker
Key Takeaways from Kwfinder review
KWfinder is one of the most powerful SEO tools offered by Mangools. The SEO tool comes in three pricing plans, billed either monthly or annually, depending on your choice. The annual plan offers an excellent 40% discount.
Overall, Kwfinder is a great tool. It has a user-friendly interface and is ideal for beginner bloggers. Furthermore, Mangools offers its SEO tools as a package. We hope this Kwfinder review helped you choose if this is the best tool for your SEO needs.
If you're looking for an effective, accurate, and affordable keyword search tool, try Mangool's Kwfinder. Sign up to enjoy a free 10-day trial plan.