Lemlist Email: Pros, Cons, and Everything in Between | 2023
Lemlist is another email marketing platform that promises to help businesses and individuals maximize the effectiveness of their email outreach campaigns.
But is it worth it? What do customers say about this tool? What about the price?
Let's get into it…
What Is Lemlist?
Lemlist is a cutting-edge email marketing platform.
It allows users to create highly personalized emails designed to capture their target audience's attention and drive engagement.
The platform's intuitive interface and robust set of tools allow users to easily add dynamic elements to their emails and test various iterations of their messages.
This is to optimize their performance.
Lemlist also includes analytics and tracking tools that enable users to monitor open, click-through, and reply rates and adjust their outreach strategies accordingly.
Additionally, it offers powerful automation capabilities that allow users to create and manage follow-up sequences, as well as IMPORTANT integrations with popular CRM and marketing automation platforms.
Lemlist Main Features
It offers:
Lemwarm: Lemwarm allows you to interact with other Lemlist users through customized emails and automatically replies to them for you.
Automated Follow-up: Never miss a beat with automated follow-up messages that can be personalized to keep that human touch.
Segmentation: Segment your targeted audience into groups and send customized content to create a better connection.
Integration: Easily integrate with leading CRM software like Salesforce, Hubspot, and Axonaut to optimize your marketing strategy and improve existing relationships.
Lemlist pricing: $50/ per seat/ per month (annual subscription)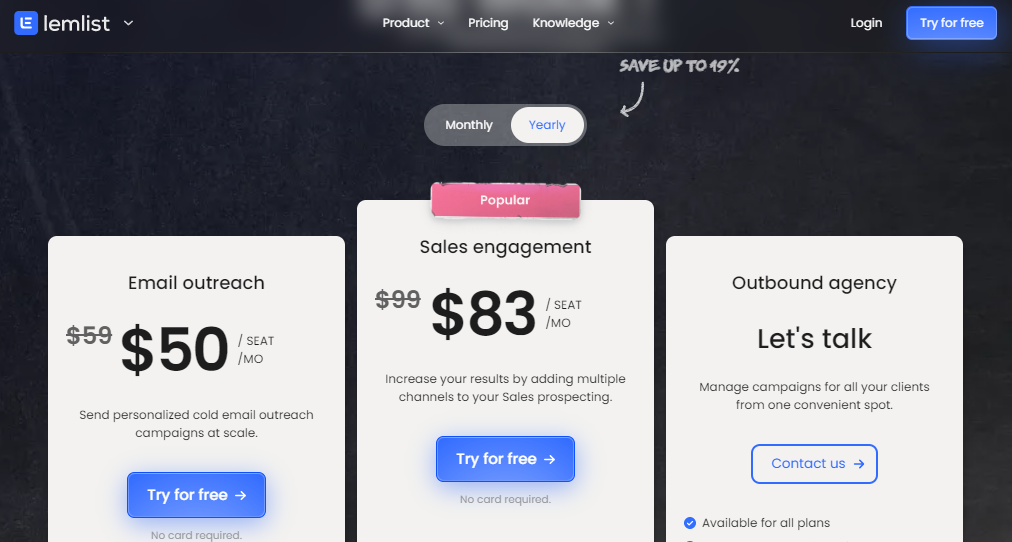 Lemlist Pros and Cons – What Customers Have to Say
With its suite of powerful features and integrations with popular tools like Dropcontact and Hubspot Marketing, Lemlist is the perfect solution for businesses of all sizes.
But like any platform, Lemlist has its pros and cons. Let's take a closer look at what makes Lemlist great and a few areas where it falls short.
Pros
Many features: From personalized content to automated follow-up messages, Lemlist offers many features to help you create engaging, effective emails.
Integration: It integrates amazingly with Dropcontact and Hubspot Marketing. These integrations greatly help businesses that rely on these tools for lead generation and CRM.
Customer support: If you ever run into any issues or have questions about how to use Lemlist, their customer support team is always ready to help.
Cons
Price is high for small businesses: While Lemlist's features are impressive, the platform can be a bit pricey for small businesses just starting out.
Email address changes are inconvenient: One central pain point for some users is that you can't change the email address of a contact once it's been uploaded into the system. This can be frustrating and time-consuming, especially if you have a lot of contacts to manage.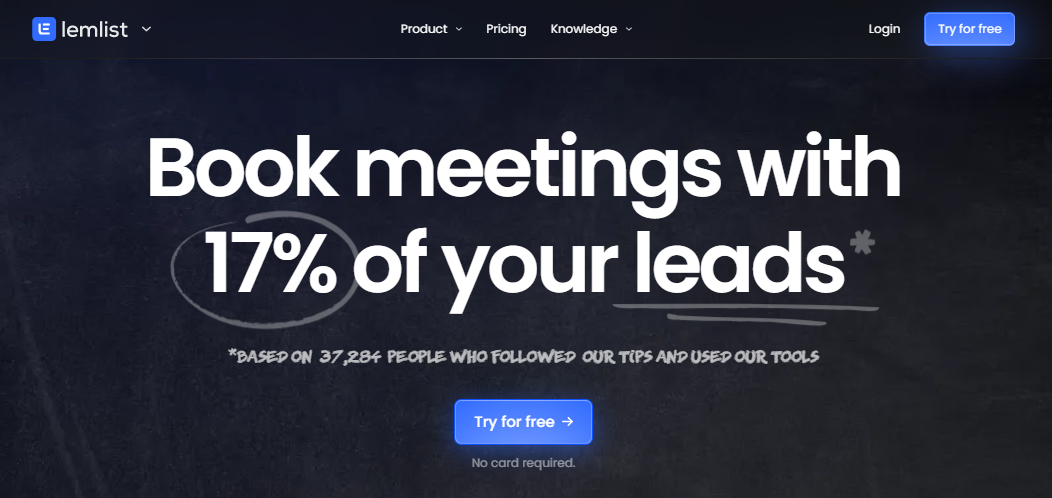 How Does Lemlist Compare to Alternatives?
It would be wrong to say that Lemlist is the only software with such features.
Alternatives to Lemlist offer more or less the same features at different price points.
But why should one know about these options? Simple!
One needs to know about the other options to make the best decision.
Here are some good alternatives to Lemlist:
Woodpecker
Quickmail
GMass
Saleshandy
SalesLoft, etc.
Bottom Line
Ultimately, the answer will depend on your specific business needs and budget.
If you're a small business just starting out, Lemlist's higher price point may be a barrier.
However, if you're looking for a powerful email marketing platform offering a wide range of features and integrations with popular tools like Dropcontact and Hubspot Marketing, Lemlist is… worth considering.
With its suite of personalized content options, automated follow-up messages, and liquid syntax segmentation, Lemlist is an excellent choice.
Plus, their customer support is top-notch, so you can feel confident that any issues you run into will be quickly addressed.
Overall, if you're looking for a robust email marketing platform and have the budget to support it, Lemlist is definitely worth trying.
The good news is that for both their packages, you can try them for free without adding any card information. So…give it a try.