Majestic SEO Pricing Plan & Cost Guide in 2022
Do you need a honest review for Majestic SEO? We all know that it's one of the best SEO tools, but is it the best for you? Let's find out!
You have crafted a fantastic blog post that will wow your readers.
You have also painstakingly implemented all the elements your SEO tool suggested. So all that remains is to sit back and watch your content rank number one on Google, right?
Probably so.
However, it is hard to get noticed with thousands of similarly optimized websites competing for the top slot. Many factors influence search engine ranking, and basic SEO is not enough. One more aspect that can boost your SEO game is building a solid backlink profile.
Backlinks vouch for your content to search engines. They tell search engines that your content likely has the answer to a user's query. However, creating a solid backlink profile is not easy.
Majestic SEO is one of the most popular backlink analysis tools with the most extensive backlink index. However, it differs from popular SEO tools because it only offers backlink analysis services.
This article delves into the Majestic SEO pricing plan and cost guide for 2022.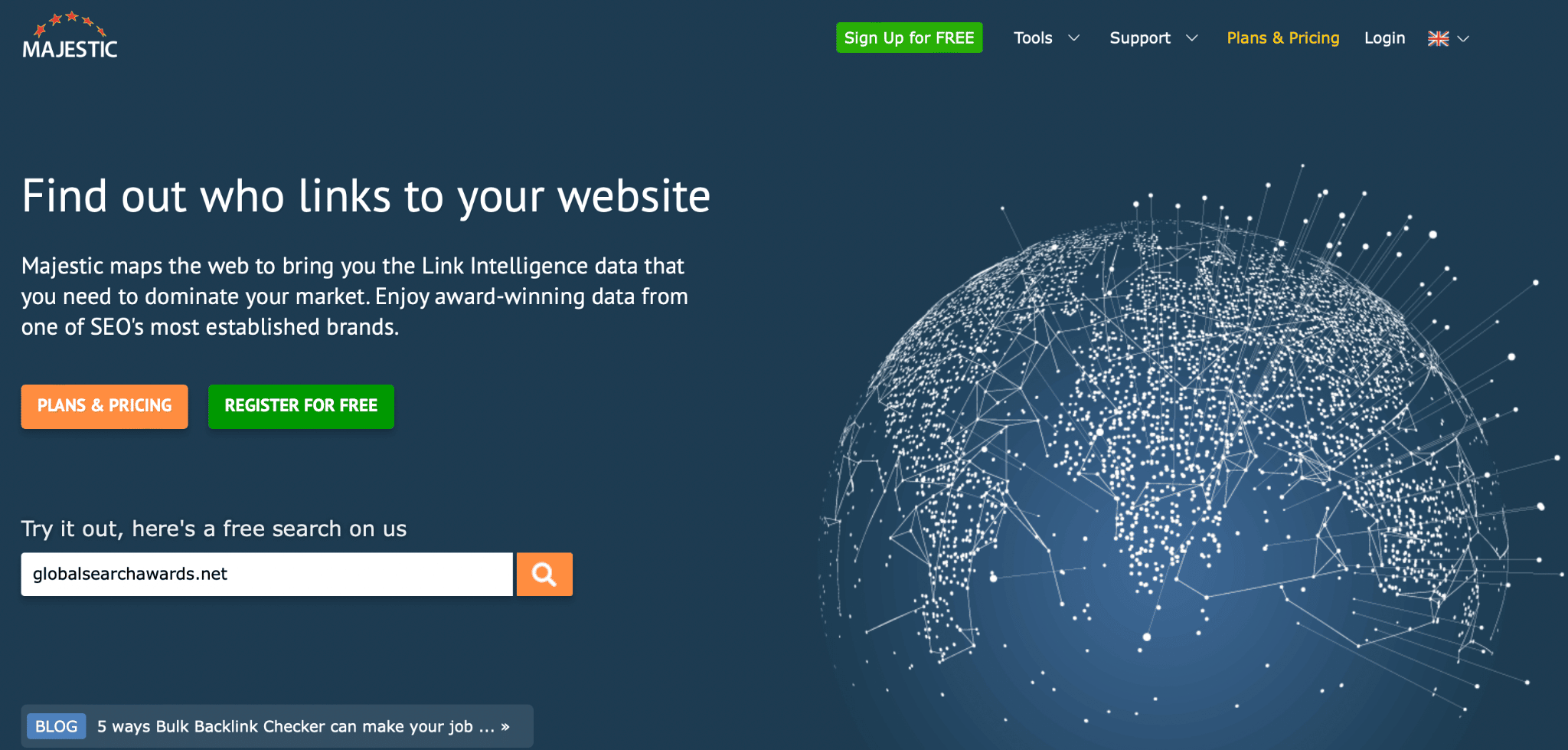 A Little About Backlinks at Majestic SEO
Backlinks are inbound links to your website that result when other websites link to content or a piece of content on your site.
The number of backlinks is one factor that determines the popularity of a website. In addition, backlinks are essential for SEO as search engines consider websites with quality backlinks more relevant. Therefore, websites with a sufficient number of backlinks rank higher. Majestic SEO can help with this feature also.
Search engines determine the relevance of a website partly using the number of inbound links. Quality backlinks link to content that closely relates to the linking website's content.
Google also considers quality backlinks as those built steadily over time. Frequent and unexpected updates to search engine algorithms make it hard to influence search results with spammy backlinks. Moreover, judging quality backlinks has become more challenging because web admins use auto-generated pages or hidden links.
What Factors Influence the Quality of Backlinks?
Authority of the linking domain. Links from domains with high authority tend to have more value. If you can, avoid backlinks from spammy websites.
The relevancy of the link. Relevant links are those that link to related content. Unrelated links get penalized and negatively affect SEO.
The link location in content. Links appearing in a blog post paragraph are more valuable than those tucked in the footer.
The number on links. A link that appears alongside many others in a piece of content is less valuable than one located among fewer links.
The anchor's text. A link bearing relevant context to the linked content has more link equity than one with generic text like 'click here.'
How Can You Build a Backlink Profile For Your Site with Majestic SEO?
As an important ranking factor, backlinks are vital for off-site SEO. Majestic SEO offer that too. You can build backlinks naturally over time in the following ways:
Manual Links. Reaching out to a site owner whose content relates to yours for them to link to your content amounts to manual linking. You can also create manual links when you guest blog for another website with similar content.
Natural Links. Natural linking is when inbound links originate from a website with content related to yours. High-quality and informative content attracts natural links.
Self-created links. Site owners create links to their content from forums, website comments, or online directories. Self-created links may appear spammy and lower quality than manual or natural ones.
Follow vs. no-follow links. Follow links count toward a site's SEO credibility and boost linked sites' page rank. No-follow links do not contribute to a destination site's backlink profile and are less preferred.
Why Does Your Site Need Backlinks from Majestic SEO?
Backlinks are valuable for SEO. Quality content attracts high-value backlinks that boost the credibility of your site. Specifically, your website needs backlinks for the following reasons:
They tell search engines that your content is of high value – When more websites link to your content, search engines deem your content as high value. High-value content is that which likely has the answer to a user's query. Consequently, such content ranks high on search engines.
They increase inbound traffic from referring sites. The more inbound links to your website, the higher the likelihood of getting more inbound traffic.
They build bilateral relationships between websites – Linking or endorsing other websites shows a healthy relationship between sites. However, link exchanges are easy ways to earn backlinks and may eventually hurt your SEO and ranking.
They promote your business. When more websites link to your content, you get more visibility. The increased visibility increases the chances of potential customers viewing and buying your products or services.
Building an effective backlink strategy is not easy. Moreover, many factors apply, and a wrong move could hurt your SEO. For that reason, Majestic SEO helps streamline the backlink building process, drawing from its massive link database.
Majestic SEO Overview
Majestic SEO Toolkit helps you build backlinks. It has an extensive link index featuring over 9 trillion links, making it a handy tool for SEO digital marketing. Additionally, the Majestic SEO tool allows you to find details about inbound links to your site.
Majestic SEO's bots crawl the web to build a profile on virtually all links. The SEO tool checks the following:
The link distribution on a webpage
The anchor text of each link
The text surrounding the link to check for relevance
As much as the company offers SEO tools, its bots focus on link dimensions and parameters rather than the general SEO aspects. Additionally, it restricts its keyword analysis tools to the data on anchor text.
Since Majestic does not offer rank tracking, it allows integration with Google Search Console tools for those services.
The tools enable you to view site links and the corresponding linked profiles, top pages, anchor text, and broken links. Additionally, they allow you to compare your site against the top five competitors based on varying metrics with the provided link data. Apart from link-building services, you can download Twitter profiles to see the factors that make them rank.
Majestic's link database sets it apart from similarly priced competitor SEO tools like Serpstat. Having such a substantive database means that site analysis produces more accurate results.
Based on one Majestic SEO review, its user interface is not easy. However, it compensates with appealing visuals and decent customer support. Majestic easily triumphs over more basic SEO tools such as Yoast and Spider SEO which fall short of producing detailed insights.
Majestic SEO Tools Pricing Plans
The company claims to offer generous data allocations in its various plans to suit most clients.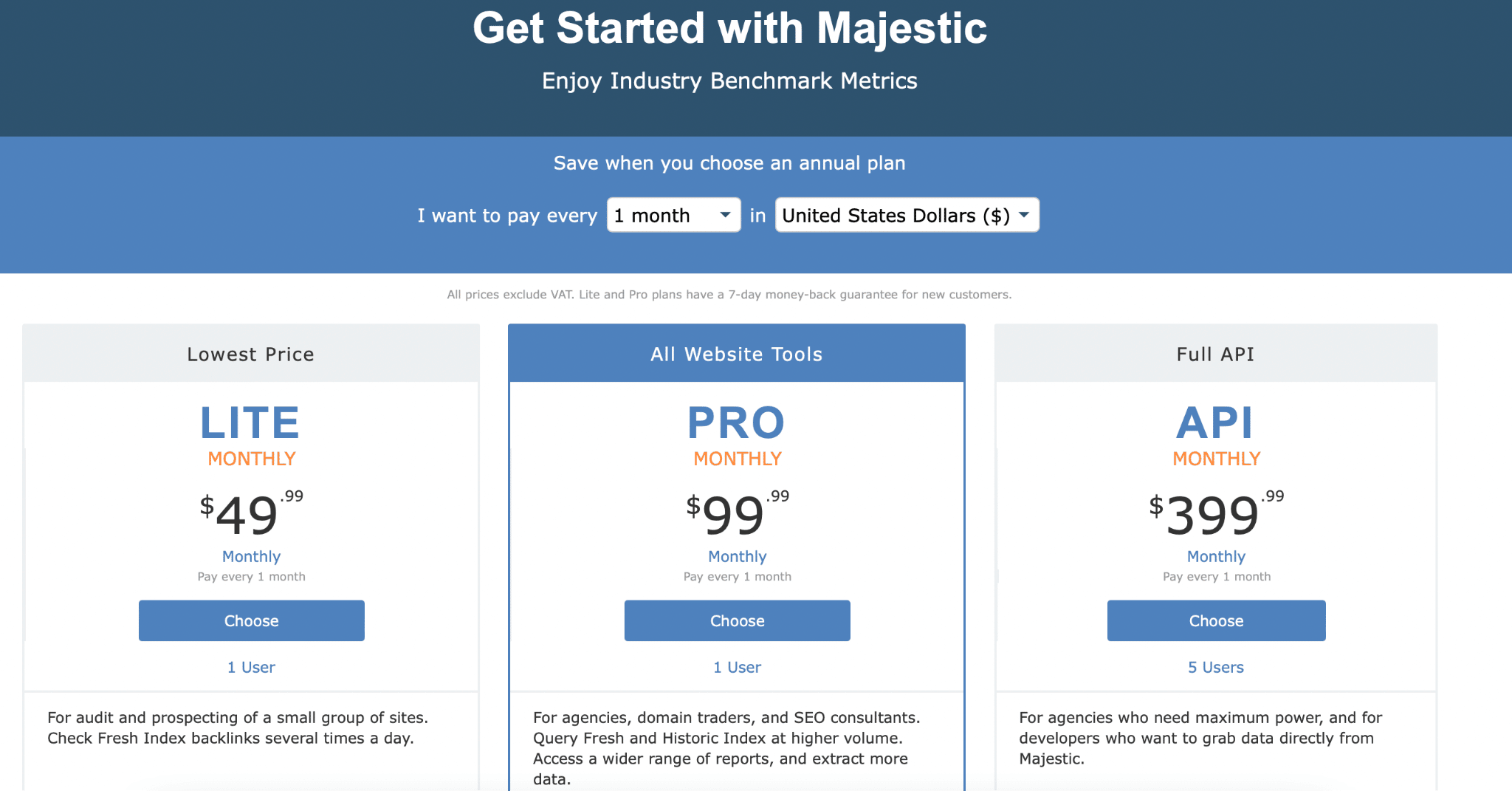 Majestic SEO offers three plans for its SEO link building services:
 Majestic SEO Lite Plan
The Lite Plan is the most basic and costs $49.99 per month. If you opt to pay annually, the company discounts it at $41.67 monthly. The plan offers you the following capabilities:
200,000 retrieval Units,
Index Item Units capped at 5,000,
Analysis depth of 5,000,
60 reports per session,
Analyzable backlinks up to 1 million, and
Five thousand rows in the site explorer report.
Majestic SEO Pro Plan
According to Majestic SEOthe Pro Plan is the most popular and offers all website tools. You pay $99.99 monthly or $83.33 if you pay annually. You get the following features from the Pro Plan:
A maximum of 20 million analyzable backlinks,
Retrieval units of up to 5 million,
125,000 Index Item Units,
Up to 300 report units,
Site explorer data rows of up to 15,000,
15,000 link analysis depth,
A Historical Index,
Ability to export Raw data, and
Ability to create custom reports.
Majestic SEO API Plan
The API Plan is the priciest of the three plans, and for $399.99 monthly (or $333.333 per month if you pay annually), you get the following features.
Ability to analyze up to 100 million backlinks,
Retrieval units of up to 20 million,
A maximum of 500,000 index item units,
950 reports,
Site Explorer Data rows of up to 30,000,
30,000 Analysis Depth,
A Historical Index, in addition to the fresh index,
Ability to export Raw Data reports,
Ability to generate Custom Reports
Ability to create OpenApps, and
You also get Custom Monthly Data
Majestic SEO also has a Free Plan, which has limited features and is best suited for individuals who wish to test the company's features before committing financially. With the Free Plan, you get access to the Majestic Million, Plugins, and a preview version of the Site Explorer.
The Site Explorer
The report is Majestic SEO most popular summary. It gives a high-level overview of a site's link profile based on the company's proprietary data. As a result, you can view the most intricate details about the links to your content.
You can examine a specific page or path's backlink profile in the site explorer. However, you can only access the report by choosing the Root Domain, URL, Path, or Subdomain in the same menu.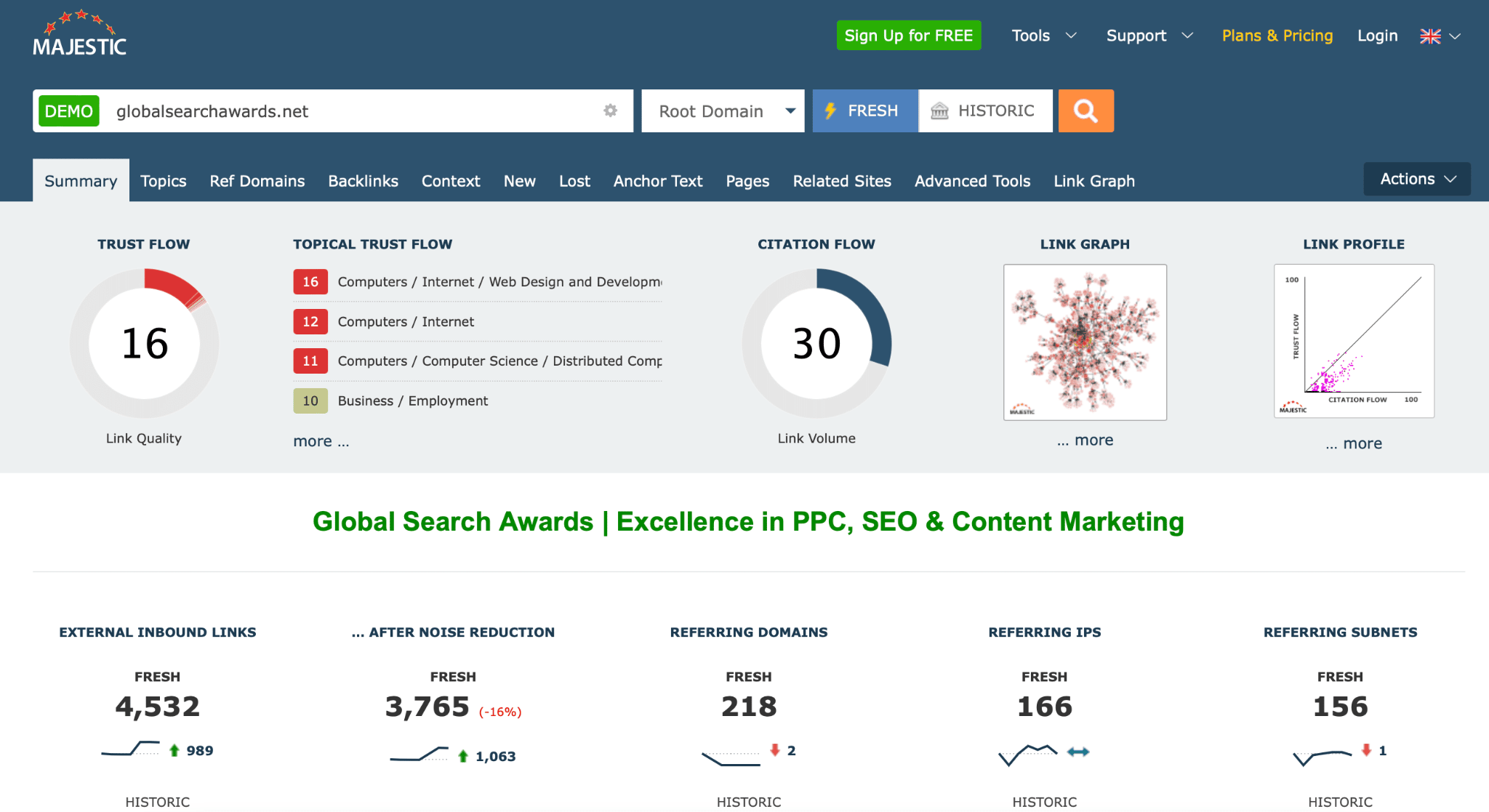 The site explorer also allows you to access the following information:
Fresh Data. This summary features the most crawled data. It updates daily and contains more live links than Historical Data.
Historical Data draws from a large pool of backlink archives from five years back. This tool helps you analyze a site's backlink history over the period. Additionally, you can find and fix broken links on your website.
The tool features the following reports:
The Site Explorer Summary
Here, you can get an overview of the backlink profile of any website. With it comes the following components:
Trust flow – This is a unique metric offered by Majestic SEO, and the score ranges from 1 to 100. Trust flow essentially analyzes the quality of inbound links to your website.
Citation Flow – Like trust flow, the score ranges from one to 100. The Citation flow score equates to the number of inbound backlinks to your site, weighted by the domain authority of the refereeing sites.
The Link profile report – This is presented as a graph on a 101 by 101 grid. You can also view the trust flow and citation flow scores on the grid. Each dot on the grid represents a backlink. Backlinks with similar citation flow and trust flow scores have a darker color.
The Topics Report
The Topics Report lets you view your site's content category. It describes inbound links but not the website's content.
It is a unique feature not found in Majestic SEO competitors. You may also opt to use the topical trust flow chrome extension.
Referring Domains
You can view the domains from where inbound links to your website originate from this summary. You may also filter the URLs by trust flow and citation flow scores, the extension of the website, region, etc.
The Backlink Report
The report features the website's backlink profile. It is akin to what is offered by services such as Moz and Ahrefs. Like Referring Domains reports, you may filter the backlink summary in over 100 ways.
Context Summary
The context summary offers an in-depth breakdown of individual links in a website's backlink profile. In addition, you get information about the anchor text, the location of a link on a page, and the anchor's surrounding text. This information tells you the value of the hyperlink.
New and lost
The new report contains the most recent inbound links to your website. Ahrefs refers to those links as "Best by Links," while SEMrush calls them indexed pages. The lost report shows the links that your website has lost (websites that stopped linking to your content)
Keyword checker
This report is Similar to Ahrefs' and SEMrush's keyword checker tools, where you get a list of related keywords that you can use in your content to rank higher.
Related sites
Shows a list of websites that bear relevance to the site under analysis. The Related sites report can help you further analyze your competitors to determine their ranking advantage.
Final thoughts
Getting noticed among thousands of online content is hard. On top of this, frequent and unexpected updates to search engine algorithms render previous tactics virtually obsolete. Moreover, well-written and perfectly optimized content for SEO is not enough to help your content rank number one.
Having a solid backlink profile boosts your SEO ratings. Using the Majestic SEO suite of tools, you can perform accurate link analysis, helping you build a strong link profile. A strong backlink profile tells search engines that the material in your content has the best possible answer to a user's query, making your content rank higher.
It's not perfect, though. Despite having the most extensive link database, Majestic SEO falls short in user experience. In addition, the tools are not easy to use even though the company has excellent customer support.
It also only offers link-building services. So, if you need a complete set of SEO tools, you are better off choosing competitor services such as Ahrefs or SEMrush.