Moz Pro Pricing Plan & Cost Guide in 2022
Marketing directors want to create helpful, exciting, and engaging content for their target audience. Content is still king in the online marketing jungle. It attracts more site visitors, allowing you to connect with your target audience, create brand awareness, and build trust. But what's the use of quality content if it doesn't appear on the first page of search engines. Check out Moz Pro Pricing plans to see if this app fits your budged and SEO needs.
With 67.60% of clicks going to the first five search results on the first page, your content means nothing if it's not on the first page of SERPs.
Google keeps updating its algorithms, which makes SEO optimization challenging. However, digital marketers can use various SEO tools to rank high on SERPs.
A keyword research tool can help you optimize your content and site to rank high on SERPs. If you're looking for one, try Moz Pro. But first, you might want to check out Moz pro pricing plan for 2022.
Overview of Moz Pro
MOZ is an SEO-focused company founded in 2004 by Rand Fishkin and Gillian Muessig. It was founded to help businesses integrate SEO into their digital marketing campaigns.
Moz Pro is one of the many SEO products offered by the company. It is a complete SEO toolset that helps businesses boost keyword rankings and search engine visibility.
The tool helps businesses understand their audience, how they got there, and where they came from (paid search, social media, or search). By understanding your audience better, you'll learn the keywords they use and integrate them into your content or site. This helps you rank while attracting more leads.
Ideally, Moz is a full-service powerhouse for site crawling, keyword recommendations, etc. Some of the critical features of Moz Pro pricing include keyword explorer, link explorer, and rank tracker.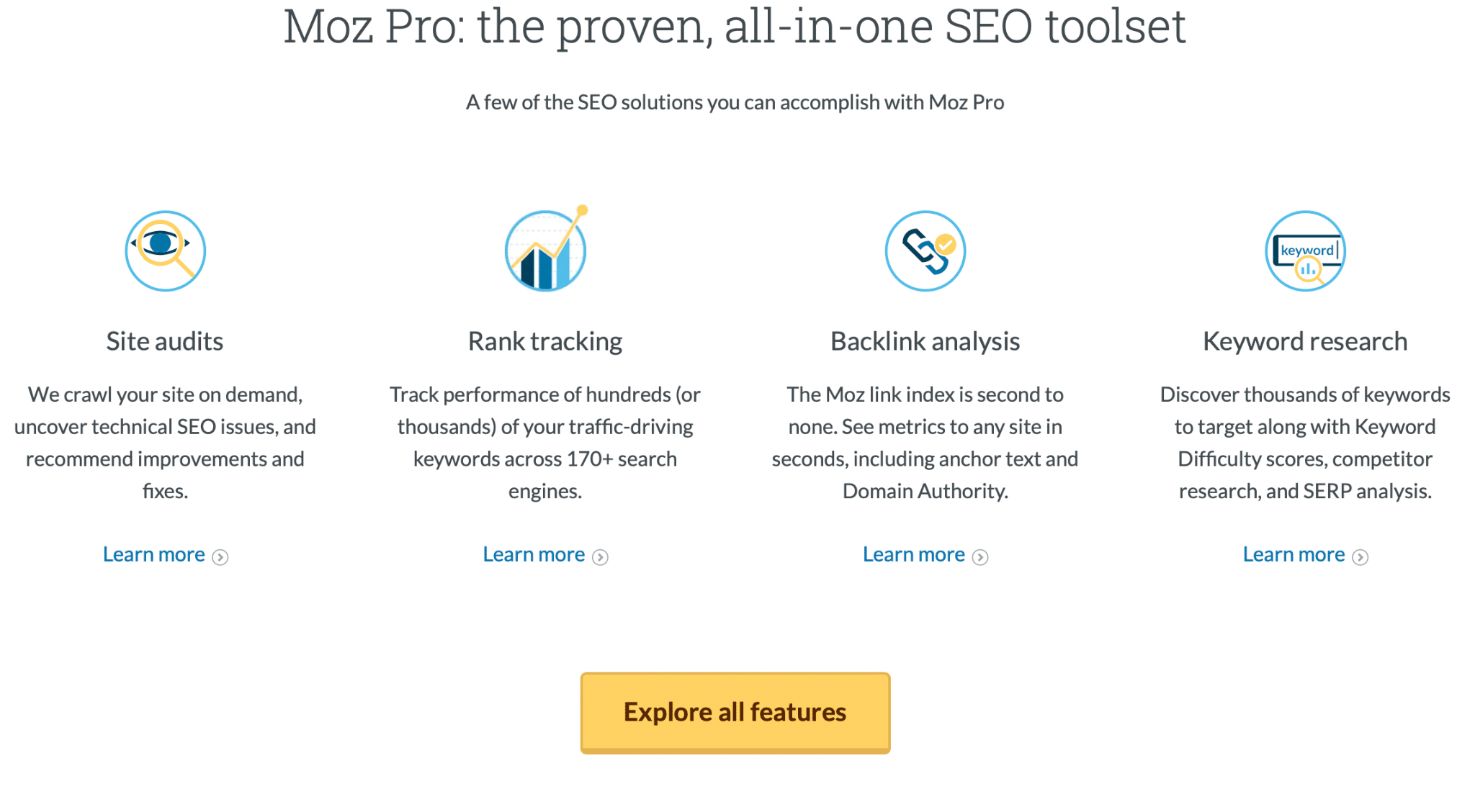 Rank tracker
Track your rankings with Moz's rank tracker SEO tool. This tool lets you know how you're ranking for keywords to identify what's working and what's not. Also, the rank tracking tool will enable you to track your competitors' performance and come up with smart ways to outrank them.
Additionally, you can quickly tell what searchers see by monitoring local and national searches using the rank tracker. The search visibility score draws a clear and holistic picture of your site's domain authority and ranking for keywords. Thanks to Moz Pro, you can easily compare mobile and desktop visibility with the rank tracking tool.
Keyword Explorer
Want to streamline your workflow and discover (and prioritize) the right keywords for search? Try Moz Pro's keyword explorer tool. This feature will get the job done in less time, allowing you to focus on other core business activities.
Keyword explorer will enable you to seamlessly create, add, and manage keyword lists. By categorizing, prioritizing, and comparing phrases and keywords, you can effortlessly identify your sweet spots for success.
Furthermore, the keyword research feature helps you find better keyword opportunities to outrank your competitors. The tool allows you to strategically target keywords with difficulty metrics and accurate keyword volume. This feature is an important feature of Moz pro pricing plans.
Site crawl
Manage your site's health with site crawl. This feature allows you to crawl, conduct site audits, and find and fix issues on your site. Common site issues that may hinder your performance and ranking include missing tags and broken redirects. The site crawler is an essential feature of Moz pro pricing plans.
With Moz Pro, you can crawl large sites fast while keeping track of new or recurring issues. The colorful charts display new issues, issue categories, and total issues, allowing businesses to discover opportunities, and trends, while undertaking overall SEO performance. If you find issues, you wish to ignore, simply flag them, mark them as resolved, or recrawl instantly.
And you don't have to manually crawl your site now and then to identify and fix issues. Moz Pro will automatically do it for you every week and alerts you of any new or critical issues affecting your site's performance.
Moz Pro Pricing Plans
They offer four pricing plans based on different SEO needs. The features and limits increase with plan pricing plan levels. Depending on your SEO needs and budget, you can expect to pay anything between $99 to $599 per month.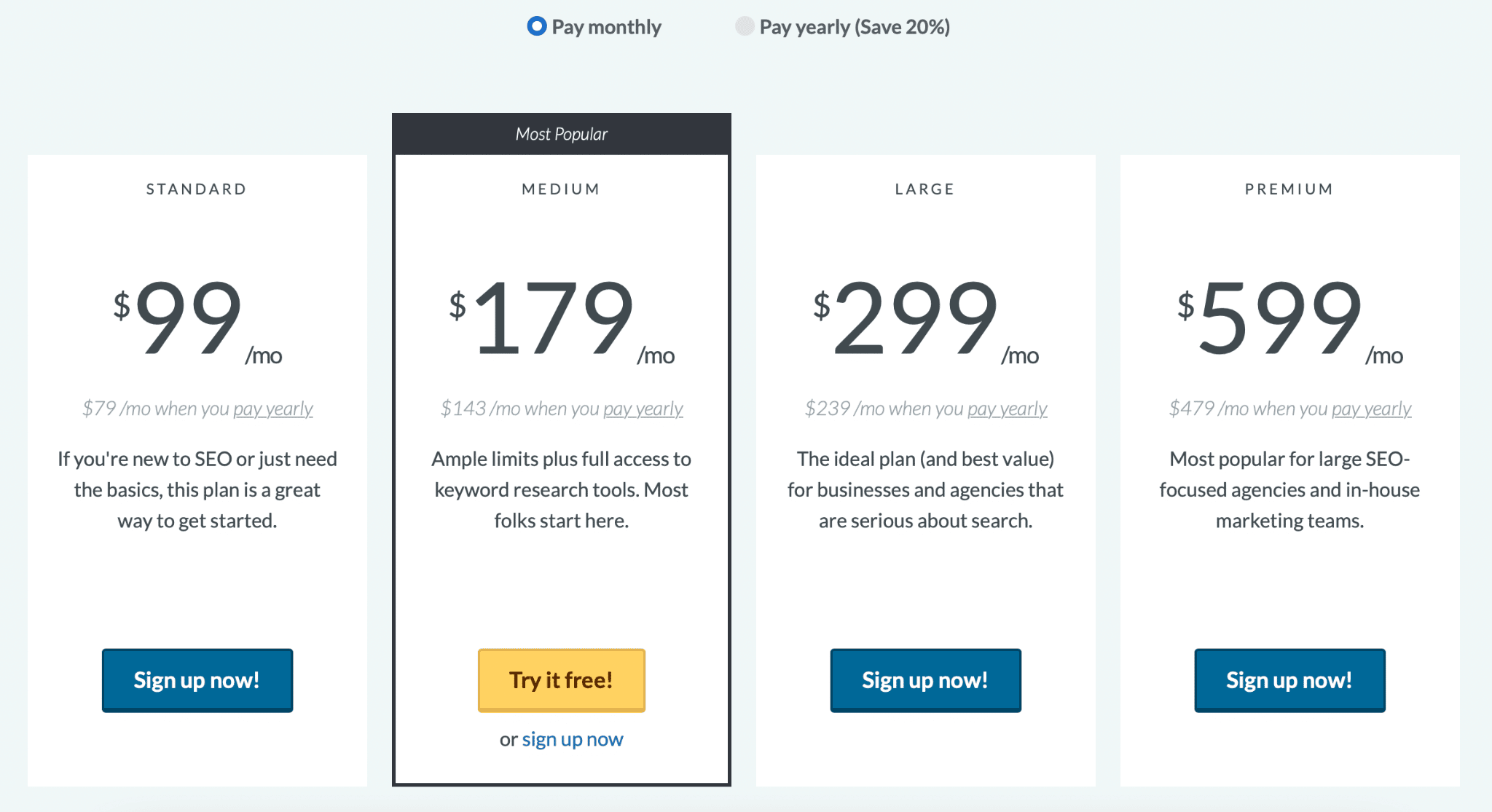 Additionally, the pricing plans are monthly or annual. A free trial of Moz Pro is also up for grabs.
Moz Pro Pricing plans (monthly)
Standard – $99.00 per month
Medium – $179.00 per month
Large – $299.00 per month
Premium – $599.00 per month
Moz Pro Pricing plans (Annually)
Standard – $79.00/month or $9,50 billed annually
Medium – $143/month or $1,719 billed annually
Large – $239/month or $2,868 billed annually
Premium – $479/month or $5,750 billed annually
Find the plan that suits your needs
Moz designs their plans to fit any need and budget. While it's essential to consider the cost and your budget, it's equally important to look at each plan's unique and extra features. Let's break down each Moz Pro pricing plan, and all the features included to help you find your ideal plan.
Track & Crawl pricing
| | | | | |
| --- | --- | --- | --- | --- |
| | Standard ($99/month) | Medium ($179/month) | Large ($299/month) | Premium ($599/month) |
| Campaigns | 3 | 10 | 25 | 50 |
| Pages crawled/week | 100000 | 500000 | 1,250,000 | 2000000 |
| Keyword rankings | 300 | 1500 | 3000 | 4500 |
| Mobile rankings | ☑️ | ☑️ | ☑️ | ☑️ |
| On-demand crawls/month | 5 | 30 | 60 | 100 |
| Performance metrics: tracked URLs | 60 | 200 | 500 | 100 |
Research pricing
| | | | | |
| --- | --- | --- | --- | --- |
| | Standard ($99/month) | Medium ($179/month) | Large ($129/month) | Premium ($599/month) |
| Keyword queries per month | 150 | 5000 | 15000 | 30000 |
| Keyword lists | 5 | 30 | 60 | 100 |
| Rows per keyword query | 10000 | 30000 | 50000 | 10000 |
| Keywords per list | 100 | 500 | 750 | 1000 |
| Backlink queries/month | 5000 | 20000 | 70000 | 100000 |
| Competitive research querries | 50 | 75 | 100 | 150 |
| Rows per backlink query | 10000 | 40000 | 50000 | 75000 |
| Links per list | 100 | 500 | 750 | 1000 |
| Link tracking lists | 1 | 30 | 60 | 100 |
| Rank checker queries per day | 200 | 200 | 500 | 800 |
Report features for each Moz Pro pricing plan
| | | | | |
| --- | --- | --- | --- | --- |
| | Standard – $99/month | Medium – $179/month | Large – $299/month | Premium – $599/month |
| Branded reports | | Unlimted | Unlimited | Unlimited |
| Scheduled reports | Unlimited | Unlimited | Unlimited | unlimited |
| Report templates | | Unlimted | Unlimited | Unlimited |
Access features for each pricing plan
| | | | | |
| --- | --- | --- | --- | --- |
| | Standard – $99/month | Medium – $179/month | Large – $299/month | Premium – $599/month |
| User seats included | 1 | 2 | 3 | 5 |
| Onboarding session | ☑️ | ☑️ | ☑️ | ☑️ |
| 24/7 support | ☑️ | ☑️ | ☑️ | ☑️ |
Which is your ideal Moz Pro pricing plan?
Choosing an ideal Moz Pro pricing plan can seem overwhelming at times. The four pricing plans come with extraordinary features whose limits increase with the pricing levels. However, every business has unique needs. This is why Moz has different pricing plans in the first place.
What are your needs?
Ideally, the first aspect to consider when choosing a Moz Pro pricing plan is your business or site needs. For instance, how many keywords do you want to analyze per month? Or how many user seats do you want in your plan.
For basic SEO and page optimization, a standard pricing plan will work just fine. The plan is ideal for those new to SEO or just need the basics. Small business owners can also utilize this pricing package to their advantage.
Most forks start with the medium pricing plan, which offers ample limits and complete access to keyword research tools. It's the most popular plan recommended by Moz.
The large pricing plan offers the best value if you are serious about search and search engine optimization. It's an ideal plan for businesses and agencies that want to outrank their competitors.
The Moz Pro pricing Premium plan is the best choice for large SEO-focused agencies and in-house marketing teams. It's an ideal package for seo experts.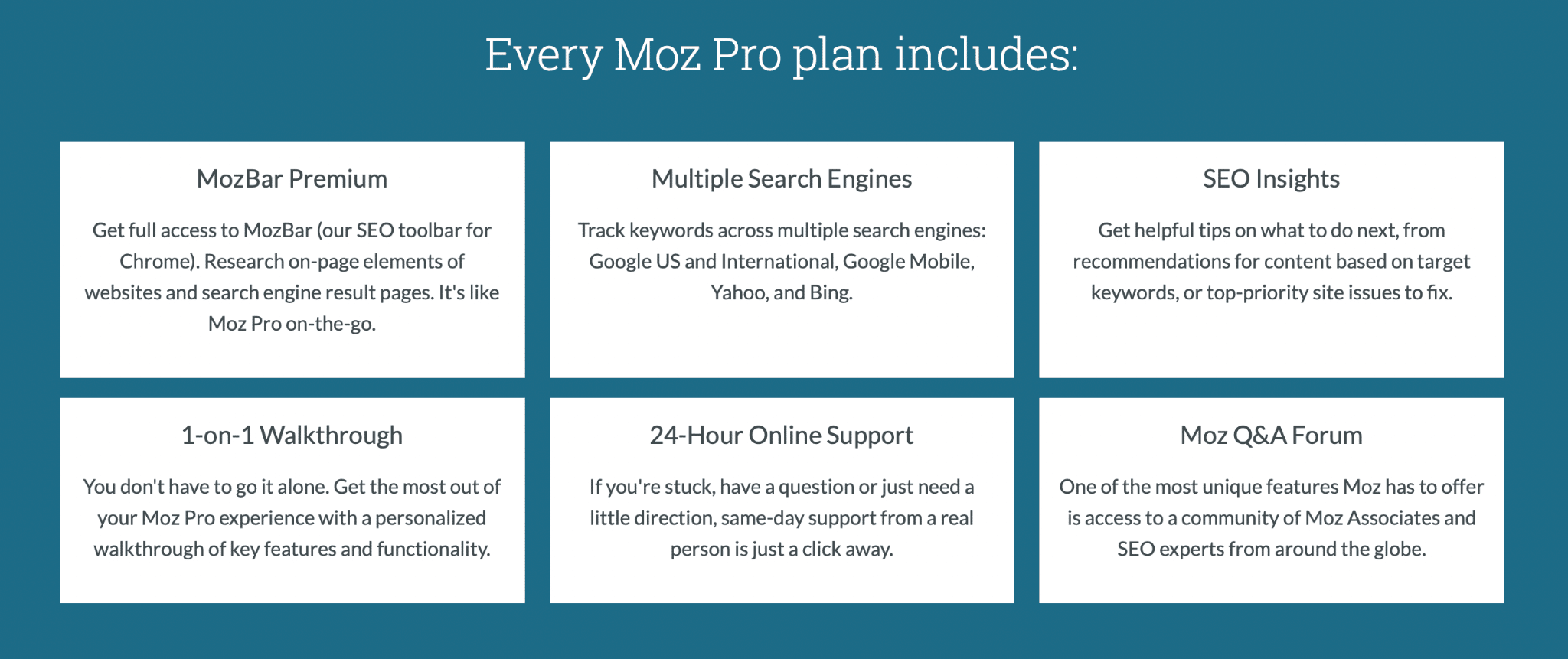 How much are you willing (and able) to pay for SEO optimization?
Most, if not all, businesses work on budgets while executing their plans. Also, digital marketing is only one aspect of a business. Therefore, it's essential to allocate your funds properly depending on the expected outcome. Standard and medium pricing will come in handy for a small local business wishing to maximize its marketing strategies.
You should upgrade to a next-higher level plan to enjoy extra features and benefits as your business thrives. Well-established businesses with a good income flow will always go for the premium pricing plan.
Typically, the more you're willing and able to pay for a good SEO tool and service, the higher you'll rank on search engines. Channeling more funds to your digital marketing campaigns can yield numerous benefits, including brand awareness, more leads, and generally more profit.
Start with a free trial plan
Perhaps you can afford the premium pricing plan, but you're new to SEO. Even if these tools are easy to use, you must have basic SEO knowledge. So what do you do?
Well, Moz offers a 30-day free trial on all their pricing plans. During this period, you have access to a suite of SEO tools without any risk and commitment.
Here's what's included in the 30-day free trial plan;
Access to the most trusted SEO data
24/7 support from the Moz online support team
A complete suite of SEO tools to drive valuable insights and reporting
Personalized walkthrough with an expert
Find advice and engage with industry experts on the Q&A forum
Moz won't charge you until your trial period expires. Additionally, you can cancel your plan at any time. Start your 30-day free trial of Moz Pro today.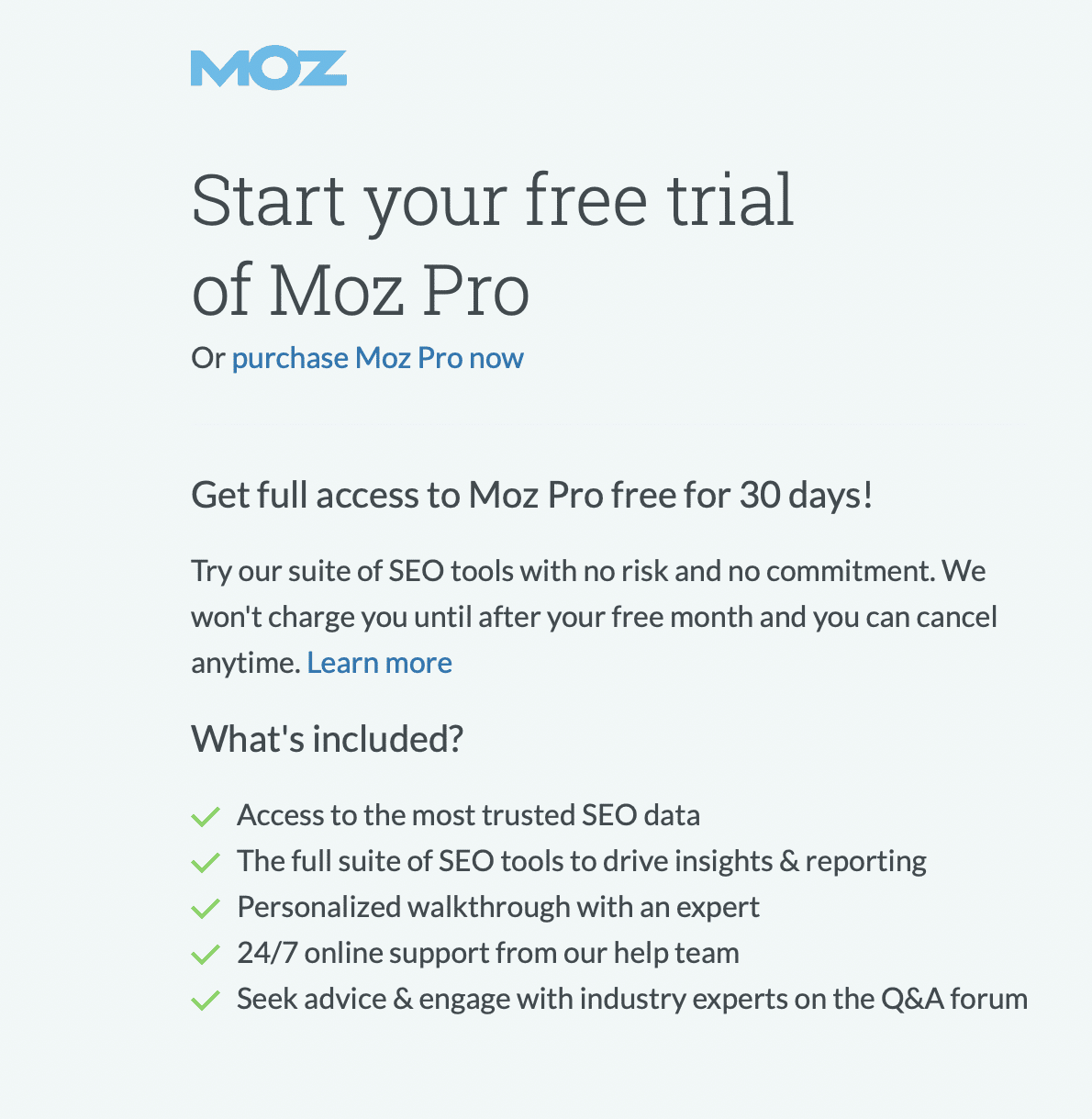 Are there any discounts or offers?
You can start with the free trial of Moz Pro to enjoy all the premium features at no cost. You can sign up for a free Moz community account to enjoy limited access to keyword explorer, MozBar, and link explorer for backlink research.
Moz offers a 20% discount on all annual plans. Therefore, you can save some bucks by paying annually rather than monthly. Here's a breakdown of the 20$ discount on annual plans.
| | | | | |
| --- | --- | --- | --- | --- |
| | Standard | Medium | Large | Premium |
| When billed monthly | $99 | $179 | $299 | $599 |
| When billed annually | $79/mo or $950/year | $143/mo or $1719/year | $239/mo or $2868/year | $479/mo or $5750/year |
| Save | $20/mo or $ 238/year | $36/mo or $429/year | $60/mo or $720/year | $120/mo or 1438/year |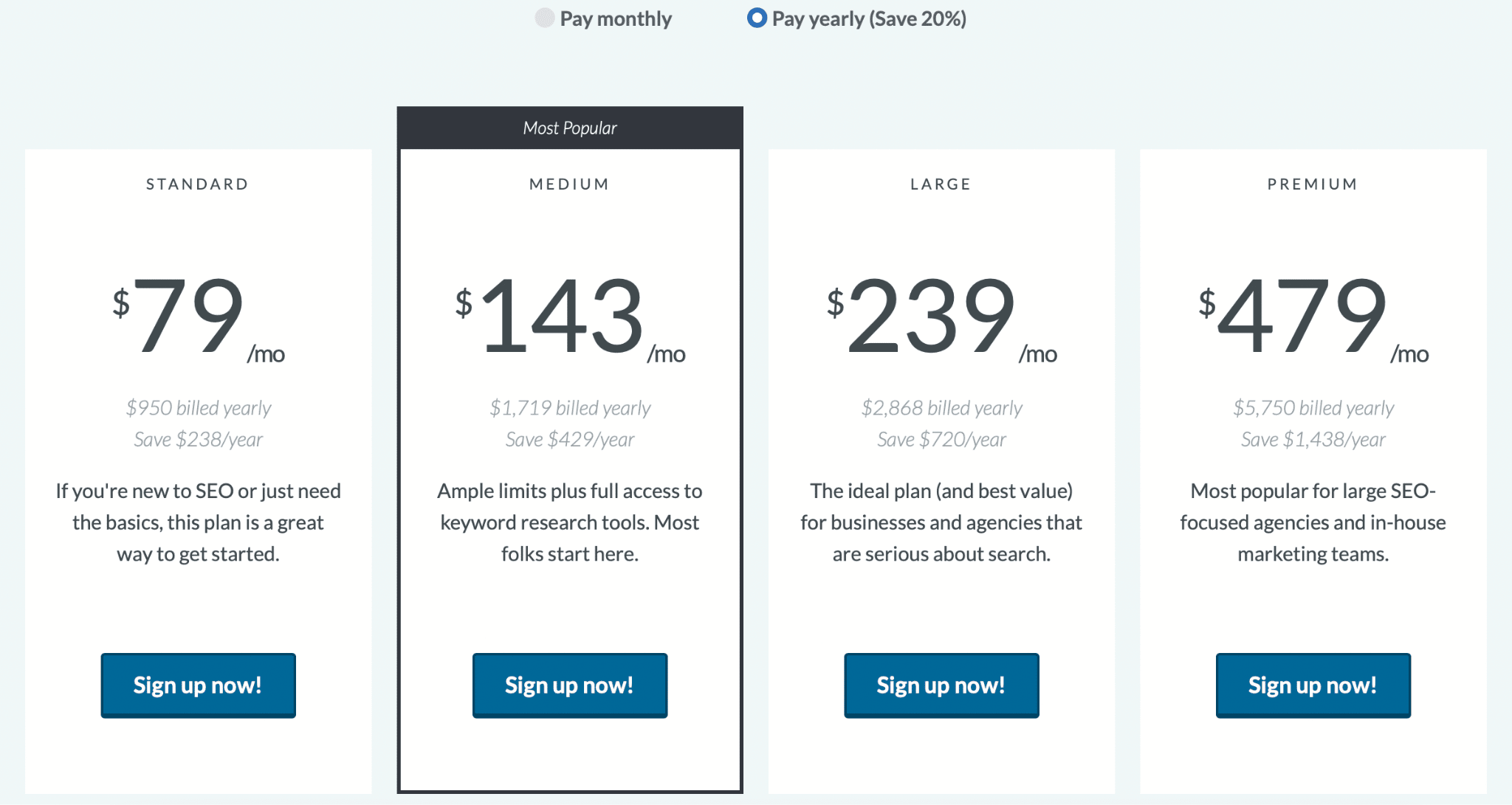 Go Moz Pro Today!
Moz Pro pricing plans offer a suite of SEO tools to enable you to rank high on search engines. Each plan features MozBar premium, SEO insights, 24/7 online support, one-on-one walkthrough, multiple search engines, and a Moz Q&A forum.
There's a free trial plan lasting 30 days, and you can cancel at any time. You can save 20% of the cost by paying annually.
Want to join Moz Pro? Start with their 30-day free trial or subscribe to their plans to access link explorer, keyword explorer, and other SEO tools.