Quickmail: Pros, Cons, and Everything in Between | 2023
Are you tired of spending hours writing and sending emails? Do you wish there was a way to streamline your email communication? Look no further than Quickmail! In this Quickmail review, we'll dive into the pros, cons, and everything in between of this email automation tool.
With it, you can send personalized emails to your entire contact list in just a few clicks, saving you time and increasing your productivity.
But is it really as good as it sounds?
Let's find out!
What Is Quickmail
As you probably guessed…It is an email automation tool that allows you to streamline your email outreach efforts.
With features like list management tools, high volume sending capabilities, personalized campaign management, and A/B testing options, Quickmail makes email communication a breeze.
But let's take a look at its main features in details.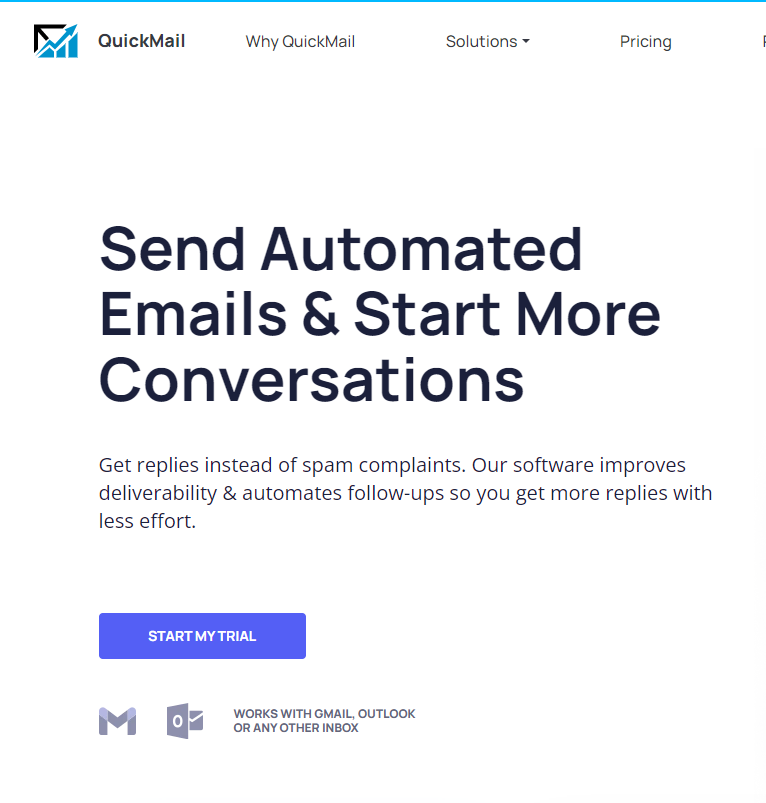 Quickmail Review: Main Features in 2023
Email Outreach Automation
Its list management tools make it easy to import and maintain your subscriber data.
You can segment your list based on different criteria and manage delivery statuses to ensure that your emails are being sent to the right people at the right time.
And, with subscriber self-management options, your contacts can update their preferences and ensure they're receiving the most relevant content from you.
Personalized Campaign Management
With personalized campaign management options, you can easily build and customize your emails to make them more relevant and engaging for your subscribers.
A/B Testing
Of course, not every email you send is going to be a home run. That's why it offers A/B testing options on subject lines, areas of content (both images and text), from names, and send dates.
This allows you to test different variations of your emails and see which ones are getting the best response rates.
Quickmail reviews -> G2 score: 4.6/5 stars
Pros & Cons
Pros
In this Quickmail review, we'll explore the pros of this email automation tool.
1. Many Features Compared to Alternatives
Quickmail offers a robust set of features that make it stand out among its competitors.
From list management and high-volume sending to personalized campaign management and A/B testing, it has everything you need to streamline your email outreach efforts.
And with its well-designed interface, using it is a breeze.
2. Sending Emails on Behalf of Clients
One of the best things about this platform is the ability to send emails on behalf of clients without needing access to their inboxes.
This is a huge time-saver for agencies and freelancers who manage multiple clients' email outreach efforts.
With Quickmail, you can keep everything organized in one place and easily switch between different clients' campaigns.

3. Fantastic Customer Support
Another major advantage of Quickmail is its fantastic customer support.
Almost every customer mentions this in their reviews.
The team is responsive, knowledgeable, and dedicated to helping their customers succeed.
Whether you have a question about a specific feature (more on this below) or need help troubleshooting an issue, Quickmail's customer support team is there to help.
Cons
How can we write a Quickmail review without mentioning some of the "downsides" of this tool, according to most customers?
1. A Learning Curve
One downside of Quickmail is that learning all the features and how they work takes some time.
While the well-designed interface makes using the tool more straightforward than many other email automation tools on the market, a learning curve is still involved.
It may take a bit of trial and error (and some help from customer support) to figure out the best way to use it for your specific needs.
2. Price
Another potential drawback of Quickmail is its price.
While it's not the most expensive email automation tool out there, it's not the cheapest either.
However, Quickmail offers a free trial for both packages, so you can try them out before committing to a subscription.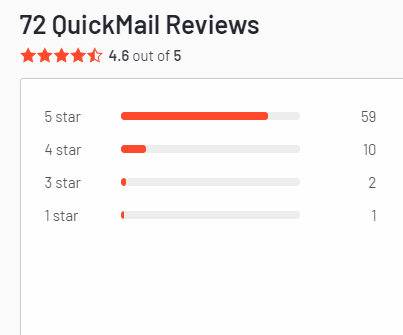 3. Extra Inbox – Extra Cost
One more thing to keep in mind when considering Quickmail is that you have to pay extra for an additional inbox.
While the basic package comes with one inbox, you'll need to pay an additional $35 per month for each extra inbox.
For agencies and freelancers managing multiple clients, this can add up quickly.
To Wrap It Up
In conclusion, while Quickmail has many advantages over its competitors, it's not without its downsides.
The learning curve, higher price point, and additional cost for extra inboxes are all factors to consider when deciding whether or not to use this platform.
However, for those who value its robust feature set and well-designed interface, it can be a valuable tool for streamlining their email outreach efforts.