Saleshandy Review: Pros, Cons, & Everything Else | 2023
In this Saleshandy review, we will be looking more in-depth into the features, pricing, and user experience.
By the end of this review, you'll have a better understanding of whether it is the right sales engagement platform for your business.
What Is Saleshandy?
Saleshandy is a sales engagement platform that provides a variety of tools to help sales teams streamline their email outreach, track their emails' performance, and automate various sales-related tasks.
With Saleshandy, you can create and send personalized email campaigns, track opens and clicks, schedule follow-up emails, and even automate email sequences to nurture your leads.

Main Features
Email scheduling
Saleshandy email tracking
Personalized email campaigns using mail merge.
Automated follow-up emails.
AB Testing
CRM
Campaign analytics
Click tracking
Event-triggered actions
Reporting & statistics
Third-party integrations
G2 score: 4.7/5 stars

Pricing: $34/month with unlimited email accounts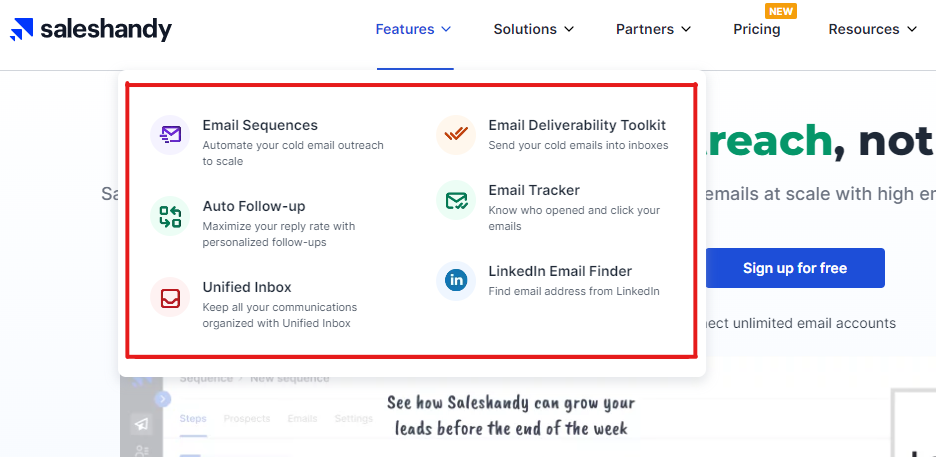 Is Saleshandy Worth It?
An important part of this Saleshandy review is seeing what current or past customers have to say about the product.
That's why in this section, we will be listing the pros and cons.
Saleshandy Pros
1. Email Campaigns and Tracking
It makes it a breeze to create and monitor email campaigns.
With their user-friendly interface, you can easily create personalized email templates, schedule follow-ups, and even automate email sequences to nurture your leads.
And the best part?
You can track the performance of your emails in real time, allowing you to see who's opening, clicking, and responding to your messages.
2. Unlimited Email Accounts for All Packages
Another great aspect is that all their packages come with unlimited email accounts.
So whether you're a solo entrepreneur or part of a large sales team, you can manage all your email accounts from one central location.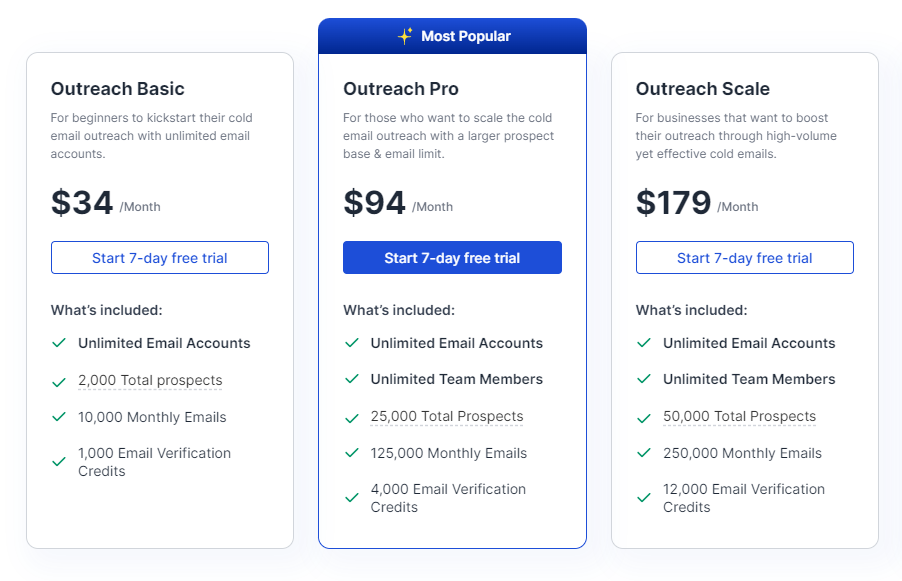 3. Unified Inbox
And speaking of managing emails, Saleshandy's Unified Inbox is a game-changer.
No more juggling multiple email accounts or losing track of conversations.
With the Unified Inbox, you can manage all your prospect's conversations from one place, making it easier than ever to keep track of your leads and respond to their inquiries in a timely manner.
Saleshandy Cons
1.No Email Rotation Feature
First off, it doesn't currently have an email rotation feature.
This means that if you're trying to send emails to the same prospects from the same sequence, you'll have to create multiple sequences for the same campaign.
While this isn't necessarily a deal-breaker, it can add some extra work and complexity to your email outreach strategy.
2. Email Warm-up in Beta
Another area where Saleshandy falls short is in its email warm-up feature, which is still in beta.
While this feature has the potential to be incredibly useful, its beta status means that it may not be fully functional or bug-free yet.
So if you're relying on email warm-up to improve your email deliverability, you may want to hold off on using this feature until it's more stable.
3. Learning Curve
While Saleshandy's feature-rich platform is certainly impressive, it can also be a bit overwhelming.
With so many different menu options, it can take some time to learn how to navigate the platform effectively.
This steep learning curve can be a bit daunting, especially for those who are new to sales engagement platforms or email marketing in general.
Saleshandy Alternative
If you've decided that Saleshandy isn't the right sales engagement platform for your business, don't worry!
There are plenty of alternatives out there to choose from.
Here are a few options to consider:
Woodpecker
Quickmail
GMass
Mixmax
Mailtrack
Yesware
Outreach
Reply.io
Summary
Overall, while Saleshandy has some drawbacks, it's important to remember that no tool is perfect.
By weighing the pros and cons, you can make an informed decision about whether it is the right sales engagement platform for your business.
So if you're willing to put in the time to learn the platform and work around its limitations, Saleshandy could be a powerful addition to your email outreach strategy.