SEMrush Pricing Plan & Cost Guide in 2022
You already know that having an online presence can help your business reach more customers. But the competition is stiff, and your peers are already miles ahead. That's why we will introduce you with one of the best apps that can help you with SEO optimization. In this guide we will guide you to SEMrush pricing plan & costs.
You know that Search Engine Optimization (SEO) is your best chance to stand out. You understand that your website must rank high on search engines for customers to visit your website, view products, and hopefully make a purchase.
But SEO is a complex and resource-intensive process. Your website must also be one of the first three results on the first page of a search results page for the best results.
It is common knowledge that 75% of users never go past the first page of Google search results. That is a high figure considering that search engines influence over 88% of all purchase decisions.
With only ten spots available on the coveted first page of Google, you must step up your SEO game fast. Unfortunately, it is also hard to keep up with the frequent and unexpected updates to the Google search algorithm.
Fortunately, several SEO service tools exist, and SEMrush is one of the most powerful tools in its niche. The SEMrush software can significantly impact your digital marketing efforts when used correctly.
However, compared to the other premium cloud-based SEO tools, SEMrush pricing may appear daunting, especially to startups with tight budgets.
Read on for a full breakdown of SEMrush pricing and hopefully help you pick the best option for your business.
SEMrush Overview
Newbie and seasoned marketers agree that choosing the right digital marketing tools is a persistent sticking point. When working on an SEO strategy for your business, you have to be on top of the following:
Competitor analysis
Keyword research
Traffic analysis
Site audits and
Link building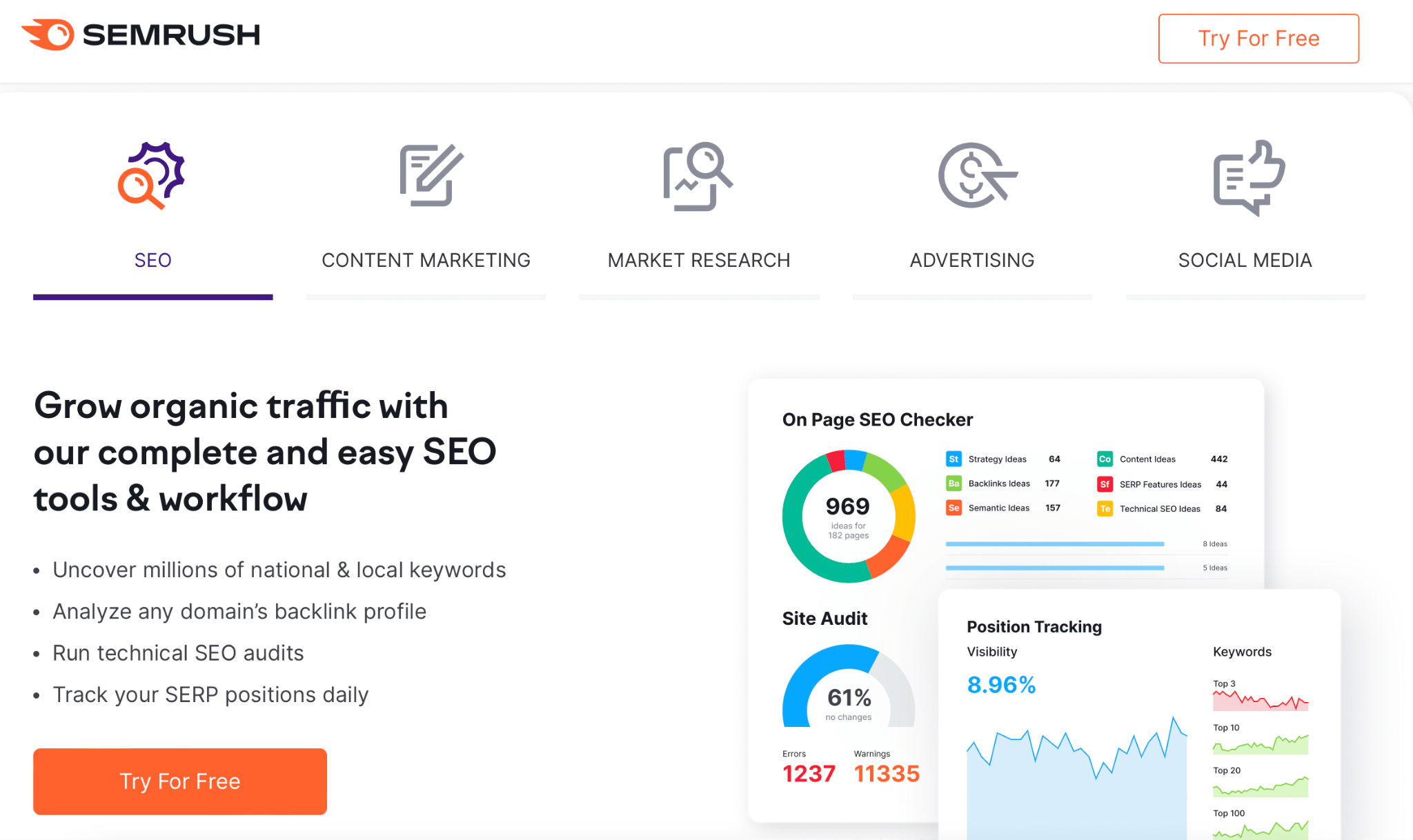 SEO might be complex and challenging to implement all the elements required for your site to rank. In addition, without digital marketing tools, the task becomes even more tedious. Yet, SEO remains one of the most trusted forms of digital marketing with a high return on investment (ROI).
Often, many business owners understand the value of implementing SEO on their digital platforms. However, the time, knowledge, and expertise to implement SEO by themselves limit them. In addition, with the ever-tightening digital marketing budgets, they may also find it hard to justify the cost of investing in SEO tools. Let's us introduce you to SEMrush pricing plans and you can see it yourself if it's worth your budget.
SEMrush, Software-As-A-Service (SAAS)
SEMrush is one of the leading SAAS platforms created to help websites achieve higher rankings on search results. It is a powerful online visibility platform that offers several helpful SEO tools. In addition, its intuitive toolset helps bridge the gap between complex and expensive SEO tools and newbie marketing suites.
SEMrush exists as an All-In-One SEO tool suitable for digital marketing teams and individuals alike. Having all the digital marketing tools in one suite is helpful as it is easier to track aspects like growth, conversions, traffic, and competitor analysis. SEMrush appeals to many businesses due to bundling valuable features in an easy-to-use platform.

SEMrush Pricing Plans
Compared to other SEO tools in the market, SEMrush pricing is slightly higher. However, the goal of SEO is to help your website rank higher on search engines, drive traffic and generate revenue. For this reason, you should focus on SEO results rather than their cost.
SEMrush pricing model offers four pricing plans. In addition, SEMrush offers a free trial with limited but useful features to encourage users to trust their products. If a user subscribes to any paid plans, they get a 7-day money-back guarantee if they unsubscribe.
This section provides a full breakdown of SEMrush pricing plans.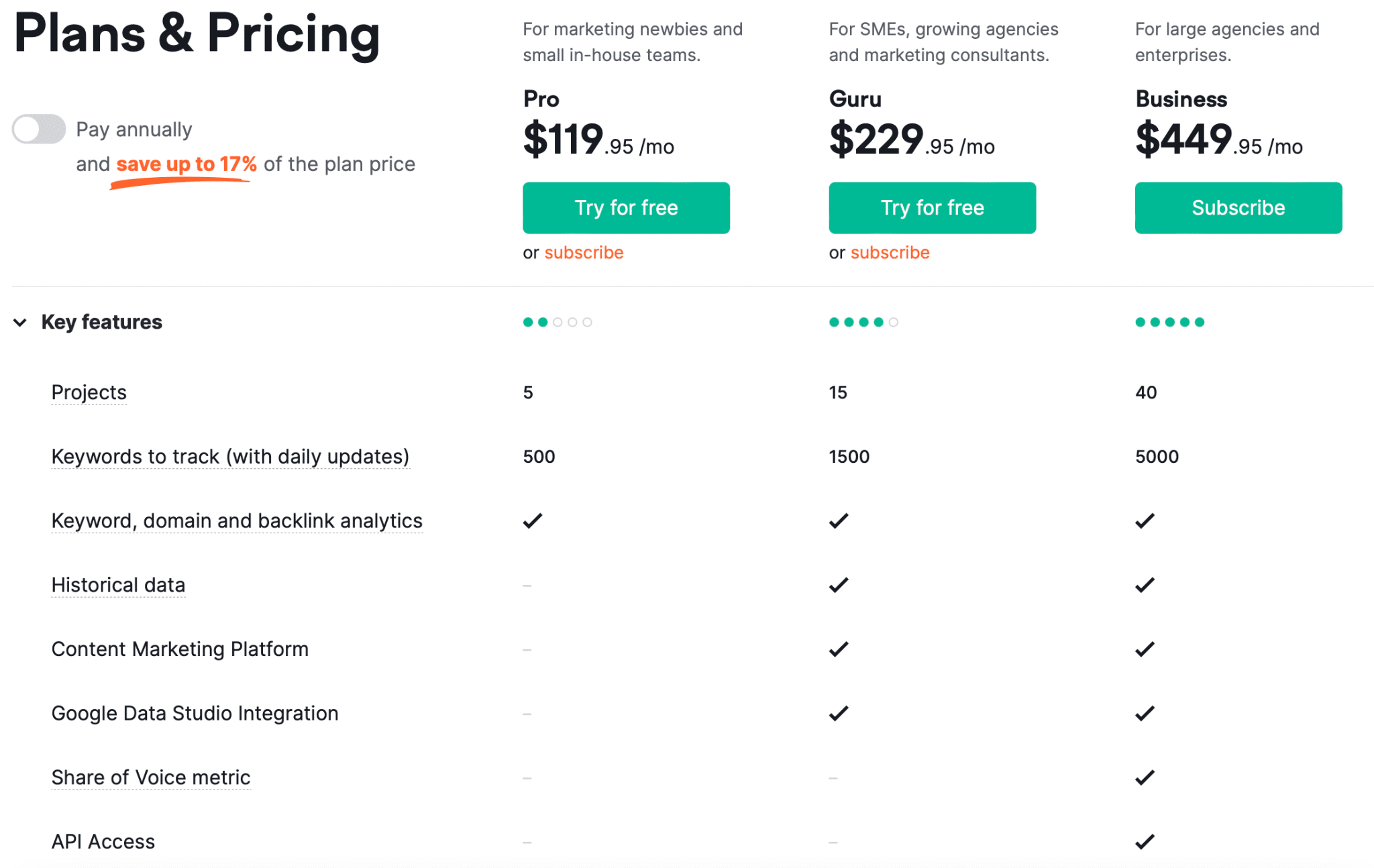 SEMrush Free Option
To help you evaluate and enjoy powerful features before committing financially, SEMrush pricing has a free plan. Unlike other services with timed free trial plans, you can use this plan for an extended period. However, the SEMrush free trail option contains fewer powerful features needed to power an enterprise-scale SEO strategy.
Key Features of the Free Plan
The free plan affords you the following features:
1) One website per project.
You can monitor one website and track up to 10 keywords with this option. For a small website, one project is sufficient.
2) Website content audit.
With the free plan, you may audit content on up to 50 pages of your website.
3)Topic research tool.
This tool allows you to do keyword and topic research for two topic ideas.
4) Ten domain and keyword analytic reports
You can generate ten analytical reports with ten results in each domain and keywords analytic reports.
5) URL and Social media management
With the free plan, you may track up to five content URLs and have five social media profiles.
SEMrush Pricing Pro Plan
The free trial suits novice digital marketing experts and generally people who want to get a feel of the SEO tools. On the other hand, the Pro plan is suitable for startups, in-house marketers, and freelancers with budgetary constraints. Finally, it is the company's entry-level plan for premium SEO tools.
The SEMrush pricing pro plan starts at $119.95, payable at the beginning of each month's billing cycle. After that, you pay only $99.95 if you opt for a yearly subscription.
Key Features of the Pro Plan
1) Keyword research tool
You get insights into currently trending keywords and the potential difficulty in ranking for them. This tool will get you alternative phrases to use to keep up with the competition. And it can generate up to 3,000 reports containing about 10,000 keyword results per day with this plan.
2) Site audit tools
The tools enable you to identify potential issues with your website, including usability and responsiveness. The Pro Plan allows you to audit up to 100,000 web pages in a month. However, it can only crawl up to 20,000 pages in a single audit session.
3) Domain analytic tools
This toolset allows you to visualize both your domain and your competitor's domain's authoritativeness based on the number of backlinks. In a day, you may generate up to 3,000 requests. In addition, the tools allow you to benchmark competitor sites using Traffic and Audience Overview metrics, excluding historical data and regional filters.
4) On-page SEO tracking
On-page SEO tracking allows you to analyze your content and offers insightful suggestions on ways to improve it. Recommendations may include using specific keywords in your content, adjusting page lengths, and improving readability.
Pro Plan Limitations
Even though the pro plan is an entry-level subscription, it offers many powerful tools needed to make a website rank higher on Google. However, it is more limited in its capabilities than higher-level plans.
The following are its limitations:
You can only generate up to 3,000 reports per day for domain and keyword analytics. Compared to other services like Ahrefs, this is considered generous. However, if you manage multiple sites on varying parameters, you may require more reports than those in the pro plan.
The Pro plan refreshes your keyword metrics up to 250 times.
The plan only allows simultaneous tracking of up to 500 different keywords. For a single site, this figure is acceptable. However, for multiple websites, you may need to level up.
You can only manage up to five website projects.
SEMrush Pricing Guru Plan
The next level up from the SEMrush pricing Pro Plan is the Guru plan which costs $229.95 monthly. The Guru plan is best suited for small and medium-sized businesses and marketing agencies.
The Guru plan differs from the previous plan by enabling you to create a content marketing strategy. In addition, the plan offers the flexibility to accommodate more projects, dynamic teams, and the opportunity to generate more reports per session.
Key Features of the Guru Plan
The Guru plan has the following features:
1) Website audit feature
The plan allows you to get site audit reports from over 20,000 pages per day. While this is similar to the Pro Plan, you can crawl up to 300,000 pages per month which is 100,000 pages more than the previous plan.
2) Keyword research
The keyword research set of tools allows you to generate up to 5,000 reports every day. It also allows you to create records for 30,000 keyword groups, a significant increase from the Pro Plan.
4) Content marketing
Content marketing is the flagship product of the Guru plan and enables you to perfect your site's content. It offers a toolkit to help you run a limitless number of research queries on various topics. Additionally, you may track 50 article URLs, run audits on 20,000 pages, generate blog ideas from 800 keywords, and monitor up to 15 projects.
5) Social media marketing and strategy
This set of tools is perfect for large-scale social media marketing projects. You can create and track campaigns across multiple social media sites simultaneously.
You can use the SEMrush Guru's content strategy toolkit to do the following:
Get blog and content ideas for your website's content as well as strategies to optimize them
Ascertain the SEO potential of any content topics in consideration
Use the task management system to manage campaigns on content creation.
Measure your content strategy's effectiveness over time
Check for unauthorized use of your content online.
A critical difference between the Pro and the Guru Plan is using historical data. This toolset allows you to gain insights into competitor websites with data gathered since 2012.
You can use the bundled Google data integration studio to generate customized SEO dashboards and reports.
Business Plan
The first two plans cater to small and medium-sized businesses. However, you may need more flexibility when you have an extensive client roster and manage multiple projects. As a solution, the SEMrush Business Plan lets you work on up to 40 projects simultaneously.
The increased flexibility and no limits to the complete SEMrush toolset come at a high cost of $449.95 per month. However, with the Business Plan, you enjoy all the features in the Pro and Guru plans without limits.
Key Features of the Business Plan
In addition, theSEMrush pricing Business Plan offers the following perks:
1) Website audit toolkit
The Business Plan allows you to crawl up to 1,000,000 sites per month, allowing 100,000 simultaneous crawls. In addition, the On-Page SEO checks apply to 2,000 keywords per month.
2) Keyword research
With the Keyword Magic Tool, you can generate up to 10,000 reports every day. Each of those reports includes up to 50,000 keyword results.
3) SEMrush Product Listing Ads
These tools allow you to analyze Google Shopping Ad campaigns. In addition, it provides valuable insights on competitor e-commerce Ad performance.
4) Application Programming Interface (API) access
The API allows you to integrate SEMrush into specific implementations, including applications, widgets, and dashboards, allowing you to create custom data visualization interfaces.
5) The Share of Voice metric
The Share of Voice metric provides valuable insights into the ratio of tracked keywords to the amount of traffic realized.
Conclusion
SEMrush provides feature-rich plans that give both individuals and teams a bang for their buck. The Pro Plan is perfect for startups and small businesses, offering the right balance between features and cost for running a small online presence. The Guru and Business plans provide increased flexibility and more useful toolsets for large teams and enterprises at scale.
While the SEMrush toolset provides numerous valuable insights, the prices tend to be on the higher end. Moreover, it gets increasingly costly if you intend to have more people working simultaneously. Overall, the SEMrush pricing guru plan is the most popular and offers the best value ratio between functionality and cost.