What is Visme? A Review of Graphics Tools for Freelancers
Unfortunately, the overwhelming majority of graphic tools available today are not ideal for freelancers or small business owners. However, one tool that stands out from the crowd in terms of usability and functionality—is Visme.
Visme claims to be the only all-in-one visual content creation platform that provides users with high-quality graphic templates, thousands of images and fonts, and an easy-to-use interface to create high-quality visuals without the need for complex design skills.
Can Visme help improve both your productivity and your business, or is it not worth the cost?
What is Visme?
Visual storytelling has become one of the most powerful ways to share ideas and engage with audiences.
This is especially true when you're freelancing and (you or your clients) don't have an established brand…
With a visual story, you can present your expertise and build awareness among potential clients.
The challenge, though, is that creating professional-looking graphics doesn't come naturally to everyone.
Luckily, there are plenty of tools available on the market today that will help you get started with easy-to-use templates.
One such tool is called Visme.
Let's take a look at what it has to offer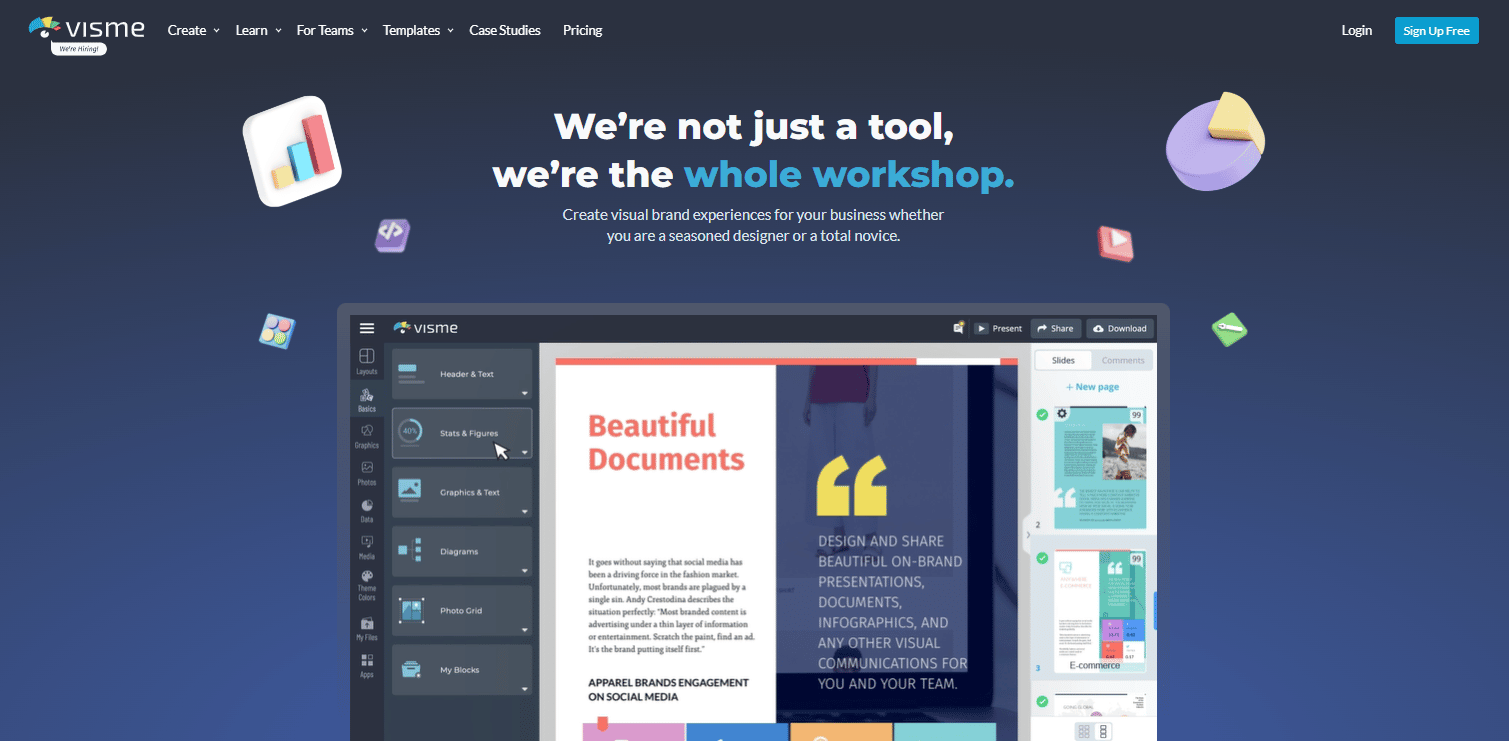 What can you do with Visme?
There are plenty of templates, images, and other assets in Visme's library.
That means companies can use ready-made samples to create their own branded content quickly.
Visme's tools are also simple to use (with a few exceptions.)
It is an easy-to-use graphic design app with templates for everything.
You can create social media and infographics, banner ads, graphs, charts, business cards, and Visme presentations.
It has a sleek interface, robust functionality, and affordable plans (even though it might be considered a bit expensive compared to the competition.)
Visme helps you visually and effectively captivate readers by providing them with the most fantastic presentations that reflect your material or content.
Who is Visme best suited for?
In many ways, Visme is a cross between Canva and PowerPoint.
It's an intuitive tool that comes with all sorts of design templates you can use to create professional-looking visual content like infographics, product mockups, or even presentations.
Anyone can find one or more uses for Visme for all visual content needs.
It's perfect for freelancers if you have many clients, different businesses, enterprises, and even for professional designers.
Since it is built around a brand mentality, it can help you stay consistent with your brand's colors, fonts, images, etc.
Packages and pricing
There are three tiers to choose from: free, personal, business and enterprise.
Each one comes with different features and benefits.
The free plan allows you to test out the software, but it's very limited in its offers.
You get up to five projects 100MB for file storage limited templates. All projects are downloadable with the Visme watermark.
The personal plan costs you $29/month (the monthly package).
You will get 250 MB of storage with premium templates and, of course, better email and chat support.
However, we feel like this plan is not enough or fully functional.
The business plan costs you $59/month (the monthly package).
You get all the functions you need for professional designs.
You will have 10 GB of storage, unlimited projects, collaboration functionality, presentation notes, and much more.
The enterprise plan includes everything mentioned above, plus more storage, user activity monitoring, advanced productivity functions, etc.
There is no price for this package, and you have to contact the sales team so you can get a quote for your business needs.
As you can see, Visme's prices fall on the high end, especially considering that you need to subscribe to the Business package to reap much value.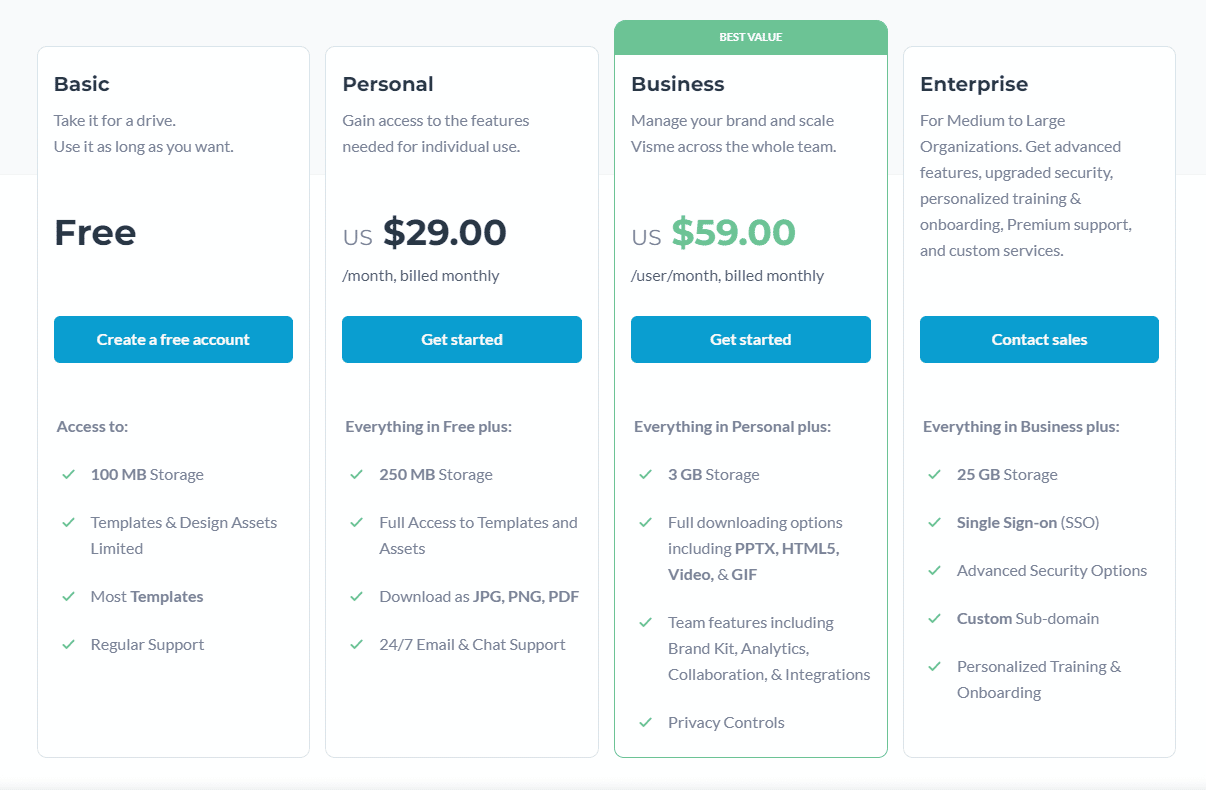 Visme vs. Canva
How does Visme compare to Canva? Well, Canva will cost you just $12.99 per month for up to five people.
For this price, you get 100GB of storage space, Brand Kits, access to different templates, and the ability to publish your content directly to social media.
A great deal…
But since Canva is so popular, the designs are probably far from unique.
If we had to conclude, we would say that Canva is a solid choice for freelancers or people with a low budget (or no budget at all) whileVisme yields much more professional, on-brand designs.
So, it really depends on what you are going for.
Conclusion
Visme, Canva, and Prezi are three powerful tools that allow designers to create visually appealing content.
While they offer slightly different features and workflows, they all help freelancers quickly put together content.
If you're just starting out with creating infographics or presentations, take some time to experiment with each of these tools.
One may provide a more intuitive interface, while another may be better suited to create what you're looking for.
And regardless of your choice, you can look forward to creating high-quality graphics that help communicate your ideas effectively.
So, what's our verdict on Visme? Well, we liked its power and ease of use.
We think that once you dig into its toolset and familiarize yourself with all that it has to offer, you'll see why so many designers are choosing Visme.