Woorank Pricing & Cost Guide in 2022
Having a website is only one step towards increasing your online brand awareness and visibility. And literally, it's easier and more affordable to create a website nowadays. However, your website's position in search engines is what makes a difference. And this Woorank guide will help you find out if this tool is the right one for you.
Given little attention, your site won't appear on the top search engine results pages. Consequently, it will be hard for searchers to find your site and perhaps engage with your business. As a result, your site's organic traffic and leads will be minimal.
But with search engine optimization, you'll create long-term brand awareness, attract more clicks, expand your target audience, and earn more revenue. However, it's not easy cutting through the stiff competition to rank high on search engines.
With the frequent algorithm updates, you want the proper SEO tools to monitor your site and keep you in the loop about any changes. And here's how Woorank comes in. It's a powerful SEO tool, ideal for businesses of all types and sizes. Here's an overview of Woorank, the pricing plans, and a cost guide for 2022.

Overview of Woorank
You're new to SEO, and this post seems like Greek. We want to keep everyone on the same page, from SEO beginners to SEO professionals. Before you subscribe to a Woorank pricing plan, you want to know what it is and what you're paying for, right?
After reading this Woorank review, you should be better positioned to make an informed decision.
What is Woorank?
Woorank is a website SEO audit tool founded in 2010 in Belgium. It's a complete SEO tool designed to help businesses achieve their online goals.
With these tools, you can analyze your site's data, get actionable advice and achieve your marketing goals. Wooranks' suite of SEO tools provides all the essential data, allowing you to allocate your time and tasks more efficiently.
Woorank has an array of solutions for various individuals or groups, including;
Online marketers – through their digital solutions, the tool will guide your business to greater online visibility, helping you improve your ROI.
Sales teams – Woorank's suite of data-rich tools will help you generate more leads for your business.
Small business – start your business with a solid foundation thanks to Woorank's actionable advice and impactful guides.
Digital marketing agencies – retain new clients or pitch to leads with Woorank's suite of sales tools.
Data services – This tool enables you to gather data from other websites online, helping you analyze trends and discover leads.
Developers – Get helpful SEO digital marketing insights to build and maintain your site.
Woorank Pros
So why should you subscribe to Woorank's pricing plans when there are other SEO tools you can use? Here's why it is an ideal choice.
Easy user interface
Covers onsite and offsite SEO
Cloud-hosted software
Efficient customer service
Chrome extension
Easy-to-follow marketing checklist
Actionable documentation, guides, and links
Woorank cons
Steep pricing
Single-user access (below enterprise plan)
Limited SEO tools
Woorank Pricing
Want to give it a try?
You'll need to subscribe to one of their plans to enjoy their suite of SEO tools.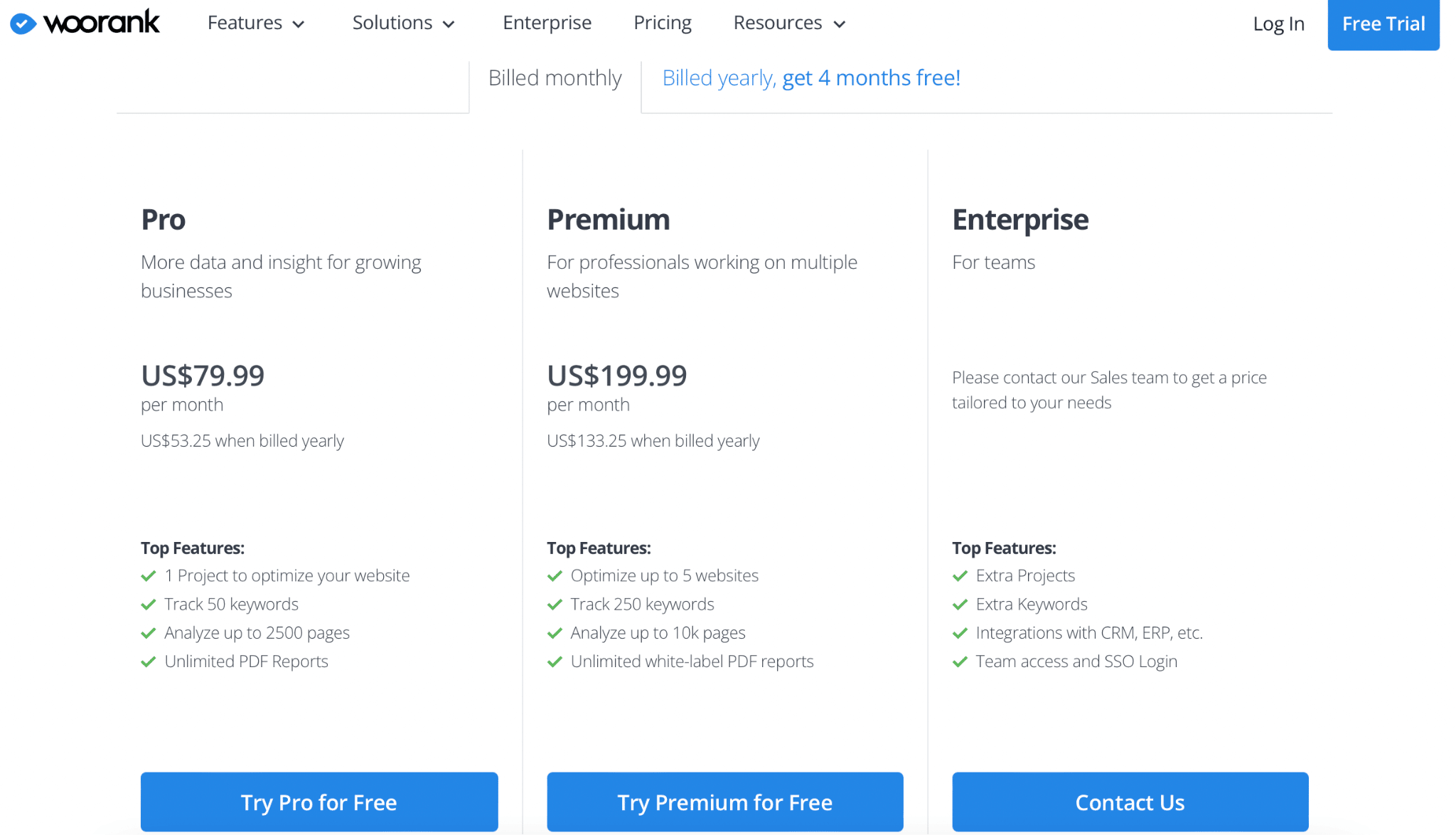 It offers three subscription plans depending on your business needs. You can choose between a monthly subscription and an annual subscription.
Features and limits increase with plan levels. When you subscribe to a high-level plan, you enjoy more features and unlimited access.
Here's a breakdown of Woorank's pricing plans and the feature limits of each.
Woorank Pro – $79.99/mo
Woorank premium – $199.99/mo
Woorank enterprise – price tailored to your needs
Woorank Pro
The Woorank Pro plan provides more data and insights for businesses. It costs $79.99 per month. However, you'll pay $53.25 for Pro plan when billed yearly.
Top Features of the Pro Plan include;
One project for website optimization
Analyze up to 2500 pages with site crawl
Track 50 keywords
Unlimited pdf reports
Compare your site against three competitors
Enjoy unlimited reviews
Export keyword data via CSV
Automatic uptime notification
Access to Woorank help center and online support
Integrate with other tools like Google Analytics, Facebook, and Google search console for more detailed reporting
Woorank Premium
Woorank's premium pricing plan costs $199.99 per month. However, when billed annually, the price is $133.25.
Top Features include;
Optimize up to 5 websites
Analyze up to 10000 pages with site crawl
Track 250 keywords
Unlimited white-label PDF reports
Compare your website against three competitors
Automatic Uptime notifications
Woorank priority support
Export keyword data via CSV
Export site crawl data via CSV
leadGen tool to generate leads for your business
Woorank Enterprise
Woorank enterprise is specifically designed for teams, and pricing varies depending on business needs. Therefore, you'll need to contact Woorank's sales team to get a quote tailored to your needs.
Top features include;
Extra projects
Integrations with CRM, ERP, etc
Extra keywords
Team access and SSO login
Bulk review generation
Phone support
Data mine millions of website reviews for insights and market research
Woorank discounts and offers
Like any other company, Woorank has some goodies for all its customers. We're not sure whether it's just a marketing tactic or a means to reward their customers. Regardless, you should try their free offers to save money.
Woorank's free trial
Perhaps you want to try Woorank but are not ready to spend on their pricing plans. Or maybe you're still new to SEO and just want a free tool to get the basics of search engine optimization before investing in the premium plans.
Well, Woorank has you covered with their free plan. You can unwrap Pro and Premium features free for 14 days. This is enough time to test their tools and features and determine if they truly add value to your website and business.
During the free trial period, you have access to various tools and features, including site crawl, projects, website review, and keyword tools.
However, there's a slight limit on instant review generation during the 14-day free trial. Woorank does this so that everyone can enjoy its services. You can start a subscription early if you need access to more features.
They doesn't charge your PayPal account or credit card during the free trial. However, there's a $1 kept on hold until your trial period expires. This amount is used to validate your credit card.
And they will notify you at the end of your trial plan, informing you that your subscription is about to start. If you don't want to be charged, you should cancel your free trial before it expires.

Discounts on annual plans
You can either subscribe to a monthly or an annual plan. The yearly plan come with some discounts. For instance, you'll enjoy four months of free access to Woorank premium tools and features when you subscribe to their annual plans.
Let's break down the monthly and annual plans to help you understand the discounts.
Pro plan costs $79.99 when billed annually. However, when you pay yearly, you're billed $639.00. This is equivalent to paying $53.25 per month.
Ideally, when you pay annually, you get a discount of approximately 27%. The same goes for the premium plan. It's billed at $199.99 per month or $1599.00 per year.
Woorank Billing
If you decide to subscribe to Woorank plans, you should understand their billing. Here's some information about their billing.
When does Woorank start charging you?
When you first sign up, they'll place $1 on hold to validate your billing information. Woorank releases this amount when your trial period ends.
Your Woorank subscription starts immediately after your 14-day trial expires, and that's when they begin charging you. Remember, when signing up, you need to select a preferred plan.
It's worth noting that Woorank has no refund policy. So, you won't get a refund when your subscription begins.
Can you cancel your subscription?
You can cancel your Woorank subscription at any time. However, you must select a reason for cancellation before hitting the confirm button. Even then, you'll still have access to Woorank features and tools until the end of your current billing period. If you have any challenges canceling your subscriptions, contact support.
Other Woorank tools and services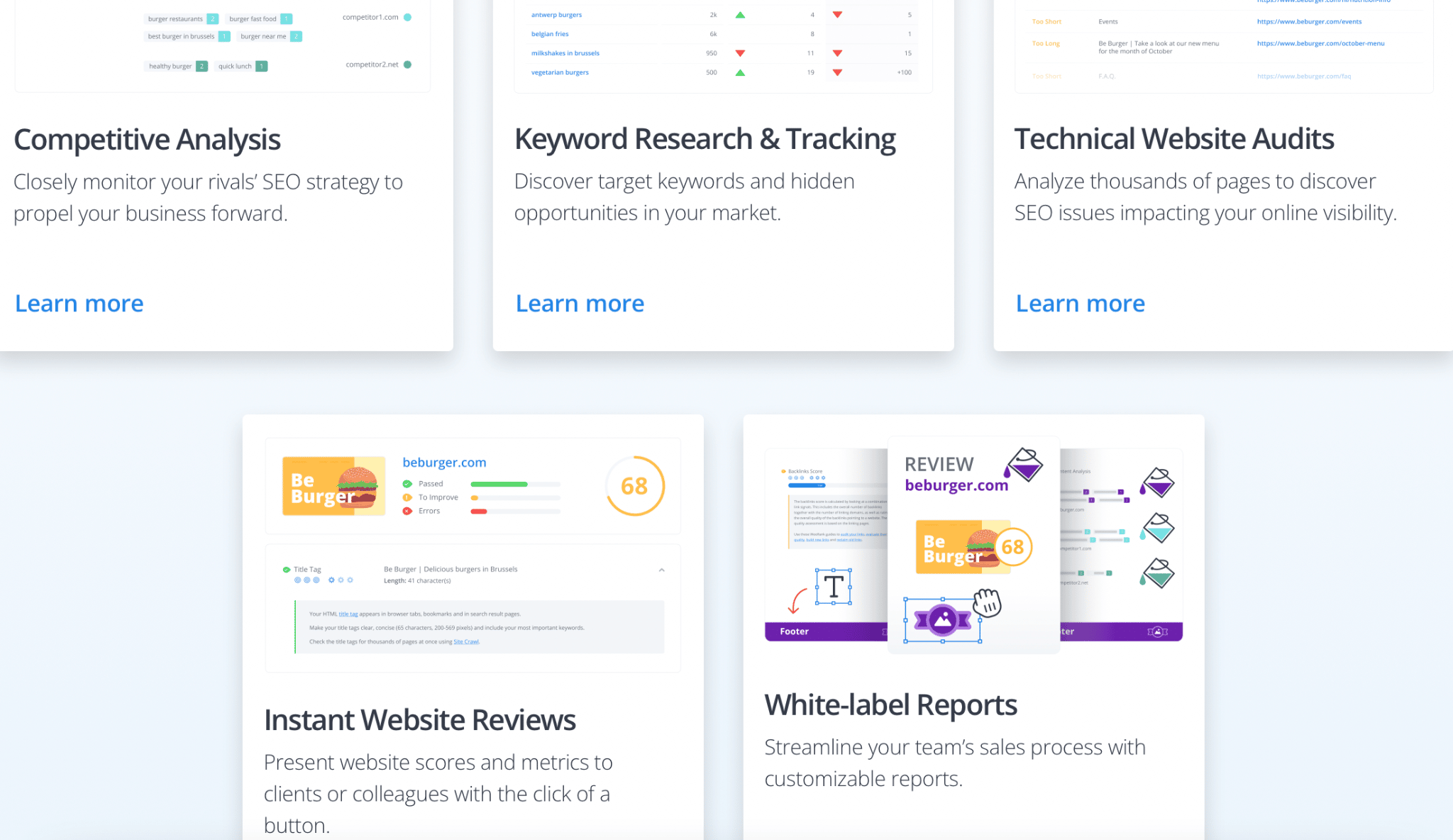 Woorank has various tools and services to help you rank high on SERPs. Some of the modern tools include;
Woorank assistant
This new tool from allows for an in-depth SEO and keyword analysis on your site without compiling metrics manually. Also, you don't have to toggle between tools. The Assistant delivers an enhanced user experience.
Instant refreshes and real-time metrics allow you to track progress on your website more quickly. Critical features of Woorank's assistant include;
Core web vital keyword analysis
Traffic for individual pages
Unobtrusive design for workflow
Filter results for errors.
Woorank extension
Woorank offers a free browser extension, providing instant website reviews without leaving your website. With the extension, you can examine any site's SEO health and score. The extension works on firefox, chrome, and edge.
Key features include;
Real-time results
Reliable Woorank data
A free SEO browser extension
API
Woorank API allows you to push data into your current digital performance reporting tools. The tool will enable you to create and automate PDF reports, run reports for thousands of URLs and choose data points and formats. What's more, the API is user-friendly and straightforward.
Key features include;
Customize reports
Enrich CRM data
Bring data to your dashboard
Bulk reporting
This SEO tool provides bulk website reports to power your sales team. Additionally, it allows you to harvest invaluable data about target websites for your sales process. You can quickly evaluate and fix technical issues for your clients and leads.
Key features include;
Automate your audits to streamline your website auditing process
Data how you want it – you can receive data in JSON, CSV, or both, depending on your preference
Reliable Woorank data – current, relevant, and thorough data to convey expertise to your leads
Final Thoughts
Woorank is one of the must-have SEO tools for website auditing and performance evaluation. The tool allows you to analyze site data, get actionable insights, and achieve your digital marketing goals. The company offers three pricing plans tailored to suit different business needs. Woorank Pro costs $79.99/mo, while the premium plan is billed at $199.99/mo. In addition, there's no fixed price for the Woorank enterprise plan; pricing is based on your needs.
If you want to subscribe to Woorank plans, you can start with their 14-day free trial plan. After that, you'll only be billed once the period expires. All annual plans are discounted. Sign up to Woorank to achieve your digital marketing goals today.