Yesware Email Outreach: Pros, Cons, & Everything Else | 2023
What Is Yesware?
Yesware is an email outreach tool that offers features to help you craft effective email campaigns.
It allows you to create email templates, track email opens and clicks, schedule follow-ups, and more.
It integrates with various email platforms, such as Gmail, Zoom, Outlook, Salesforce, etc.
In this blog post, we will take a closer look at Yesware and its features.
We will evaluate its strengths and weaknesses to help you determine if it is the right tool for your email outreach needs and if it's a good tool overall.
Yesware Alternative
Woodpecker
Quickmail
GMass
Saleshandy
SalesLoft
Outreach, etc.
Main Features
Email Campaign Management
Scheduling emails
Built-In Templates
Email Platform Integration
Yesware Email Tracking/Automation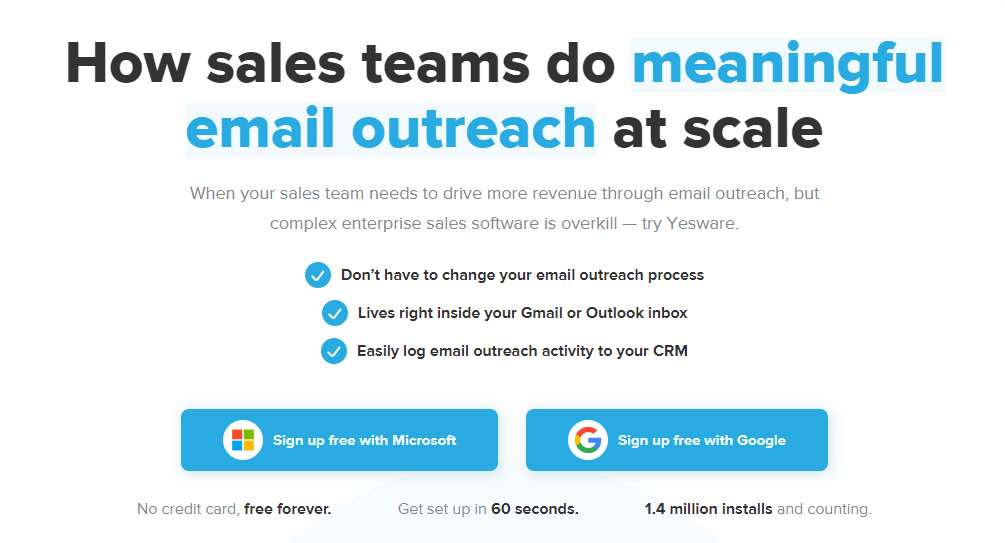 Yesware Pricing Plans
It offers different pricing plans to fit different needs and budgets.
Here is an overview of Yesware pricing plans:
Free plan: Great for sales professionals just getting started as it offers basic email open tracking, attachment, scheduling, etc
Pro plan: This plan is priced at $15 per seat per month when billed annually. It includes basic features like email tracking, templates, and scheduling. It also allows you to create custom reports and provides access to Yesware's knowledge base.
Premium plan: The Team Plan is designed for small teams and is priced at $35 per seat per month when billed annually. It includes all the features of the Pro Plan, plus team analytics, campaigns, team templates, and collaboration tools.
Enterprise plan: The Enterprise Plan is for large organizations and is priced at $65 per seat per month (annually). It includes all the features of the Team Plan, plus advanced reporting, trusted IP ranging, custom integrations, and dedicated support.
Custom plan: is for large organizations who need a plan tailored to them (and so the pricing as well.) It includes everything from the previous plans as well as legal and security review, better integration and customization with Salesforce, better reporting, etc.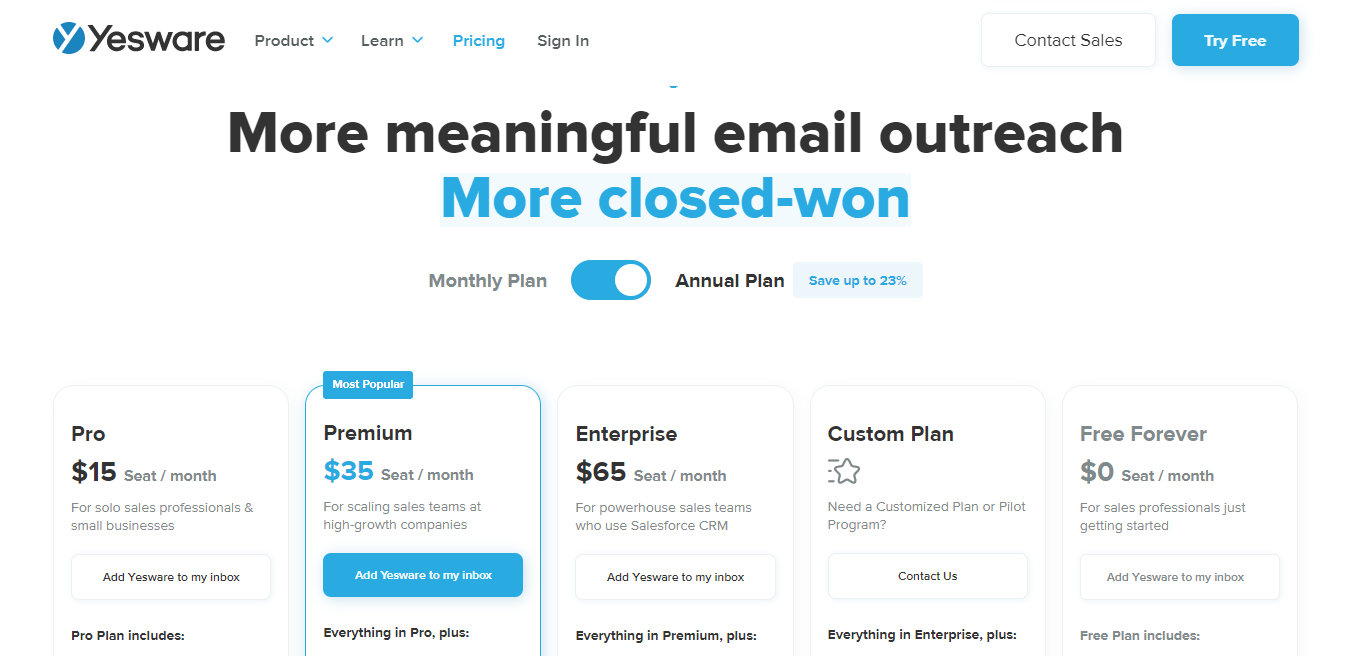 What Do Customers Say about Yesware?
Yesware Pros
1. Efficient Email Campaign Management
Yesware offers a user-friendly email campaign management tool that makes it easy to create, manage, and track email campaigns.
2. Simple Template Creation
The tool allows you to easily customize templates to fit your specific needs, and you can quickly access them when you need to send an email.
3. Seamless Integration
It integrates with popular email platforms, such as Gmail, Outlook, and Salesforce, making it easy to connect your accounts and use Yesware directly from your inbox. This way, all your emails are tracked and organized in ONE place.
4. Pricing:
Yesware offers pricing plans that are very, very reasonable and competitive, making it accessible to individuals and small teams (you can even get started for free with the tool with basic features, of course). With their pricing plans, you can enjoy the features of Yesware without breaking the bank.
5. Customizable Reminders
Yesware's reminder feature allows you to schedule follow-up emails, set reminders for important dates, and customize the frequency of your notifications. This ensures that you never miss an important email and helps you to stay on top of your outreach efforts.
Yesware Cons
1. Limited Attachment Options
Although Yesware allows you to attach files to your emails, it only supports PDF file formats. This can be limiting for users who need to send other types of files, such as images, videos, or spreadsheets.
2. No Campaign Editing Once Launched
Once you launch a campaign in Yesware, you cannot edit it. This can be frustrating if you need to make changes to your campaign after it has started running. You would have to create a new campaign to make any updates.
3. Restrictive Manual vs. Automated Emails
Yesware's automation features are helpful, but the tool is often too restrictive in allowing users to customize their manual versus automated emails. This can limit the flexibility of your outreach campaigns, making it harder to adapt to your audience's needs.
4. Limited Customization
While Yesware's email templates are easy to use, the customization options can be limited.
This may make it difficult to create personalized and unique emails that stand out from the crowd.
Additionally, the tool's design and formatting options are also limited.
Final Remarks
Yesware is an email outreach tool that provides a comprehensive solution for individuals and bigger teams looking to streamline their email campaigns.
Its email campaign management tool, simple template creation, and seamless integration with popular email platforms make it easy to manage your email outreach process.
However, Yesware also has some limitations, such as limited attachment options, the inability to edit campaigns once launched, and limited customization options.
These factors may make it less appealing for some users who require more flexibility and customization.
Overall, Yesware is a great tool for those who are looking for a reliable and affordable email outreach solution.
It provides an excellent set of features that can help you to optimize your email campaigns and improve your outreach efforts.