Affiliate Marketing with Pinterest – Ultimate Guide (2023)
Affiliate marketing with Pinterest is one of the most under-utilized business models.  
Did you know Pinterest is a search engine just like Google?
And that it has over 433 million active users?
Plus, it's generally a lot easier to rank on Pinterest than on Google. 
That's because there are fewer people trying to compete on the platform.  
In this post, I'll tell you:
How does affiliate marketing with Pinterest work

How to optimize your Pinterest profile, pins, and even boards for maximum traffic

Some powerful strategies for promoting affiliate offers on Pinterest
Let's talk.

Affiliate Marketing with Pinterest: Everything You Need to Know
Before diving into Pinterest affiliate marketing, let's see how it works. 
Affiliate Marketing with Pinterest: How It Works?
Now, there are essentially two ways you could go about Pinterest affiliate marketing:
Add affiliate links directly to your pins

Get users to visit a landing page that has affiliate links
Obviously, the first one is easier; why create a separate landing page or blog post when you can directly promote something, right?
But, there's a catch. 
See, there's a lot that you miss out on when you don't use a bridge page. 
For one, you won't be able to generate any leads without a landing page. 
Plus, pins don't have enough content to help someone make a purchasing decision. 
Most people will just drift off to your competitors. 
Here's what you should do: Use Pinterest to drive traffic to your affiliate blog posts or landing pages.
In the next few sections, I'll tell you everything you need to know about affiliate marketing with Pinterest. 
Pinterest Affiliate Marketing: 10 Powerful Tips
Understand the Rules
Why is it important?
Because you don't want to put in months of effort only to find out that your account was banned for a terms and conditions violation.
Avoid Link Cloaking 
like most other platforms, Pinterest doesn't like users to cloak their links. 
So, avoid using link shorteners for your affiliate links if you're adding them directly to your pins. 
Disclose Affiliate Links
If your pin has an affiliate link, you're required by the law to disclose it to your audience. 
It can be even a short sentence informing the audience about your affiliation. 
Don't Create Multiple Accounts 
Creating multiple accounts just to repin your posts is against the platform's guidelines. 
Follow the rules of the platform to make Pinterest a long-term source of high-quality affiliate traffic.  
Find the Right Keywords
This is probably the most important aspect of Pinterest affiliate marketing and the most ignored one as well. 
With over 400 million users, Pinterest deserves to be treated as a search engine. 
As an affiliate, you first want to find the keywords Pinterest users are searching for. 
Here's how you do that. 
Think about the phrases your Pinterest audience might be searching for. 
Start typing them into the Pinterest search bar. 

You'll see a short list of suggested key phrases. 
These are the phrases your target audience is searching for on Pinterest. 
Optimizing your pins around these keywords will increase your ranking probability (More on that later). 
Create Multiple Pins (For Every Blog Post)
Done right, this strategy can multiply your Pinterest traffic. 
But, why create multiple pins when you can create one great one?
See, a blog post typically has several sub-sections. 
What you can do is design a separate pin for each of those sections. 
Then, optimize each section for that specific idea or concept. 
For instance, let's say you have a blog post on a certain recipe. 
You can showcase the final dish in one pin and the recipe ingredients in another. 
In this way, you will be able to target multiple keywords for a single post. 
Here's another example. 
Let's say you have a blog post on making money online. 
The keywords you could target are:
Earn extra cash

Create a side hustle

And maybe more
Of course, the number of pins you should create per post will depend on its nature and length. 
The good thing is there's no rule against creating multiple pins for a single external link. 
By following this strategy, you'll be expanding your blog post's reach. 
The key is to create quality pins that grab users' attention and get them interested in your content. 
The best part is anyone with a basic design sense can create stunning pins by using free DIY tools like Canva. 
You'll find tons of free Pinterest pin templates to give yourself a good head start in the designing process.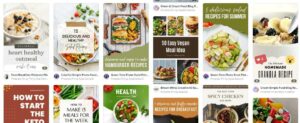 Schedule Your Pins
There are two major advantages of scheduling your Pinterest pins:
The first one is obvious: You don't have to worry about posting for a while.
As a result, you can focus on other aspects of your affiliate business. 
The second one is rather interesting: When you schedule a pin, Pinterest's search engine serves it to the audience whenever they're online. 
This means your pins will get maximum exposure.  
Scheduling Pinterest pins is easy thanks to automation tools like Later and Hootsuite. 
Use Rich Pins
Rich pins, as the name suggests, are pins with extra information. 
For instance, an article rich pin shows:
Headline 

Author 

Story description
Why use rich pins?
Because you'll have more opportunities to get your audience to visit your blog posts. 
For instance, in the "Story description" section, you can use powerful copy and persuade the user to read your blog post. 
Now, if you want to showcase an affiliate product directly on Pinterest, you can do that by using the product pin, a type of rich pin. 
Product pins show extra information about the product you're promoting, including:
Pricing info 

Availability 

Product title and description
Product pins can be effective for a segment of your audience that's almost ready to buy.
However, to make them effective, you'll have to target the right kind of keywords. 
For instance, let's say you want to sell software that you're an affiliate for. 
The first thing you want to do is make sure that it has enough demand in the market. 
And then optimize your pins for those buyer intent keywords. 
But, product pins aren't a good option for informational keywords where the intent is to learn not to buy. 
How to Enable Rich Pins?
If you want to publish rich pins, you'll have to apply for this feature. 
The good thing is you're required to follow the process only once. 
First, you'll need to add rich meta tags to the pages you want to create rich pins around. 
In most cases, that'd be your affiliate blog posts 
Next, you'll have to use the

Rich Pin Validator

to make sure that the tags have been uploaded

Lastly, click "Apply Now". Pinterest will take up to 24 hours to approve your rich pin application 
After following this process, you'll be able to publish any subsequent rich pins without any hassle. 
Utilize Group Boards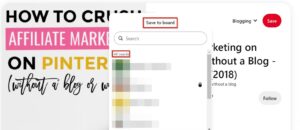 A group board is simply a collection of different pins, often under one category. 
Plus, any Pinterest user can add pins to a board. 
This means adding your pin to a relevant board can be a great way to promote it to other users' audiences. 
For instance, let's say you have a blog post on a weight loss topic. 
You create multiple pins around it and add them to a relevant board.
Anyone viewing that board will also view your pins. 
This way, you're able to maximize your content's reach and hopefully grow your following. 
However, Pinterest boards generally have guidelines that a contributor needs to follow.  
One of the requirements could be to follow the board creator. 
Also, if you want to directly promote affiliate products, make sure the admins allow affiliate links. 
Otherwise, you can use the other method: Promoting your affiliate product on a bridge page or a YouTube video. 
Pinterest SEO Optimization 
This is probably the most important part of a Pinterest affiliate marketing strategy. 
Unless you intend to use paid ads, there's no way around optimizing your pins for target keywords. 
Why is Pinterest SEO so important?
You might already know that Pinterest isn't just a social media network. 
Just like Google and YouTube, Pinterest is a search engine on its own. 
The only difference is in the type of content:
YouTube is a video search engine

Google is a website search engine

Pinterest is an image search engine (Like Google images but with more features)
Plus, your pins don't only rank on Pinterest; Google also ranks them on the first page if they're relevant and good enough. 

So, what you want to do is serve your affiliate content to the people when they're actively looking for it. 
But, again, you do need to pick your keyword wisely in order to attract enough eyeballs to your pins. 
How Does Pinterest Algorithm Work?
Like any other search engine, Pinterest connects its pins with keywords. 
As discussed earlier, you can use the Pinterest search bar to find the right keywords. 
But, an even more effective Pinterest keyword research method is to use Pinterest ads. 
Just sign into your ads account and filter out the keywords that have a decent search volume. 
Now, pick a keyword (or multiple similar keywords) you want to rank for and search it/them on Pinterest. 
See what type of pins are ranking on top and create even better ones. 
Your Pinterest profile has three areas that you need to optimize. 
Profile
Your profile should reflect your expertise or the topics you talk about. 
So, include relevant keywords in your Pinterest bio. 
Keep in mind that in order to establish authority in your industry, you'd need to stick with these keywords. 
So, put some thought into selecting your profile keywords. 
For instance, let's say you always talk about products that can help people lose weight. 
In that case, a keyword like "Weight loss supplements" would make sense. 
Pins
As discussed earlier, the right way to do affiliate marketing with Pinterest is by using a bridge page or a blog post for your affiliate offers. 
And to get maximum visibility, create multiple pins on a single blog post if it makes sense. 
Importantly, optimize each pin for the right keywords. 
Your pin title and description should have the keyword you're targeting. 
Also, don't forget to include relevant hashtags at the end of your pin descriptions. 
Hashtags help the Pinterest search engine serve the right kind of content to its users. 
This means they can help your Pins' rankings. 
Plus, they're clickable links. Whenever someone clicks on a hashtag, they're taken to a group of related pins that are using the same hashtag. 
However, don't just include your target keywords as hashtags. Research your competitors and see what type of hashtags they're using in their pins. 
Group Board 
Group boards take a middle ground. 
This means board keywords aren't as specific as pin keywords. 
And, they're more specific than profile keywords. 
For instance, for a profile targeting health tips, "Women health tips" could be a good board title/keyword. 
You May Also Like: Start Affiliate Marketing Without a Website
Writing Pin Copy
Your Pinterest copy is as important as your pin visuals, if not more. 
Sure, a beautiful visual can grab someone's attention. 
But, it's your copy that does the rest of the job i.e., get your prospects to visit your link. 
Utilize the Space
The first thing you should be mindful of while optimizing your Pinterest description is the character limit. 
There's limited space. You only get 500 characters to describe what your pin is about. Make it count. 
Generally, a pin description with a longer description performs better than the ones with shorter descriptions. 
However, keep in mind that Pinterest users only see about 100 characters in search results. 
This means you want to communicate the main idea of the pin as soon as possible.
Write Actionable Copy
Here's what you should do:
Use the first 100 characters to get people to click on your pin

Use the rest of the description to get them to click on your external link
Also, don't forget to include relevant hashtags at the end of pin descriptions. 
Mention Others
Mention other users' when sharing their content on your board. 
This simple act of sharing on social media arises a sense of reciprocity. When you mention other people and share their content with your audience, they'll feel obliged to return the favor.  
It's a win-win.
Add Actionable CTAs
Explicitly tell users what it is that you want them to do next. 
A CTA or call to action simply accomplishes that goal. 
Since you'd most likely want users to visit your blog posts, a good CTA example would be "Check out my blog post". 
Build Your Email List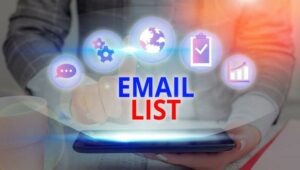 Now, a typical Pinterest user isn't looking to buy something immediately. 
They're thinking long-term. 
This means most of them won't convert on their first interaction with you. 
So, you need to figure out a way to remarket or retarget them later. 
Grabbing their email address is a perfect way to do just that. 
What you can do is use a landing page and get them on your email list. 
Important: You don't want to sell them anything at this stage. 
The sole purpose of your landing page should be to grab your visitors' email addresses. 
And this is where a lead magnet can come in handy. 
A lead magnet is anything from a piece of information to a tutorial video. 
It's like a bribe you give your prospects to get your hands on their contact information. 
Let's break down the process of email list-building on Pinterest. 
Pick an Email Software
Now, there's no shortage of email marketing software, which is great, but it does make picking the right one a little tricky. 
Especially because many of them will have features you won't need, which means you'd be paying more than you should. 
So, if you want to start for free, consider Systeme.io. It's beginner-friendly and offers 2000 email subscribers on the free plan. 
Plus, since it's a complete funnel builder, you won't have to use a different landing page software either. 
Add a Sign-up Form to Your Landing Page or Website
There are two ways you can capture leads through Pinterest. 
One option would be to attract users to a dedicated landing page

The other one would be to use your existing website or blog
Here's what a landing page geared toward lead generation looks like: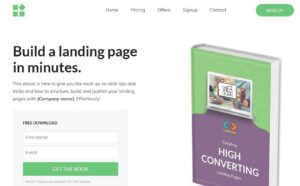 If you want to use your website, create a separate page and make it distraction-free. 
This just means keeping the content focused on a single call to action. 
Any other links on your web page will distract the visitor.
Create a Lead Magnet
Next, it's time to give people a good reason for subscribing to your newsletter. 
This is often done through a lead magnet. 
Create something that your audience can't find elsewhere for free. 
I know it might sound intimidating, especially if you're already running a business. But if your lead magnet is good enough, it'll help you generate a lot of leads.  
Plus, remember that once someone exits your web page without taking any action, you lose a potential affiliate sale.  
Once they opt in, create an email campaign that nurtures them until the conversion point. 
Almost all your email content should be focused on helping your readers. 
For instance, let's say they're interested in marketing software that you're an affiliate for. 
What you can do is create an in-depth tutorial on how to effectively use that software. 
Promote Your Lead Magnet on Pinterest
You can offer your lead magnet when someone visits your landing page or site. 
An example of this would be an informational blog post. 
Alternatively, you can use a free lead magnet on Pinterest to get people to your landing page. 
By using the second strategy, you can let the lead magnet do the heavy lifting for you.  
Analyze Pin Performance
Analyzing your pins is crucial because it tells you:
Which pins need fine-tuning

Which pins are performing well
So, take a tool at your Pinterest analytics on a regular basis. 
Most pin-scheduling tools also give insightful data. 
In addition, use Google Analytics to monitor your website's Pinterest traffic. 
See how Pinterest visitors interact with your web page content. 
Lastly, your affiliate dashboard should be able to tell you how many affiliate sales are coming from Pinterest. 
Here are the two most important metrics you should track:
CTR (Click-Through Rate)
Keep an eye on the impressions and clicks your pins get. 
How many of those impressions are converting into clicks?
See if some pins are getting more clicks than others and find out why. 
Dwell Time (Time on Site)
Google Analytics tells you the time an average user spends on your page. A high dwell time indicates that your pin is relevant to the content on your page.   
Conversions
And then there's the conversion metric. Conversions depend on multiple factors, including:
Your landing page copy

And how you nurture your leads
But, it also depends on the relevance of your pins to your landing page's content. 
Affiliate Marketing with Pinterest: FAQs
Does Pinterest Allow Direct Affiliate Links?
Yes, Pinterest does allow direct affiliate links. However, make sure your affiliate program allows sharing their links on Pinterest and that the links don't direct users to content that violates Pinterest's community guidelines and terms of service. 
How to Share Affiliate Links on Pinterest?
Simply upload your pin, optimize the title and description, and enter a direct affiliate link as the source URL. Preferably, enter a link to a blog post or a YouTube video that talks about your affiliate offer. 
Does Pinterest Ban Affiliate Links?
Although Pinterest allows direct affiliate links, the platform does block affiliate links that lead users to spammy, misleading, or inappropriate content. To be on the safe side, only promote high-quality products from reputable brands. 
Conclusion: Affiliate Marketing with Pinterest
Given the size of its audience, it'd be fair to say that Pinterest is the most popular image search engine after Google Images. 
So, if you're not utilizing Pinterest as a traffic source, you're leaving a lot of affiliate sales on the table. 
Start implementing this affiliate marketing with Pinterest guide to scale your affiliate business in a sustainable manner. 
Want to read more awesome guides and tutorials on affiliate marketing? Subscribe to my newsletter!