What is Affiliate Marketing? – Complete Guide (2022)
Affiliate marketing is a simple business model where you make money by selling others' products.
In affiliate marketing, there is no inventory to keep and you don't need to worry about customer support either.
The only thing you need to be good at is "Marketing".
The encouraging thing is: There are affiliate marketers out there that are making 7 figures with it.
Sounds appealing? Continue reading!
In this in-depth guide, we get into the details of what is affiliate marketing and how you can get started with it.
Let's talk.
What is Affiliate Marketing Anyway?
Affiliate marketing is when you work with other brands or businesses, sell their products, and earn a commission for every sale.
Let's take the affiliate marketing process apart.
Step 1: The first thing you do is find an affiliate program or network and get the necessary information about it.
For instance:
What types of products or services do they offer
What are their payout methods
How much commission do they offer per sale
Let's say you find an affiliate platform that appeals to you.
What's the next step?
Step 2: You sign up for it and wait for acceptance!
Step 3: Then, create great content on topics that can generate high-quality traffic to your blog.
Blogging isn't the only way to generate affiliate sales, though.
Many affiliates prefer to use YouTube to convert their target audience.
Or, you could include your affiliate links in your emails.
That said, blogging is still the most popular.
Your content needs to have the trackable affiliate links provided by your affiliate program.
Whenever someone clicks on your affiliate link and purchases that particular product, you get a commission.
The commission percentage will vary depending on the platform as well as the niche.
Step 4: The affiliate program tracks your affiliate links and automatically pays you for every sale.
Let's dive deeper into the process.
Stakeholders in Affiliate Marketing
The Merchant
The merchant in affiliate marketing comes with a variety of names.
The creator
The brand
The seller
The vendor
The retailer
Essentially, the party that creates a product is the merchant.
It can be a big brand, a startup, or even an individual.
So, anyone who has a product to sell is a merchant.
The Affiliate Marketer
Also known as the publisher, the affiliate marketer is someone who sells the product.
They can be an individual or a company.
The bigger your team, the more money you can make in commissions.
The cool thing is: There is no limit on how much you can make as an affiliate marketer.
It could be tens of millions of dollars or even a few bucks.
The affiliate marketer is the one that persuades prospects to buy a particular product.
They do it by showcasing all the benefits of a product and how people's lives can improve after owning it.
As an affiliate marketer, you can do that by creating helpful blog posts, attracting a niche audience, and eventually converting it.
Plus, you can help readers choose the right product by writing comparison reviews.
The Consumer
This is where the affiliate marketer and the merchant make all the money from.
The consumer or customer is the backbone of an affiliate system. No business is sustainable without enough customers, right?
Consumers are the target market with particular traits, pain points, and desires.
The affiliate marketer tries to reach and connect with the target market on the right channels.
It could be blogging, YouTube, social media, or landing pages.
Moreover, affiliate marketers are usually required to include a short affiliate disclaimer in their content.
Something like "If you purchase this item (or any item) on this site, I might get a small commission, at no additional cost to you".
The Affiliate Network
The affiliate network is an important part of the system.
Affiliate networks are platforms where marketers and merchants can work together without worrying too much about fraud.
An affiliate marketing network is essentially an intermediary between affiliate marketers and merchants.
Sometimes, affiliate marketers have to sign up with an affiliate network in order to promote a brand.
This is because some brands only manage their affiliate program on a particular network.
But, some prefer to work directly with marketers.
The most popular example of it would be Amazon's affiliate program, Amazon Associates.
You can sign up on Amazon's website and can get started as an affiliate.
Anyway, an affiliate network can be preferable for some because it serves as a database of products and brands.
It provides you the flexibility to choose the products and brands to promote.
One popular example would be "Commission Junctions" or CJ Affiliate.
Affiliate networks have a variety of payout options, which also makes them a better choice.
With all the important terms explained, let's get to the more important part: How you can kick-start and scale your affiliate marketing business.
How to Build an Affiliate Marketing Business
You might already know there are basically three sides to any affiliate business.
You can be the merchant
You can be the marketer
You can build a network
You probably aren't going to work on the third model, though.
So, there are essentially two models.
If you have a product to sell, you can become a merchant and have others promote and sell it for you.
But, of course, you'd have to give them a set commission for every sale they bring for you.
Alternatively, you can become an affiliate marketer for multiple merchants, sell their products, and generate a passive stream of income.
You might be inclined to the second model; most entrepreneurs find affiliate marketing easier, which it definitely is.
But, it's gotten pretty competitive. So, it takes the right strategies and skills to generate enough traffic to your content and make a meaningful income out of it.
Worry not though!
You'll get to know everything you need to know to make affiliate marketing work for you below.
How to Become a Merchant
This portion is for you if you want to own a product, have an affiliate program, and let affiliates sell that product.
First, you'll need to think about a sellable product. There are several ways to generate product ideas; we'll talk about that in a bit.
Your second step should be to validate that idea.
Because what if there is no one to buy your product?
Next, you'll create the product. Now, creating a physical product requires a decent amount of investment.
This is why we'll be focusing on creating digital products in this guide.
It's a good idea to get started with digital products as they require less time and energy and won't cost a lot either.
In fact, you can create a perfectly sellable digital product for free.
And, once you've created your product, the next step is to start hunting for affiliates to automate the sales process.
That's where an affiliate network can help your business.
Coming Up with the Idea
You don't have to come up with something entirely new in order to make money with your affiliate marketing business.
Instead, you can research the market for products that are already working. Find an idea, study it, and see if you can improve it.
Of course, you can always select a product according to your interest.
For instance, let's say you are a shoe merchant. Your target market is women who love to hike but have flat feet, which can be a hurdle.
You could solve their problem by manufacturing a shoe that has a firm but cushioned insole, providing good support to flat-footed females while hiking.
Another way to generate new product ideas is by looking into the trends.
Buzzsumo can help you understand what's popular on social media by telling you the social media shares of different posts.
Source: Buzzsumo.com
Have an idea? Plug it into Buzzsumo and check if it returns any relevant results.
Let's say you want to create a digital product. You are very good at solving the Rubik's cube.
What you can do is: Create a video or series of videos and teach your audience to quickly solve the Rubik's cube.
Of course, there should be a target market around your product. This means a decent number of people should be looking to learn the craft.
Validate Your Idea
Then, you need to validate your idea by making sure your target audience likes it and is willing to buy your product.
Remember, liking an idea is different than investing money in it.
So, ask them if they would buy your product after its launch.
But, where do you find them?
You can take the URL of a post from Buzzsumo and put it into Keyhole, a software that gives you the list of people who tweeted the link.
You can then reply to them directly and tell them about your solution or product.
Create the Product
There are a lot of steps to creating a sellable product; let's just stick to the basics and try to point you in the right direction.
You want your first product to be a digital product. Starting from a physical product can prove to be resource-intensive, and you don't want to waste your time and energy.
Let's give you a few lucrative digital product ideas.
Online Courses: Online courses have been gaining in popularity since the inception of web 2.0.
Thanks to effective two-way online communication, you can now teach anything to anyone around the globe.
But, of course, to be able to sell a course, you'd need to create it around a topic or skill that has enough demand.
For instance, you could create a course on the topic "How to create an online course that sells within 30 days".
Or, a course on a topic that you are good at; let's say you know how to write content that Google loves.
A course around "How to write SEO-friendly content that generates traffic" would be a good choice.
E-Books: Video is immensely popular because of its visual appeal, but there are people that would prefer reading a book.
Your e-book doesn't have to be 1000-word long. The cool thing is: You don't have to rely on a book publisher.
You can be a self-publisher on platforms like Amazon Kindle. But, you do need to market an e-book effectively to generate enough buzz around it.
And, if you remember, that's where your affiliates will come in handy; we'll dive into that in a bit.
A good example would be:
"How to write and publish your own Amazon Kindle e-book in 30 days".
It's important to keep in mind that your book must provide enough value to the reader in order to generate positive feedback.
Customer reviews are one of the most powerful marketing tools.
That's just the tip of the iceberg, though.
You can think of tons of digital product ideas to sell.
Here are a few:
Software
Graphics
Documents
Photography
Podcasts/audios
Web-based apps
Creating a digital product has several benefits as compared to physical products.
There is no need of a physical inventory, reducing your overall costs
You can scale them quicker than physical products
Digital products are simple to deliver; all you'd need to do is click send, in most cases.
Your customers get the product instantly
Once you are ready to sell your digital product, you can take relevant affiliate marketers on board.
Find Affiliate Partners
Before you list your product on an affiliate network, try to get some sales and reviews for it.
This will build some authority and trust around it.
Listing a product on an online platform is actually the easier part; platforms like Gumroad and Digital Product Delivery make it easy and effective.

Source: getdpd.com
However, finding influencers that have the right audience or following isn't easy.
You want to get in front of an audience that wants to buy whatever you are selling.
Let's take the example of solving a Rubik's cube.
You could find someone who has already been talking about that.
Partnering up with them would be effective because they fit into the equation.
But, how to approach an influencer or an affiliate partner?
A simple email will do the trick; just introduce yourself and your product briefly and ask them if they would like to collaborate.
They'll be earning a fixed commission on every sale, so there shouldn't be any resistance.
But, of course, your product and its affiliate commission should be attractive enough to pique their interest.
You can even offer a 50% commission to your affiliates when it's a digital product and it still could be a profitable deal.
It's pretty common in the digital product space as you don't have any replication costs, meaning you only have to create the product once.
So, it's a good idea to split the reward in half to attract more and better affiliates.
This was all about how to become an affiliate merchant.
Let's talk about the process of becoming an online affiliate marketer.
Becoming an Online Affiliate Marketer
Creating an affiliate product and having someone else sell it is easy, but selling others' products is easier.
That's because you don't even need to create a digital product to make money in this business model.
As an affiliate marketer, you:
Find a vendor
Pick their products
Promote them
Get paid
The benefits?
You don't have to come up with a product idea and go through the product creation process
There is no inventory management costs
You don't handle customer care
You only need to create high-quality content and build an audience around a specific niche.
And, as you move forward, you start collecting your prospects' email addresses and connect with them whenever you want.
With email marketing, you don't have to depend on search engines to bring you traffic.
There are many other strategies that you can use to scale your affiliate marketing business.
Let's dive into the process.
Step 1: Choose a Niche
Probably the most critical step in your affiliate marketing journey is niche research.
You need to pick a niche that's not only in demand but also excites you.
A niche that's profitable but doesn't excites you: You'll eventually give up because of the lack of interest
A niche that you are excited about but isn't in demand: You don't generate enough commission
"Profitable" also means that it's not too competitive.
Plus, your niche shouldn't be too broad either.
Target too broad a niche or multiple sub-niches and you'll risk making your efforts ineffective.
So, how do you find an affiliate niche that brings you long-term success?
Let's see.
First, you need to do some self-assessment. Ask a few questions:
What am I passionate about?
Is there enough demand?
Will the demand stay consistent?
Are there other affiliate programs around it?
Is it too competitive?
Answering these important questions will help you land on a niche that you'd want to promote in the long term.
Remember this: Your affiliate marketing strategies won't matter if you don't choose the right niche.
Keep in mind that you don't have to be passionate about a niche to build a successful affiliate business around it.
Just make sure you have enough interest to consistently work on it.
There are tons of successful niche site projects that don't have anything to do with the passion of the creator.
Step 2: Evaluate Market Demand
Once you have a niche in mind, see if people are willing to pay for it.
A good place to start is Google Trends; just search the keyword and you'll see how it's been performing in the past and what's the expected future trend.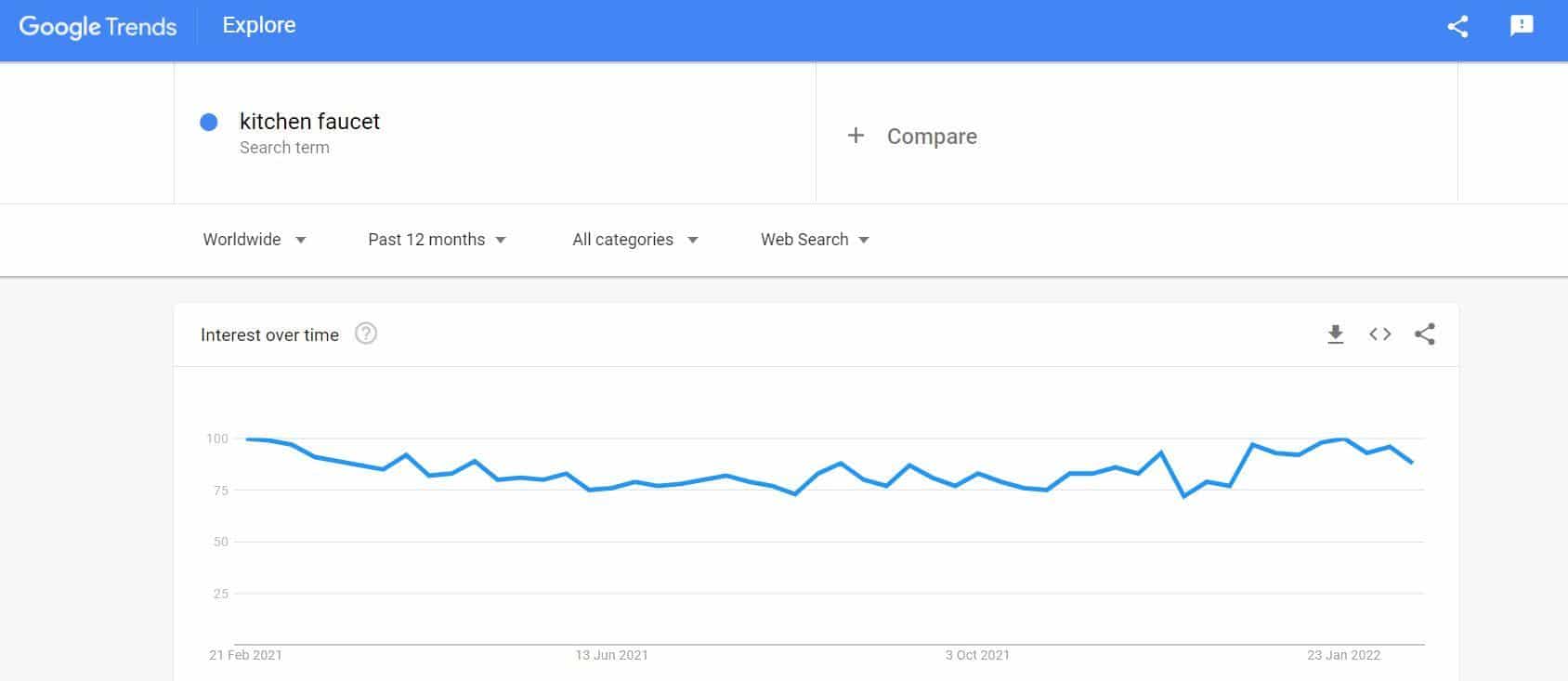 Source: Google.com
You want the graph to be consistent. This would mean that the topic isn't seasonal and has a long-term demand.
Sign Up for an Affiliate Platform
The next step would be to find the right affiliate marketing platforms to work with.
We've talked about the difference between affiliate programs and affiliate networks.
Networks connect merchants and affiliates, whereas affiliate programs are run independently by companies.
Here are a few examples:
Amazon Associates: Independently run by the company
ClickBank: An affiliate marketing network connecting vendors and affiliate marketers
CJ Affiliate: A network that hosts a variety of brands and companies
Amazon is an e-commerce giant, so you'll most likely find the product you want to promote there.
All you need to do is sign up for its affiliate program here and start making relevant content.
Affiliate networks like CJ Affiliate host a lot of brands and offer some more flexibility.
You can choose to work with any brand hosted by the network. This also works the other way around; a brand can reject your application if it doesn't deem you suitable.
Review Your Niche Products
Now, ideally, you want to use the product first and then review it. Because then, you'll be able to effectively review it and add genuine value to your audience.
Or, maybe you start from the products that you own right now?
But, that could put a limit on your affiliate commissions.
Many affiliate marketers don't buy a product just to promote it.
You don't even have to be a user of a product in order to effectively promote it.
For instance, promoting an online course by someone you know is an authority in the industry is different than promoting a physical product.
You could also collect all the relevant information about a product and present it in a single blog post in an easy-to-understand way.
However, you should mention that your review isn't based on personal use of the product.
How do you get affiliate commissions?
By including your affiliate links within your content.
You'd be getting these links from your affiliate program.
For instance, Amazon makes it easy by including a personalized affiliate link for every product.
So, you can just grab the link and start getting affiliate sales from it.
Reviewing a product isn't the only way to generate affiliate sales.
You can connect with your target audience and sell them directly with email marketing, too.
Building an Email List to Promote Affiliate Offers
An email list is an incredibly cost-effective marketing channel.
But, how do you collect emails of your target audience?
Let's see.
A Hello Bar at the top of a web page is a good strategy.

Source: Hellobar.com
Hello Bar is a tool that puts a call to action at the top of your web pages.
So, it'll mostly be the first thing your website visitor sees.
But, how do you get them to hand over their email addresses?
By offering them something they consider valuable enough.
For instance, you could include an e-book guide about something they would want to read.
Using the Hello Bar, you can redirect your visitor to a page where they can get the e-book in return for their email address.
You can also use it as a pop-up to collect emails from visitors that are about to leave your site.
How this works is that when someone hovers their mouse pointer to the top of the web page, it gets triggered.
Keep in mind that you want to make the process for your visitors as easy as possible.
Your opt-in form should be simple and non-intrusive.
And, you must offer something in exchange for their email addresses.
If you are working on a niche product, like a mini-oven or a juice maker, you won't need a long email list.
Even a few hundred of them could bring you enough sales.
The important thing is to be regular with your updates and keep your audience engaged with great content.
Your emails don't always have to be about sales, though. Just drop a reminder in your list's inbox and tell them you have a review up.
And, not every affiliate program will allow you to include affiliate links in emails.
For instance, you'd be violating Amazon's terms of service if you include affiliate links in your emails.
Educate Your Audience
Webinars can be incredibly effective at educating a niche audience and helping them with their purchasing decisions.
For instance, let's say you want to buy a new microwave oven.
What do you think will help you make the buying decision.
Reading a blog post?
Or, watching a live product presentation?
Of course, the latter!
The good thing is: Tools like LeadPages can help you create a landing page where you can get your prospects to sign up for your webinar.

Source: leadpages.com
Before you bring prospects to your landing page, promote your webinar on social media for at least a week.
A webinar is an effective way to showcase a product from every angle and connect with an audience one on one.
You can answer any questions they might have about the affiliate product, reducing friction in the transaction process.
Here is what you can do on an affiliate webinar:
Showcase your product's features
Present different use cases
Tell your audience its benefits and drawbacks
Help the viewers get the most out of that product
When you talk about a product for maybe an hour, an affiliate link at the end of the webinar comes naturally.
And, because you'd have added so much value in the beginning, your audience will be easily persuaded.
Even if they aren't ready to purchase the product just yet, you'd have given them enough content to ponder upon.
You can even ask your vendor to offer a discount for your audience. If you have a decent enough audience, they'd have a chance to generate quite a few sales.
It'd be a win-win.
Leverage PPC Ads
Once your affiliate content starts getting attention, you can broaden your strategy to include paid ads.
We can't dive deep into how PPC ads are done, but keep this in mind: Don't start investing your marketing dollar in paid ads unless you know what you are doing.
Here is what you can use paid ads for:
Generate affiliate sales, of course
Grow your email list
Get prospects to sign up for a webinar
For instance, using Google Ads, you can get in front of a highly targeted audience and build your email list.
The benefit of PPC ads is that you can achieve your marketing goals almost instantly.
Whereas getting your site ranked organically on the first page of Google takes time and patience.
Using these ads to teach your audience about your product or a related topic would be a good starting point.
However, while you could get prospects to read your reviews through paid ads, it can get expensive pretty quickly.
And, it's not like you can get every reader to buy your affiliate product. After all, it's a review, not a direct response landing page.
So, improving SEO should be your priority; it'll help you generate affiliate sales for the long haul.
Use ads wisely.
For instance, getting prospects to sign up for your upcoming webinar would be a great way to utilize PPC ads.
Facebook ads could be a more cost-effective option if you use them right.
Ads can benefit you in three ways:
You'll get potential customers on your list and can target them later
You'll get them to watch your webinar, so there is a chance they'll buy your affiliate product
You can create an autoresponder, sending them a series of emails that persuades them to buy
Ways to Promote an Affiliate Offer in 2022
The beauty of digital marketing is that if one strategy doesn't work, you can start working on the next one.
There are just so many ways to promote a product online these days.
Affiliate marketing is no different.
Below, we talk about the ways you can promote your affiliate products in 2022.
But, remember, you can always get creative and find new ways to generate affiliate sales.
Just make sure you don't violate the affiliate program's terms and conditions.
Influencer Marketing
Influencers are major players in today's digital landscape thanks to platforms like Instagram and YouTube.
Celebrity influencers are a different thing though.
We're talking about smaller influencers that build an audience around a specific niche or industry.
Niche influencers win the trust of their audience by providing relevant, high-quality content consistently.
Plus, they tend to have a knack for producing engaging and fun content.
Brands pay influencers to promote their products to their audience.
If you think you can build an audience around a specific topic, you could promote affiliate links through social media influencer marketing.
For instance, you can promote affiliate offers on Instagram by:
Adding links to your bio
Showcasing affiliate products in your Instagram Stories and IGTV
Creating guides to educate your audience
If you are including affiliate links in your bio, make sure to write a strong call to action to make your audience act.
Moreover, you only want to promote products that you like and that make sense for your brand and audience.
Blogging
Blogging is arguably the most popular affiliate marketing strategy.
Affiliate marketing is a go-to monetization option for bloggers in almost all industries.
In fact, many bloggers earn full-time by promoting others' products and generating affiliate commissions.
They generally specialize in a particular subject or niche and share relevant information and knowledge about products in that particular niche.
For instance, a blog around hiking topics would promote affiliate products related to hiking.
The further you niche down in affiliate marketing, the better your blog can work.
Before you start writing your blog posts, you need to find the right topics or keywords.
Without proper keyword research, blogging is like taking a shot in the dark.
You don't need to hire a keyword research specialist though.
Following the guidelines below should be enough as it's not rocket science.
Just go to the free keyword research tool, Ubersuggest, and search anything related to your topic.
It'll not only tell you the search volumes of related keywords but will also show their ranking difficulties.

Source: neilpatel.com

Source: neilpatel.com
The lower the SEO difficulty score of a particular keyword, the easier it would be to rank on the first page of Google for SEO affiliate marketing.
Ubersuggest isn't completely free though.
You get three free searches per day; if you need more, you'd have to invest in its paid plan.
But, the free plan can be more than enough to get you started.
Bonus tip: While the SEO difficulty score is a good indication of a keyword's ranking difficulty, it isn't accurate in most cases.
You want to check a keyword manually before writing a blog post around it.
So, just search it on Google and observe the first page results for:
Domain age (Younger sites are generally easier to compete with)
Moz DA score (Install the free Moz browser extension)
The average content length or comprehensiveness of the first page posts
The number and quality of graphics or images used
Backlink profile
Social media and forum results (Easier to outrank)
A good affiliate marketing site example would be niche site pursuit owned by Spenser Haws.
Here is a glimpse of how he uses affiliate links in his blog posts.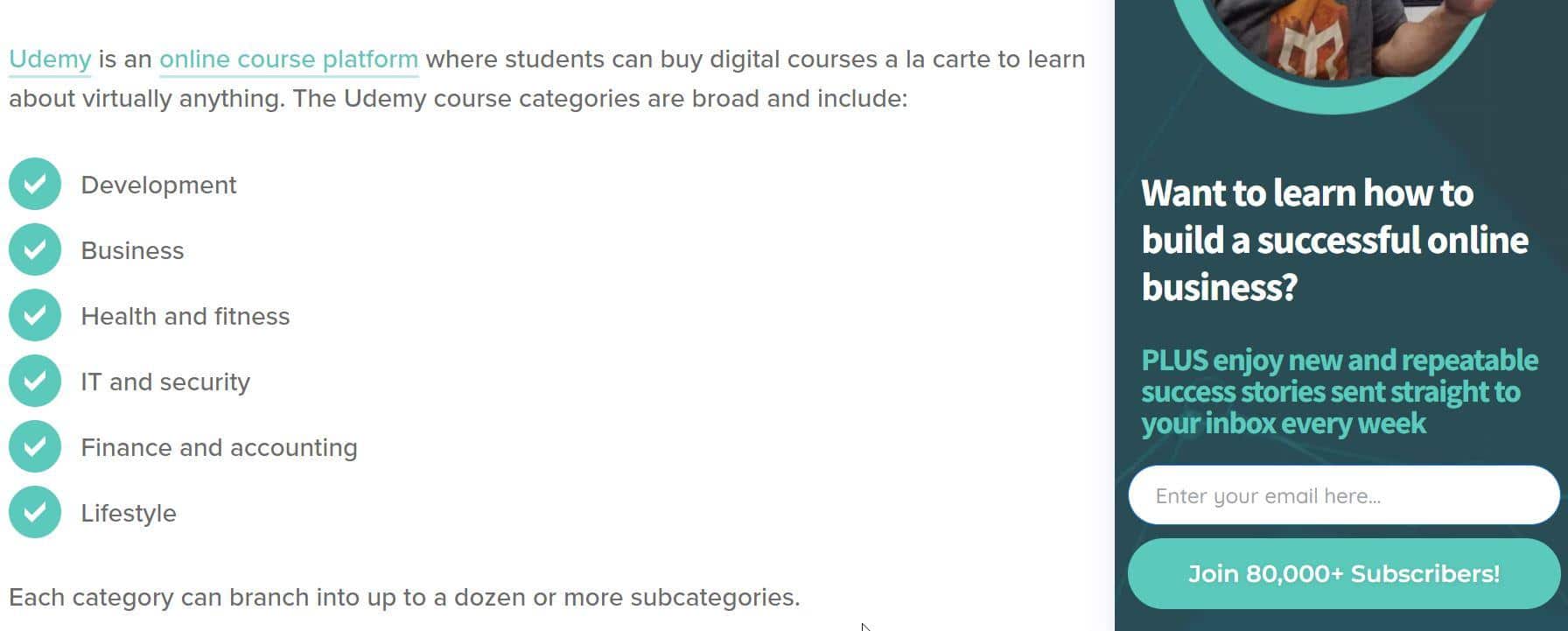 Source: nichepursuits.com
As you might already know, the primary thing to focus on is great content.
When you produce high-quality, helpful content, you get a lot of affiliate linking opportunities.
It's not too salesy either, which can actually work in your favor.
But, that's not the only way to include affiliate links within your content.
You can also use banners, pop-ups, and video clips to promote your affiliate products.
That said, you only want to include links where they make sense. Don't oversell; it shouldn't sound like a sales letter.
Moreover, only share links after you've added enough value through your content.
Microsites
Microsites or mini-sites, as the name suggests, are a smaller version of a website.
They are used by marketers to target a specific audience.
You can use microsites alongside other marketing channels like blogging and social media.
The size of a microsite can vary from a single page to several pages. And, it can be an extension of your main site or have its own domain.
Brands generally use microsites to promote something specific, including:
Brands aren't the only ones leveraging microsites to achieve their marketing objectives though.
Affiliates also use them to generate affiliate sales.
But, why would you create a microsite when you can build a proper one from scratch?
It depends on your goals.
For instance, you might be testing a few keywords on a microsite.
Or, you could be targeting a specific niche as an affiliate marketer.
Here is how you can make microsites work for you:
Create in-depth, media-rich content
Highlight the benefits and features of your affiliate products to let prospects understand them at a glance
Include videos to target people that don't like reading long-form content
Be honest and review products you've tried
Include product at different price points
Lastly, you want to have a clear call to action at the end of every individual product review.
For instance, tell the reader to "Check Amazon for Price", redirecting them to your affiliate products.
Social Media Sites
As an affiliate marketer, you can advertise on social media. You just need to make sure your affiliate program allows affiliate links on social media.
It's an ideal business model for people that have a decent social media audience around a specific niche.
One of the most used social network/search engines is Pinterest.

Source: Pinterest.com
It's a visual search engine just like Google Images, but much more powerful.
Pinterest had 459 million active users in 2021.
But, how to leverage this popular social search engine to generate affiliate sales?
Create great pins around your blog posts and be regular at it.
You can even include your affiliate links directly in your Pinterest pins depending on your affiliate merchant, but it's not the right way to promote anything.
You want to redirect Pinterest users to your blog and let them get some value from your content first.
Keyword Research for Pinterest
Now, we've talked about how you can find the right keywords for your blog. But, what about Pinterest? It's a search engine, too.
It's simple: Just go to Pinterest and search for anything related to your niche.
You'll see a list of suggestions by Pinterest, just like you'd see after putting in a phrase in Google.

Source: Pinterest.com
Those suggested phrases are popularly searched on social media platforms.
But, remember, this doesn't mean you need to change the target keyword in your blog post.
This is just to attract relevant people to your Pinterest pins.
Email Lists
Email marketing is another effective way to promote affiliate products.
But, of course, you have to build an email list first.
We've talked about this above; you can use blog posts, webinars, and even pay-per-click ads to build an email list.
Again, you need to offer something to your prospects if you want them to give their email addresses to you.
It could be anything from an e-book, a video course, or a template.
Anything that gets them excited or adds value to their lives will do the trick.
There are many email marketing tools that can help you with this.
They let you automate the whole process, helping you generate affiliate sales on autopilot.
You can even include affiliate links within your emails and get prospects to buy your affiliate products directly.
But, keep in mind that not all affiliate programs will allow that.
Create Videos
The fact that YouTube has over 2.1 Billion monthly active users worldwide tells a lot about the popularity of video content.
People don't just like consuming it, they love it.
Video content does great on social media platforms like Facebook, TikTok, and Instagram, too.
An important reason why it's perfect for affiliates is that it can explain a product better than written content.
Plus, videos are attention-grabbing and engaging, allowing you to attract and retain your prospects better.
So, what you can do is create a YouTube channel and start producing content around your niche.
Include your affiliate links under your YouTube videos whenever it makes sense.
Affiliate Marketing Mistakes
Like any other business, affiliate marketing is also prone to fraud and exploitation, like cookie stuffing.
But, there are other practices that you want to keep away from. These include:
Creating Sub Par Content: Google algorithm has evolved a lot in the past few years; you simply can't get away by producing thin, keyword-stuffed content now.
So, make sure to add value to every piece of content.
Getting Too Salesy: Direct sales approach doesn't work in the affiliate marketing world.
You need to build trust with your target audience before expecting anything in return.
It gets easier to sell something to a prospect after they start trusting you. So, focus on relationship-building first.
Reviewing the Wrong Products: A product might look great on the outside, but can it do what it claims?
As an affiliate marketer, your reputation is at stake when you promote the wrong product.
It takes time and effort to build trust with an audience, so you want to check a product's credibility before recommending it to your audience.
Misleading People: Of course, you don't want to mislead prospects into believing something your product doesn't even offer.
Remember that your reputation is everything in this industry.
Tracking Affiliate Marketing Success
You've hunted the right keywords and have been producing a lot of helpful content, but how do you know if it works?
By analyzing the metrics!
Your affiliate program's dashboard is the ideal place to check relevant metrics.
Metrics you should be paying attention to include:
Impressions
Clicks
Conversions
Ad spend
ROI
Revenue
You can also use dashboards of Google, YouTube, and social media ad platforms to see how your ads have been performing.
How to Choose an Affiliate Marketing Strategy
The success of your affiliate marketing campaigns is dependent on the strategies you implement.
To find the right strategy:
Identify where your target audience is present; are they on social media? Searching on Google? Or, hang out on forums?
Understand which content your audience responds to
Perform A/B testing
Understand their pain points
Affiliate Marketing FAQs in 2022
How to find affiliate programs?
Start by searching for affiliate programs in your niche. Exploring affiliate networks like ClickBank and CJ Affiliates is a good way to find the right affiliate partners.
How to Start Affiliate Marketing?
The first step is to decide the type of content. Do you want to create a blog, a YouTube channel, or social media following?
Pick products to promote
Apply for affiliate programs; don't forget to read their terms and conditions
Add your affiliate links within blog posts, under YouTube videos, and on social media.
Don't forget to include a disclaimer that you're promoting affiliate products
What Content Works Best in Affiliate Marketing?
Whichever can add value and help your audience make the right purchasing decision. Plus, you should be able to include your affiliate link naturally.
What is Affiliate Marketing?
Affiliate marketing is when you earn a commission every time someone purchases a product via your affiliate link.
What is Affiliate Marketing: Conclusion
Affiliate marketing is a simple business model, and if you take the right route, it can be pretty lucrative, too.
But, over time, affiliate marketing has evolved; it's not only about blogging and email marketing anymore.
Social media influencers are making a lot of money by promoting affiliate products.
Whichever strategy you use to sell your affiliate products, make sure to add value and avoid shady marketing tactics.