The Best Alternative Search Engines You Should Start Using
If you're like the majority of people in the western world, you use Google as your search engine most often. In some countries, Google is even the only search engine people know, forgetting about alternative search engines.
Search engines have become more and more personalized in recent years. Tailoring their results to meet the needs of their users.
This can be great when you're looking for recommendations on new restaurants in your area or reviews of products you want to buy.
Still, it can also open up opportunities for companies to spy on what you search online (and sell that information).
And this can lead to complacency, a bad case of search engine blindness caused by over-reliance. And possibly an under-appreciation for the power behind these other search engines that are out there.
There are many choices out there when it comes to search engines. But not all of them are safe and private (and can even mess with your SEO efforts.)
In this guide, we'll cover some of the best search engines. Start using these today to improve your searching results or to keep your online activity under wraps from the prying eyes of governments and marketers alike.
Why limit yourself to just Google?
The internet isn't short of search engines, but when was the last time you used one of the many alternatives to Google?
If your answer is 'rarely' or 'never,' then you're not alone.
The behemoth from Mountain View dominates this market in the United States and the world

In fact, Google has become so synonymous with an online search that 'Googling' something has entered common parlance.
It's not entirely surprising that Google has become the default choice for web users.
Its algorithms are sophisticated, and its results are generally relevant and useful.
Google has done an incredible job of indexing and organizing the ever-growing trove of data that is the public internet.
It also has some great SEO extensions that can help you with (well, almost) anything SEO-related.
And while it's true that the company hoovers up information on its users to serve them targeted advertising, most people seem happy to trade a little privacy for more personalized results.
Searching Google is a wonderful way to find information.
But it's not your only choice.
The internet is a big place, and your best bet for finding whatever it is you're looking for — whether it's information about the migration patterns of wild geese, details on how to make homemade Swedish meatballs, or online retailers that sell vintage poster art — just might be somewhere else.
So, what if you don't want Google to have any insight into your online behavior?
What if you just fancy trying something different?
But first…
Why do people use alternative search engines?
Before we move on to the list of search engines, let us first understand why people switch from Google to other search engines.
What makes these search engines different, and why should we use them?
Well, there are many reasons to switch from Google to an alternative.
Here are some of the most common ones:
Show you ads based on your browsing history.
The algorithm used by Google isn't perfect (then again, no algorithm is)
You might not like the way Google represents results.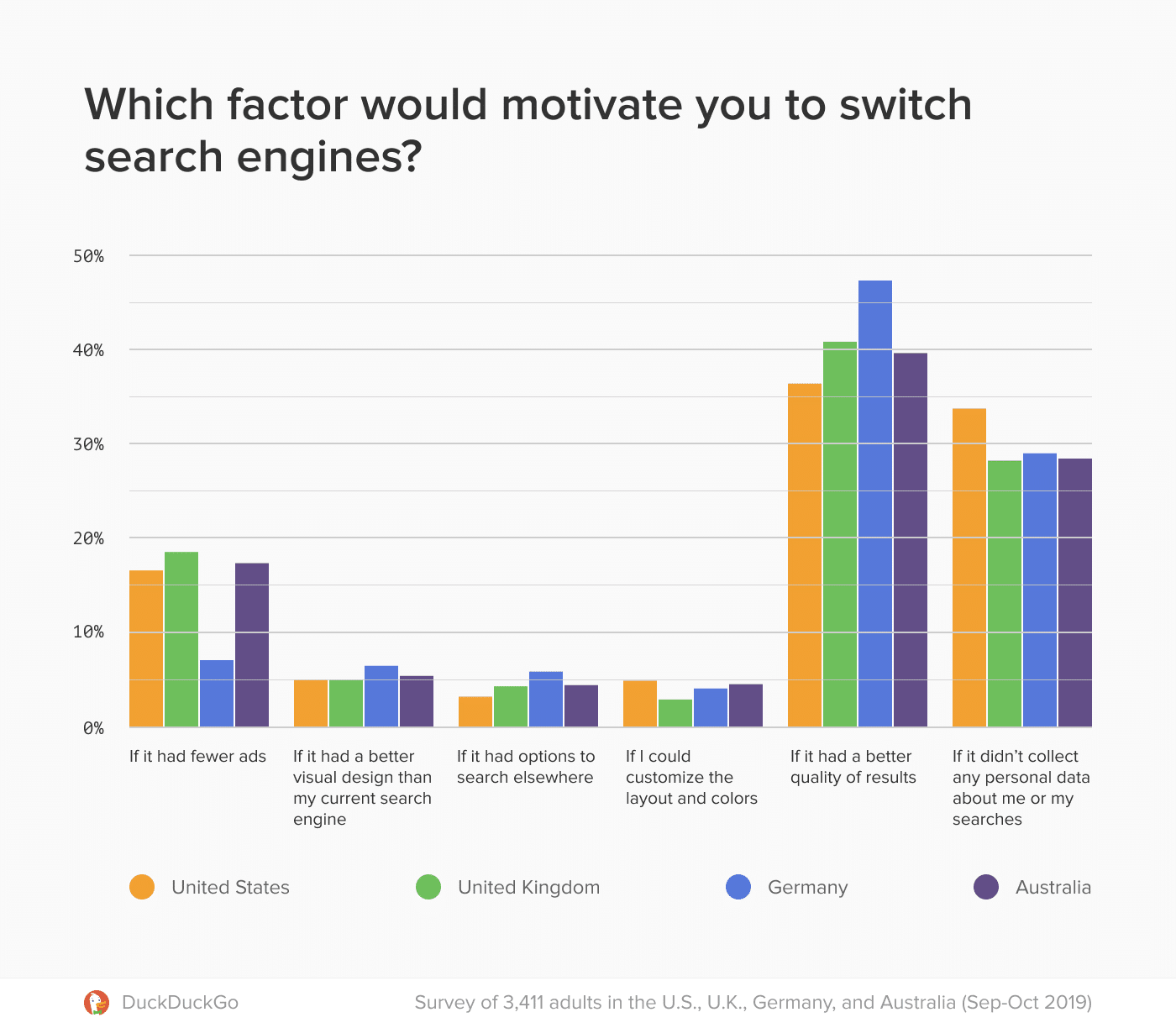 Google has changed its algorithms numerous times in the past, which has affected many websites that were complying with the search engine's best practices.
This has caused many small businesses to lose a significant portion of their organic traffic almost overnight.
However, if this is an issue you have been facing, I think you need Audiit, which tells you what to do in order to beat your competitors.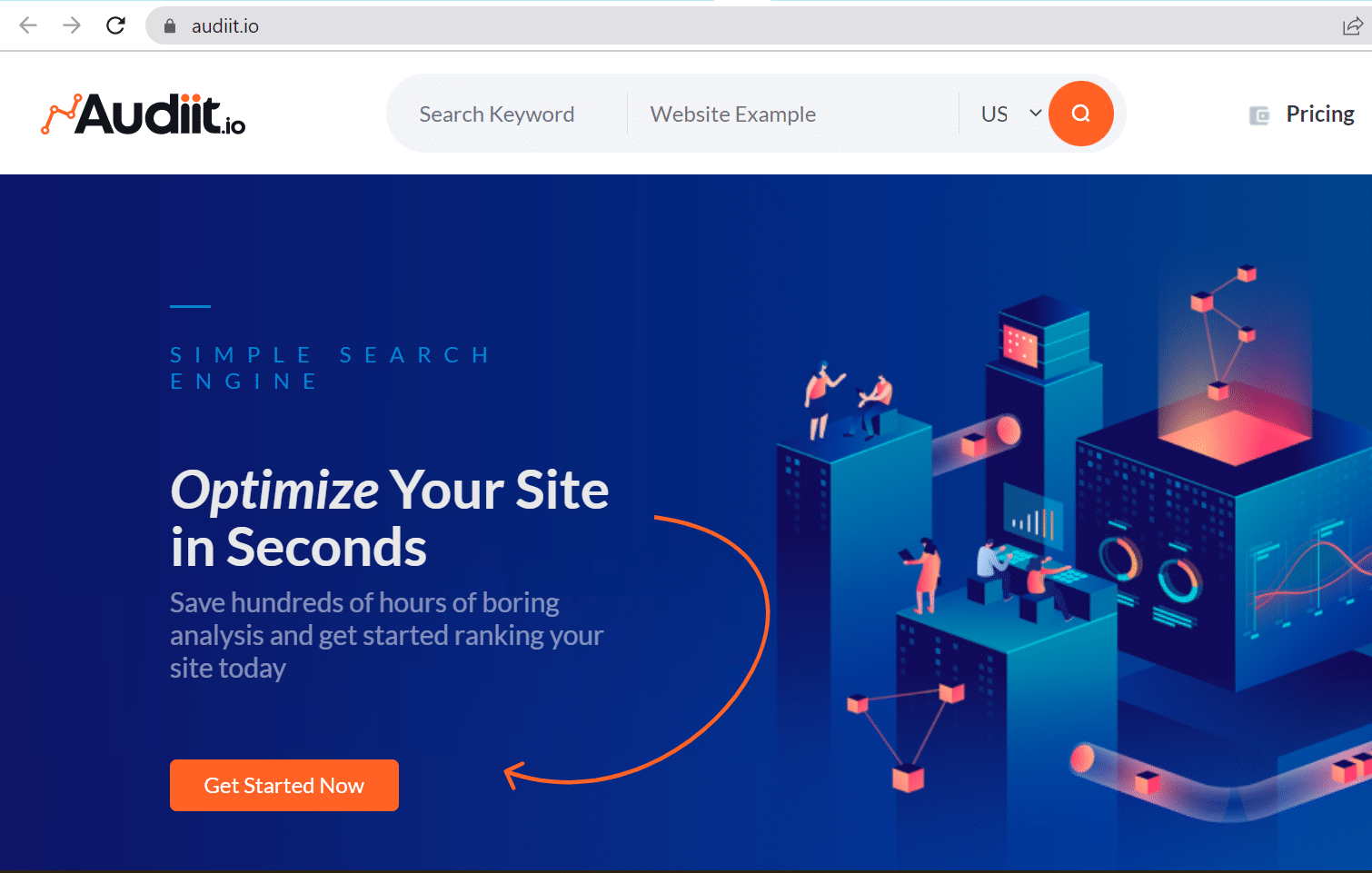 By now, many people who have used Google search over the years may have noticed that some of the results returned by Google do not always contain the most relevant and accurate content.
For example, when searching for reviews on a specific product, you may be presented with current news articles or blog posts instead of actual product reviews.
So, let's get back to the two main reasons people use private search engines:
1. People have become cautious about their data privacy
Privacy concerns are a hot topic these days (have been for too long now). It seems like every week, there's another story about how technology companies misuse our data.
According to a more recent survey by the Pew Research Center, 80% of Americans believe that the benefits of collecting personal data by companies do not outweigh the potential risks.
In addition, 79% of adults are very or somewhat concerned about how companies are using their information.

So it makes sense that people have become cautious about their data privacy when using a search engine.
In fact, we're seeing more search queries related to privacy than ever before.
We've seen an increase in searches for "incognito mode," which is a private browsing option on Chrome, Safari, Firefox, and Edge browsers.
Many people use these alternative private search engines in order to shield their browsing activity from prying eyes.
People also turn to different search engines when they don't want to be tracked by marketing agencies or firms that conduct analytics research.
More than anything else, though, people seem to be turning to private and non-traditional engine options because of their perception of safety.
2. Moving away from search engines that manipulate search results
Many people are now starting to see that major search engines aren't giving us unbiased results. So it may be time to look for a better alternative.
So, although Google may be a good and fast tool for research, it isn't always reliable.
There have been many reports that it has been manipulating its own search results in order to promote its own services, e.g., YouTube or Google Maps, and demote those of its competitors.
This issue has not only been raised by private individuals or companies but also by politicians and governments around the world.
And you can say that there has been…a feud between Google and the EU Commission.
Following an investigation lasting seven years, in 2017, the EU Commission fined Google €2.42 billion for unfairly favoring its own comparison-shopping service in search results.

Then, again in 2018, the European Commission fined Google 4.34 billion euros, or $5 billion, for "illegal practices regarding Android mobile devices to strengthen the dominance of Google's search engine."
These practices included requiring manufacturers to tie the Google Search app with the Play Store. Subsequently, tie Google Chrome with the Play Store and the Google Search app to restrict competition.
And then….again in 2019.
The EU Commission fined Google €1.49 billion for breaching EU antitrust rules by abusing its market dominance by imposing a number of restrictive clauses in contracts with third-party websites.
It prevented Google's rivals from placing their search adverts on these websites.

The US Department of Justice hasn't stayed behind.
It filed a lawsuit against Google LLC in October 2020, accusing the company of "unlawfully maintaining monopolies in the markets for general search services, search advertising, and general search text advertising."
So, for business owners and users concerned about protecting their privacy as well as maintaining fair competition, using an alternative search engine is a must.
But…
Are private alternative search engines really private?
You should know that when you use a search engine, it's not just the result links that are tracked and saved.
Everything you type into the search box is recorded and stored for later analysis.
These records can be tied back to your IP address, giving companies a good idea of who you are.
This is why people have been advocating for "private alternative search engines" that don't store any information about their users.
Searching on private search engines means you can keep your search habits to yourself. No one will ever know what you're looking for as long as you don't share it.
Some alternative search engines don't save any of your information like IP addresses, browser fingerprints, or locations.
It all depends on their business model.
Using an alternative search engine with a VPN will help you increase your privacy even more.
The best search engines other than Google
1. Bing
Bing, Microsoft's search engine, is not as well-known as Google.
However, its layout and design are similar to Google's.
Some people like Bing because they believe it is a little more comprehensive than Google in that it covers more topics on its homepage.
Bing has changed a lot over its seven-year life, but it's hard to argue with Microsoft's ability to make Bing a useful—and lucrative—tool for webmasters.

Bing Webmaster Tools can help with things like site optimization, keyword suggestions, and reports on how well your site is performing in organic search.
In addition, Bing Ads has become a valuable advertising platform for advertisers looking to reach new customers online.
While many users still stick with Google when searching online, changing market trends have made it necessary for marketers to diversify their strategies. So they aren't caught flat-footed when users migrate from Google.
Additionally, it offers some awesome perks. The Bing Rewards program also rewards its users with credits for simply searching on the platform.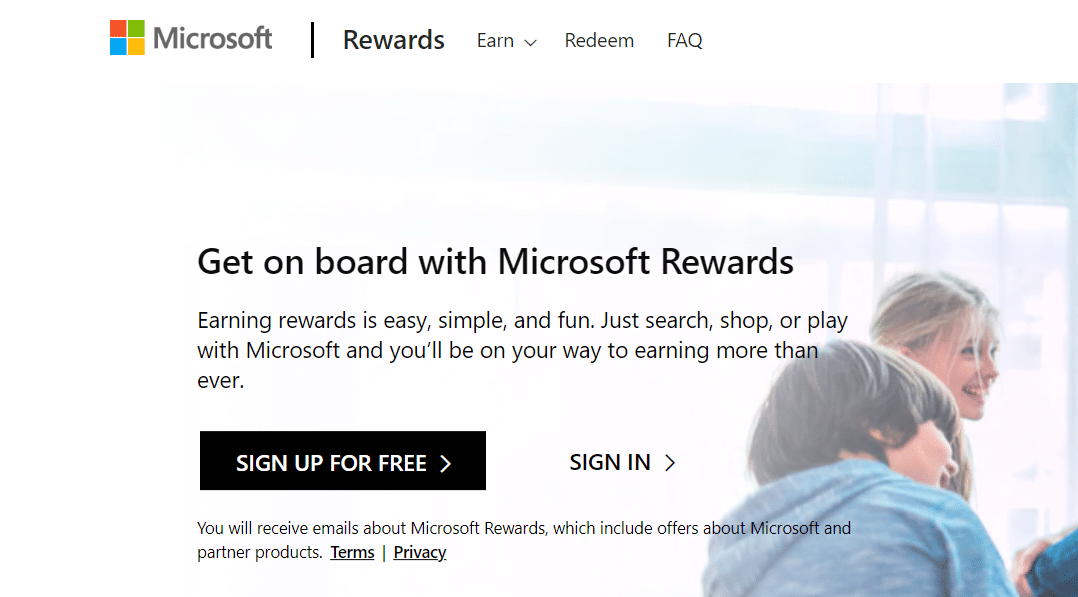 2. Yahoo
Formerly synonymous with Internet searching. Yahoo has made a notable shift in recent years to become more of a media company.
Yahoo still holds a respectable third-place spot among search engines in the US, but it isn't nearly as engaging as some newer search engines.
However, Yahoo's search results are similar to those from Microsoft's Bing engine, which powers Yahoo's searches.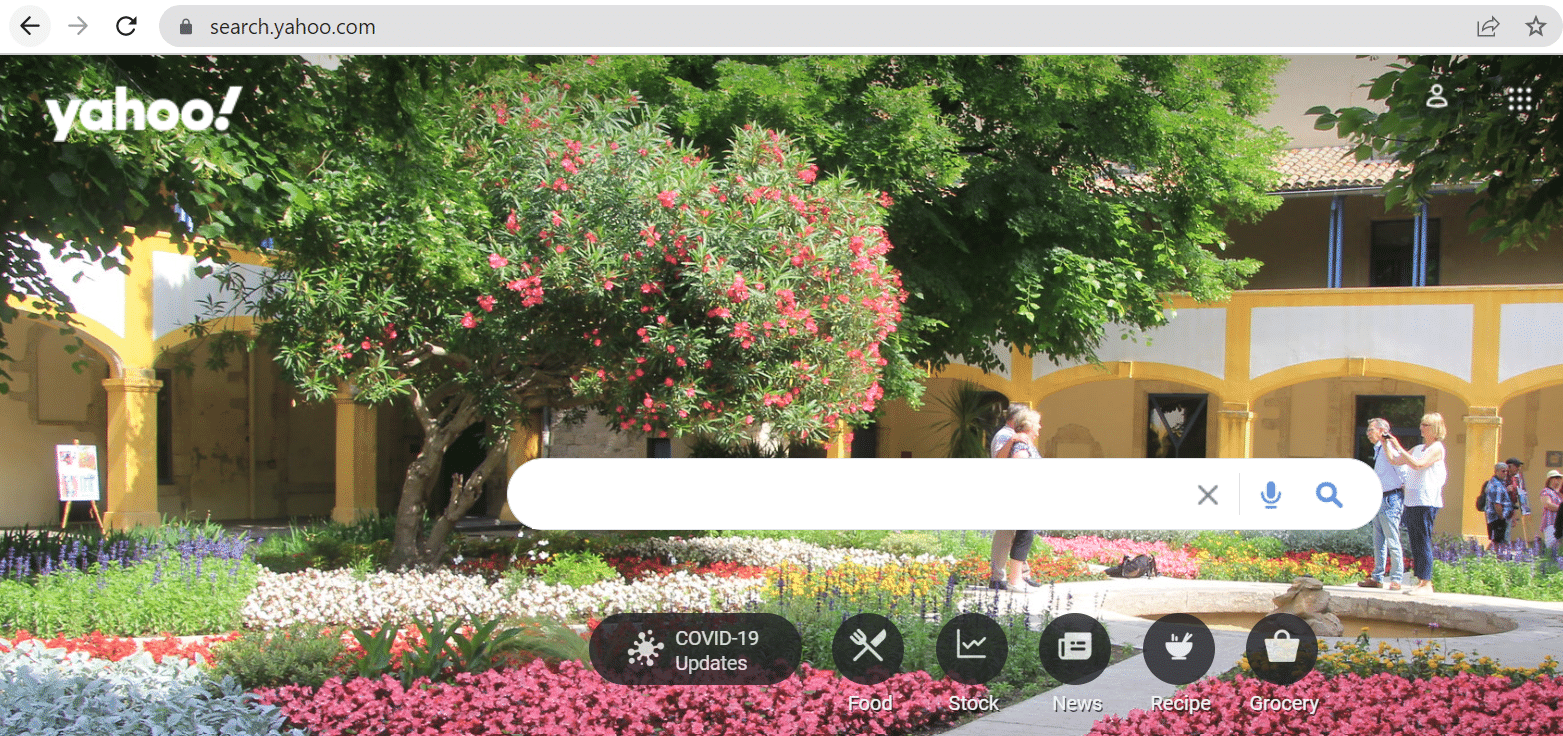 As an added advantage, people use Yahoo to obtain access to expert data, analysis, and a wealth of knowledge on a variety of issues.
It can provide features that go much beyond what a standard search engine can, which is why it is still the browser of choice for many internet searches.
The big problem, however, is that Yahoo isn't exactly known for being secure or trustworthy. If privacy is your main concern, you're better off going elsewhere.
Like…
3. DuckDuckGo
DuckDuckGo is one of my favorite private search engines.
It doesn't track your searches, personal information, or IP address.
DuckDuckGo was created with privacy in mind. Which makes it an excellent choice for people who have concerns about their data being sold to third parties.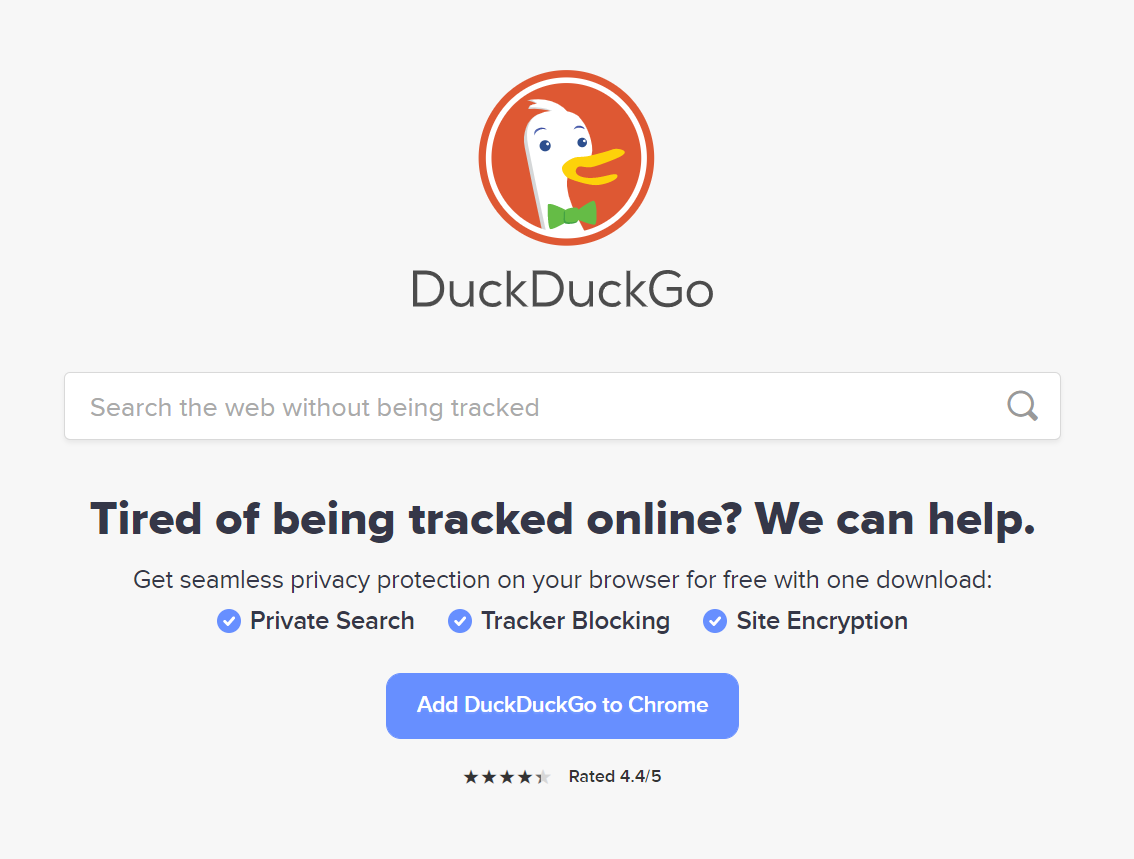 This platform also allows users to create instant answers that work just like regular Google searches do – only with less tracking!
Not only does this mean you'll avoid targeted ads, but it also means DuckDuckGo isn't sharing your search history with anyone else.
DuckDuckGo is recognized as one of the greatest search engines for private browsing, and it has increased market share in recent years as a result.
To top things off, DuckDuckGo has an attractive interface that makes the whole process of searching more pleasant — which is something we can all appreciate no matter our level of privacy concern.
The search engine's market share has nearly doubled in just two years – which is super impressive, to say the least.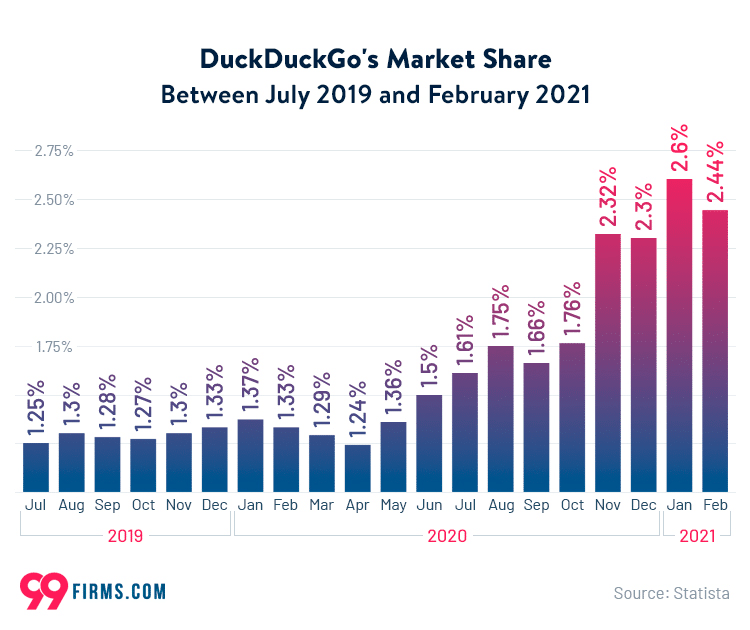 It does not gather any information about your searches or personal information, which is one of the key reasons for its current success.
However, DuckDuckGo makes it clear that if you visit other websites, you will be subject to their policies. This means that they may gather your data.
4. Yandex
When major competitors, such as Google and Bing, are blocked in certain regions or by certain companies … Yandex may have a presence.

Source: https://yandex.com/
Yandex is based in Russia; it is partially owned by the Russian government and employs 15% of all Russian programmers.
In addition to its homegrown engine, it also has a web browser available for Windows and Android.
Although Yandex is not nearly as popular internationally as Google worldwide, it has the biggest market share domestically. To be more precise… It is the fifth-largest search engine in the world and the first-largest in Russia.

You can rest assured that you will not get penalized for using backlinks because Yandex does NOT use link-building as a website ranking signal.
5. Ecosia
Ecosia is a non-profit that donates 80% of its profits to tree planting programs across 30 different countries, including Indonesia, Brazil, and many countries in Africa.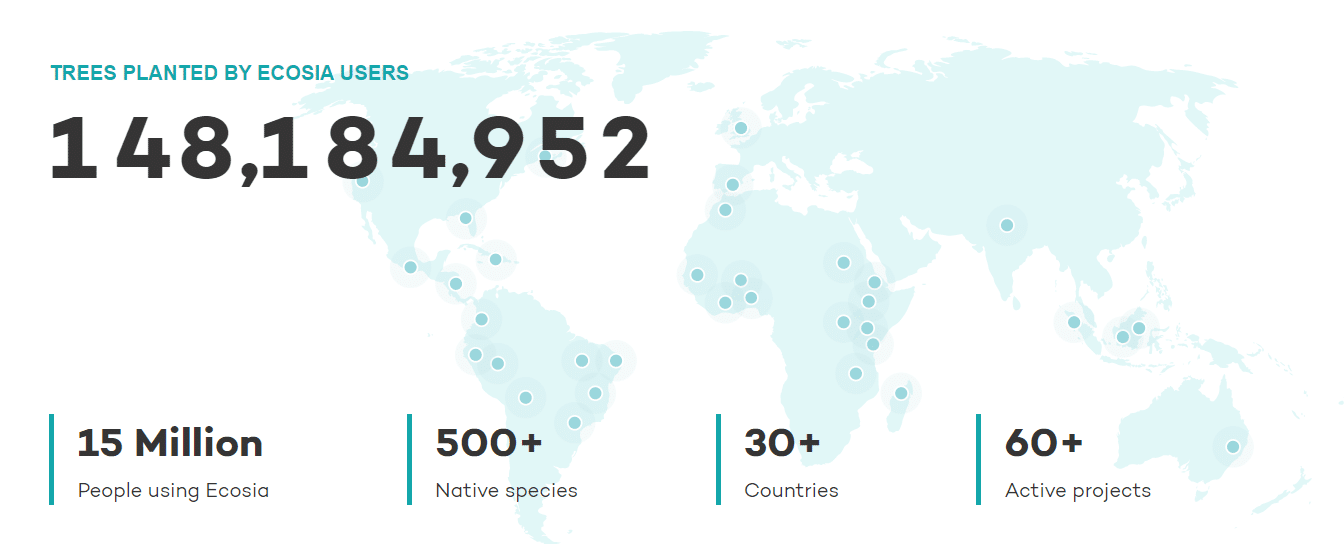 It also protects your privacy, so it doesn't track your searches or collect personal information.
This means no targeted ads, no hidden fees—just better results from an eco-friendly engine.
Ecosia offers an alternative that harnesses your web searches to plant trees—making it easy for everyone to be a good environmental citizen.
On top of that, Ecosia has a solid privacy policy, so your data won't be sold or manipulated by third parties.
It also supports other eco-friendly projects like Wikipedia!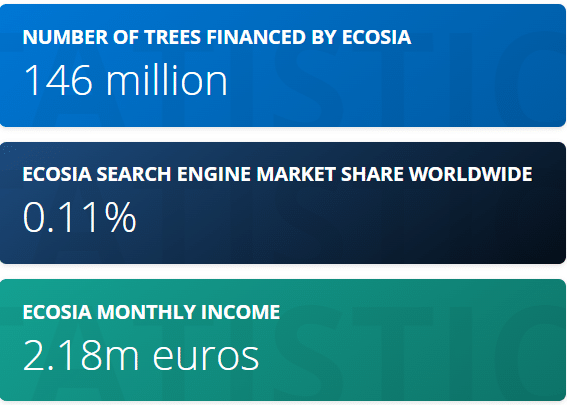 It's one downfall is that it has a relatively limited index, which means it doesn't work well for specialized queries like local searches or news results.
As a result, if you want to use Ecosia as your default search engine, make sure to set Google as a secondary option on your browser settings page.
Otherwise, try any of these other great alternative search engines instead.
6. Qwant
Qwant is a French alternative search engine that's different from your standard Google.
First, it doesn't track you — it's based in France, after all.
(One important thing to keep in mind is that European privacy laws are much stricter than they are in the United States.)
Second, its results are tailored to your personal preferences.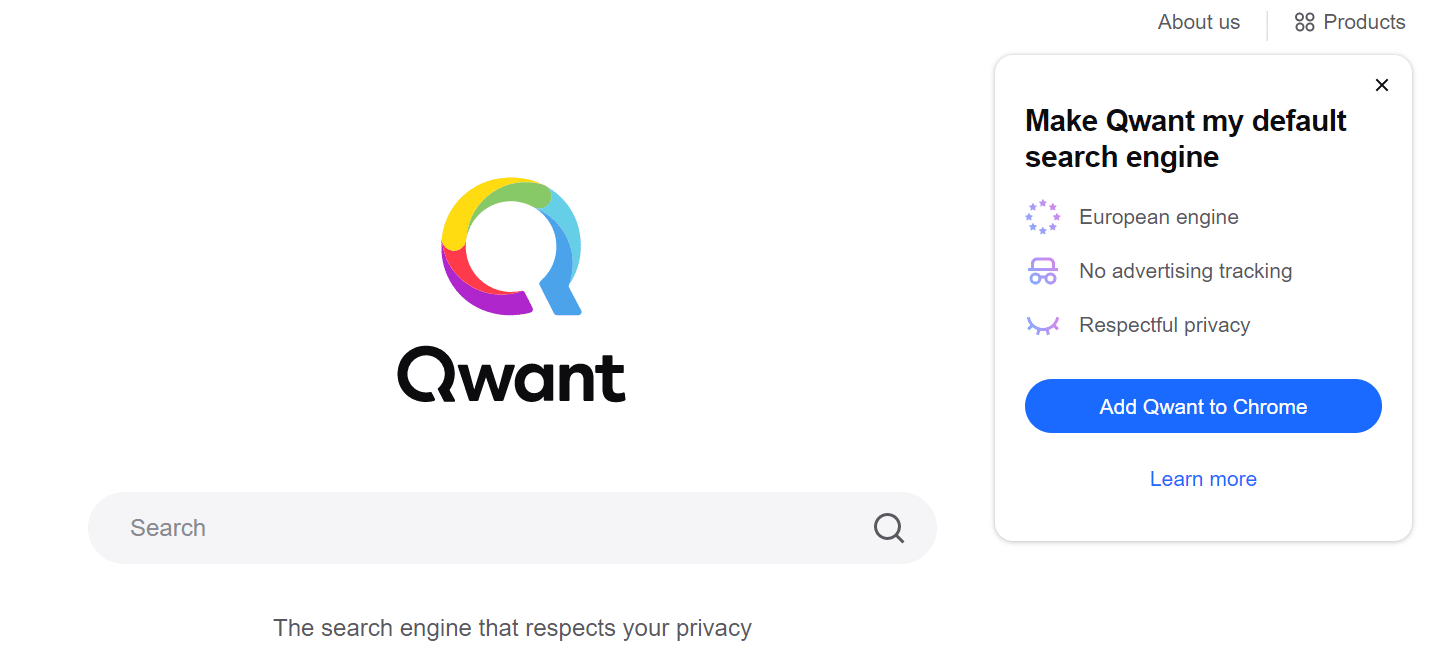 You can enter different topics or types of content (like music or news), and Qwant will compile a list of results for each one.
It'll also ask for feedback every once in a while so that it knows what kind of information you like to see.
One thing that makes Qwant unique is the ability to filter your results by category: social media, news, shopping, images, and videos.
In terms of privacy and data collection, Qwant is also quite different from other search engines like Google (which collects user data for analytics).
According to its website, Qwant doesn't store any personal information about its users and doesn't use cookies except for language options and preferred display settings.
Bonus: Qwant doesn't follow your browsing history, so advertisers don't know if they can show you ads based on your past searches.
7. Gibiru
Gibiru is a well-established search engine.
It works by aggregating results from many other search engines that you might use on a regular basis, including Google, Bing, DuckDuckGo, and even Reddit.
The interface is clean and simple, easy to get around in.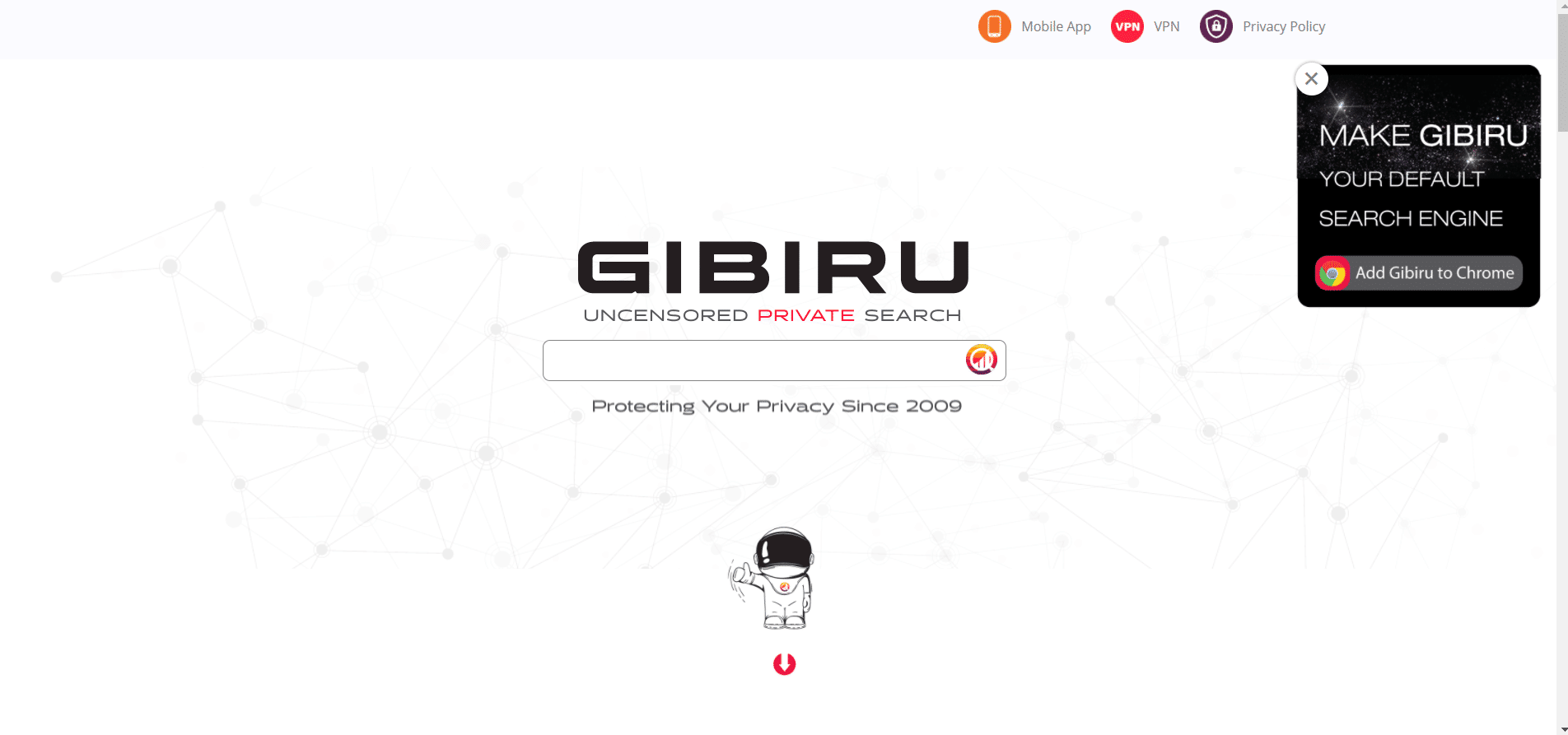 Your searches are encrypted in order to protect your privacy, making Gibiru an option for those who want to maintain their anonymity when searching online.
It also offers secure and decentralized internet browsing by using HTTPS 256-bit encryption.
Because it pulls its results from so many different sources, Gibiru may not have all of your desired results available at once.
However, it offers an "all results" option and an "uncensored" option as well, so you can choose which one to view.
This means that you can even read content from unfiltered sources.
(As you might already know, Google allows only certain news sources to be displayed.)
Another thing to keep in mind is that Gibiru combines its alternative search engine with its own VPN.
You can browse while remaining totally anonymous.
8. Ekoru
Do you want to help clean the ocean without spending a dime (or doing any other work?)
Well, you can by searching on Ekoru.

It is a charity-led search engine that helps fund clean-up operations around the world.
As well as searching the web, Ekoru enables users to donate directly while they surf.
It works with Chrome, Firefox, and Edge and has an Android app.
You can donate to help your favorite ocean conservation organizations—Big Blue Ocean Cleanup and Operation Posidonia—by clicking on "Ekoru ads."
Moreover, all its searches are powered by hydroelectricity.
This eco-friendly alternative search engine focuses on protecting your privacy and data too.
Try it out if you want to take back your privacy online without paying a dime!
9. Gigablast
If you're tired of Google tracking everything you do online, Gigablast is another good option.
This engine helps stop surveillance of all kinds, not just for search results.
Gigablast allows users to view pages without an internet address or a cookie being tracked on their device.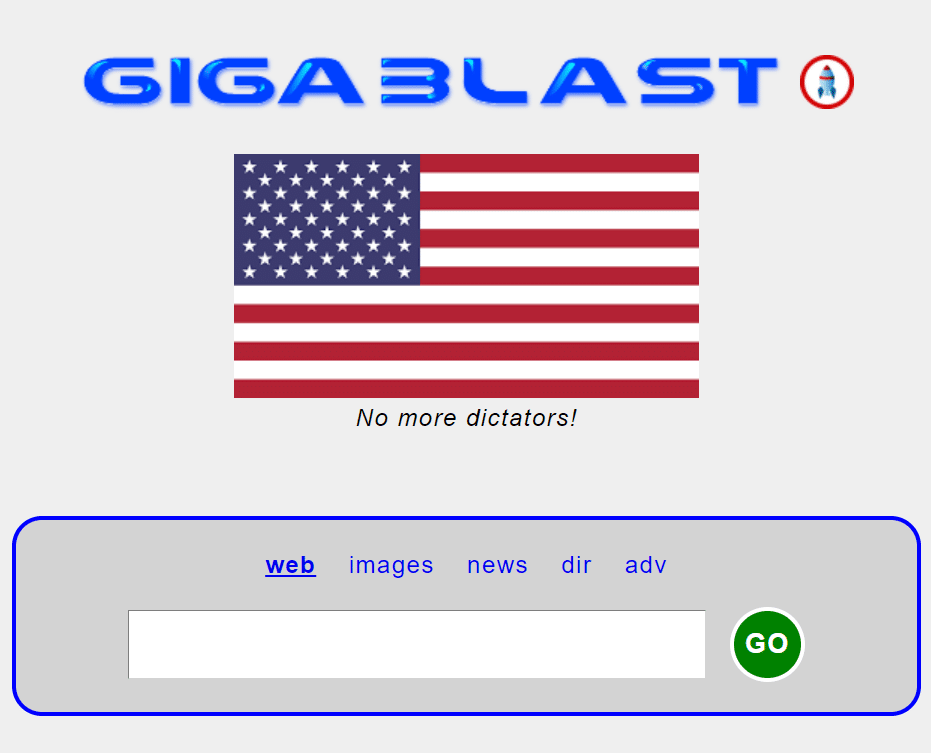 There are no targeted ads, either—it really is just a clean way to browse.
But if privacy isn't your only goal, Gigablast still may be too basic for your liking since there aren't any features like voice search.
But, even though this search engine isn't the most attractive around, it offers many options for filtering or personalizing your search results, including searching by language, exact phrase, and file type.
Another good reason to switch?
10. Swisscows
A Swiss-based search engine — is a private alternative to the big search engines: Google, Yahoo, and Bing.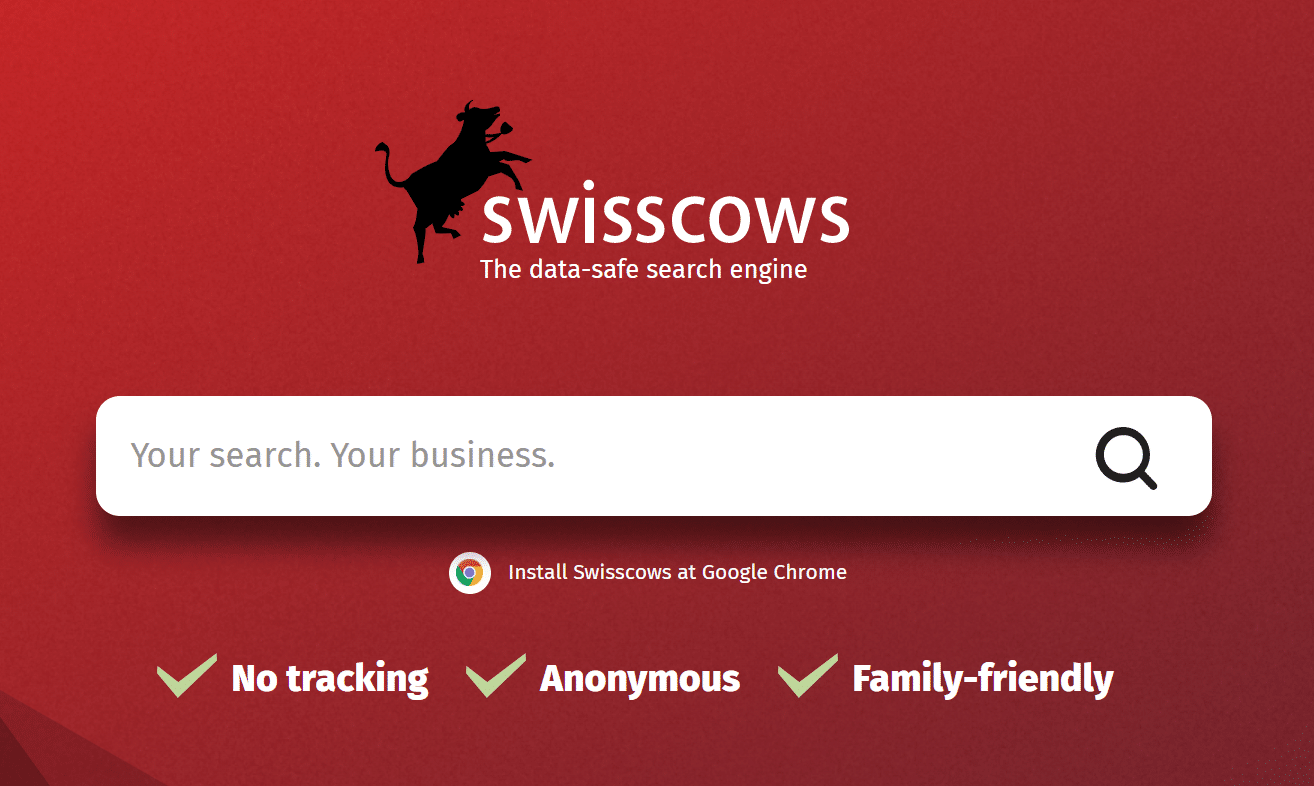 And it is a great choice for all those privacy-concerned users.
It blocks trackers,
encrypts all searches through an SSL tunnel,
does not store IP addresses or other user data,
encourages anonymous searches
it's safe for the whole family
You can trust that it offers what it says because its data centers are located in the Swiss Alps – one of the most secure data vaults in Europe.
Swisscows is one of the alternative search engines that promote digital media education and spirituality.
The search engine respects moral values and stresses the importance of making the internet a safe place for everyone.
So, for all you parents out there, know that Swisscows is the best and safe bet if you are looking for family-friendly internet content.
It promotes digital media education and puts a strict filter on violence and pornography.
11. Startpage
If you're looking for a private alternative search engine, try Startpage.
It combines results from Ixquick's database with Google's database while keeping you anonymous and not asking you to log in.
Startpage is praised by many because, unlike most other search engines, it's based in the Netherlands, a country known for respecting the right to privacy.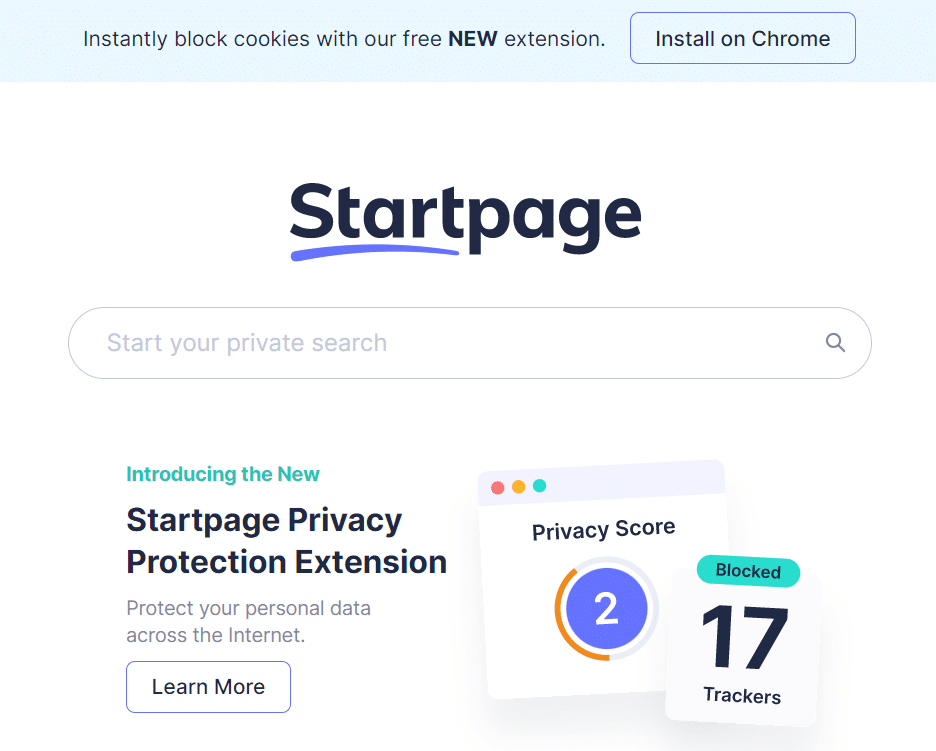 Upon making a search request, Startpage does not save your personal information, browsing history, or IP address.
It separates the requested information from your query before forwarding the inquiry to Google servers.
It then lists them in an easy-to-read way so that anyone can find what they need as quickly as possible.
To put it shortly… If you are looking for relevant results PLUS privacy Startpage is an excellent choice for you.
12. GiveWater
GiveWater is a very simple site that enables users to donate money toward sanitation projects across Africa.
When you click on a GiveWater search ad, you can give GiveWater a share of the revenue from the search provider.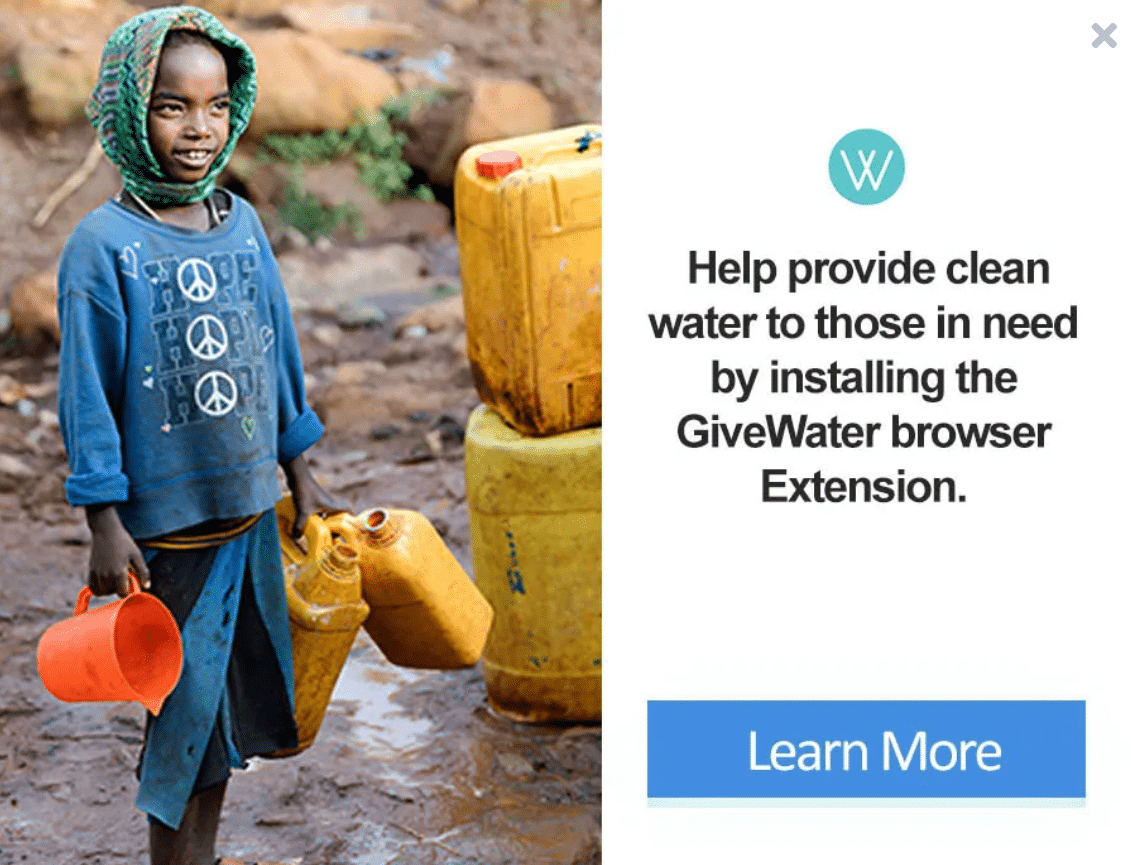 Where does this money go? It is used to provide clean water and sanitation to those in need through various charitable organizations.
All you have to do is to simply search and install the GiveWater browser extension.
That's how you can help alleviate the suffering of children and families who lack access to safe drinking water.
This socially conscious search engine was founded after the company's CEO met Scott Harrison — the founder of Charity: Water — and was inspired by his work with that organization.
13. OneSearch
If you're not a fan of Google's decision to put their results first, then OneSearch is your answer.
OneSearch, the library's primary search engine, is an attractive site featuring a yellow and teal color scheme that immediately puts users at ease (at least, it makes me smile.)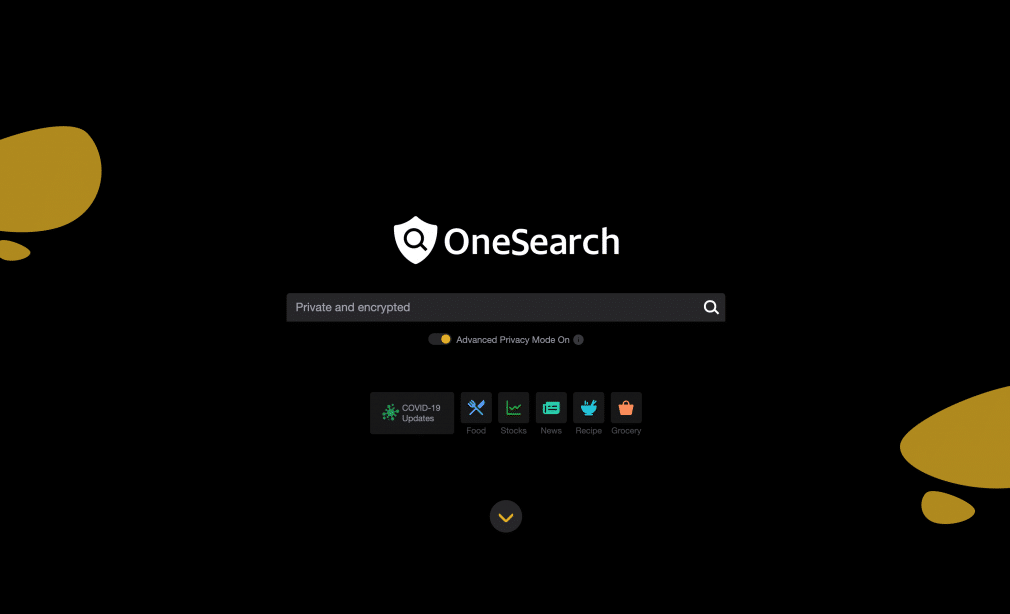 People feel like its search results are more credible than Google's.
And that's for a good reason because they come from the library's own vetted resources.
However, this search engine is fairly new; launched only 2 years ago (2020.)
It is free and private, and it promises you that:
It won't profile you, track cookies, store your IP addresses or browsing history
You will have Keyword encryption,
It will only show unfiltered and uncensored results,
It will help you share links with confidence
The search results are powered by Bing (also, its parent company is Verizon, which owns Yahoo).
This means that you can return results from a familiar platform.
14. Search Encrypt
Search Encrypt is a secure alternative search engine that doesn't track or profile your searches.
Even though the interface may look like Google, it's totally dedicated to privacy and safe net surfing.
It's simple, fast, and easily accessed from anywhere in the world via your favorite browser.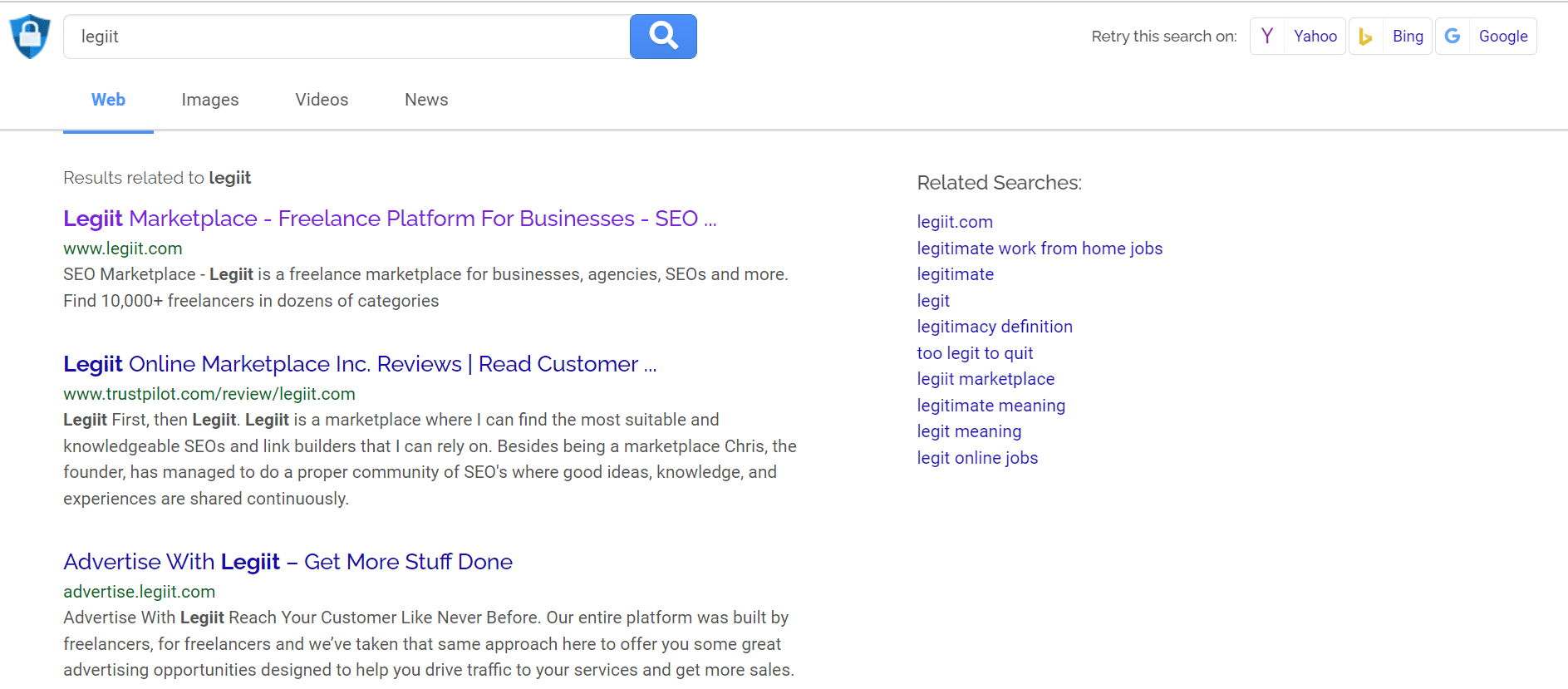 You can use it as a primary search engine or an add-on to DuckDuckGo if you want to bolster your privacy.
There are no ads on Search Encrypt either, though they do offer premium plans if you need more tools for advanced searches.
Another nice thing about Search Encrypt is its extensions for Chrome, Firefox, and Safari browsers.
That way, every time you go online with one of those browsers on any device (phone or computer), you can still enjoy encryption when searching online. And without having to download another application that could come with viruses or malware.
And you know what my favorite part is?
Search Encrypt automatically deletes your search history. So even if someone has access to your computer, they'll be unable to see any of your search terms.
And last but not least…
15. WolframAlpha
WolframAlpha is a free online knowledge engine that computes answers and meaningful statistics with respect to a wide variety of topics.
It has different categories and subcategories.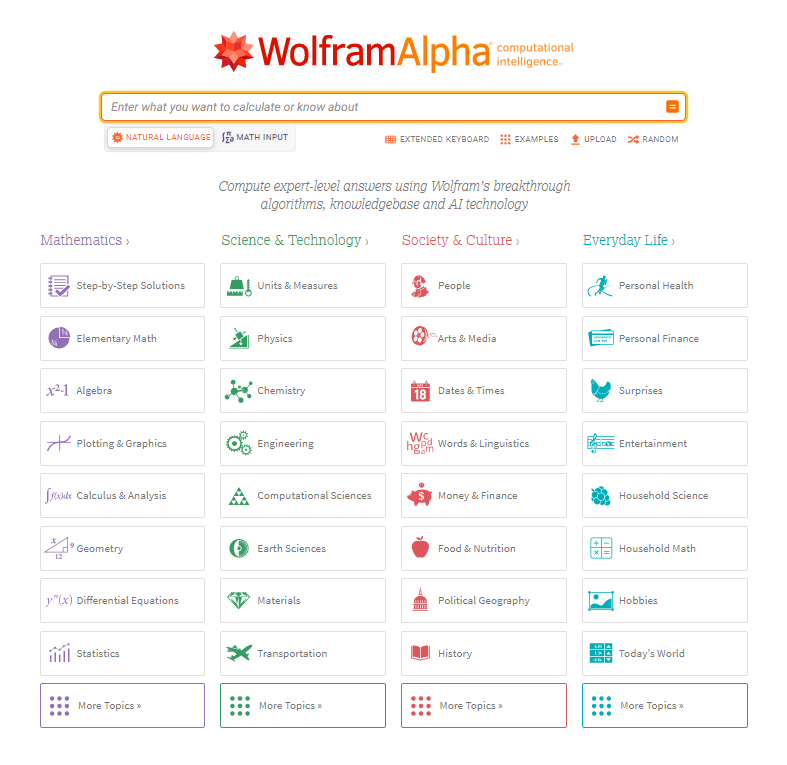 It provides valuable tools to compute data, research statistics, and find answers without tracking our searches, making it great in terms of privacy.
The first thing people usually think about when it comes to WolframAlpha is its math and computational prowess.
You can ask it anything related to science, engineering, sports, or pretty much any topic. You'll be surprised that you will get an answer easily.
The other area where WolframAlpha shines is as a tool for research.
In fact, there are a bunch of specific industries that love using Alpha. They feel they can rely on it more than Google (or other alternative search engines).
Conclusion
Searching for something on Google these days is almost second nature.
In fact… we do it so often that most of us don't even give a second thought to our decisions when choosing what search engine to use.
(At least that's what most people tell me)
Google is an essential part of life on Earth, but don't be lulled into a false sense of security.
It may feel like it has all your data covered, but Google collects PLENTY of information about its users that it doesn't immediately or readily disclose to them.
For some people, that's fine (and that's fine by me, too.)
But if you want to maintain some semblance of privacy and security online, there are better options available.
That's why I tried to show you a list of some "better" choices than Google.
Of course, perfection is not achievable. But some of these alternative search engines I've mentioned above have done a great job protecting the privacy of their users.
When you have another (better) option, wouldn't you take it?
If all your favorite sites are accessible through other services, there's no reason not to give them a try!
The information age is upon us, which means that privacy is more important than ever before.
Take control of your online experience and experiment with some new options — together, we can create a better web.
Happy searching!