20 Best SEO Chrome Extensions (2022)
Research suggests 93 percent of all online experiences begin with a simple search.
So, an overwhelming majority of people learn about a business online.
However, putting a business in front of that audience requires SEO, which is a time-consuming process.
The cool thing is: There are multiple SEO Chrome extensions even for the simplest SEO task.
While that's a great thing, you do have to pick the ones that can actually help your SEO efforts.
Fret not, though. In this post, I'll be talking about the Chrome Extensions (Free and Paid) to help you choose the right ones.
Let's jump right in.
SEO Chrome Extensions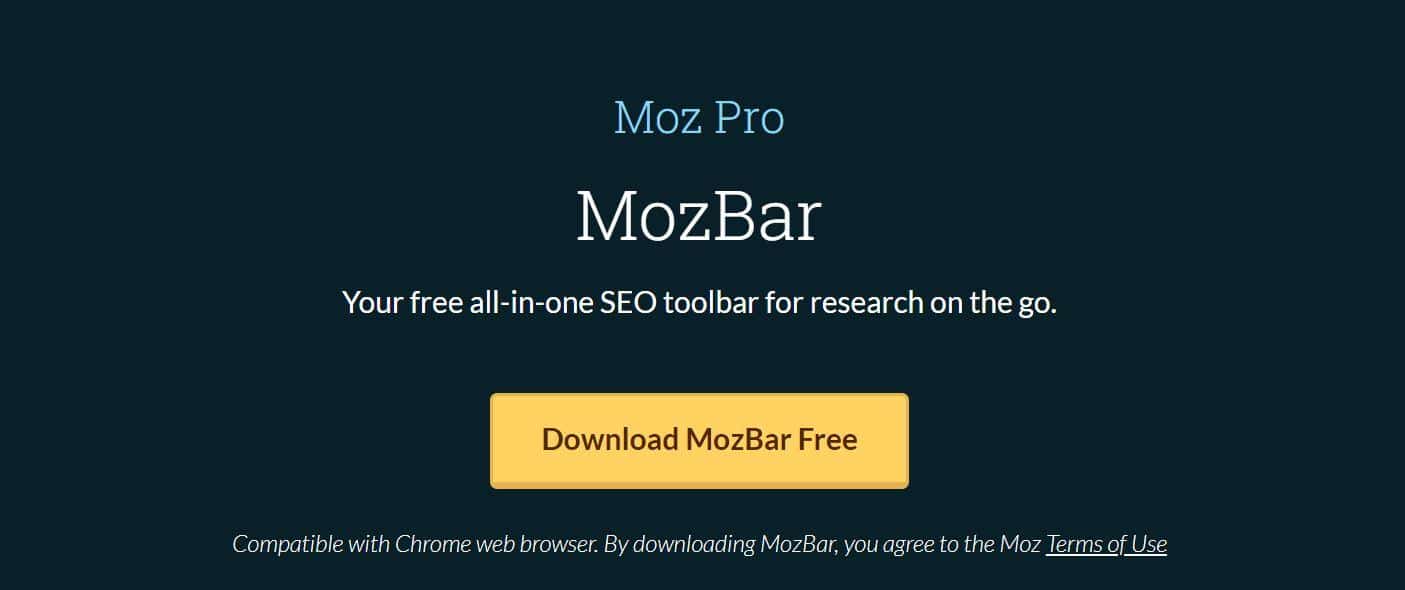 MozBar is one of the most used and trusted Chrome extensions in the SEO landscape.
One of the most prominent SEO metrics, the Domain Authority or DA was introduced by Moz.
Generally, the higher the DA of a site, the better its search engine rankings.
It's a number from 1 to 100 that essentially uncovers the authority of a particular domain.
And, the higher the trust and authority of a website in the eyes of search engines like Google, the higher it tends to rank for all types of keywords.
But, domain authority isn't the only metric you get from the MozBar Chrome extension. It also tells you:
The page Authority
The spam score
The inbound links pointing to that particular site
Note that the tool shows these metrics after you land on a particular web page.
Here is how it looks like:

The extension can be pretty handy when you are trying to research your competition on the web.
It showcases the DA, PA, and spam score of every domain on the first page of Google.
That can help you analyze the pages against a particular keyword.
Let's say you want to check what type of web pages Google shows when your target audience searches "SEO" on its search engine.
As you can see, many of the domains ranking on that particular keyword has a DA (Domain Authority) of more than 90.
So, a new website with no domain authority can't expect to outrank those sites.

It's easy to assume that you are reading this because you want to attract more traffic to your blog or website.
And, while traffic may not be your only goal, it's the important first step in generating business.
Let's keep something in mind: No SEO tool can provide 100% accurate data because it's just not up for grabs.
The good thing is: Similar Web offers more accurate traffic estimates than most other tools on the market.
It's one of the top SEO Chrome extensions if you want to get traffic estimates of your competitors' websites.
After installing the extension on your Chrome browser, all you'd have to do is:
Go to your competitor's web page and click the extension icon at the top right of your browser window.
The extension will showcase the following data right there.
For Example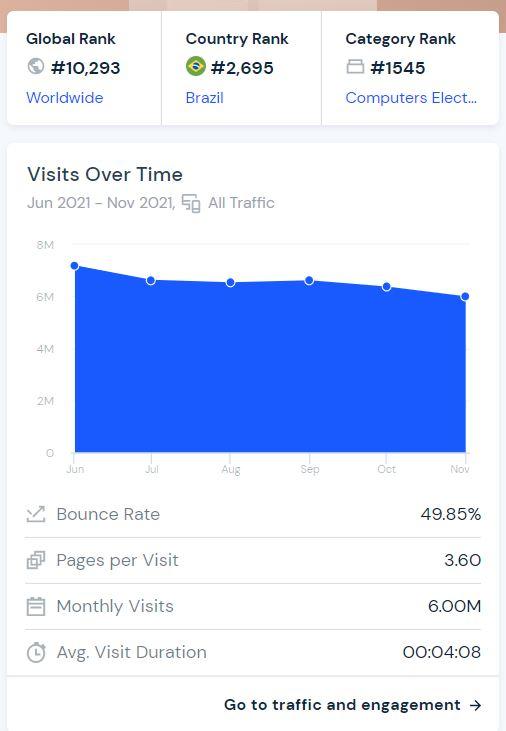 As you can see, in addition to "Monthly Visits", the extension also tells you the:
Bounce rate: The percentage of visitors that hit the back button without taking any action on a web page. The less the better.
Pages per Visit: Pages viewed by the visitors after visiting a landing page
Average Visit Duration: How much time does a visitor spend per visit
Not only that, but you also get to see the top 5 countries from where your competitor is getting their traffic.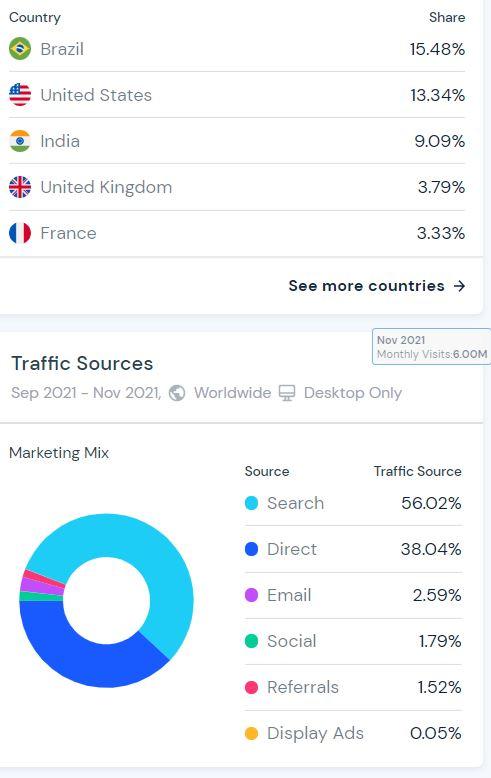 Moreover, the "Traffic Sources" metric tells you the most popular sources of traffic.
For instance, in the above example, the web page is getting 56.02% traffic from search.

The BuzzSumo Chrome extension is another helpful SEO tool. It essentially tells you the social popularity of an article.
Using the extension, you can see the total shares and backlinks of an article.
It helps you understand the best-performing articles on a particular website with respect to social shares and backlinks.
Eventually, you'll have a good idea about what type of content resonates with your audience.
However, the tool isn't totally free to use; you can get a 30-day free trial before paying for it though.
If you know anything about SEO, you'd agree that it's a long game.
A small change on your site today can have a significant impact on it in the future.
So, you need to keep yourself updated about your site's SEO.
One of the ways to do that is by using the SEO Minion Chrome extension.
All you have to do is:
Install the extension from here and activate it
Go to the web page you want to analyze
Click on the SEO Minion icon at the top
And, observe the metrics
The extension gives you the following metrics about that particular web page.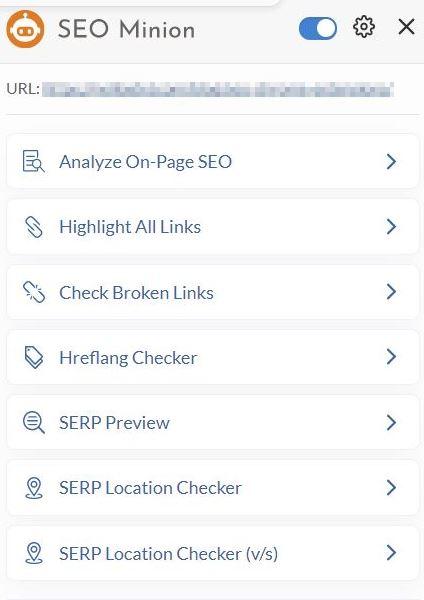 One of the most used link-building tactics is broken link building, and SEO Minion can help you with that.
In broken link building, you are looking for 404 links.
By using the extension, you can find broken links on any site, reach out to the owner, and get that link replaced by yours.
SEO Minion also gives you hreflang data, which is required when you are targeting different languages and regions to maximize your traffic.
Last but not least, the on-page SEO analyzer helps you understand a web page's structure and which parts of it need improvement.
Here is another free and helpful Chrome extension that can help you improve your SEO game.
SEO Quake was developed by SEMrush, a leading SEO tool used and trusted by SEO pros all over the world.
The extension gives you a detailed overview of how your site's doing in the SERP (search engine results pages).
After installing the extension, go to the page you want to evaluate and click on the extension's icon.
You can then open each report and analyze it separately.
For instance, the "Density" report gives you the keyword density of that particular page.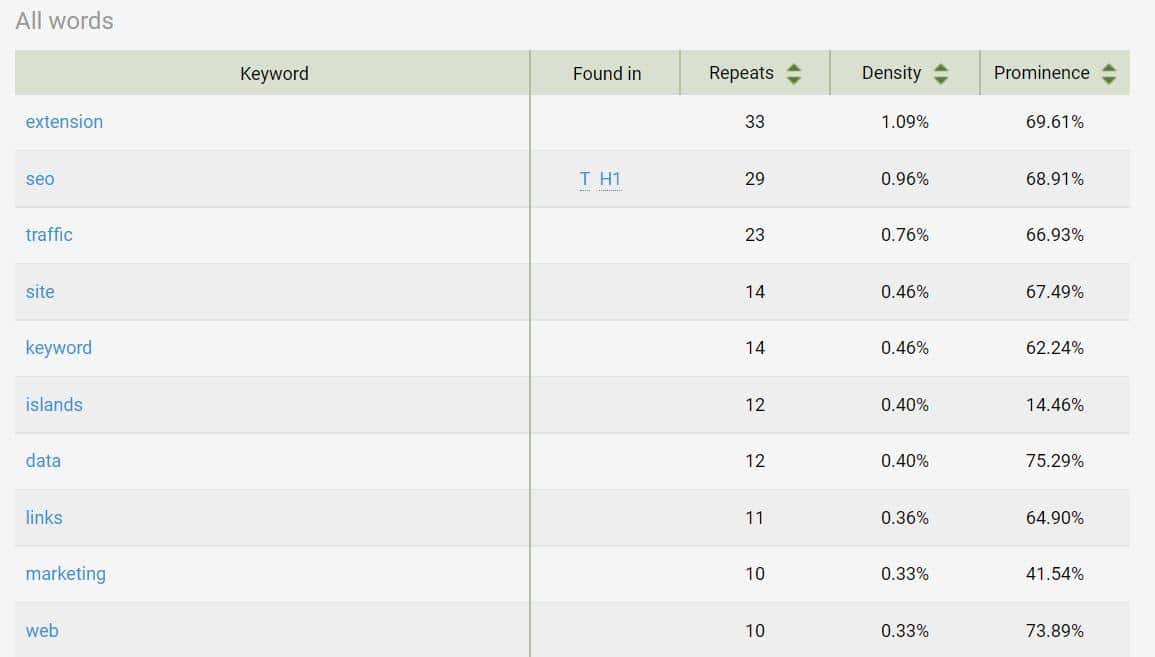 Generally, a keyword density between 1 – 2% is ideal.
Moreover, the "Diagnoses" report of SEO Quake breaks down your web page's on-page SEO.
All that is pretty useful, but the most popular SEO Quake feature is its SERP analysis.
When you do a Google search, the extension gives you metrics on every site that's ranking on that particular search term.
Keywords Everywhere is probably the most popular keyword research Chrome extension out there.
The free version of the tool gives you a laundry list of related keywords after you search a term on Google.
You can export the list of related keywords, which also includes long-tail low-competition keywords, and start working on them.
However, the free version doesn't tell you the search volume and SEO competition of the keywords.
For that, you have to purchase credits.
The good thing is, Keywords Everywhere credits are ridiculously inexpensive.
In fact, one of the reasons why almost every SEO invests in this Chrome extension is its cost-effectiveness.
Another cool thing is, you can buy credits for a whole year. There are a lot of credits to use even on the basic $10 package.

100,000 credits for a mere $10 is an incredible deal, especially when you can use them for the whole year.
If you don't use your credits extravagantly, they may be more than enough for you.
Compare that with any other SEO tool in the market and you won't hesitate to get your hands on this one.
Wouldn't it be great if you could see keyword search volume for free?
If yes, the Keyword Surfer Chrome extension is for you.
The SEO extension not only gives you a laundry list of related keywords but also shows their monthly search volume.
A majority of SEO tools don't offer that luxury for free.
After you install the extension, just do a simple Google search and it'll show the monthly search volume for your keyword.
Not only that but the tool also lists related keywords with their search volume and similarity to your primary keyword.
Moreover, there is a new feature that lets you use artificial intelligence to create article outlines around your keywords.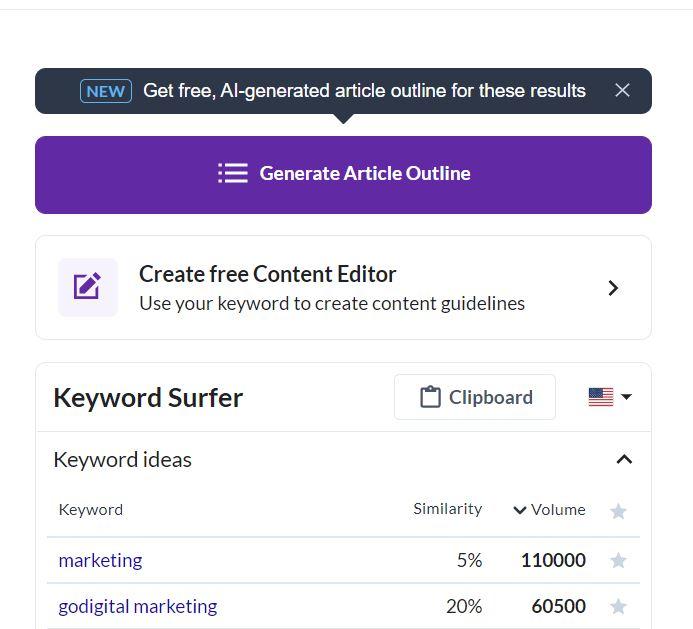 So, you can get a structure for your blog post for free with just a click of a mouse.
A few of us might not have heard about Mangools, but it's one of the most trusted SEO software.
Although there is a free version of Mangools SEO extension, it's quite limited.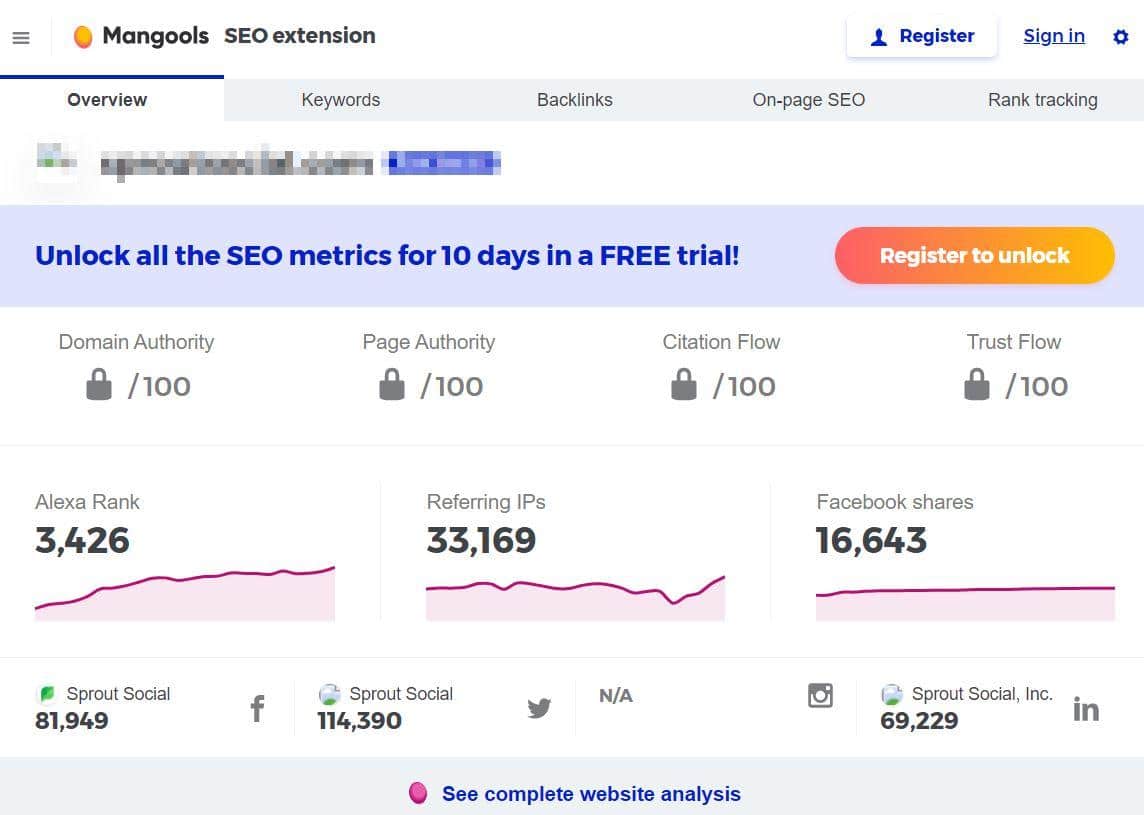 As you can see, you can only access the most important metrics by signing up for the software.
Metrics like Domain Authority, Page Authority, Citation Flow, and Trust Flow are what make the Mangools SEO Chrome extension unique.
It's like the MozBar and Majestic combined in one tool.
The DA and PA is domain metric designed by Moz while the CF and TF are from Majestic.
On the free Mangools SEO Chrome extension, probably the only useful feature you get is the on-page SEO report.
Mangools breaks down almost every on-page SEO factor of your website, helping you optimize it for search engines.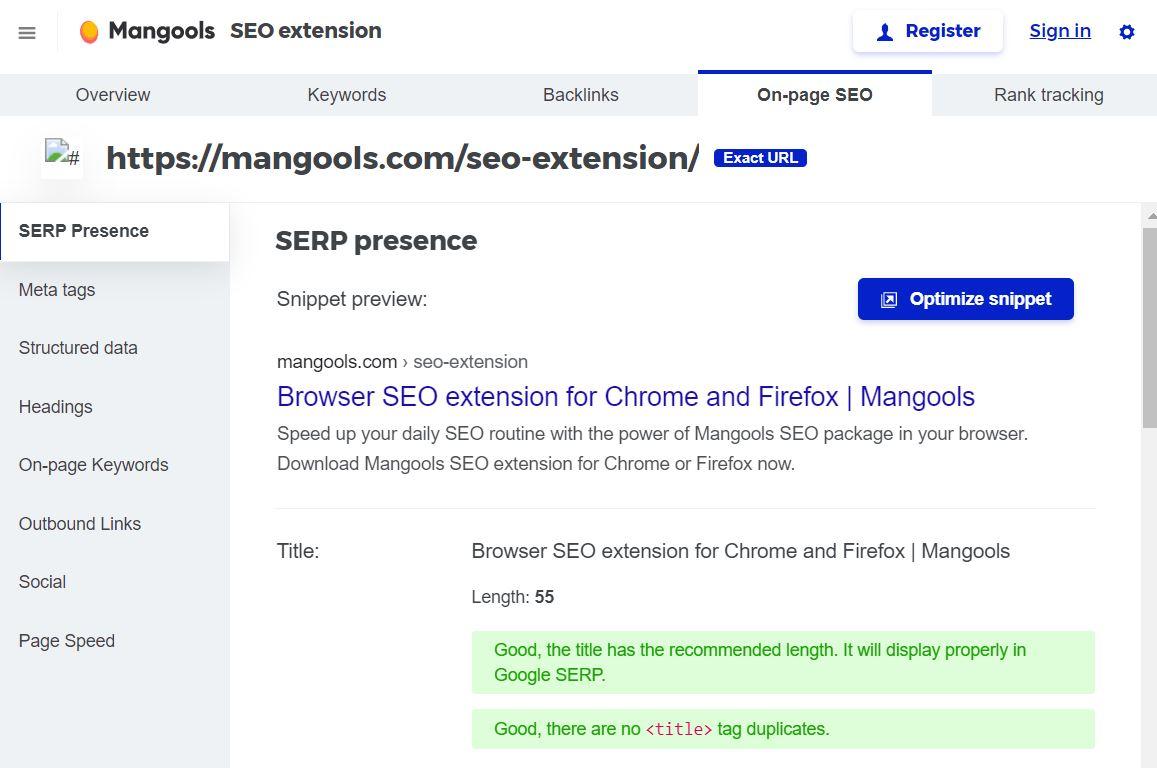 You can analyze your web page:
Meta tags
Structured data
Headings
On-page Keywords
Outbound Links
Social
And, even page speed
The extension produces a thorough page speed analysis report, with suggestions to improve different aspects of your site for a better score.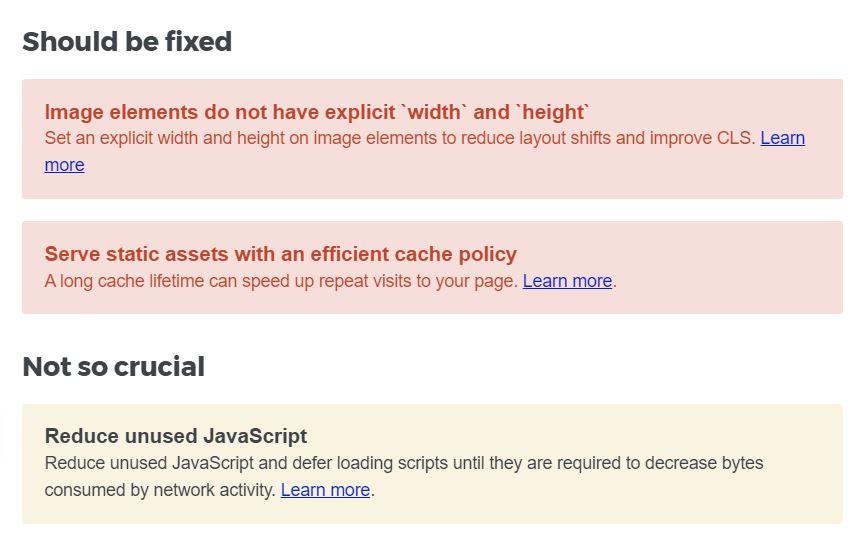 You can go to Google PageSpeed Insights and check the core web vitals there. But, again, being able to analyze a page right there is a different kind of luxury.
As far as the other features are concerned, you can grab the 10-day free trial and check them out before having to pay.
Serpstat is a freemium SEO Chrome extension that gives you a lot of SEO data for a website with just a click of a mouse.
Like most other SEO extensions, you install the extension and click on the icon at the top right corner of your Chrome window.
Remember that when you click on the icon, the tool will show you the metrics for that particular page.
And, you might have to refresh the page to get the data.
While the extension provides good on-page SEO data, you'd have to be a paid member to use other features.
The on-page SEO metrics that you can track for free include:
Headers and meta tags
Outbound links
Images and media
Speed optimization
Structured data
Text analysis
The "Page Analysis" and "Domain Analysis" features are part of its paid plan.
Serpstat is one of the most versatile SEO Chrome extensions out there. Here is a list of services it offers:
So, you get an in-depth analysis of a domain after opening a web page and clicking the extension.
Check My Links is a popular link-checking Chrome extension for SEO pros.
The name of the SEO Chrome extension tells what it does: Checking links on a web page.
The use of this extension is two-fold.
You can either use it to see if there are any broken links on your web pages
Or, you can use it for broken link building
Broken link building is a strategy SEOs use to generate high-quality backlinks to their site.
Here is what you can do:
Open a web page you would like to have a backlink from
Click on the Check My Links extension
See if the page has any broken links (Invalid links)
Reach out to the website owner and ask them to replace that broken link with your link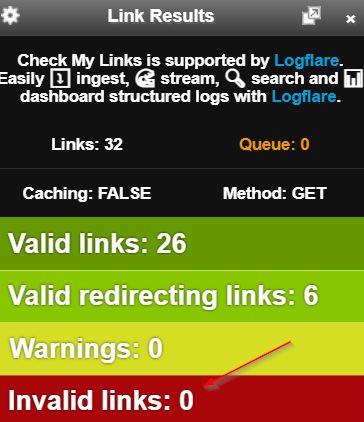 The extension also highlights these links in red so that you can find and work on them easily.
Many SEO pros use this extension solely for broken link building.
NinjaOutreach Lite
NinjaOutreach Lite Chrome extension mines actionable data from a website, helping you make informed SEO decisions.
The extension offers advanced SEO features like:
Web page URL
Title
Links
Meta descriptions
Monetization techniques
Follower count on social media
However, it's a paid extension, so you can't get all that data for free.
It's fair to assume that Google aims to provide the best user experience.
The loading speed of a web page is an important SEO factor mainly because it affects user experience.
Think about it for a second.
Would you wait for more than a few seconds for a web page to load? Or, would you just go to another one because there are so many options?
Probably the second one!
Our attention spans are on historic low, so webmasters need to grab attention instantly.
Thankfully, there are free tools like the Google PageSpeed Insights plugin that can help you make sure everything on your page is optimized for speed.
It's useful because of the simple fact that it comes directly from Google.
And, as page speed is now an organic ranking factor and will continue to be, every SEO needs to have this extension.
A "No Follow" tag in the code of a web page doesn't add SEO value.
So, a web page linking to another web page with a "No Follow" tag doesn't really make much of a difference as far as SEO metrics are concerned.
The "NoFollow" Chrome extension helps you identify these tags on your web pages so that you know which links are actually adding value.
Plus, you can use the extension to see if the pages you don't want to be indexed are coded correctly.
For instance, you might not want to index landing pages, so you can use the extension to make sure they have the No Follow tag.
The Chrome extension is ideal for SEOs that don't want to look through their site's code.
Woorank
Woorank gives your web page an SEO score just like Google PageSpeed Insights.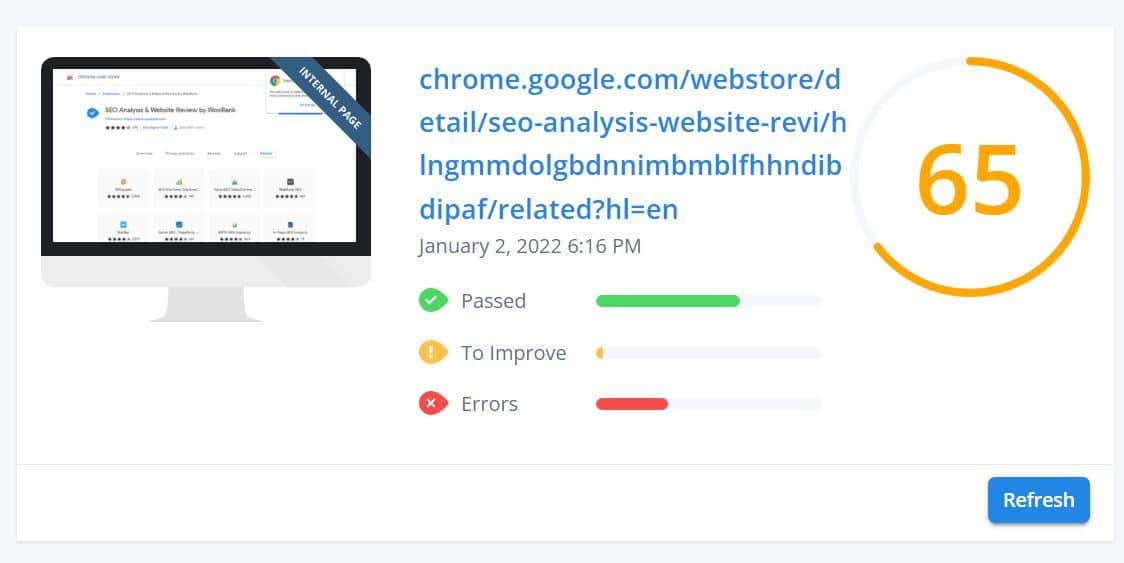 The free extension provides you with a detailed report on every aspect of your site and suggests improvements.
There are very few free SEO Chrome extensions that tell you the search volumes of keywords, and WMS is one of them.
Just install the extension and your work is done; with the extension activated, every time you search a keyword, you'll get its monthly search volume.
Moreover, the SEO extension also lists relevant keywords with the same data.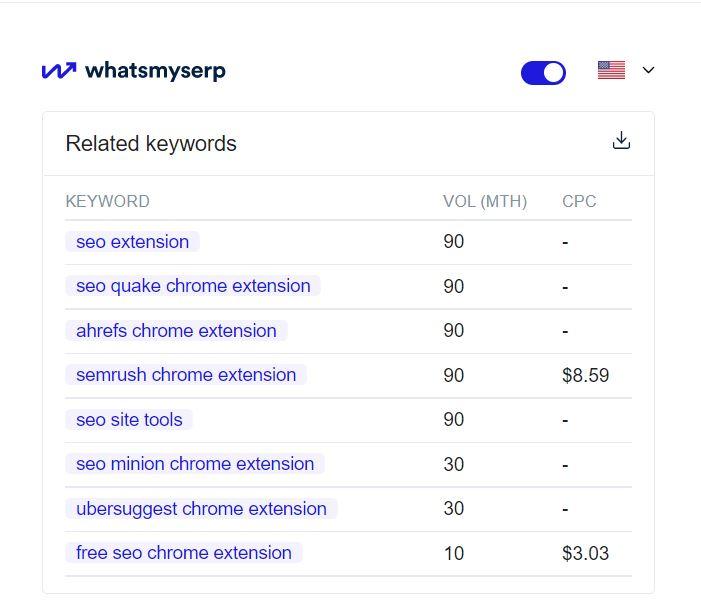 The Chrome extension is enough to get you started with keyword research for your website or blog.
After getting the search volume of a keyword, you can check how difficult it is to rank by looking at the first-page results manually.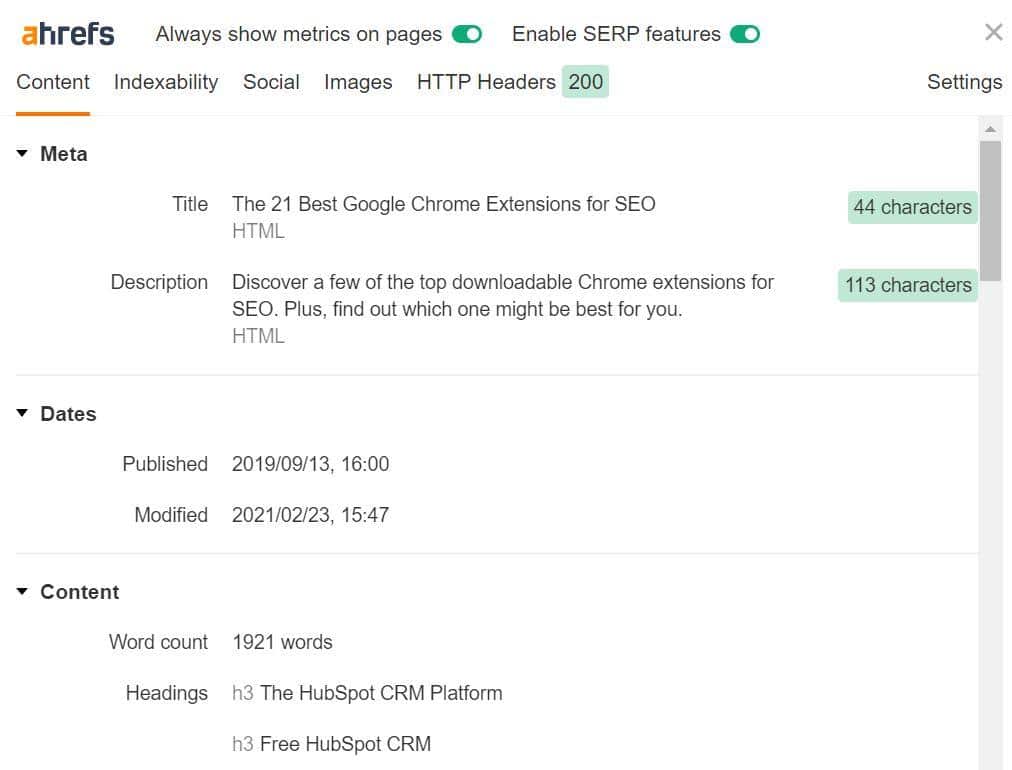 Ahrefs is probably the most popular SEO tool out there. If you know anything about SEO tools, you've probably heard of Ahrefs.
But, although it's a one-stop-shop for all your SEO needs, the tool comes with a hefty price tag, or more appropriately, a monthly subscription.
You don't have to pay to use the Chrome extension though.
The Ahref SEO toolbar provides an overview of the content of a web page, which includes:
Word count
Title
Description
Headings
Other free SEO metrics that you get with the extension are:
Indexability
Social
Images
HTTP Headers
But, of course, for a more detailed analysis, you'd have to invest in its paid version.
If you are an SEO, you probably obsess about your website's rankings.
The good thing is, tracking your rankings isn't difficult or expensive these days.
You can just set up a Chrome extension like FARTRANK and get the data right in your browser.
After installing the extension, go to your site and enter the keyword that you want to check the ranking for.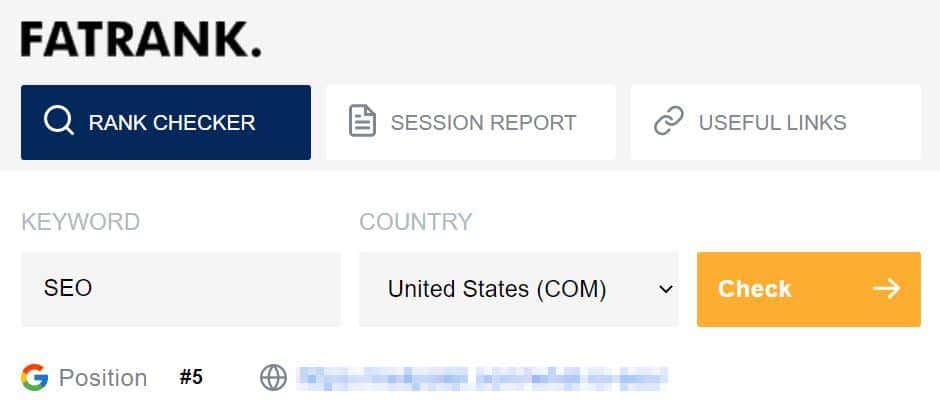 It's a pretty simple tool; all you have to do is enter a keyword and hit "Check". It'll show you the keyword's rank on the SERPs.
On-page SEO is important, but you can't afford to ignore link building, especially if you want to be in the game for the long term.
It's fair to assume that manual backlink outreach is the most time-consuming and overwhelming part of SEO.
But, it's the best way to generate high-quality backlinks.
The first step in a manual outreach strategy is reaching out to blog owners on their email addresses.
But, finding these emails can eat into your time. Thankfully, there is an extension for that, too.
You can use Ninja Outreach to extract all the domains associated with a domain.
Once you have a list of email addresses for a particular domain, you can start creating custom emails for the owners.
Even small errors in your SEO can compromise your rankings.
While meta tags might look insignificant, they can have a huge impact on your traffic.
So, you need to make sure your site is fully optimized for them.
Meta SEO Inspector extension reports such errors to help you keep your site flawless.
Ubersuggest is one of the popular SEO Chrome extensions in the market.
Every time you search for a keyword, the extension will give you the search volume for it and a bunch of related keywords.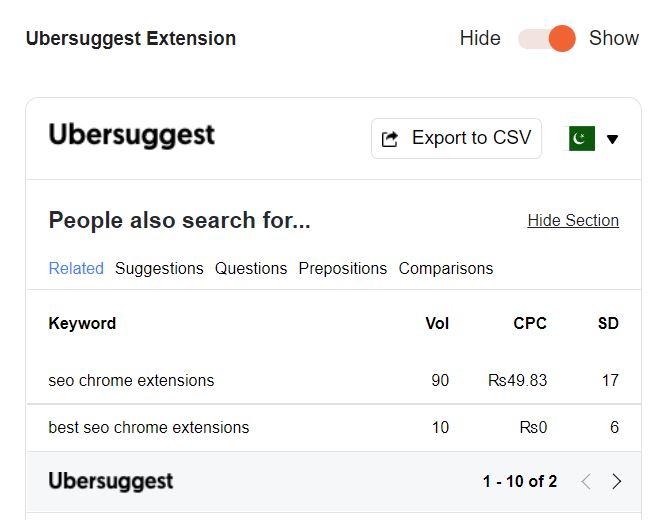 You can click on a keyword under the "People also search for" box, and the tool will redirect you to the keyword dashboard for detailed analytics.
Final Thoughts
These were our favorite SEO Chrome extensions. There are a lot of them and you don't need to use them all.
Here is what you can do: Use a combination of them to make sure all of your SEO needs are covered.
Most of these extensions are free, so there is nothing to lose. Try them out and see which ones suit your style.