7 Best Keywords Everywhere Alternatives for Easy Keyword Research
Looking for the best Keywords Everywhere alternatives? This is the post for you as we are going to look for the perfect Keywords everywhere replacement for you. 
Whether you are looking for a free keyword research tool or hoping to upgrade to the best paid Keywords Everywhere alternative, we have got you covered.
This list reviews some of our favorite tools for keyword research. We'll explore their features, pros, and cons. And we'll offer advice on which one is best for you according to your unique needs.
Lets' jump in.
Why Consider a Keywords Everywhere Alternative?
Most SEOs are looking for an alternative to Keywords Everywhere for one of two reasons… 
Keywords Everywhere Isn't Free Anymore
For years, we've relied on Keywords Everywhere as an awesome free tool for keyword research. Once Google Keyword Planner significantly cut back the information they shared, SEOs everywhere were hungry for a way to get that same information.
Keywords Everywhere was the perfect solution. It displays all of that wonderful data, like search volume and cost-per-click (CPC), right in the browser. It even shows keyword variations, related terms, and longtail variations.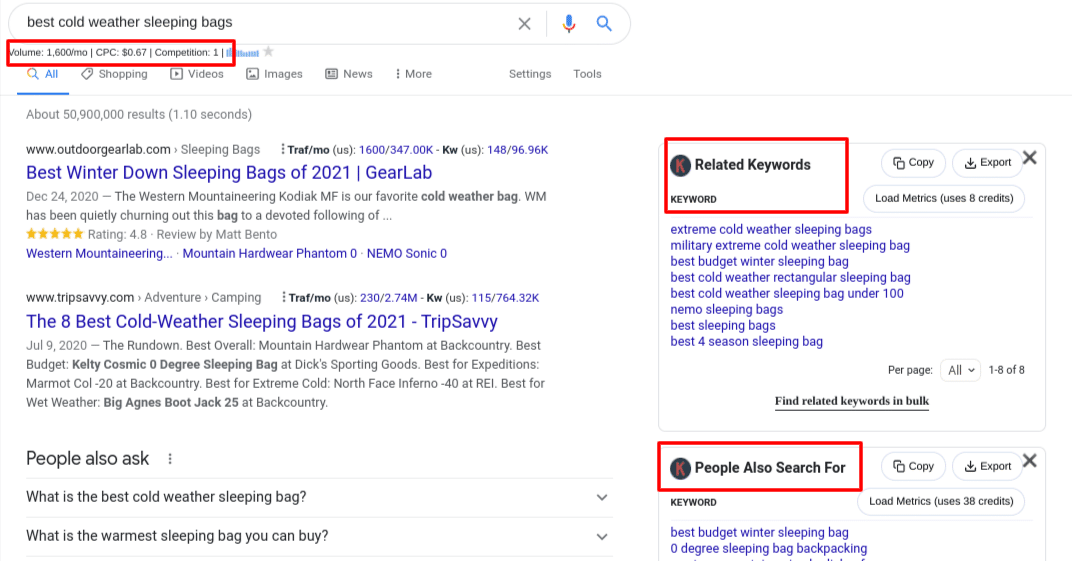 However, in October of 2019, Keywords Everywhere announced that it would no longer be a free tool. Users would have to purchase credits that would be used up for every search term they fetch data for.
So thousands of SEOs across the globe started looking for new free Keywords Everywhere alternatives.
Keywords Everywhere Is Limited
Other people have just outgrown Keywords Everywhere. They've got the budget to invest in a paid tool, and so they are looking for a Keyword Everywhere replacement that simply does more.
It's great for what it does, but search volume, CPC, and a vague "competition" score can only get you so far in SEO. Other tools provide information like…
Difficulty of the keyword based on competitor backlinks

Top ranking keyword of competitor pages

SERP features, such as snippets, local pack, and image carousels
You may also like my article on the best affiliate programs for beginners? Click here
4 Best Free Keywords Everywhere Alternatives
Here are four of our favorite free tools you can use to replace Keywords Everywhere.
#1 Keyword Surfer – Best Keyword Everywhere Replacement 
The Best Free Keywords Everywhere Alternative for Content Planning
Type: Browser Extension
Supported Browsers: Chrome and Firefox
Cost: FREE
Keyword Surfer is a free browser extension for keyword research from the team at SurferSEO. While they are best known for their state-of-the-art Content Editor, they have created what we believe to be the best Keywords Everywhere alternative for planning content.
Just like Keywords Everywhere, this tool provides you with search volume and CPC data. However, it does so much more.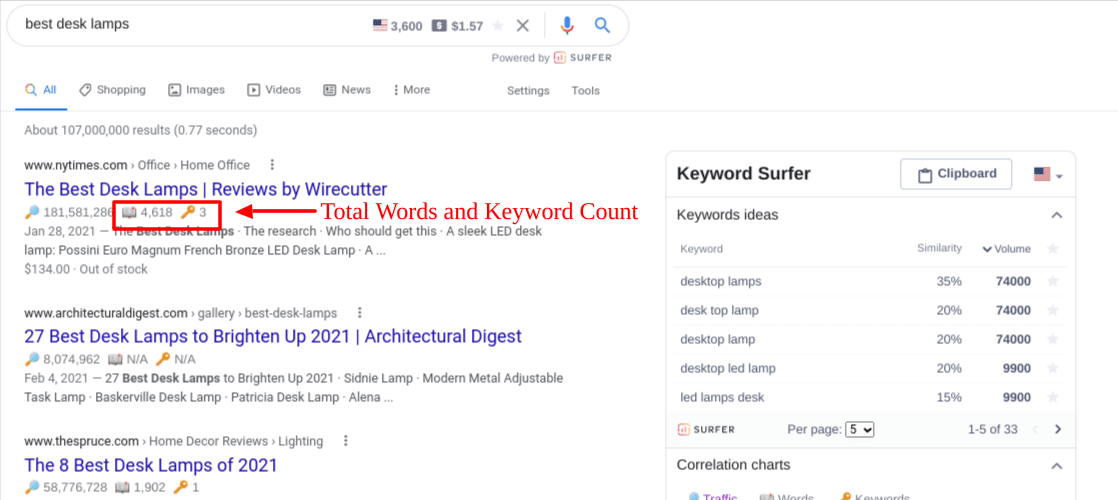 Best Features
Effectively, it's built to reinforce the general theory that Surfer's Content Editor is built on: to beat your competitors, you want to match them as closely as possible in on-page SEO.
To that end, Keyword Surfer also provides you with:
Total word count of each page listed in the SERP. This is awesome because it lets you know what length you'll need to target if you want to match your competition in terms of breadth and depth. Whether you are writing your own content or outsourcing it, this is going to be a game changer.
Keyword count of each page in the SERP. This is the exact number of times that the search term appears in your competitors' content. In other words, you don't need to write to a vague .05% keyword density or some other guess metric. You can see exactly what Google likes to rank and write accordingly.
Similarity score of related keywords. Just like Keywords Everywhere, Surfer will show you a list of similar search terms. But it also shows you the percentage of the current SERP that also ranks for each keyword. 
In other words, if you are searching "best desk lamps", and the tool lists "LED desktop lamps" with a similarity score of 20%, that means that 20% of the top ten pages are also ranking for this related term.
The similarity score can help you find additional terms that are worthwhile featuring in your content.
Limitations
Reports of extension malfunction from users are pretty common on the Chrome Store. For many users, the extension simply stopped working. While there could be any number of issues on the user's end that are the root of the problem, it might also hint at compatibility kinks that the developers still need to work out. But Surfer SEO is a credible name in the SEO SaaS industry, so we have no doubt that they will work the issues out over time.
Lack of off-page analysis does mean that you'll have to use some other sort of tool to get a true sense of your competition. Since Surfer is only looking at on-page factors, you can't use it to get any idea of what sort of backlinks you are going to need to rank for a term.
#2 Ubersuggest
Best Keyword Everywhere Alternative For Backlink Analysis
Type: Browser Plugin
Supported Browsers: Chrome
Cost: FREE
Ubersuggest is Neil Patel's keyword and domain research tool. It provides the most common keyword data SEOs rely on, search volume and CPC. But it also adds in some really helpful off-page SEO data that is lacking in other tools we've used. As far as free SEO tools are concerned, Ubersuggest provides one of the best mixtures of data for keyword research.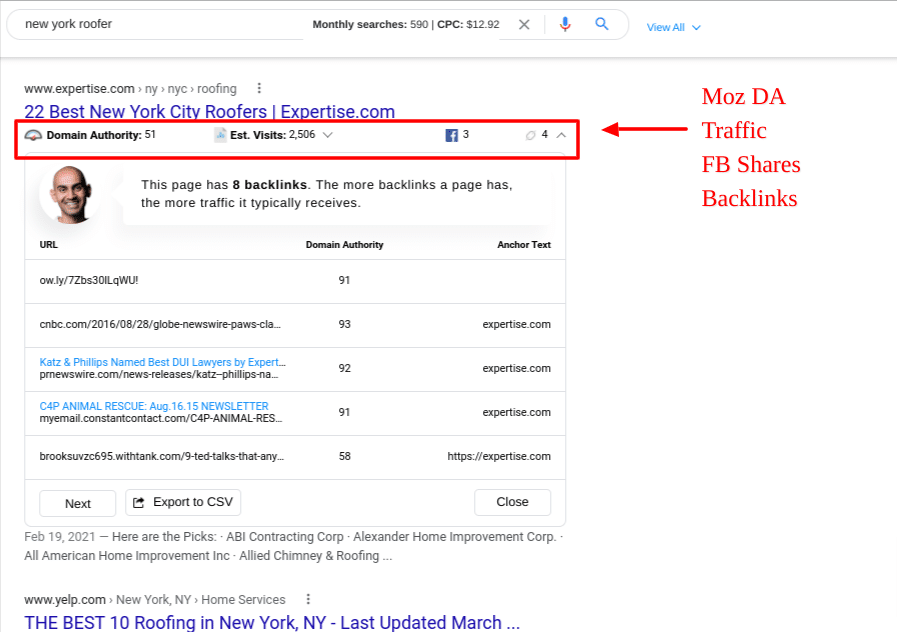 Best Features
Domain Authority (DA) is a metric from Moz that measures the overall strength of a domain. DA can be useful in gauging the difficulty of ranking in a given SERP. While many SEOs rely on the MozBar plugin to get this data, Ubersuggest builds it right in, costing you one less extension to install.
Backlink Analysis is built right into the SERP results. You can see next to each page the raw number of backlinks it has. By expanding the icon, you can see useful information on each backlink, such as where it comes from, the linking domain's DA, and even the anchor text.
Estimated Traffic displays right alongside the other data. By expanding this section, you can see what other terms the page is ranking for. This doesn't just provide you with keyword ideas, it lets you know how much traffic you could potentially earn if you target your search terms effectively.
Limitations
Limited keyword suggestions compared to other tools on our list. Ubersuggest will show you data for "related" terms. However, if you try to click to see the data for "suggestions", "prepositions", or other categories, it redirects you to their web site. You can get the data here, but it's much slower to load and much less convenient than being displayed directly in the SERPs.
Annoying user interface. Sometimes, you will click on something thinking that it is going to expand into more data. Instead, it redirects you to the Ubersuggest website. While you will get used to this over time, it can be a bit frustrating to new users.
#3 WMS Everywhere
Best Keywords Everywhere Lookalike
Type: Browser Extension
Supported Browsers: Chrome
Cost: FREE
WMS Everywhere (or What's My SERP Everywhere) is a pretty obvious Keywords Everywhere clone. The SERP checker tool is free for unlimited use. It serves as a tripwire to get you to sign up for their monthly rank tracker plans. But if all you need is a lightweight extension that replaces Keywords Everywhere, this is probably the most straightforward choice on our list.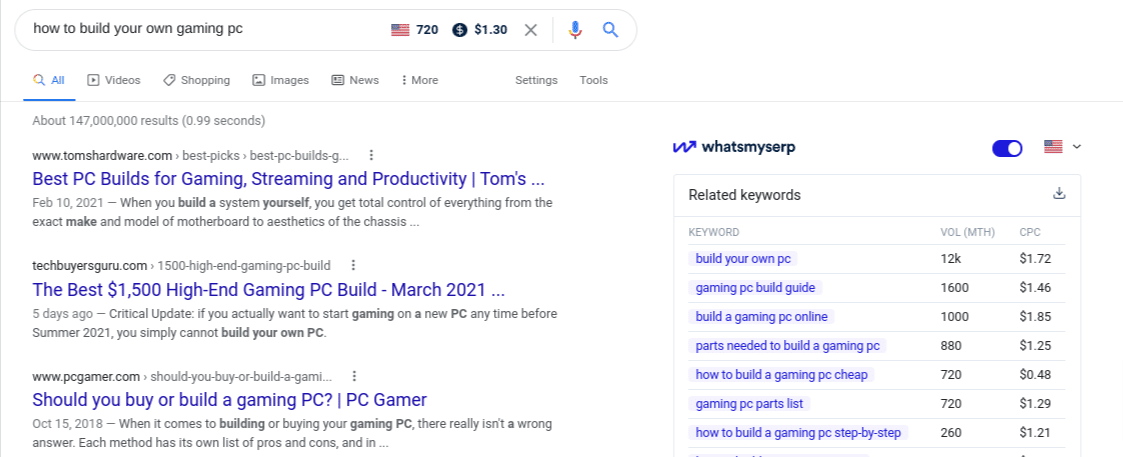 Best Features
Simple design means you don't have a lot of extra data to sift through or feature bloat to bog you down. WMS Everywhere gives you three things: search volume, CPC, and suggested keywords. That's it. It offers everything that most people loved about Keywords Everywhere in a lightweight, free package.
Limitations
Lack of data. Obviously, the best parts of the WMS Chrome extension are also its biggest downfall. It doesn't give you any data on individual pages. Nothing about backlinks, domain authority, or word count. If you are looking for bells and whistles, this isn't the tool for you.
#4 Answer The Public
Best Keyword Research Tool For Generating Topic Ideas
Type: Web-based (no download required)
Cost: FREE 3 searches per day (upgrade for $99/mo for unlimited searches)
Answer The Public is one of the best tools out there for getting keyword ideas. You enter a short seed term (suggested 1 – 2 words) and it returns a TON of suggestions. 
In essence, it is utilizing Google's auto suggest feature to gather all of the possible phrases involving your keyword. Answer The Public then sorts these search terms by category, such as question, preposition, and comparison and displays them in a branching visual diagram.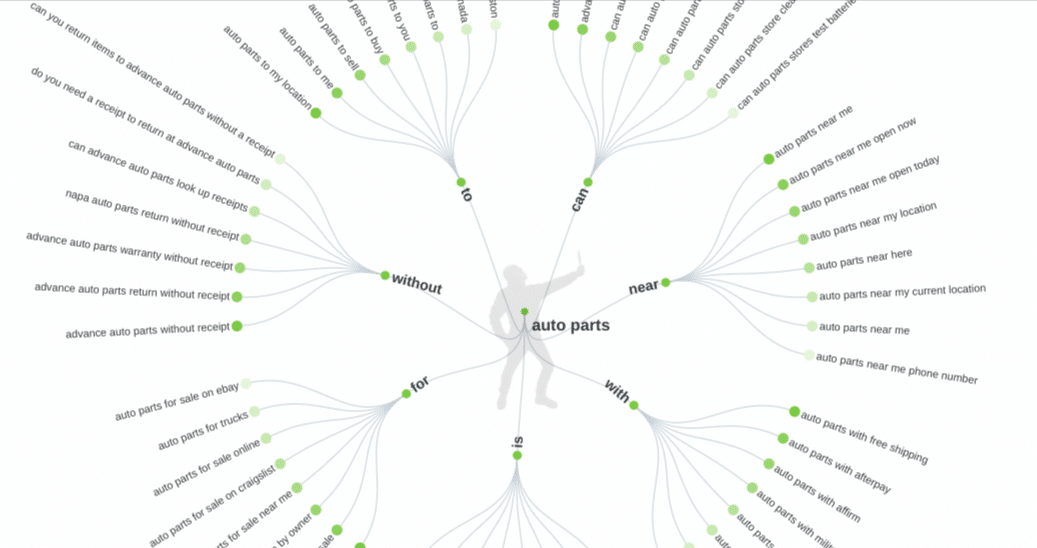 Best Features
The visual keyword diagram is helpful for people who struggle to deal with large blobs of text. It's not for everybody, but we find it helpful as a way to find keywords you would never have considered before. Clicking on a term in the diagram brings you directly to the SERPs, so it can be very powerful when combined with another tool like Keyword Surfer.
Emphasis on "search listening" helps you discover long tail keywords. The theory behind Answer The Public is to listen in on the long tail terms that people search for every single day. Even if these terms don't get much search volume individually, they provide you with untapped insight into what your audience is actually looking for.
Limitations
Only 3 searches per day on the free plan means that you do have to be strategic about how you use Answer The Public. It's not meant for a full work day of niche discovery. Instead, you can use it to expand upon your topic ideas for a niche you've already settled on. Upgrading to the $99/mo Pro Plan provides unlimited searches, as well as features like search listening alerts and comparisons over time.
No keyword data. Answer The Public doesn't provide you with information like search volume or CPC. It's strictly an idea generator. For what it does, it is great. But it's not going to be your all-in-one Keywords Everywhere replacement.
Honorable Mentions: 3 More Keywords Everywhere Replacements At A Glance
There are lots of alternatives to Keywords Everywhere out there. Those are our top 4 free suggestions. 
Here is a quick look at 3 paid alternatives for you to consider depending on exactly what you are looking for.
TubeBuddy
Cost: Freemium (paid plans start at $9/mo)
TubeBuddy is a freemium tool that we highly recommend for anyone doing YouTube SEO. Not only does it make finding YouTube keywords easy, but it also comes with a host of other features to make publishing and managing your channel a breeze.
Ahrefs
Cost: Plans start at $99/mo
Ahrefs is a good all-in-one tool for everything from rank tracking to keyword research to backlink analysis. While the cost isn't justified if you are just using it for keyword research, it gets that job done and more. Most notably, you can use Ahrefs to pull data for all of your competitors' ranking keywords and backlinks, allowing you to easily reverse engineer their success. 
SEMrush
Cost: Freemium (paid plans start at $119.95/mo)
SEMrush is another all-in-one tool like Ahrefs. While Ahrefs generally provides better backlink analysis, SEMrush is ages ahead in PPC data. So, if you are thinking of both paid and organic keyword opportunities, SEMrush is probably a better choice.
Final Thoughts on Keywords Everywhere Alternatives
Keywords Everywhere isn't free anymore. We just have to get over it. If you do really love the tool, though, the price isn't that steep. For just $10 you get 100,000 credits!
Or, if not, I hope that one of these Keyword Everywhere replacements is the right choice for you.
But if you are looking for the best replacement for Keywords Everywhere for free…