Conducting a Content Audit in 2023: 4 Steps to Follow
Do you want to use your content marketing to its fullest potential? It's important to conduct a regular audit of your existing content, as well as any new content you create. Auditing your old content is where the key to success lies.
Without going back and re-evaluating your content, you're missing out on an opportunity to improve it.
You can add new features and make changes that will help your audience engage with your content and drive results for your business.
Benefits of Content Audits
Content audits are an important part of any digital strategy, and they are essential for companies with large amounts of online content.
Content audits help you find which aspects of your company's digital presence are working well and what is lacking. They provide insight into how your audience is interacting.
You can then use this knowledge to better promote or update the areas that need work.
Conducting a content audit is a fantastic way for your business to measure its success and identify growth opportunities.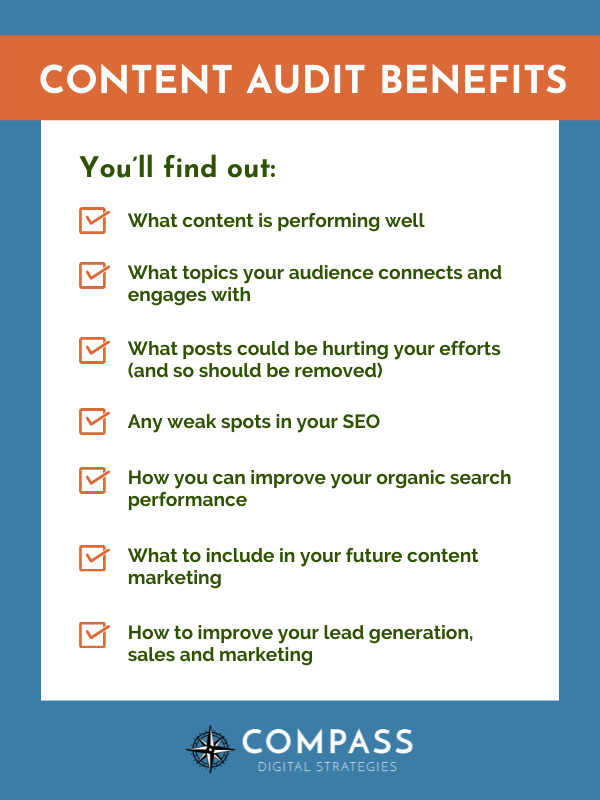 Content audit tools such as Google Analytics, Screaming Frog, SEMrush, and more help you find problem areas on your site by analyzing data from search engines, social media sites and other platforms where you publish content.
By going back through your old content, you'll be able to identify what types of information people are looking for. You can discover how they find it and how they interact with it.
You'll also be able to determine what type of tone works best for different types of audiences and find ways to optimize the information to appeal more directly to them.
Four Essential Steps on How to Audit Your Content
1. Identify Company Goals
To conduct a successful content audit, you need to identify your company goals and how your current content aligns with them.
Improved SEO results? Increased audience engagement? Improved conversion rate?
Once you know what you want from your business, it will be easier to figure out what kind of content is needed.
If you want to identify which topics are popular and create more similar content, you should analyze user behaviour and engagement metrics.
If you want to focus on your SEO performance, check the number of backlinks and analyze your rankings in search engines.
2. Map Out All Your Content
Start by mapping out all of your content on an organizational chart.
This will give you an idea of what needs to be reworked and which parts should be kept.
Then, you'll want to prioritize the items that need work by using a content audit tool (if you want to make it easier on yourself).
Which content are you going to audit?
You can audit the content for product descriptions, blog posts, publications, etc.
To accomplish this, you need to categorize them based on their type, format, number of words or other and collect the URLs of your chosen web pages.
If you have a small website, do this manually and put them in a spreadsheet.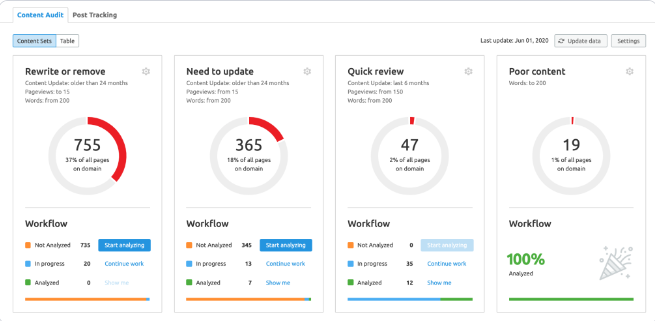 3. Analyze Your Data
Content analytics is the measurement of the state of your content.
This includes things like how many people have viewed your content, how many interactions it has had (comments and likes), and what your engagement rate is.
There are many different ways you can do this, depending on what you want to measure and how deep you want to go into analysis.
When analyzing, here are some things to take note of:
Is there any content that's missing?
Which content could be getting the numbers you want?
What is your audience interested in that you haven't covered yet?
Can you update and optimize the old content, or do you need to remove it?
Which pieces of content are performing extremely well?
4. Adjust Your Content Marketing Strategy with New Findings From Your Audit
Use your collected data to try to assess each piece of content according to your goals, and then divide it into what needs to be done, what you should do more of, and what is no longer needed.
Create an editorial calendar that accounts for these changes and ensures you post on all channels and at the right times of day for each audience segment.
Update your analytics tags on all posts to track how the new content is performing against the old content. This way you can adjust accordingly in the future
Rewrite or remove old articles published more than 2 years ago (those that are underperforming.)
Optimize old pages that are getting some traffic to boost their rankings.
Think about how you can improve new pages that are getting some traffic, too, lately.
Conclusion
The goal of this blog post was to guide you through the process of conducting a content audit for your website.
This can be beneficial for anyone considering how to do a content audit, what is a content audit, or how you know if you need one.
I hope you have gained valuable information on this topic and feel confident about conducting your own website audit.