Global SEO Success: Choosing International SEO URL Structure
While some businesses may focus solely on their home country or the region they are located in, others choose to branch out into international markets with their services and products. Enter… global SEO!
If your business is operating internationally, or you plan to do so in the future, you'll need to ensure your website has an appropriate URL structure that can accommodate different regions around the world.
By doing this, you'll be able to make sure that you don't lose any potential customers due to incorrect URLs. Additionally, your website ranks high on search engines where there are language barriers and other localization challenges.
Your international SEO strategy can be the difference between massive success and utter failure. If you're looking to sell in multiple countries outside of your home base you should consider it.
One way to ensure that your international marketing campaigns are successful is to choose the right global SEO URL structure from the start, so you don't have to retrofit everything down the line.
By following these steps, you can create an international SEO URL structure. It will allow you to focus on your target audience and not on micro-managing multiple sites and unique content strategies for each of your different markets or languages.
What Are Your International Domain Structure Options?
Country-Code Top-Level Domains (ccTLDs)
If you want to target a specific country with your website, using a ccTLD is the best way to go.
A ccTLD is a domain that's been assigned to a specific country, and they're usually two letters long.
For example, .fr is the ccTLD for France, .ca is the ccTLD for Canada, and .uk is the ccTLD for the United Kingdom.
Having a ccTLD can give you an edge in search engine rankings for that particular country.
In this case, having separate domains gives you the option of different content management systems.
The overseas audience is particularly favorable to ccTLD' websites, as they see it as a trustworthy signal.
However, in this case, the domain has to build authority from scratch.
So, it can be costly to build and host a new domain in the short term.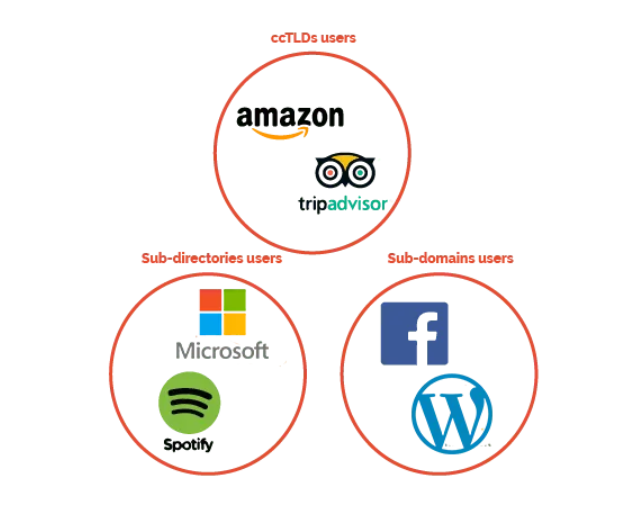 2. Subdomains
Subdomains are a great way to target different regions with your global SEO strategy.
By creating a subdomain for each region, you can ensure that your global SEO services are tailored to the needs of that region.
Plus, by using a separate subdomain for each region, you can avoid any potential penalties from search engines for duplicate content.
Think of them as parts of the larger domain that can be treated separately, like having different subfolders for different markets.
Subdomains sit in front of the main domain, such as ny.companyname.com, for a business targeting the New York market.
A company can choose to use subdomains to target multiple markets for its content, as long as it utilizes the appropriate href lang tag attributes to allow search engines to serve the content to the correct markets.
Subdomains maintain some connection to the current authority of the main website, which can help the performance when launching in a new country.
However, they are considered a separate entity to the parent domain for links, so each link building is critical for success.
3. Subdirectories (Subfolders)
Subdirectories are displayed in the URL and change the location of the country code:
mybusiness.com/ny/
They allow you to structure and organize domestic-targeted content and are the first option for businesses looking to expand abroad.
It involves having the company domain sit on a .com generic top-level domain (gTLD)—the industry standard for international sites.
However, the website would require separate subdirectories on the domain for different markets, such as:
www.mybusiness.com/uk
www.mybusiness.com/it
As well as language-specific backlinks.
They help signal Google that they are aimed at different markets.
Subfolders are a good option if you're comfortable technically, as you can get the job done using only what you've got.
What URL Structure Is Right for You?
The first step in any global SEO strategy is choosing the right URL structure for your website.
There are a few different options, and the one you choose will depend on your goals and objectives.
If you have a huge branding budget and can easily build up domain authority and handle multiple domains, then ccTLDs are a good way to go.
If you want a quick setup that is also cheap and easy, then subdomains are a good option to get your foreign website versions out.
However, if you plan on expanding to multiple territories and sharing any authority built across each country, it may be best to choose the subdirectory route.
Choosing this URL structure can also be less pricey than purchasing and hosting numerous ccTLDs.

Keep in mind that there's no one-size-fits-all approach.
You need to take a goooooooood, thorough look at your business and consider your marketing budget, the cost, the site performance, your overall objectives, the level of localization you want/need, etc.
After all, as part of your global digital strategy and global SEO optimization, domain structure is a crucial decision — so you need to get it right the first time.