The Ultimate Guide To Earning Guest Post Links
Guest post links…
The Big Kahuna of link building campaigns everywhere.
The coveted holy grail of authority and relevance.
The white hat SEO's best friend and their competitors' worst enemy.
Everybody wants them, but so few have them. But why are guest posts so hard to earn? And, more importantly, what can you do to win more of them?
That's exactly what this guide is going to cover.
Over the years, I've built up a massive number of relationships with real websites and blogs in all manner of niches. They have become a network of reliable, authoritative guest post links that I've used again and again to rank my own sites and those of my clients.
So in this guide, I want to share the love and reveal to you a four phase process that you can use to build some of the best links possible for SEO.
Why Guest Posts?
Before I dive into my repeatable, scalable process of earning guest post links, I want to spend a little bit of time talking about why these links are worth the effort.
And believe me, they do take effort.
But once you understand the benefits of guest post links, you'll be more motivated to put in the hard work that is required of them.
Here are three of the biggest benefits of guest post links:
Guest post links are about as white hat as you can get.
When it comes to powerful, contextual links, you've basically got three options:
Earn organic backlinks from bloggers who happen to discover and link to your content.

Build or buy links on a private blog network (PBN).

Win guest posts through authentic outreach.
Option 1 is a pipe dream for pretty much any site that isn't already very well-established. If your clients are paying you for SEO, they don't want to wait around for years to be discovered. They want results.
Option 2 is the approach that many SEO agencies take. When you build PBN links, you've got 100% control over anchor text. The biggest problem here is that they are a direct violation of Google's guidelines, and poorly built PBNs do run the risk of attracting a penalty. This problem is compounded if you are buying PBN links rather than building the sites out yourself.
Option 3 gives us the best of both worlds. You are publishing a link on a real live site with real readers. You aren't running the risks of using PBNs, but you do have (almost) complete control over how you link to your money site.
Guest post links deliver power AND traffic.
Obviously, the primary goal of link building is to pass authority and relevance to your own site in order to boost your position in the SERPs. PBNs and guest posts can do this equally well.
However, guest posts provide you more bang for your buck because they can also bring a good dose of referral traffic. Since your link is being placed within a blog post that is going to be read by real people, you should see a slow trickle of traffic from users who click through.
Assuming that the blog you are guest posting on is highly relevant to your own, this traffic should convert fairly well.
Guest post links are a reusable asset.
Perhaps most importantly of all, once you build a relationship with a webmaster or blogger, you'll have a lasting source of powerful backlinks.
Generally speaking, guest post outreach is win-win. You are earning an authentic link and the hosting website is earning quality content. There's no reason that the deal has to end after one guest post.
After putting in the hard work to earn the title of guest contributor, you will likely be able to post to the same site for years on end to build links for yourself or your clients. You could even resell these links to other SEOs.
Phase 1: Finding Sites to Target
Okay, so you are on board with the power of guest post links. Now let's get into the meat of this guide—how to actually earn them.
I'm going to break it down into 4 phases for you. And the first one is to come up with a massive list of sites that you want to target.
Guest post outreach is a numbers game. You are going to send a ton of emails, and you are going to get ignored or rejected a lot. Much more than the number of times you get a "Yes!"
That means you've got to find a lot of sites to target. Here are 3 ways to do it…
#1 Spy On Your Competitors
In essence, SEO is all about finding out what your competition is doing and then going one step further. Well, that principle holds true for guest post outreach too.
With this method, you are going to use your backlink explorer of choice, such as ahrefs or SERPed. Plug in your top competitors and see where they are getting all of their backlinks from.
Depending on the niche or industry, you may have a lot of directory citations and other low power links to sift through. But you should be able to pretty quickly tell which links are coming from blogs just by looking at the url.
Take a minute to view the linking posts and determine if they were written by a guest contributor. If so, then you have a good chance of being able to score a link from the exact same website. Add them to your list!
#2 Search Google
There are TONS of websites out there that are actively looking for guest contributors. They've got pages on their menu like "Write For Us" or "Contribute to Our Site" where people like you can apply for guest post spots.
The good thing about these sites is that they should be very easy to land posts on. The downside is that, in SEO, anything that is easier to acquire is generally less powerful. But still, as long as the site looks clean and relevant, a link is a link.
To find these sites, you want to search Google using combinations of your keyword plus terms that are likely to show up on pages offering guest post opportunities. Here is a short list to get you started, but you can likely brainstorm dozens more:
KEYWORD "guest post"

KEYWORD "submit an article"

KEYWORD "write for us"

KEYWORD "guest post submitted by"

KEYWORD "become a contributor"

KEYWORD "guest post guidelines"

KEYWORD "guest posts wanted"

KEYWORD "guest post opportunities"
Try these searches with variations of your keyword too. Or even just your niche, industry, or topic. Add all of the sites that look relevant to your growing list of guest post opportunities.
#3 Mine Social Media
Social media can be a great place to find guest opportunities that might not turn up with the first two methods. This is basically a variation on the Google search method we just covered, but aimed at social networks instead.
Target social media sites that allow you to search public posts, not just those in your circle of friends. Twitter is usually a gold mine for these.
Just search something along the lines of guest post KEYWORD. The results will be full of blogs, news sites, and authors tweeting about recent guest post submissions. Like this…
As you hunt on Twitter and other social media sites, take a look at the websites sharing their guest posts. Determine if they are a good fit for you and add them to your list.
Don't Forget Link Building 101
In all the excitement of finding sites that might accept guest posts, don't overlook the fundamentals of link building. Just because a website looks like it will let you write for them doesn't mean it's a good fit for you.
Does it have a good link profile? If the site doesn't have good links, it's not going to pass a lot of power to you. If it's spammy, it could do more harm than good.
Is it a real website? Make sure that you aren't just getting a post on a well-disguised PBN. Look for active engagement from readers and some sort of social media presence.
Are the links on guest posts contextual? If the site is going to bury your link in a byline, it's not going to be as powerful. So you have to decide if it will be worth the effort.
Phase 2: Topic Research
Once you've got a list of 50 – 100 sites created, it's time to start planning the content you want to publish.
Resist whatever urge you have at this point to just start emailing the webmasters willy-nilly. You've got to treat it as a pitch. The more planning you put into it, the more "Yes" responses you'll receive.
The goal in phase 2 is to come up with killer topics that your targets are going to have a hard time rejecting. Remember, a good guest post relationship should be win-win.
Here's what to do…
Find viral headlines.
Most of the sites on your list probably have a pretty good foothold in your niche. So they likely know what sort of content does well.
Your job is to learn that and give it to them.
An easy way to do this is with BuzzSumo. Among other features, BuzzSumo will take your keyword and show you posts from around the web that earn a lot of engagement on social media.
Such as this post on garage organization that received 2900 signals on Facebook and Pinterest combined: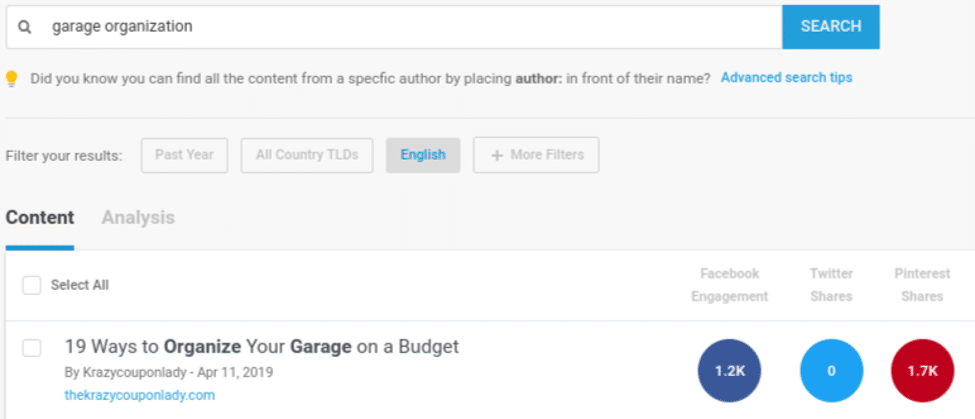 Browse Your Targets' Popular Posts.
Another way to find topics that will help your outreach succeed is to look at the most popular stuff on the sites you are targeting.
Many blogs will have a section or sidebar widget that collects popular or trending posts. Browse through these on several of your target sites, write down the headlines, and look for common threads between them.
For example, maybe you notice that listicles are popular across the board, or that case studies tend to get a lot of comments. Now you have two post types that you can plan your topic brainstorm around.
Brainstorm at Least 10 Solid Headlines.
After searching BuzzSumo and browsing your target sites' trending topics, it's time to come up with your own list of award winning ideas.
Start with at least 10. That way, if you've got a list of 100 sites to contact and manage to land 10% of them, you'll have enough content to go around.
Your goal is to craft engaging headlines that mimic the ones you just researched without ripping them off completely.
Phase 3: Outreach. Outreach. Outreach.
Alright. Here is where we really get into things.
If you thought the process felt grindy so far, just wait and see. Phase 3 is where you actually start to contact all those bloggers and webmasters, putting your best foot forward in hopes of landing the coveted guest post spot.
I'll remind you of what I said earlier: expect a lot of doors to be slammed in your face. In fact, expect some people to be downright rude.
Be prepared to shake it off and keep on grinding.
A Model Pitch [Don't Use This!]
Alright, I'm going to give you a sample email to use.
With the caveat that you shouldn't use it.
Why? Because it's not going to sound like "you". Guest post outreach is about forming lasting relationships. You've got to be genuine.
When you send the email, don't think "Here's my chance to earn a good link." Instead, think "Here's my chance to make a good friend."
So read this example, get to know it, and then use it to craft something that sounds genuinely like you.
Hi [Name],
My name is Chris, and I've been following [Website] a lot lately. Great stuff you put out!
I really dug the post you published about [Article] last week, and I'm actually writing to see if you are accepting guest posts about similar topics.
I've been publishing a lot of content like that on my own site: [My Website]. I am trying to reach new audiences, so I would love the opportunity to write something for you. Here are a few of the headlines I am working on fleshing out right now:
Headline 1
Headline 2
Headline 3
If you take a look at this piece I published [insert link], you'll see that I try to bring a fresh angle to everything that I write. Let me know if you think my style would be a good fit for your readers.
Thanks so much for your time, and I look forward to reading more of your stuff.
Chris
Follow Up
If you send 100 emails, you'll get 100 different reactions. They all fall into one of three categories:
The YES. Nothing is more invigorating than someone accepting your guest post idea. Be sure to follow-up with these ASAP so that you don't let the opportunity slip.
Find out their deadlines, format standards, and anything else you need to know in order to hit your first guest post with them out of the park.
The NO. Rejection comes in all shapes and sizes. Some are apologetic. Some are angry. Some are confusing. The best thing you can do is offer a "Thanks for your consideration." style response.
Don't try to jam your foot in the doorway like a sleazy salesman and don't try to defend yourself. Just move on.
The IGNORE. Don't be insulted if you receive no response at all. It could be a passive "no", but you'll never know for sure unless you follow up. Your best bet here is to assume that they just missed your email (think of all the emails you've missed in your life).
Here's your plan of action for all of the IGNOREs on your list…
Leave meaty, authentic comments on their next 3 to 4 blog posts.

Send a follow-up email after you've commented on several posts. This should be along the same lines as the first email but just modified to say something like "I was wondering if you saw my last message."
The purpose of the blog comments (beyond forming a relationship), is to stand out in their mind. It will either spark their memory to check on that first email that they forgot to respond to. Or it will prime them to be more receptive to the follow-up.
You can decide how comfortable you are with staying on top of your ignore list. Some people repeat this cycle until they get a response either way. Others don't like to push it beyond one or two follow-up emails.
Phase 4: Craft Your Content Strategically
Finally, you've got a big (or hopefully at least medium) list of webmasters who have agreed to let you publish a guest post on their site. Now it's time to create some content that will ensure this is the start of a long lasting relationship.
If you play your cards right in phase 4, they will be so knocked out by your content that they'll be begging you to write more for them. Here are some tips…
Write a LOT.
Long form content is not just more likely to rank well in Google, it's just perceived as more worthwhile by bloggers. Give them at least 2,000 words of value adding goodness. But don't be afraid to push it even further.
No one is going to reject more topical relevance being published to their website. Just make sure you aren't fluffling it up with unnecessary details.
Provide something of value.
You want to give them a post that their readers will love. Make it real, authentic, and helpful. If you can include plenty of custom screenshots or examples from your own experiences, do it. If you can't, find a way to.
That's the sort of stuff that earns shares, makes webmasters happy, and establishes you as a go-to source for quality content.
Place your links strategically.
However many links you are allowed to include in your post (different websites will have different guidelines), you want to be mindful about where you place them.
Remember, this isn't a PBN. Real people will be reading your post. You have an opportunity to capture their attention and drive them to your website.
So place your links in places where your audience is likely to follow them. A good practice, if you are allowed at least 2 links, is as follows:
Place one link in the first half of the post, at a point where it is clear that a curious reader will get more information if they click.

Place one link at the end of the post, to encourage people who stick with you to the end to learn more about the topic.
Don't be a stranger.
Once your masterpiece is published, don't ghost on the guest post. Subscribe to be notified of comments or check in from time to time. If the blogger shares it on social media, follow those posts as well.
When their readers start engaging with your post, be sure to engage back. Answer questions, thank people for reading, or otherwise find ways to make a connection with the audience. Your host will appreciate it and be much more likely to welcome you back in the future.
Or Maybe… You Could Skip To The Front of The Line
So that's the process in a nutshell:
Find your targets.

Brainstorm headlines.

Email and follow-up.

Write really good stuff.
As you can see, it's no cakewalk. It's easy to understand why so many SEO agencies rely so heavily on PBNs.
Performing guest post outreach on scale to be able to provide an adequate supply of links for all of your clients could take months, or even years.
Don't get me wrong. It's worth the investment.
I spent years building up the guest post network for Superstar SEO that has helped me rank hundreds of clients with safe, powerful, whitehat backlinks.
But you might not have that kind of time to invest. Or maybe you just need the links sooner rather than later.
That's exactly what my Done For You White Label Program is for.
It's for SEO agencies like you who are looking to avoid the wait, skip to the front of the line, and get access to the safest guest post links that the market has to offer.
These are real sites. With real traffic. That I've trusted with my clients for years.
And now, you can trust them with your clients too.