How To Buy PBN Backlinks: The Ultimate Guide
SEO is hard.
There is so much competition, but only 10 spots on the first page.
Luckily for you, we're going to walk you through an unfair advantage, which is:
How to buy PBN links
What the risks involved are
How to deal with the risks and mitigate them
So if you're looking to buy PBN links and dominate organic search, keep reading.
Why Buy PBN Backlinks?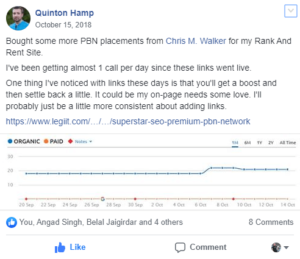 PBN links are one of the most powerful backlinks you can build.  Not only this, but you also have full control over PBN sites, which makes their links so effective.
Besides this, they are also affordable and have very few risks when done properly.
What Risks Are Involved?
Although PBN backlinks are usually safe when done properly, they do carry a few risks:
Penalties – The worst-case scenario is a penalty, although this is not as common as people make it out to be.
For them to be de-indexed – When Google is sure that a website is a PBN, they will often de-index it from their search engine, which will stop the link from being effective.
The cool thing about a PBN, though, is that you have full control over it. So, if you get a penalty, you could remove the links, appeal, and get it removed… Not as dramatic as people make it out to be, right?
Yep, and for your private blog networks to even get de-indexed… Google has to be 100% sure it's a PBN.
Want to learn how to build your own PBN? Check out my article on how to build a PBN (without getting penalized)
Buy PBN Links- The Top 4 Services By Trusted Vendors
I have been using PBN backlinks since 2014, have built 1000's of my own, and have also purchased links from others.
So below, I have made a list of trusted vendors that sell PBN backlinks (including my own). The good thing about all of these vendors is that they provide A* support, so if you ever would want a link to be removed, they'll do it for you.
True story: I once got asked to remove a PBN because it was too powerful.

1. SuperstarSEO Private Blog Network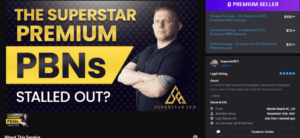 My PBN network is the same one I use for my own sites and clients. I've been selling these since around 2015, and my clients and I have seen consistent ranking increases from them.
Key features:
TF 15+
Permanent links on home page
Handwritten 300-word article
No footprints
Min Quantity: 1
2. SaketWahi PBNs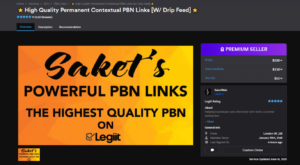 Saket has the best-selling PBN service on Legiit and has also been providing consistent results for years.
I also did an interview with him about PBN links, and he also creates some great content on his YouTube channel. 
Key features:
Permanent links
Drip-feed links
Niche-relevant 300-word article
Min Quantity: 5
3. HatredPBNs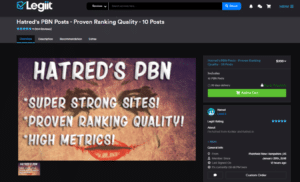 Hatred is also one of the best PBN vendors in the SEO community. He's been around for quite some time and has some very powerful links that get results. You can check out his service here.
Min Quantity: 10
Drip feed
High-quality sites
Handwritten content
4. MissingLinks PBNs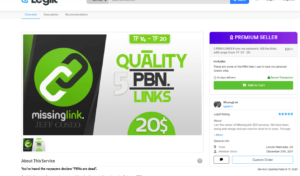 MissingLinks is a brand owned by Jeff Coseo, who is also a coach in the SuperstarSEO academy. He offers a variety of other SEO services, and of course, sells his PBNs as well.
Min Quantity: 5
Permanent private blog network links
Trust flow 14+
Find More PBN Services on Legiit

The four vendors I have mentioned above aren't the only good PBN vendors. There are plenty of them on Legiit, the #1 SEO marketplace on the internet.
It's used by some top internet marketing influencers like Craig Campbell SEO, Nico Moreno, Nick Ponte, and many more.
And besides buying PBN backlinks, you can also find other link-building services which are pretty effective.
So, if you haven't signed up, you can create a free account by clicking the link below.
Sign Up For a FREE Legiit Account
Mixing Up Links & Anchor Text
One of the essential tips if you are going to use PBNs, is to mix up your anchor text and the type of links you build.
If you only build PBNs, Google is much more likely to realize that you're using them. Plus, they're also going to figure out that you're the owner of those PBNs.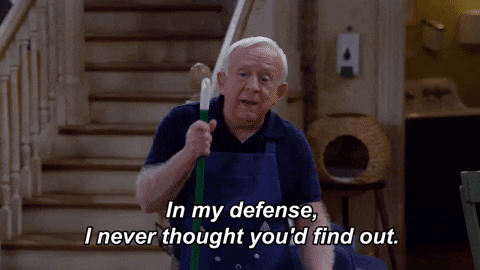 When it comes to the anchor text, you really want to ensure that you only use a tiny percentage of exact match anchor texts.
Besides that, you should also build links with:
Generic (i.e., click here, read more, this article, etc.)
Branded (i.e., your brand)
Partial-match (part of the keyword)
Naked URL anchor text (www.your URL)
A mix of this looks natural.
For those who don't know what anchor text means, the text links to your website from another site.
You May Also Like: SEO Marketing Strategy
Final Thoughts
That's it! I hope you have enjoyed this article on how to buy PBN links. If you want to build your own PBN links, I suggest reading my other guide on building a PBN.
If you have any questions about PBNs, link-building, or SEO in general, you can join the SuperstarSEO Facebook group with over 74,000+ members.
You can also read some of the related articles down below.
LegiitLeads Review (Must-have for Agency owners!)
How To Build Backlinks For Ecommerce SEO 
How To Fix Google Core Web Vitals
Buy PBN Backlinks: Frequently Asked Questions
Finally, I also wanted to answer some frequently asked questions about buying PBNs.
What Metrics Are Most Important For PBN Links?
While you shouldn't purely focus on metrics, I like to use trust flow from Majestics. This is because it seems to be the most reliable metric and the one that's least manipulated.
However, I always suggest reading beyond the metrics and ensuring that the overall profile is good. For example, with trust flow, a lot of it could come from one link, which you want to avoid.
What Is The Best Place To Buy PBN Links?
The best place to buy PBN links is Legiit. Not only are you protected as a customer, but it also has the most reputable PBN vendors of the whole SEO community. Plus, the prices are affordable as well – so you really can't go wrong.
How Would a Search Engine Find Out Your Using PBNs?
Some of the ways Google may find out that you are using PBNs are:
If you don't mix them enough with other links
Using the same hosting accounts
Not purchasing privacy
How Many Referring Domains Is Good?
I usually look for domains that have around a 10 referring domain count. This means they aren't spammed, and if they have a couple of high-authority links pointing to them, you should get quite a lot of value from them.
What Does PBN Stand For?
PBN stands for private blog network and is a network of sites you or a vendor owns. However, they usually have expired domains that already have link juice from when their owners previously used them.
The vendor usually doesn't leave any footprints to ensure that search engines won't find a private blog network.
Is Buying PBN Links White Hat?
No PBN links are not white-hat. But the truth is most link-building, especially when purchased, is not white-hat.
The whole white-hat vs. black-hat is quite silly, as the best approach is to optimize for the ranking factors. And links are a ranking factor.