What Are Niche Edits And How Do They Work?
Niche edits have been around for a while now. However, in the past, they were called curated links and "contextual links." Usually, they were a part of the so-called "link begging" strategy. So, for most people who have been out of the SEO game for a while, all these links are the same. The links are contextual, placed on websites with good traffic and age to rank a website for targeted keywords.
For those who don't know, niche edit links are placed in an existing, mostly already indexed article. It saves you the hassle of drafting the article, something you'd have to do with a regular guest post and is consequently cheaper. Yet it is every bit as powerful if not more.
How are Niche Edits Different from Other Links?
SEO gurus agree that contextual links are the most powerful types of links out there and so by adding a link to an existing blog post or article instead of creating a new one, there is a higher probability of receiving more link juice. So, out of all the insertion links, a niche edit is the best thing you can do to rank a keyword.
Not only is getting niche edit links easier as compared to guest posting but they are the same in terms of their ability to rank your website and here is why:
No need to write a guest post, get it approved, and then published.
Most website owners are perfectly ok with accepting outbound insertion links from their website, so as long as it does appear to be spammy. Ironically, this is how guest posting kicked off because back then, most bloggers would instead get a free guest post than accept a link.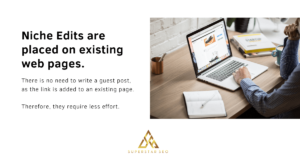 What Hat is Niche Edit Links?
It all depends on how that link was acquired if Matt Cutts is to be believed. For instance, Google is perfectly ok with you reaching out to a blogger and saying, "Hey, you are linking to this page and mine is better and offers this, please consider linking to mine too." That would be considered white hat insertion links.
It would be considered grey hat if you reached out to the same site owner as above and said: "link to my content and here is some money to do it."
Blackhat would be using some like SAPE to inject links into otherwise compromised websites. So, in essence, it is how you get the link that matters to Google.
Conclusion
Like all link building strategies incorporated into your SEO strategy, it pays to be careful. Even with niche edits, you need to be cautious about balancing your anchor text diversity as well as velocity while ensuring that the links are coming from highly relevant sites.
Even though cheap niche edit links are proven to work, but they shouldn't be your sole SEO tactic. Make sure to mix it into your PBN, guest post, and Press Release strategy. Not to mention putting out quality content, because we all know how much Google likes quality and even quantity!
Read More on SEO
If you would like to read more about SEO, you can also check out some of the related posts below.