How to Use Barnacle SEO Tactics to Boost Your Rankings | 2023
Barnacle SEO is an effective strategy for boosting your rankings in search engine results pages (SERPs).
It involves using other websites and blogs to build links that point to your own website or blog.
By leveraging the authority of these sites, you can help your website rank higher in SERPs and drive more organic traffic to your site.
In this blog post, we'll explore how to use Barnacle SEO tactics to help you get more visibility and traffic in 2023.
What Is Barnacle SEO, and Why Is It Important?
The key idea behind Barnacle SEO is to increase your website's exposure on other sites, which then boosts your rankings in organic search engine results.
Research shows that 49% of marketers declare organic search is the best ROI compared to the other marketing channels.
So, it's a great way to maximize your SEO efforts and maximize your reach, especially if you're running a small business or working on a limited budget.
Barnacle SEO is important because it can help you get more visitors to your website.
By leveraging the trust and authority of external sites, you can get more people to visit your website and, in turn, generate more leads and sales.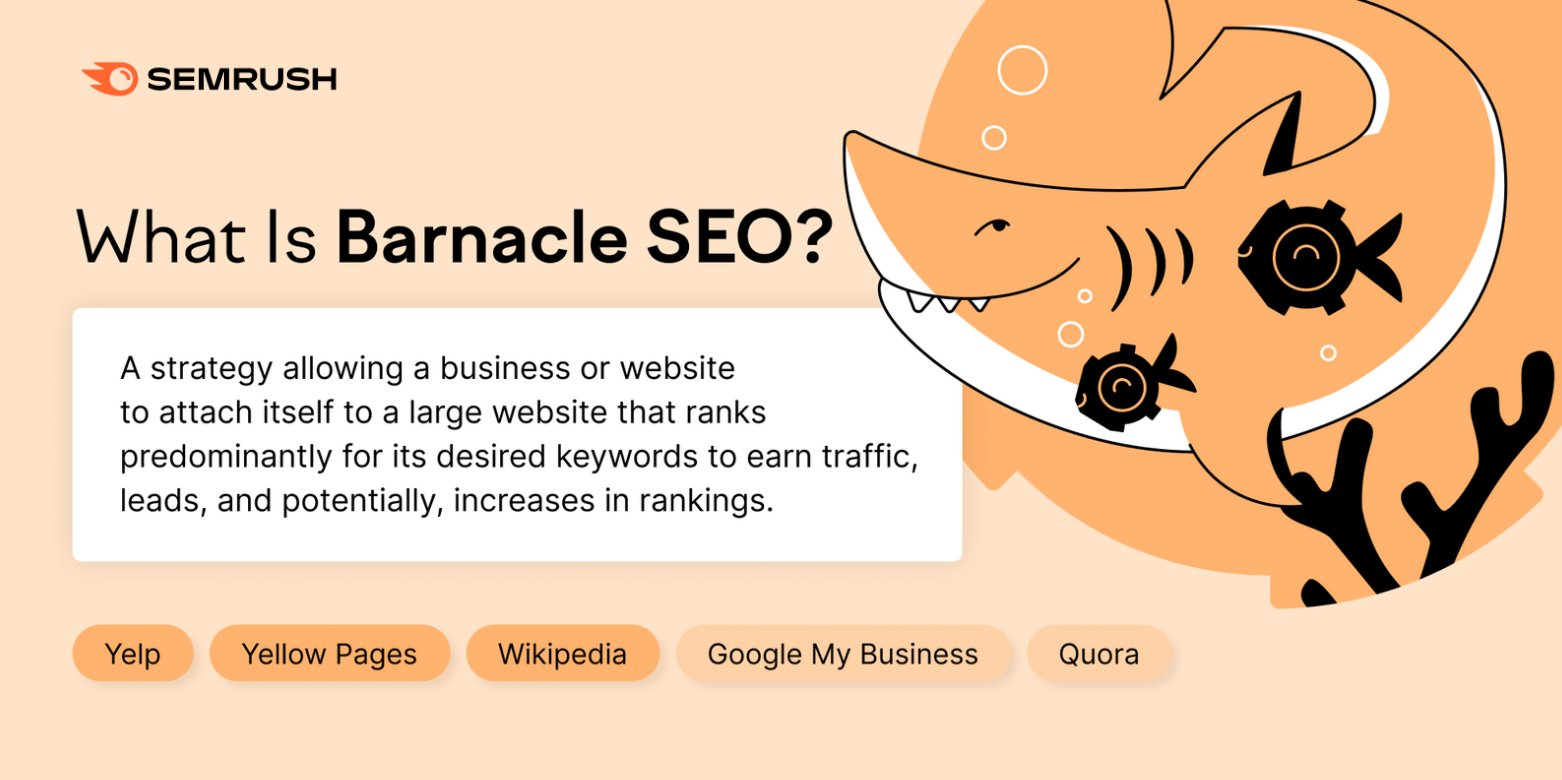 This type of optimization also helps build relationships with other industry-related websites, which can be invaluable in terms of future collaborations.
It requires some time and effort, but the results can be worth it in the long run.
With the right tactics, you can increase your website traffic, attract more customers, and ultimately improve your bottom line.
How to Take Advantage of Barnacle SEO
1. Do Some Keyword Research
Keyword research is one of the most important aspects of any SEO strategy, and Barnacle SEO is no exception.
By doing keyword research, you can determine which terms are the most relevant to your target audience and have the greatest barnacle SEO importance.
With keyword research, you can also determine which pages on other sites are ranking highly for those terms, which can help you decide where to place your content in order to boost your visibility.
2. Identify Valuable Sites That Target Your Potential Customers
When looking for potential Barnacle SEO opportunities, you should focus on sites that have a large amount of traffic and a relevant audience.
When you target websites that your potential customers visit, you can increase the chances of them visiting your own website too.
To find these types of sites, you can use a tool like Ahrefs or Semrush to analyze your competitors' backlinks.
You can also look at their organic search rankings to get an idea of which websites they're targeting.
Once you've identified potential sites, you should also analyze their content strategy and see what kind of content they produce and promote.
3. Consider Guest Blogging
Guest blogging is a great way to boost your website's visibility and generate more traffic.
If you know how to be a proper guest blogger, you will be able to reach a larger audience who are interested in the same topics as you.
This gives you the opportunity to link back to your own site and gain authority in your niche.
Moreover, guest blogging offers a great way for you to showcase your knowledge and establish yourself as an expert in your field.
You can show potential customers what makes your business unique and why they should choose you over other competitors.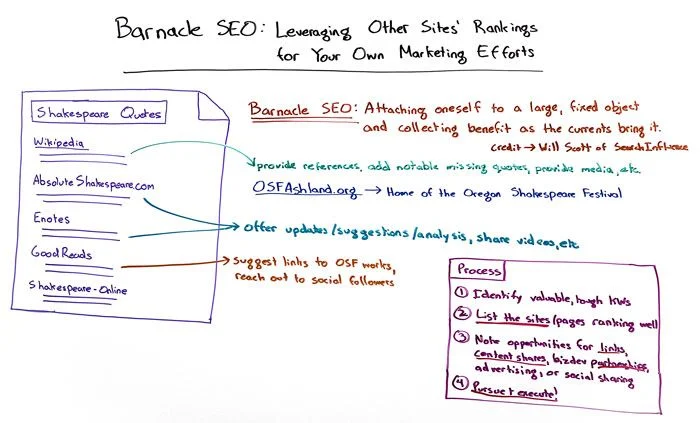 4. Think About Affiliate Marketing
Affiliate marketing is an important part of any barnacle SEO strategy, and before you say anything… No, it's not saturated!
Affiliate marketing can be an effective way to generate more targeted traffic to your website, increase brand recognition and build relationships with industry leaders.
With affiliate marketing, you can create win-win scenarios for both your business and the affiliate partners who promote your products or services.
The affiliate gets a commission when they refer customers to your website, while you benefit from additional web traffic and potential sales.
Bottom Line
Barnacle SEO is an important tool for businesses of all sizes who want to improve their online presence and boost their rankings.
It is a great way to get more traffic and visibility by leveraging existing high-traffic sites that are related to your niche.
By doing keyword research, identifying valuable sites, guest blogging, and considering affiliate marketing, businesses can make the most of Barnacle SEO and benefit from increased visibility and rankings.