Curated Links – The Most Important Part of Your Link Building Strategy
Curated links, also referred to as curated backlinks or curated link building, has over the years become an immensely effective way of building quality backlinks. While some people new to SEO might be on the fence about it, most SEOs and link builders swear by it as long as you do it correctly. Allow me to explain.
To start using curated links effective to rank a website, and grow your revenue or put a smile on your clients' faces, you need to understand a few things, such as:
What are these links?
How do they benefit your SEO strategy?
How to get them? (Legiit wink)
The best way to use link curation or contextual links
Now that we've got all that out of the way let's start unpacking these one at a time.
What Are Curated Links?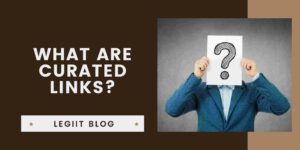 Curated links are chosen to be added to specific content. Think of it as curated content, but with links being curated for the content.
Curated refers to something being chosen for a purpose and happens to be organized in a way to help facilitate it. You may have heard this term in the art world a lot because it applies to pieces that are hand-picked to be displayed at an art show or part of a collection that expresses their value and depth.
As of late, the term has been applied to building links or, should we say, a specific type of link building. The term fits perfectly because the links are added to existing content in the context of the website it is linking out to.
So, links are chosen specifically for the content. While this may sound ultra-simple, the fact is that this is a lot more complex than your garden variety link building.
If you were to take a specific piece of content on, let's say, Toyota cars, once that post is published, and links to an existing piece about the Corolla are inserted, it helps pass on link juice, helping the page rank. But this is unlike guest post links, which require publishing a new article.
Unlike in the past, SEOs have understood that content other than what's considered evergreen is often demoted in the eyes of Google's SERPs after some time. That's why they need to refresh their content to stay on top.
The need to practice updating existing content has made it the norm to share updated content and links to other relevant content. So, not only does a good, curated link pass link juice, but it also helps pull in visitors.  The key is getting the link placements right.
In other words, when done right, curated links aren't just creating relevance in Google's eyes but also to readers. However, these links need to be inserted into ideally fresh pieces of content and one from trusted sources. Both of these are pretty hard to do, as it turns out.
It has now become possible for brands to curate select pieces of content from other websites that they think meet their and users' needs. It is similar to getting a backlink from a trusted related site in your industry. Good links build authority on the web that helps improve the site's search engine rankings.
Most Common Types of Curated Links
Generally, these will involve using guest blog posts tied to one of the more established posts. This technique helps to keep users reading, and it also means that they will click on links within the blog to find other relevant content.
Also, if a user lands on a page with older content, an existing blog post, it is linked to the newer guest blog post, meaning they will most certainly want to read it. Everyone wants to know about the latest and greatest, which means lots of free traffic from just having a link in the right place. That's how curated links are extremely powerful at building relevancy.
The beauty of this approach is that it makes it easier to create relevant content clusters without needing to invest in content creation. This is beneficial for comparatively less established websites with otherwise thin content. Plus, less established websites will experience a boost in traffic, helping to develop the brand.
Are Curated Links Black Hat – Is Getting A Curated Link Safe?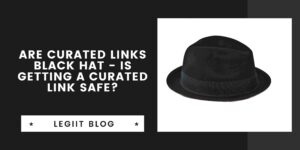 It isn't Blackhat, but grey hat in the eyes of Google. That said, Google paints all forms or link purchases as part of a Blackhat strategy.  But how else can a startup website get a good link placement?
For instance, if you buy a guest post link on an established blog, Google calls it Blackhat, but if you put it there for free, it isn't. How Google determines who paid for a post and who didn't is still unclear.
At the moment, we know that Google cannot tell if someone has purchased a link or earned one. However, if the person selling links sends out mass emails advertising all the websites they are selling links from, there is a good chance that Google knows about these sites.
The idea here isn't just to buy links but to create relevant links from content that matter. That's, after all these, what these refer to.
That's why Legiit is the only place where we'd recommend you buy guest posts and even curated links. But as we'll examine later in the article, there are other reasons top SEOs choose to buy their curated backlinks from sellers on Legiit.
What's the Difference Between Niche Edits and Curated Links?
They are one in the same thing. Some people call them niche edits, others call them curated backlinks, and many sellers on Legiit call them curated links. Regardless of what they are called, you're getting the same thing. Often it is a link from a relevant blog post.
Curated links mainly involve inserting a new link into already indexed, relevant and ranking content. Often this will mean, as indicated previously in this article, that the link will be inserted into a blog post that links back to a newer post.
Sellers on Legiit will find high-ranking, well-performing existing and relevant content to insert a link to your web page. The goal is to make it look as natural as possible, which can be easier said than done.
It is essential to highlight that curated links are unlike guest posting for backlinks. The quality of niche edits, like the ones available on Legiit, offers much more link juice, helping you rank sooner by building authority. That's because you're getting the rare opportunity to tap into what's already working aka ranking. You don't have to roll the dice on a new guest blog post and hope it turns sixes.
Google also enjoys existing, established content. So, unless you're searching for the outcome of yesterday's game, there is a very high probability that most results you see are from already established posts.
That's another reason why getting a link placed in this type of content helps to boost your visibility significantly, plus, as cited above, get more traffic from those links too.
The Objective Of Getting Curated Links
Before you head on to your favorite Legiit seller's page to buy a few curated links, it is worth taking a few minutes to understand the purpose and intent behind these links.
A lot like you would only build backlinks from and to a trusted source to help improve your brand's image and reputation, the objective of curated links is to be used to educate readers. You don't want a dozen curated links going to a single irrelevant page. Not to mention too many outbound links from the originating page can have the adverse effect.
Think of it this way: does your website and the page you want to rank have helpful content? Content that readers from the pages you link to will find useful?
So, if you're running a website selling watches online, you'll want to get a link back from a website about watches. Ideally, the post on your site should offer something of value, such as the latest watch review, a list of places to buy genuine watches and what to avoid when buying a branded watch.
When you get a curated link from a relevant source, pointing to a relevant page on your website, that's when curated links have the potential to be a game changer for you.
Fortunately, Legiit sellers have been selling high-quality niche edits for years and can help newbie buyers. In fact, Legiit is the only place to buy niche edits that move the needle so as long as it is for relevant websites.
Sellers on Legiit do some amazing stuff, no doubt, but what niche edit sellers can pull off is on whole different levels. That's why the platform has become the only place for people seeking high-quality niche edits or high-quality backlinks that promise to help their pages rank.
However, for that to happen, there are a few things you'd want to do before ordering niche edits, which we'll dive into in the next section.
Checklist Before Ordering Niche Edits on Legiit
We want to be clear that sellers on Legiit will not turn down service because you've not followed these steps. However, if your goal is to use niche edits or curated links to rank, then it's essential to take these steps to maximize your odds of making it happen.
Write Surfer SEO Optimized Content – Whether it is your service page, blog post, or any other page on your website if you build links to it, the page has to be optimized. The best way to be assured of optimized content is to get it Surfer SEO optimized; that way, your content is primed to rank. Fortunately, many sellers on Legiit can help you with that too.
Build good internal links – Your blog post, service, page, or any other page you want to rank should be part of a good internal linking structure. Even the best, most expensive links can't do anything for your site if their internal linking structure is broken.
Write valuable content – Google's Helpful Content update has meant it is worth investing in content that delivers what the user wants to learn or know. So, take the time out to independently audit your content.
Once you have the above in place, please choose from our lovely, curated link vendors on Legiit and place your order.
You will want to be clear about your industry and provide a link to the post or page you want to rank using these curated links. Then sit back and relax!
Why Is Legiit the Only Platform With People Selling Curated Links?
I may have alluded to this earlier that finding niche edit opportunities and getting the link requires quite a bit of Blackmagic. It is the kind of magic only a handful of seasoned SEOs can perform, and they call Legiit home.
If anything, our niche edit sellers have been at it for years, they have developed a sense for what works, and that has meant that they have continued to deliver results consistently. Many leading agencies rely on Legiit for quality niche edits; the proof is in the reviews!
Plus, extra care is taken by using a protection spell to make sure Google does not find out you're buying these high-quality links. In other words, they are safe to use, but you need to know how to use them! Hopefully, now you know.
Want to move the needle on your website? Legiit's Curated Links is the ideal way to do it.