2022 Mobile SEO Best Practices: Everything You Need to Know
The landscape of the search engine results page has changed dramatically over the past few years as more and more people use mobile devices to access it. Which has made it a necessity to be updated about mobile SEO best practices.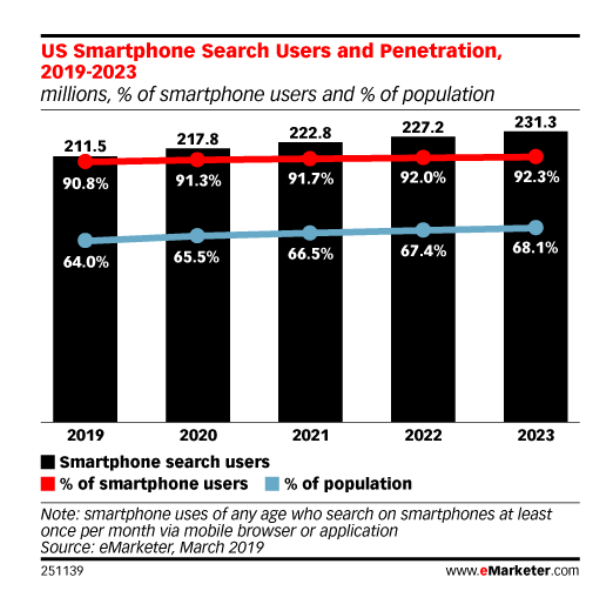 According to Statista, up to April 2022, there were five billion internet users worldwide or 63% of the global population.
This increase in mobile traffic has caused a lot of confusion over which search engine optimization best practices actually work today and how they'll work in the future.
Fortunately, there are some simple things you can do to make sure your business benefits from these changes in 2022.
But, first…
How Does Mobile SEO Work?
Mobile SEO is the process of optimizing a website for mobile devices.
As mobile devices have (and will) become increasingly popular, it's important that your website is accessible on all devices – be smartphones or tablets.
A mobile SEO strategy should be tailored specifically for each website. Also, mobile SEO best practices aren't a one-size-fits-all solution.
So, keep that in mind when reading this article.
However, one thing that's always true is that with mobile SEO is that your website must be user-friendly and easy to navigate.
A mobile SEO service can help you achieve this by optimizing your website for mobile devices.
Why Is Mobile SEO Critical in 2022?
With mobile internet usage now surpassing desktop usage, it's more important than ever to have a mobile-friendly website.
This means not only having a responsive design but also optimizing your site for mobile search.
A mobile SEO service can help you do this by auditing your site and making recommendations for improvement.
They can also help you develop a mobile SEO strategy that takes into account the unique needs of your business.
If you are not sure why you should focus on mobile SEO best practices, here are some reasons that will convince you:
Mobile search (59%) has exceeded desktop searches
Mobile user experience matters for almost every brand and industry
Mobile sales are on the rise compared to sales on brick and mortar stores
Mobile SEO impacts local and voice search

What Is Google's Mobile-First Index?
Google's mobile-first index is the search engine's way of making sure that mobile users have the best possible experience when using their service.
In order to do this, Google ranks websites based on how well they work on mobile devices.
This means that if you want your website to be visible in Google's search results, you must ensure that it is optimized for mobile devices.
Before this update, Google's index would use a mix of desktop and mobile results.
So if you searched from your iPhone, Google would even show you mobile results.
However, this doesn't mean that there is a separate mobile-first index.
If you have separate URLs, Google will show the mobile URL to your mobile audience and the desktop URL to your desktop audience.
So, you are all set if your site:
Loads different resources across all devices
Shows the same content on mobile versions just like on desktop
Loads quickly and smoothly
Has working internal links and redirects
Has an optimized UX for any device that your audience uses
Optimize Your Website for Mobile
1. Have Good Mobile UX
One of the mobile SEO best practices is having a responsive website with good mobile UX.
This means that your website should be easy to navigate on a mobile device and load quickly.
Additionally, your content should be easily accessible and readable on a small screen.
Other things to keep in mind are using short and descriptive titles and optimizing your images for mobile devices.
Following these best practices will help you succeed in the ever-changing world of mobile SEO.
A good mobile UX helps improve your click-through rate because if users are able to quickly find what they are looking for on your site, they will stick around more.
2. Make Sure Google Can Crawl and Index Everything
When it comes to mobile SEO best practices, the first thing you need to do is make sure that Google can crawl and index everything on your site.
This means ensuring that your site is well-structured and has a clear hierarchy.
You should also use responsive design and serve different content to mobile users.
Also, make sure that Googlebot can access and crawl JavaScript, CSS, and images.
After all, it's critical that your site gets indexed by Google.
If you want to check if your site is mobile-friendly, there are several free tools you can use from Google.
For example, you can use the "URL Inspection" tool (a replacement for "Fetch as Google") in Google Search Console.
Simply enter your website URL there, and the tool will tell you how Googlebot renders your content.
3. Keyword Research for Mobile
In order to improve your mobile SEO, you need to know which keywords are most important for your business.
To find out, start by brainstorming a list of terms related to your products or services.
Then, use keyword research tools to get search volume data and further insights into each keyword.
Once you have a good understanding of the keywords you should be targeting, you can start optimizing your website for them.
Beware of the differences between mobile SEO vs. desktop SEO, as there are a few things you should keep in mind for mobile keyword ranking.
4. Consider AMP and PWAs
In order to ensure your website is mobile-friendly in 2022, you should consider using Accelerated Mobile Pages (AMP) and Progressive Web Apps (PWAs).
AMP is an open-source HTML framework that allows web pages to load faster on mobile devices.
Generally, CSS and other design elements are limited while using AMP.
This means that a generic form of your webpage will be displayed (instead of the full design.)
According to Google, analytics for AMP currently has more limited capabilities than standard analytics.

On the other hand, PWAs are web apps that can be installed on a user's device.
So, think of it as a cross between a website and an application that works on all browsers and devices.
A PWA can be downloaded directly from the browser.
Both AMPs and PWAs can improve the user experience on your website and help you rank higher in mobile search results.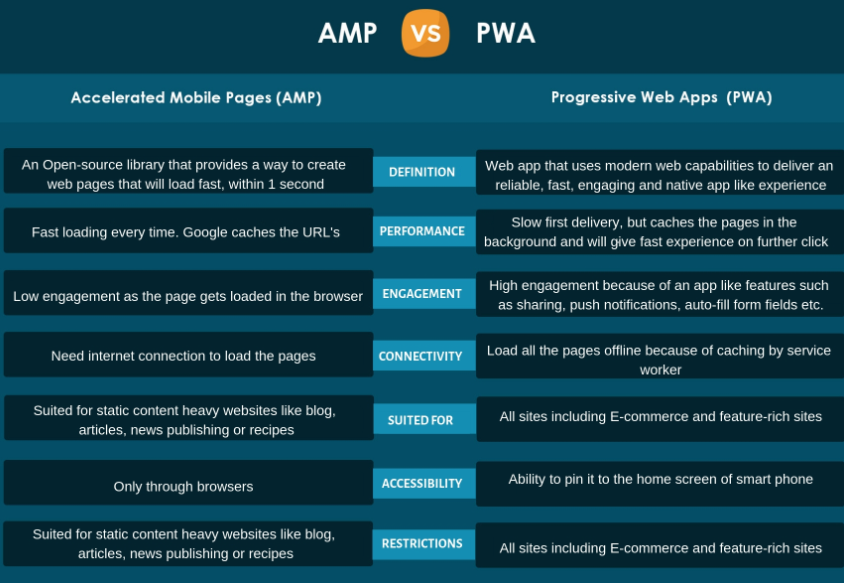 5. Optimize for Local Search
One of the mobile SEO best practices includes optimizing for local search.
As more people use their smartphones for local searches, it's essential to ensure your business is visible in these search results.
There has been substantial growth in "____nearby" and "near me" searches in recent years.
Almost every single people uses their smartphones outside their living places and a lot of this usage results in local queries.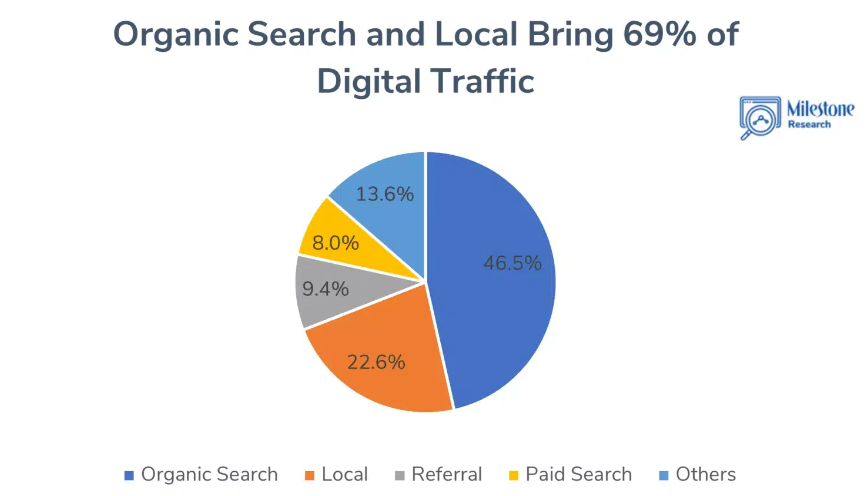 This calls for local SEO implementation, so your website or content shows up in the results whenever someone searches locally.
In order to do that, you have to write content specifically for local searches while referencing your local business and area.
6. Configure Your Site for Mobile
No matter what type of device your audience uses, you want to ensure your site is optimized for their experience.
To manage screen views of multiple types and sizes, Google allows us to implement a mobile-friendly website in 3 ways.
Mobile-friendly website (dynamic serving ) – In this configuration, the URL doesn't change for different devices. However, different versions of HTML and CSS are served for mobile and desktop.
Mobile Optimized (separate URL) – This website configuration works by detecting the user's device and serving the optimized URL for that device. However, it is not recommended even by Google

Responsive design – This configuration means that your website must be designed so that it can easily adapt and "respond" to different screen sizes and types.
Is there a real winner between these configurations? You can find out here.
7. Think About ASO If You Have an App
ASO is the process of optimizing a mobile app for the purpose of achieving a higher rank in an app store's search results.
The better your app's ranking, the more visible it is to potential users, which can lead to more downloads.
ASO is important because it can help you acquire new users and retain existing ones.
However, keep in mind that ASO and SEO are similar only in the context of increasing ranking.
For SEO, there are various external factors that impact its success, and usually, content plays a huge factor.
In ASO, the focus is on stimulating better user engagement and boosting conversion rates – with few external factors impacting the success.
Final Remarks
In conclusion, these are the 2022 mobile SEO best practices you need to know.
One might think that mobile SEO is important only if you are an eCommerce store owner and you are 100% wrong (sorry, not sorry.)
The number of mobile internet users will only increase, and with that, you will definitely be left behind the competition.
So, by following these tips, you can ensure your website is mobile-friendly and optimized for search engines.
Choose the proper website configuration for your brand, business, and audience.
Use short, descriptive titles and meta descriptions.
Optimize your images and videos for mobile devices.
Come up with a checklist so you can keep track of your to-dos and/or metrics and performance.
And finally, keep an eye on the latest trends and developments in mobile SEO so you can stay ahead of the curve.
If it's too much work, you can always lend the helping hand of a freelancer on Legiit for everything related to SEO, marketing, web design, and much more.