Mobile SEO Best Practices For Every Website
You've built a great mobile-optimized website; you're hard at work optimizing your content and how it performs. You've poked around in the innards of Google's search algorithm, but what can you do to further shore up your rankings? What do you know about mobile SEO best practices?
Here are some great tips to help you both optimize your mobile site so that you can increase your traffic, ranking, and conversions.
A short introduction to mobile SEO and why you should care?
Mobile SEO is an overarching term that refers to a variety of strategies you can employ to optimize your website for mobile users.
If you're looking to gain an edge over your competitors, mobile is one of your best bets.
As much as 67% of people are more likely to buy from a mobile-friendly company.
Since more and more people use their phones to search the web, Google is more and more prioritizing mobile when crawling and indexing websites.
Mobile has completely reshaped our marketing landscape; it's time to catch up. Here are some tips to help you get started with Mobile SEO
These mobile SEO best practices will help you increase traffic and conversion.
1. Create a responsive site
Responsive design is a mobile SEO strategy that solves a very real problem.
Mobile devices are now used more often than PCs, so it's critical to develop your website with mobile users in mind.
To do so, create a responsive site—one that adapts its layout to fit any screen size.
The bottom line: Your website needs to work on both desktop and mobile browsers; focus on how people use their phones when deciding how to present information online.
2. Improve your page's speed
One of your top priorities when mobile SEO is ensuring that your website loads fast.
In fact, Google considers speed to be one of its 200 ranking factors, as it is proven by its PageSpeed Insights tool, but there are other free tools as well.
So if you're not seeing success with your mobile SEO strategy, make sure you're keeping an eye on page speed.
Optimizing for mobile pages will also boost overall website speed—so there's double value in optimizing for mobile users!

After all, today's consumers want everything quickly and now.
If you don't cater to those needs, they'll find someone who does!
3. Focus on user experience
The best advice for mobile SEO optimization is simple—build a better website.
That might sound intimidating, but if you focus on creating a great user experience across devices, your website will rank higher.
Focus on what makes sense from a user standpoint and include information that's useful to your readers, like customer reviews and product descriptions.
Users want to be able to access all content on their smartphones and tablets, and they want it to work well.
They don't want to have to scroll through long lists of links or pages because this makes it difficult for them to find what they are looking for.
4. Allow JavaScript and image formats
Formatting your site for mobile devices is not enough.
There are some simple mobile SEO best practices that you can put into place on your website, including rewriting and relocating your JavaScript and allowing image formats, which increases mobile traffic.
If you have an old site, these elements are blocked from mobile crawlers because they aren't supported, but that needs to be fixed now.
Allowing smartphone crawlers to index every aspect of your site allows them to rank your page and inform Google whether you have a responsive website.
5. Use Easy-to-find calls to actions
In order to monitor mobile SEO, you have to have a handle on what's going on with your site.
If you don't have a designated place where users can easily find mobile-specific calls to action, you need to add one now.
It should also include a link to your website's existing mobile site or app (if applicable) for easier access for both first-time and returning visitors.
Give mobile users a reason to stay on your site.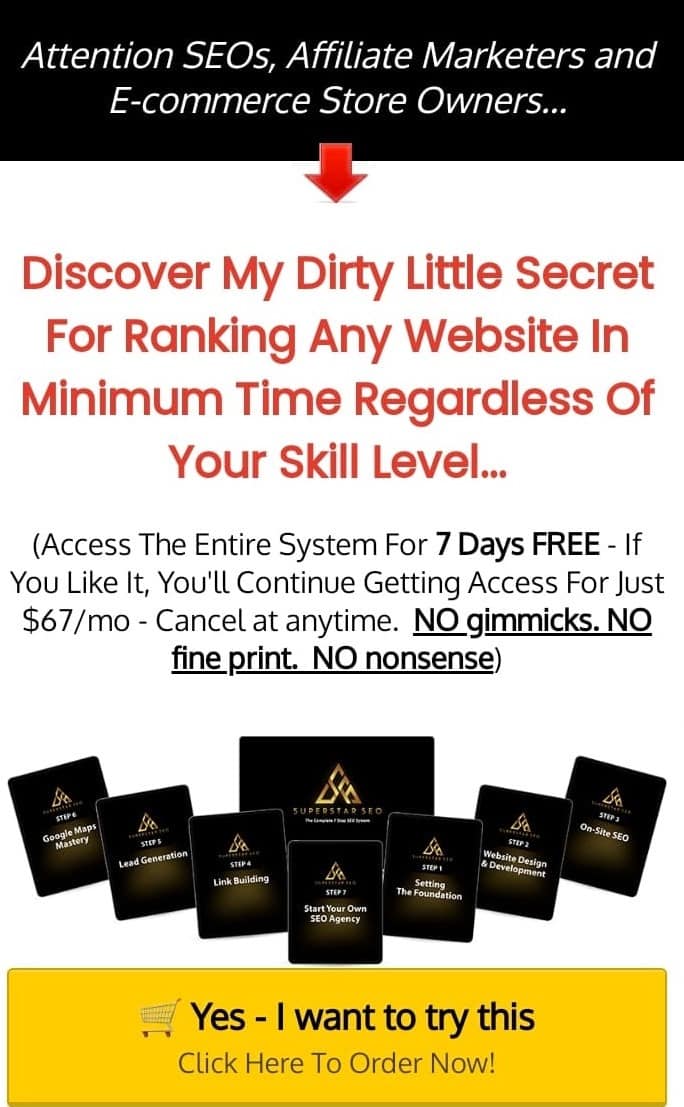 Calls to action in mobile design should be big, prominent, and easy to find.
It's common sense that people look at their phones differently than they do their desktops—but most businesses don't realize just how different until they try creating mobile-specific calls to action that mimic what they currently have on their website.
Conclusion
Regardless of your skill level, mobile SEO optimization should be top of mind for all marketers, whether you're building a brand new site or optimizing an existing one.
Mobile search is a huge opportunity for every business.
So, if you want to rank highly on Google's mobile SERPs, it's important to keep in mind how people search from their mobile devices.
Mobile searchers are looking for answers to problems that are specific to their everyday lives.
They might be looking for directions or places nearby or searching for products or services that can fulfill a need right away.
All of these factors come into play when optimizing your website for mobile search, so make sure you're paying attention to each of them as you develop your strategy.
As such, using the above-mentioned mobile SEO best practices will ensure you're optimizing your content and building a great user experience.