Social media has enhanced the concept of the world becoming a global village in terms of connectivity and trade.
Internet users flock to these social media platforms to connect and buy or sell. Likewise, today's corporate world invests heavily in social media presence to prospect and make sales.
In fact, most corporates are making a hefty social media marketing budget to ensure they remain relevant as they prospect on potential customers and build brand awareness.
For some, the social platforms inform their buying decisions and are the start of their customer journey.
Social media e-commerce is a broad term that can incorporate these three aspects:
Social commerce- This is where businesses sell directly to customers on social platforms. They include having a Facebook shop or an Instagram shop.
Social selling- Here, businesses prospect on would-be clients
Social media e-commerce marketing- This is comprehensive as it involves digital marketing, social commerce and social selling.
For this post, we'll dwell on social commerce, its potential in being a full-blown business, and its effectiveness in offering a seamless customer experience.
Benefits of Social Media eCommerce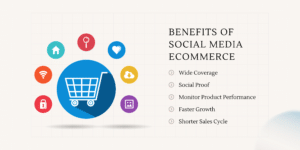 If your business is not investing in a heavy social media presence, you are ignorant.
With social media today, it's simple you either shape up or ship out where you will be leaving money on the table, which is sure is not your goal.
some of the many benefits of social commerce include:
1. Wide Coverage
Social media platforms are global. Once you set up your Facebook shop and apply the right marketing strategies, then the world is your oyster.
All you need to do is offer a seamless and reliable experience, and you are good to go. It's only a matter of time if you put in the work before you start seeing the results in numbers.
You will be shipping your products miles away from the comfort of your showroom.
2. Social Proof
Social media channels give you a chance to prove your worth. If you can take care of your customers by being reliable and ensuring you deliver, then you are on your way to success.
Your customers' reviews and recommendations have a significant impact on the success of your business model. Remember, you are dealing directly with the customer on socials, and their experience is bound to be spread and relied upon by other potential clients.
Social listening is critical since you have an engaged audience; their reaction and responses should point you in the right direction.
Manage your end-to-end customer experience to gain positive reviews. This will direct the social media algorithms with the active engagement to your site, giving you a larger target audience.
3. Monitor Product Performance
The social channels give you a chance to track the performance of your sales in real-time. As a result, it's possible to evaluate the customer habits which will inform your future growth strategies.
The direct customers model offered by social media networks can potentially help you reduce losses. You will manage mishaps in good time through their feedback before the damage is spread.
You also get to know the fast and slow movers, which will help you manage your inventory.
You can gain valuable insights by using the tools and features offered by the platforms, such as A/B marketing tests.
4. Faster Growth
Using a social platform as your sales vehicle allows you to scale your business faster than physical stores.
Given the broad coverage mentioned earlier, you should be in a position to make more sales in record time. Refine your sales process and make the purchase process for your customers seamless, and the search engines won't be able to ignore you, given the vast engagement.
Endeavor to direct traffic to your business page using the relevant keywords and visual content to reach your target customer, and you will be unstoppable.
5. Shorter Sales Cycle
Traditionally, it would take forever to complete a single sales cycle in the brick and mortar era, as many would opt out midway.
Today, social media enables retailers to engage and convert leads quickly. This means you can convert prospects fast and make more sales without losing them to competitors midway through their purchase journey.
Similar Article – The Essential Guide To Instagram eCommerce In 2021
How to Drive Sales on Social Media Platforms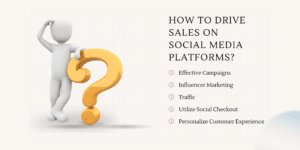 It takes work to start making a bank when doing business on social media. Despite the platforms being completely free to initiate, it will take effort to make sales.
Apply the following strategies to generate leads and convert them into loyal clients:
1. Effective Campaigns
Before launching a campaign, you need to identify and describe your potential customer. Fortunately, the platforms have tools that will help you create an ideal customer for your product.
Driving sales through campaigns takes a keen evaluation of your target audience that you are guaranteed to have interest in your products from their customer behavior.
Before you use campaigns as your marketing strategy, ensure you have set up the proper infrastructure to ensure your product pages are not overwhelmed by the campaign's rise in traffic.
2. Influencer Marketing
Social media users are usually keen on following people and brands they have an affiliation with. Influencers act as a magnet to their large following who will take their word as social proof, given that the audience trusts the influencer not to mislead them.
The good thing with influencers is that you can agree on the different platforms where you believe your prospective clients hang out.
Ensure you have enough inventory before engaging an influencer. The influencer effect can overwhelm you if you are not well-prepped in terms of infrastructure and inventory.
During their engagement, you can measure the performance of your products and how well the influencer performs.
3. Traffic
The moment you choose to go for social commerce, your top priority should be how to drive traffic to your social media sites.
To a great extent, your traffic engagement determines your success in the ecommerce business. In some circles, you have heard some influencers comment that traffic is king. It's because it is from your traffic that you turn potential customers into actual clients.
But how you drive the traffic remains the big question.
Related Article – Best eCommerce Marketing Tools in 2022
Ways to Increase Your Social Commerce Traffic
There is no one-fits-all formula for increasing your social media traffic, It takes a combination of factors, and it also takes patience, resilience and a thick skin.
Here are some tips to boost your engagements on social media channels:
Create relevant content consistently
Be active in responding to comments and inboxes
Make your content shareable
Avoid being all over but choose the right two or three platforms to promote your content and go all in.
Engage social media influencers
Turn your existing customers into brand ambassadors
Monitor your prospective customers buying habits to get the timing of your content right
Schedule your content correctly, evaluate when people are most likely to make buy decisions and promote your social media accounts
Advertise. This is crucial, and you need to get it right. You could go for paid ads as a marketing strategy while also targeting organic traffic.
Have a clear call to action
Utilize hashtags properly for easier optimization
Get active. Host Q&A sessions, comment on others' content. Be present. Be seen
You could mix a few of these strategies, and you are bound to see results in due course.
4. Utilize Social Checkout
The development of this powerful tool by most social media platforms has come as a blessing. You no longer need to direct your traffic to another tab where they have to analyze many more items and go through a lengthy procedure before checking out.
With social media check out, the customer sees, likes and buys. The simplicity of this tool has made e-commerce business on social media reliable, likable and highly preferred.
It's said you have very few seconds of a prospect's attention to turn them into customers. The moment you start redirecting them to other platforms, you could potentially lose them.
5. Personalize Customer Experience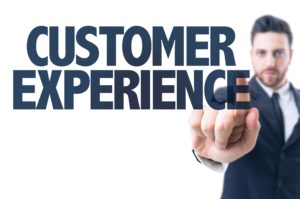 Small businesses thrive on this aspect. Customizing their shopping experience will not only turn them into loyal customers, but they will also be your ambassadors recruiting others.
There are several ways to personalize a customers experience:
Respond to their comments
Address them by name
Award their loyalty by informing them of upcoming flash sales and promotions
Make the check-out easy.
Have different payment options such as apple pay, Paypal
Make follow-ups
Many businesses leave money on the table by missing out on this aspect. In addition, customers are known to crave recognition and customized shopping experiences.
That said, the underlying factor remains to be on the right platform where your potential customers hang out.
Similar Article – Ecommerce Email Marketing: Turn Subscribers Into Salivating Buyers
The Best Social Media Accounts for Social Commerce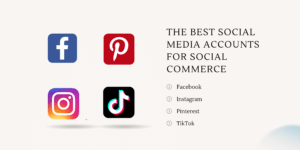 The data on the best platforms for social commerce keeps shifting. As of 2021, the top social media platforms are:
Facebook
Instagram
Pinterest
Tik Tok
1. Facebook
Facebook has remained among the best performing social media outlet for both social commerce and social connecting.
The Facebook shops allow ecommerce retailers to operate an online store where they prospect on new customers and grow their clientele base.
As a marketplace, Facebook offers an ideal platform as the inbuilt features for paid advertising make it easy to target and prospect new clients.
You could do the A/B testing on your site, measure performance, and go with the best marketing strategy that brings you traffic and converts other brands' loyalists to yours.
2. Instagram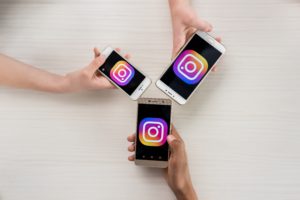 Also owned by Facebook, Instagram comes in strong for an e-commerce site. The Instagram algorithms make online shopping a seamless affair that helps customers discover brands.
As a business owner, you should target Instagram users through running Instagram stories and having a fully functional dedicated Instagram page purely for Instagram shopping.
The Instagram business account positions you as authentic and professional. Running an ecommerce store on Instagram calls for a well-curated social media strategy.
The good thing with setting up an Instagram shop is that you have access to the insights to measure your brand awareness and performance in terms of impressions, saves, clicks and all relevant activity. This is important as it will give you direction on the right digital marketing approach to use in the future.
You may also like – Ecommerce SEO: How to Get Targeted Traffic (Customers) From Google Searches
3. Pinterest
Pinterest is also among the best platforms for business. If you are looking to promote your business to a new untapped clientele base, consider Pinterest.
With over 400 million monthly users, it offers a fertile platform for e-commerce. To succeed in using the platform for business, ensure you:
make engaging pins
Utilize promoted pins
Create a customized Pinterest marketing strategy
Study your competitors use of the platform
Where does your audience hang out on Pinterest?
utilize a Pinterest business account for professionalism
Once you take all these into account, then you are good to go. Ensure you deliver on what you promise to build social support, as it will come in handy in building traction.
4. Tik Tok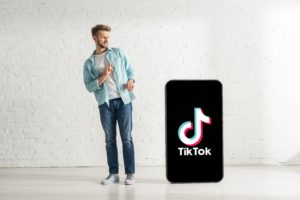 This platform has come out strong as a business platform in the last few years. Though it had been downplayed as a business platform at first, top brands are now in a rush to make it on the site.
The first step is to have a Tik Tok business account to post relevant content consistently to make sales.
Utilize paid Tik Tok ads to uplift your profile, make use of influencers to grow your traffic, and you are on your way to growing your brand from the conversions.
Conclusion
The golden rules for success in e-commerce social media targeting are consistency and delivering. Be present to attend to your clientele promptly. Respond to their queries, address their concerns sent to your inbox and deliver.
Always aim to deliver on quality when doing business on social channels, failure to deliver can get you bad publicity, which is bad for your business. Aim and work to turn your prospects into customers by ensuring you meet their needs as promised.
Related – Ecommerce Marketing Essentials: 17 Actionable Tactics to Drive More Sales