Surfer SEO Review for writing and editing content in 2022
What makes the top sites rank at the top of search results? What sets apart the best content from the rest of the pack? The answer is quality, and this Surfer SEO review will explain what you need to know about writing and editing content to reach that level of quality in your business's online presence using this tool.
How can you learn how to write and edit web content that gets people clicking through to your website and calling your business?
For pros and cons on improving or writing your own content using AI, check out this Surfer SEO review!
What is Surfer SEO?
Surfer SEO is a machine learning software that will be able to give you ideas on what you can do with your written and visual content.
This isn't just a tool that will edit and publish your content, but it's also something that will take time to study your niche.
It won't be perfect from day one, but if you allow it time to learn from its own mistakes as well as yours, it can help create valuable assets for your business in no time.
The Surfer SEO tool helps optimize content based on competitor insights. It's like a data-driven crystal ball that shows you what changes you need to make to your website or content to improve your Google ranking.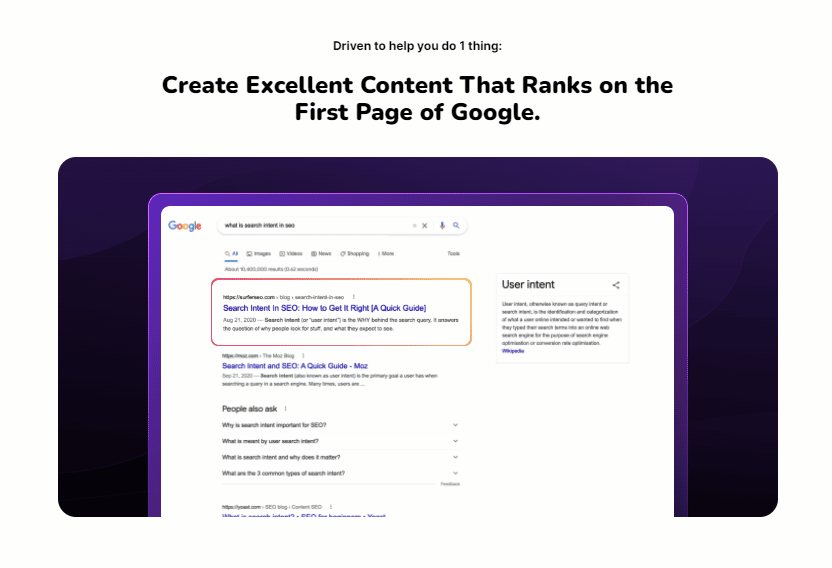 How does Surfer SEO work?
Think of Surfer SEO as another version of Semrush or Ahrefs regarding SEO, but with many more features that make it a better solution for modern-day content creators and bloggers.
And unlike many other SEO tools, Surfer SEO includes an easy-to-use UI.
It doesn't have any unnecessary traits or features, making it a perfect tool for content optimization, even though for beginners, it may be a little bit too challenging at first.
But, yet again, that's pretty common with every other AI tool out there.
Surfer SEO's intelligent algorithms will help you quickly identify the most fantastic content possibilities, develop a content plan for the upcoming months, and create captivating pages based on data-driven guidelines.
So, let's take a look at some of its features.
A look at some features of Surfer SEO
The first thing that you will notice about Surfer SEO is the user interface.
It has been designed for ease of use, and it is easy to navigate through the different sections of the application.
Here are some of the things that you can use this tool for:
Keyword research
Cluster keywords by topic
Plan a content roadmap
Create content briefs
Write and audit long-form content
Audit your existing content
SEO Chrome extension
Create optimized and unique paragraphs
Growth Management Platform that is in Beta version
Surfer SEO pricing and plans
Surfer SEO currently offers three subscription plans, monthly and annually.
All plans include a 30-day money-back guarantee. With the annual plan, you can get a 17% discount over monthly plans.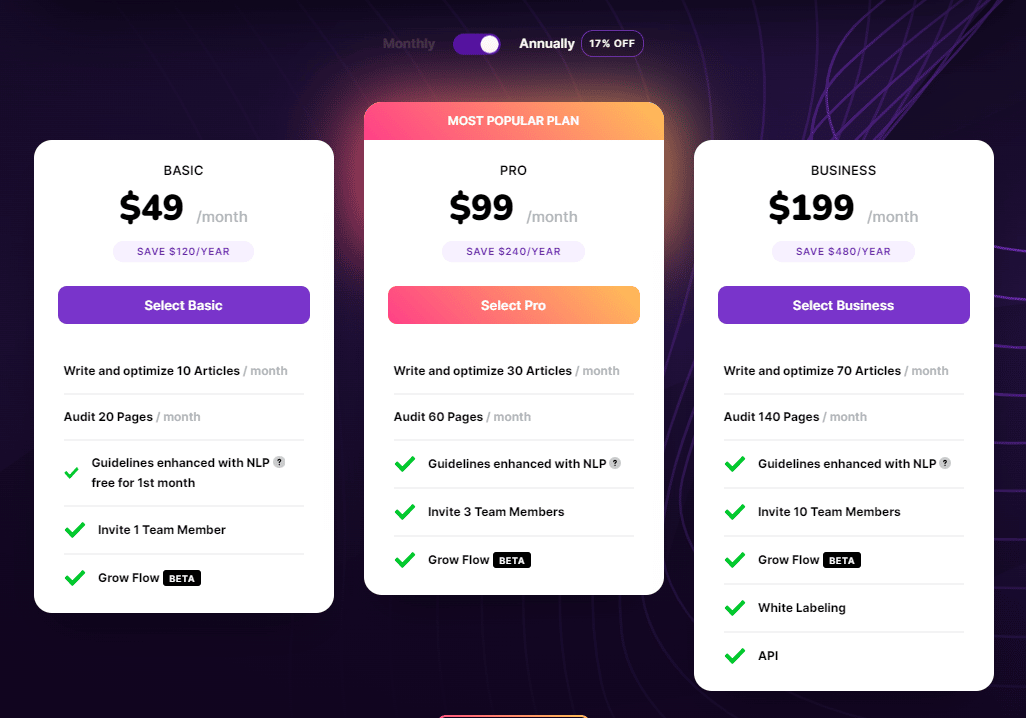 The basic package starts at $49/month for the annual plan. You can write and optimize 10 articles per month. You can audit 20 existing pages and create guidelines enhanced with Natural Language Processing (free only for the first month.)
The Pro package starts at $99/month for the annual plan. You can write/optimize 30 articles per month and audit 60 pages.
On top of what the basic package offers, in this plan, you can invite 3 other team members as well.
The Business package starts at $199/month for the annual plan. With this package, you get 70 articles and 140 audits per month. In this case, you can invite 10 team members as well as white labeling and API.
If you regret purchasing this tool, you can easily contact the support team from the website or email address to request a refund.
If you are wondering about a free trial, the Surfer SEO tool does not provide one.
However, you can try it out for 7 days for only $1.
How does Surfer SEO help content writers?
Surfer SEO is our proprietary software that helps content writers maximize their content potential.
With Surfer SEO, you can write more readable and engaging content without having to do extra research.
It also helps you find the right keywords for your content, so it's easier for you to get found on search engines.
Surfer SEO does all of the heavy liftings when it comes to actually improve your content.
So, overall it is a great new tool for people looking to boost existing rankings and create higher ranking content.
It's especially useful for less experienced people new to optimizing for SEO.
Surfer SEO advantages
It saves you time like many other AI content writing and editing tools out there.
Its keyword research tool is pretty accurate when compared to Google Keyword Tool or Ahref.
The Content Editor helps you create amazing blog posts that rank
It has an easy-to-use and intuitive platform
You will know exactly what content will rank and what will not.
You can integrate it with Jasper.ai and Google Docs
Surfer SEO disadvantages
There's no way for you to shuffle content if you can to get more accurate results.
The number of content editors for the price ($49/month) is a little bit too low considering the price (only 10 per month.)
It may be a little bit costly if you are just starting on your journey as an SEO blogger.
You can run out of NLP credits pretty quickly.
Conclusion
There are a lot of reasons why Surfer SEO has become popular so quickly.
It's valuable for on-page SEO, content creation, and digital marketing! Small businesses and big marketing agencies alike can benefit from using it.
Many people consider it to be worth the price tag, even though those who have just begun their solo journey toward SEO blogging find it a little bit pricey.
We don't think that Surfer SEO helps you become the most amazing writer there is.
However, it can save you a ton of time and help you write in accordance with SEO best practices.
If you don't have the budged to buy this app, or time to write a Surfer blog article, there are a lot of professional freelancers who use this tool and offer the best content you can get. Check them out here on Legiit