SEO Keywords: How They Work, Examples & Finding Them
Heard of the term "SEO keywords" and haven't fully understood it?
Or, do you already have a basic understanding but want to learn the advanced strategies?
Well… 
By the time you have read this article, you will have a full understanding of everything to do with keywords… even if you have no idea how they work right now.
So, you'll be able to find the juiciest and profitable keywords for your business.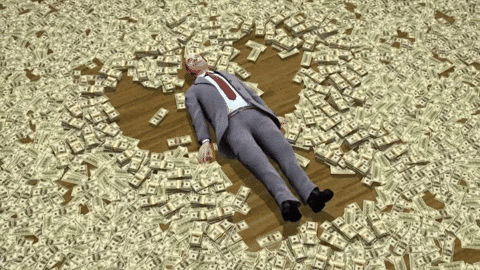 What are SEO Keywords and How Do They Work?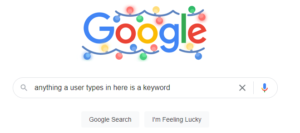 An SEO keyword is a phrase someone types into Google before viewing the search result. So, yes, a keyword can be several words.
Google will then find the best matching page from the content it has seen across the web. The Google crawlers go through the web constantly and follow links to have the listings ready when someone needs them.
The way Google knows which content to rank for which search terms is because the websites use keywords in their content.
Why Are SEO Keywords Important?
Keywords are important for SEO because they are the key component for helping Google understand:
What the user is looking for
What your page is about
And Google's job is simply to connect the user needs with your pages… and that's where Google relies on keywords.
Meaning: SEO keywords are absolutely crucial if you want to rank.
SEO Keywords Examples
Any time you have typed a couple of words into Google, that's a keyword.
Some basic examples of keywords (phrases people type into Google) include:
All of these phrases are things that people look up to using Google.
Websites that want to rank for these terms use them in their titles and headings to show Google what their pages are about.
From there, Google takes the best ones and ranks them at the top.
SEO User Intent
Before moving on, I wanted to explain something significant: User intent.
Every searcher has an intent when they are using Google… They are looking for something specific to solve their problem or entertain them.
Google's job is to find a page that does exactly that. Your job is to be that page.
This means you need to analyze the words and find what the user wants.
For example, someone looking for:
How to lose weight – Is looking for actionable steps on losing weight
Best email marketing tools – Is looking for a list of email marketing tools
Breakfast near me – Is looking for a place to have breakfast in the local area.
This sounds simple, but many businesses get this wrong – and it's CRUCIAL to ranking.
You can also confirm that you have the right intent by looking at the SERP and what intent the other pages have targeted. Since they are already ranking, they've likely got it right.
So make sure to double-check your content idea matches the user intent of the keyword before writing it.
Types of Keywords in SEO
There are nine types of SEO keywords:
Short-tail keywords
Informational keywords
Buyer intent keywords
Transactional keywords
Seasonal keywords
Short-term fresh keywords
Evergreen keywords
GEO-targeting keywords
Short-tail keywords vs. Long-tail keywords
The first way we can categorize keywords is short-tail vs. long-tail keywords.
Short-tail keywords are search terms that have one or two words.
Long-tail keywords are search terms that have three or more words.
The difference between them is that short tail keywords often have more search volume. However, long-tail keywords are more specific, so we know more about the customer – meaning they convert better.
Example:
Short tail: Best shoes
Long tail: Best running shoes for men
As you can imagine, the long tail version converts a lot better because we know what type of shoe and who it's for.
Informational keywords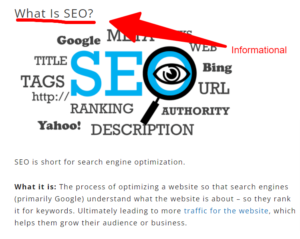 Informational keywords are search terms where the user is looking for information.
Here, the user is trying to learn more about a topic. So your job is probably to give them some information and answer their questions before throwing an offer in their face.
For example:
"Why is my laptop freezing"
"How to grow an Instagram following"
Buyer Intent Keywords
Buyer intent keywords are search terms where the user is interested in purchasing a product but not sure yet.
For example, they may search for:
With a buyer intent keyword, the user knows the primary benefits of a product – but still needs the final push to get the product.
Expert tip: This could be a mix of explaining the benefit in further detail and discounts or urgency.
Transactional Intent Keywords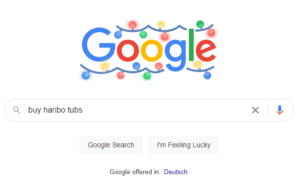 Transactional intent keywords are search terms where the user is ready to buy.
Some examples include:
"Buy Haribo tubs."
"Buy Colgate peroxyl mouthwash."
Here, the best way to satisfy the user is to put an offer in front of them.
Seasonal Keywords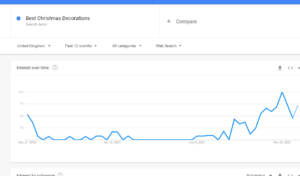 Seasonal keywords are search terms that are only popular during a specific season.
So, for example, anything to do with Christmas, Halloween, Easter, or Thanksgiving will skyrocket in one of the seasons.
More specific examples would include:
Best Christmas Decorations
Buy Easter eggs online
Best Halloween Costumes
Short-term Fresh Keywords
Short-term fresh keywords are keywords where the user is looking for something hyped up in the short term.
This could be a new movie, an event, or the famous fidget spinner example…
Evergreen Keywords
Evergreen keywords are search terms that are "evergreen," – meaning they will always be relevant.
Some examples would include:
How to lose weight
How to get a girlfriend
Best healthy meals
How to start freelancing
Keywords like this will always be relevant – so a long-term strategy on ranking for them could be effective.
Geo-targeting Keywords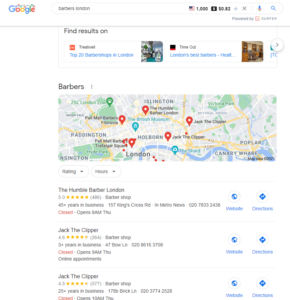 Finally, we have geo-targeting keywords, which are location-specific search terms. For example, if you own a local business, you must target keywords in your local area – so the people who see your website and GMB listing are close enough to visit in-store.
Examples of this would include:
Best Pizza New York
Barbers London
Gym near me
Important: When a user types in "near me" as part of a keyword, Google shows results based on a searcher's proximity to results near them. So you don't optimize for this by spamming "near me" in your content. Instead, you optimize for the location.
Related: Local SEO Guide
SEO Keyword Metrics You Need To Know
Before we jump into using keyword research tools and finding terms you can rank for, I wanted to discuss basic terms you need to understand first.
Search volume: This is the number of people that search for a keyword monthly. So, if a keyword has a search volume of 1000, 1,000 people are typing in that keyword into Google. But, this is just an estimate, and sometimes different tools display different numbers. Of course, they can't all be right, so keep in mind that's an estimate.
CPC: The cost-per-click (CPC) is the cost of advertising for that keyword using Google ads. This is important for SEO because it's an indicator of the commercial value of a keyword. If a keyword is very profitable, businesses will pay more to advertise.
Keyword Difficulty: This number is usually between 0-1000, which indicates how hard it is to rank for a keyword. Of course, this should only be used as an indicator because different tools display different numbers, so they can't all be right again.
How To Do Keyword Research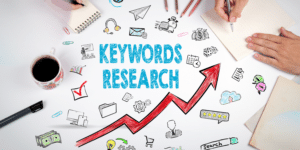 Now that I've walked you through all the different types of keywords, I wanted to teach you some keyword research.
This is the process of finding keywords to optimize your website for them.
Why is Keyword Research Important?
The reason why keyword research is necessary is that it helps you:
Allocate your budget more effectively into the right pages
It enables you to understand which keyword to optimize your website for to get the maximum results.
If you are guessing what your users are typing into Google, you're probably optimizing your website for the wrong keywords.
Meaning: Your target customer will probably never find your website.
1. Choose Your Keyword Research Tool
The first thing we need is a keyword research tool. There are many of them out there, but they all do a very similar job.
Some of the most common options include:
We also recently compiled a detailed list of all these tools below.
2. Get Ideas
The next step is to get ideas on topics to use them to find keywords with our next steps.
Firstly, if you are running a business, you might come up with terms that you want to rank for. So, for example, if you're a plumber in New York, you might want to rank for "New York plumper."
Or, if you own an E-commerce store selling gaming chairs – you might want to rank for terms like a Gaming chair.
But besides that, you can also find blog topics by asking yourself the following questions:
What does my target customer struggle with? This can help you find question keywords.
What do they like? This can help you find buyer intent and commercial keywords.
What products or services are they interested in? This can help you find competitors' rankings or affiliate keywords.
And you should also make a list of a couple of competitors and check out some of the topics they have covered. We will also use this list of competitors to steal their keywords later.
3. Selecting Keywords
Before we dive into finding the keywords, I wanted to guide you on selecting them as well. Because, what good is finding them if you don't know how to pick the right ones?
When it comes to selecting keywords, the key things you want to look at are:
Volume: Although it's not always bad to go for keywords with really low volume, you want to consider it. If a keyword has too high competition and not enough volume, it's probably not worth it.
CPC: Of course, you want some of your keywords to have commercial value. So make sure to look at the CPC and think about how these pages could lead to more email sign-ups and sales.
Difficulty: When it comes to difficulty, you want to find keywords that you can rank for ideally. If you own a completely new site, then make sure to stick to keywords on the low-end (0-25 difficulty).
Business goals & relevancy: You don't want to spend your resources creating pages for keywords that have nothing to do with your business. So, when selecting keywords, always make sure to think about how they connect you with your target customer.
Topical Maps & Supporting Pages
Another thing I wanted to talk about was topical maps and supporting pages before we jump into finding the keywords.
For every topic, there are several keywords. For example, if we would take the topic SEO, we could break this down into:
Off-page SEO
Keyword Research
And for every one of these sub-topics, we could find dozens or hundreds of other keywords that we can target.
If we cover most of them on our site, Google will recognize that we have more authority, and it will therefore boost all our rankings on that topic – sitewide.
Because if we cover a topic in-depth, we likely know what we are talking about.
Usually, you want to target a few head terms and long-tail keywords for each topic. The long-tail keywords can help you rank and support your main pages.
The same concept works for when you want to rank your higher-value keywords. You can look for lower volume keywords in the same subtopic and support the more difficult keyword. Just make sure that you are internally linking your pages, pointing to the most important page.
Planning How You Will Build Your Authority
Another quick tip I wanted to give you is planning how you will build your authority.
And increasing the difficulty of keywords you target as you go along.
For example: You can start off by targeting REALLY low-competition keywords with 0-10 difficulty. Once you are ranking for those, you go for the 0-20 keywords. Then 20-30…
I think you know where I'm going with this – small increases in difficulty – once done move on to the next.
This can be much more effective for building your authority on a topic, than targeting random keywords.
4. Use Related Keywords
The cool thing about keyword research tools is that you can type in some phrases, showing you related keywords and their metrics.
For example, if I type keyword research into SEMrush – it shows me all the related keywords below.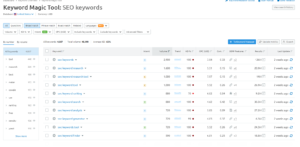 You can do the same for all the topics you found earlier and add the keywords you want to target to a list.
On the other hand, if you already have a lot of SEO rankings and have some authority built up, you can go for the heavier keywords.
Using Advanced Filters To Find Low Competition Keywords
Most keyword research tools will have something called advanced filters. Using these, you can find keywords with a volume, CPC, and difficulty that you set up.
So type in a seed phrase related to the topic you'd like to rank in, and then use the keyword filters to find related terms with your criteria.
Of course, you can play around with this to find the best possible keywords for your website.
You can guess: You want to go as high as possible on volume and CPC while staying as low as possible on difficulty.
Create Keyword Lists
Most keyword research tools will have a tool to create a list of keywords to save their data. But if yours doesn't, feel free to create a Google sheet.
Something very basic will suffice.
Something like this: 4 columns: Keyword/CPC/Volume/KD
From there, you can add your keyword and its data to your Google sheet. Of course, if you want to add more columns; feel free to do so.
5. Steal Competitors Keywords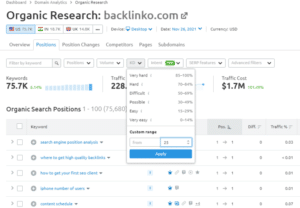 The next way you can find keywords is by stealing competitors. Take one of the competitors you listed earlier, and punch it into your keyword research tool.
From here, it should spit out all the keywords that it is ranking for. Then, again, you can use the advanced keyword filters to try and find keywords that align with your business goals & ones that you can compete for.
I like to take direct competitors then use the filters to find the easiest keywords they are ranking for.
Expert Tip: Most keyword research tools will let you take specific pages and see what keywords that page ranks for. So, if your competitor is ranking for a big keyword, that same page is likely also ranking for many other small keywords. So, use this process to find all the keywords they rank for.
Competitor Analysis: Getting an Idea of What You Need To Rank
Something I also wanted to touch on briefly is analyzing what your competitor has so that you can beat them.
The main factors you need to look at are:
Content:
Domain authority:
Backlinks to a specific page
Topical map & internal links
Content
To analyze their content, you want to look at mainly:
The wordcount
The keyword density
What sub-topics they have covered
What's making them authoritative than you
Although a word count isn't a direct ranking factor, it's a good indicator of how detailed your competitors were. For example, if you have a 500-word article, but all the articles on the first page have 3000 words, then you'll likely need to add some content.
The same goes for if you find that the articles on the first page have covered a lot of different sub-topics, but you haven't. Then you'll likely need to add them.
Domain authority
Another big factor is the overall authority of the domain. SEMrush, Ahrefs, Moz, and all the other SEO tools usually have their rating for this, as you can see below:
Moz: Domain Authority
Ahrefs: Domain Rating
SEMrush: Domain Score
They mean the same thing and are calculated by the number and quality of links pointing anywhere on the domain. However, they calculate the score slightly differently, so it should be used as an indicator.
And keep in mind that these are just 3rd party metrics.
Backlinks to a specific page
Another significant ranking factor is the backlinks pointing to a specific page. If your competitors have many high-quality links pointing to the page you are competing with, and you don't – then this is something you need to work on.
Keep in mind that it's not just about the quantity but also the quality of those links.
You can use a keyword research tool like the ones discussed earlier to see your competitors' backlinks. Or if you're after a free version, try the Ahrefs FREE Backlink checker here.
Topical map & internal links
Finally, you want to look at their topical map and internal links. This is one of the significant advantages you can have as a small site when competing with authority sites like Forbes, Entrepreneur, or Health.
You can specialize in sub-topics better than these big sites. So, for example, if Forbes is ranking for keywords to do with affiliate marketing, you could have a lot more supporting pages than they do on the topic – giving you a better chance for ranking.
So, make sure to target those long-tail keywords as well – this will help you build the topical authority to rank above older and bigger sites than you.
6. Check Keywords You Are Already Ranking For
Another way you can find keywords is by checking the ones you already rank for. If your site is entirely new, this method might not work for you.
But generally speaking, if you have a site with content that's a couple of months old – you should be ranking for some keywords.
So, go ahead and punch your website into a keyword research tool.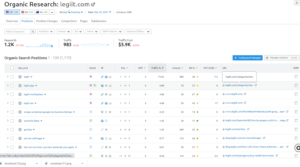 Checking For Low-Comp Keywords You May Have Missed
The first thing you can check is low-competition keywords you may have missed.
For this, search through all your keywords and filter to only those with a KD of 0-25. From here, you can browse through the keywords and take a look if you missed any opportunities.
Often, you can find a ton of keywords that you didn't mean to target, but Google has ranked you for them. Now, you can decide whether you want to improve them or create a separate page on them.
Improve Positions Close To Page 1
Part of researching keywords is also finding opportunities that you can improve on to get some quick wins. That's why I recommend browsing all your keywords with a filter to only show keywords in positions 11-29.
If you improve these and get them onto page 1, you'll get a significant spike in traffic without having to create new pages.
Generally speaking, to improve your ranks, you can:
Optimize your content better or add more (Use SurferSEO for this)
Build backlinks (Get a link report from your competitors before first)
Fix your technical SEO issues (I like to use Sitebulb for technical SEO issues)
7. Get Ideas From Other Places
Another quick approach you can try is getting ideas from places that aren't necessarily keyword research tools.
Let me show you what I'm talking about:
AnswerThePublic: This is a great tool for when you are building out your topical map or just want to get ideas. Simply head over to AnswerThePublic and enter in a keyword to find a HUGE spider web of questions.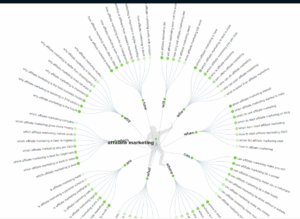 Keep an eye out on forums/latest news:  Another place you can get some great content or keyword ideas from is social media, Reddit, or the latest news. Sometimes, you'll be able to cover topics related to your business targeting a keyword you might not have thought of. So, make sure to keep an eye out for this when scrolling through the news.
8. Create Your Content Calendar
Once you have your list of keywords, it's time to create a content calendar. You should group the keywords into different content ideas and supporting articles so you can plan them into a content calendar.
For this, I also like to keep it simple with a Google sheet with the following columns:
Title/Main keyword
Supporting keywords
Article link
Published link
From there, you can change the color of each row once it's published or ready to be uploaded. I usually go for yellow when it's ready to be uploaded, and red once posted.
I have another link for the article because I sometimes hire writers off Legiit to write articles for me. If you would like to do the same, you can check out the Legiit content writing category here. This will help you take the labor out of growing your blog so you can scale.
SEO Keywords: Frequently Asked Questions
Finally, let's walk through some frequently asked questions around SEO keywords.
Where can I get SEO keywords for free?
You can find SEO keywords for free by using a mixture of the following tools:
How many keywords should be used for SEO?
You can use anywhere from one keyword to seven or eight per page. Of course, the secondary keywords will not be used as frequently as your main keyword, but it is possible to rank for many keywords with one page. If you are just starting, understand the process with one main keyword first.
How do I add SEO keywords to my website?
You add SEO keywords to your website by adding them into the HTML components of your website, such as the title tag and sub-headings. And, of course, use the keyword throughout your content. For a full on-page SEO keyword tutorial, check out this post:
How do I find low competition keywords?
You can find low competition keywords by:
Using the advanced filters of keyword research tools
Searching for long-tail keywords
Checking what keywords your low authority competitors rank for
What is SEO keyword difficulty?
SEO keyword difficulty indicates how hard it is to rank for a particular keyword. Usually, this is a number between 0 and 100; the higher the number, the harder it is to rank. This difficulty usually refers to the number of backlinks your competitors ranking on page 1 have.
Which SEO keywords are best?
Generally speaking, the SEO keywords with a higher CPC will have the most commercial value. However, the low competition keywords are best because they are easier to rank for, which can help you build your authority. So a mix between them is always best.
Is It Worth Targeting Keywords With 0 Volume?
Often, keywords with 0 volume have some people searching for them… else keyword research tools and Google would not have picked them up in the first place. Furthermore, if they serve as part of your topical map, then they can help you rank for bigger keywords. Therefore, it can be worth targeting them, but only if you're doing so for a reason.
If you think the low volume can help you get a couple of opt-ins or sales, or it serves as part of your topical map – then go for it.
SEO Keywords Summary
SEO keywords are the phrases that users type into Google to find the pages they are looking for. Therefore, you should incorporate the keywords you want to target through on-page SEO.
But before that, you need to find the keywords outlined in this article.
Here's a summary of how to do keyword research:
Choose your keyword research tool
Get a list of topic ideas and seed phrases
Understand keyword selection
Find related terms to your seed phrases
Check the terms your competitors are ranking for
Check the keywords you are already ranking for
Use your keyword lists to create a content calendar
With this process, you should find some excellent keyword opportunities to build out your content and SEO strategy. If you have any questions, make sure to join our FREE SEO community on Facebook, the Superstar SEO Facebook group.
And if you would like to read up more on SEO, you might like some of the posts below.
What is SEO? The Ultimate Guide

55 Profitable Niche Site Ideas

Affiliate Marketing For Beginners