Ask any SEO expert and they'll tell you how powerful Web 2.0 Tumblr domains can be. But, chances are no one is going to tell you the secret sauce of finding them.
In this ultimate guide, you'll learn everything you need to know about "How to find expired Tumblr domains". (You may as well want to make it your bookmark).
Here is what you're going to learn about expired Tumblr domains:
How to find expired Tumblr domains in not time (Multiple methods)
How to leverage industry-leading software
How to register Tumblr blogs
How to evaluable Tumblr expired domains
Let's start.
What are Expired Tumblr Domains?
Expired Tumblr domains are any Tumblr blogs that have not been accessed by the owner for over two years and are available for anyone to register.
From the SEO perspective, these domain names can carry a lot of link juice, which is exactly why SEOs find and register them.
Finding high-authority Tumblr domains is like finding gold. But, like anything valuable, it doesn't come easy.
Don't worry though. I'll tell you several effective and easy methods to find Tumblr domains with lots of link juice.
The nice thing is, even if you don't have any domain hunting or SEO experience, you can easily do it. Just follow my lead.
You don't have to use paid software to find expired Tumblr domains. Although it might take some time and effort, you can find them for free.
But, of course, paid tools like Scrapbox make your work a lot easier and efficient.
Let's first take a look at the manual expired Tumblr domain hunting method.
How to Find Expired Tumblr Domains Manually (For Free)
An expired Tumblr domain with a high domain authority carries a lot of link juice, so it's worth your time and effort.
If you don't have the money to invest in paid tools like Scrapbox and Ahrefs, you can always use your time and brain to find them.
It's important to mention that you can also find niche-related expired Tumblr domains using this method.
However, niche-related domains are mostly created by SEO pros, and why would an SEO abandon something that carries so much SEO value?
So, it's fair to assume that you won't find many expired niche Tumblr domains out there.
For the manual method of finding expired Tumblr domains, you'd need to set up three free tools.
Google Chrome (You probably are reading this post on it)
Check My Links (A Google Chrome extension that checks sites for dead links)
MozBar (Another Google Chrome extension that provides actionable metrics about a domain)
Note that although we are using this method for finding Tumblr domains only, you can find any web 2.0 links you want.
Other web 2.0 platforms include:
WordPress.com
Weebly.com
Wix.com
And, more
So, you can apply this method on any of those web 2.0 platforms effectively.
Let's start with the process.
First, install Google Chrome if you haven't already.
Then, install the "Check My Links" extension on Google Chrome.

Next, install the MozBar extension using the same method.

Now, both of these extensions will be installed on your browser, and you can see their icons at the top right of your browser window.
To activate both add-ons, all you'd have to do is click on those icons.
Now that you have all of the free tools in place, it's time to start hunting some high-quality expired Tumblr domains.
First, use this search string in your Google Chrome browser: site:tumblr.com/profile + "your keyword"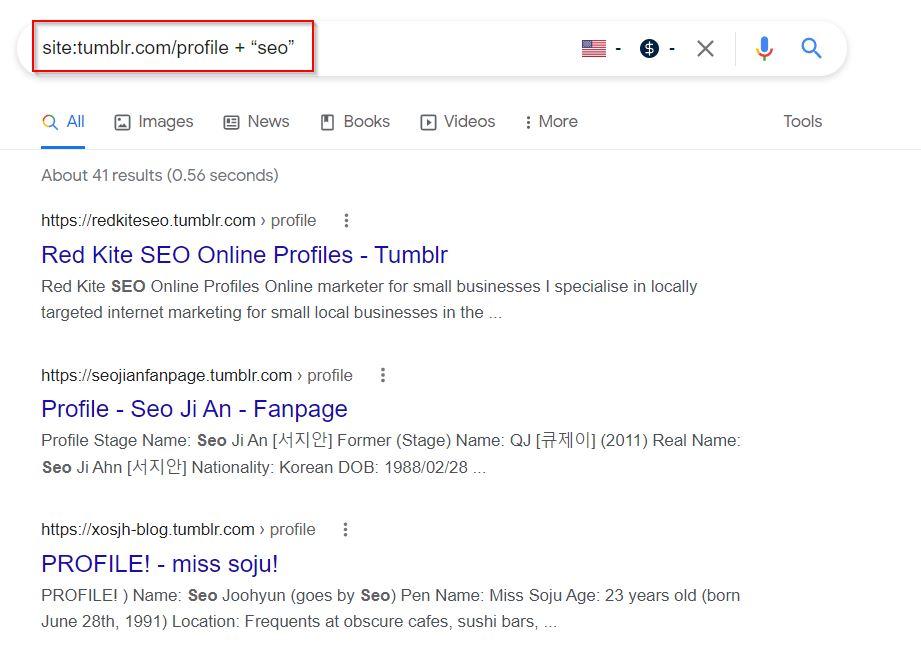 As you can see, the search string returns a list of Tumblr blogs. We'll be finding out which of these Tumblr domains are available for us to register.
Note that we've put a keyword in the search string. This will give us a list of niche Tumblr blogs.
Now, observe the first-page search results and click on any one of those.
Remember that you won't find dead or broken links on every page. But, when you do, they'll be worth your time and effort.
The next step is to use the "Check My Links" extension to find the dead links on a particular page.
The extension tells you the exact number of broken or dead links on a particular page.
All you have to do is click on the extension icon at the top right corner of your Chrome browser.
As soon as you click that icon, the extension will start evaluating the links on that particular web page.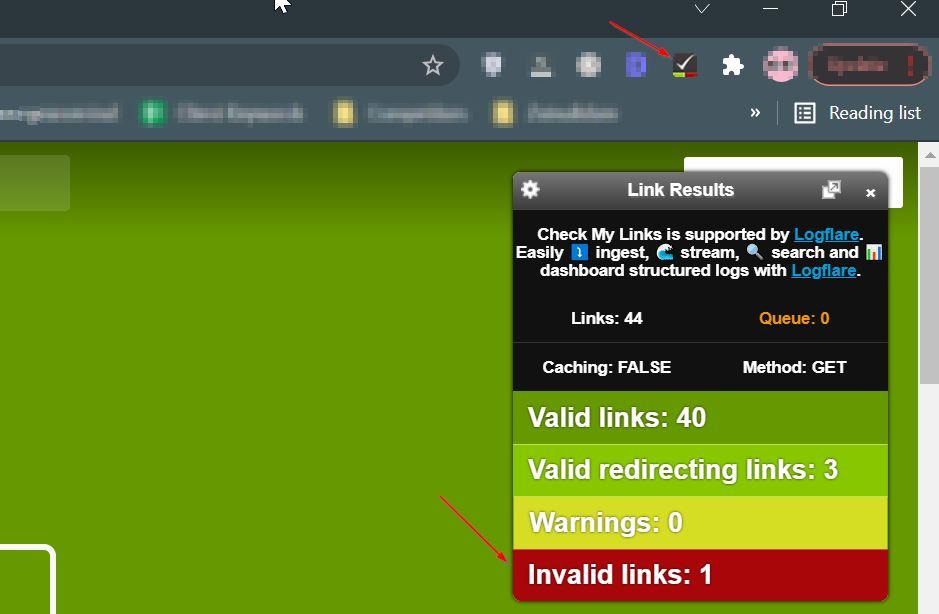 Of course, we are concerned with "Invalid links".
As you can see, the tool has found a single invalid (or broken) link on that Tumblr blog.
Again, it might take some time to find a broken link on these web pages as these are niche blogs.
The extension highlights the invalid links with the red color to make them stand out from the valid ones.

When you click on that invalid link, it'll probably show the following error.
That's what a 404 error page would look like.
The next step is to check if the expired Tumblr domain is worth registering or not.
How can we find that information? By using MozBar extension.
Click on the MozBar extension and it'll show you the domain authority.

Now, in this case, the domain authority isn't as good as you might want it to be.
But, if you could find an expired Tumblr domain with a DA of above 30, that would be great.
The next step is to check if that particular domain is indexed in Google.
To do that, all you'd have to do is put the full URL of that expired Tumblr domain into the Google search bar.
If it's indexed in Google, it'll show. If not, you'll have to send some backlinks to it later.
Here is how that helps: When Google bots crawl your blog, they'll find your new blog as well (expired Tumblr), which will help the whole indexing problem.
Here is the exciting part.
Now that you have a perfect expired Tumblr domain name, you can go ahead and own it, and that too, for free.
Here is how you could register an expired Tumblr blog.
Related – How To Find Expired Web 2.0
How to Register an Expired Tumblr Domain
The obvious first step is to go ahead and create a profile on the web 2.0 platform, in our case, Tumblr.
You could use any email you want; just avoid using your primary email.
Here is the most important part.
Note down the username of the expired Tumblr domain/blog you found. You want to create your new Tumblr account with the same exact username.
Go ahead and sign up.
Lastly, you'll just have to open the inbox of the email address you provided and verify it.
That's it. You have a powerful web 2.0 backlink in your armory.
Repeat the process for any number of expired Tumblr domains you want to find. And, remember, the method works for any Web 2.0 platform.
Let's now talk about finding expired Tumblr domains using a paid tool called Scrapbox.
How to Find Expired Tumblr Domains Using Scrapebox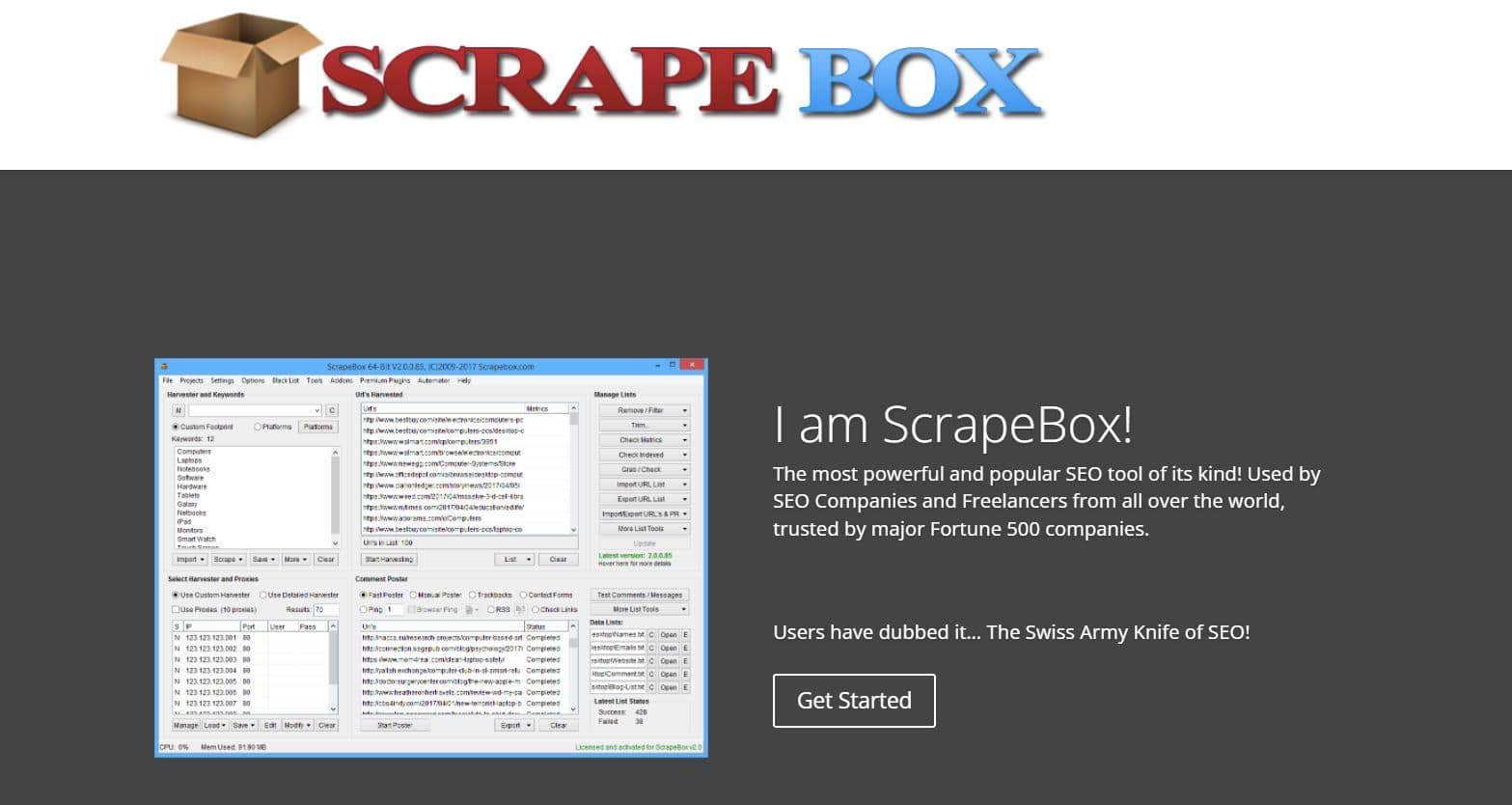 If you are not entirely new to the expired domain hunting process, you might have heard of Scrapebox.
But, even if you know how Scrapebox works, there is great value for you ahead.
What is Scrapebox? You are allowed to judge the software by its name. It does what it says: helping you scrape massive lists of data.
And, you can find an extensive list of expired Tumblr domains with Scrapebox within minutes.
First, to remain safe, you want to harvest proxies.
So, go to:
"Manage" > "Harvest proxies" > "Start".
Scrapebox will start harvesting proxies.
Next, "Test proxies" > "Test all proxies".
After testing all the proxies, you want to keep the ones that pass the test.
So, go to:
"Filter" > "Keep proxies which passed the Google / Custom test".
Then, go to:
"Save proxy" > "Save all to Scrapebox proxy list".
Now that your proxies are set, you're ready to scrape expired Tumblr domains based on keywords.
It's better to use broad keywords of your niche.
Go to:
"Scrape" > "Keyword scraper"
Add the keywords and click "Start"
Once the process is done, click "Export" > "Save all keywords to Scrapebox keywords"
Now, use the custom footprint "Site:tumblr.com" in the search box at the top left corner and click "Start harvesting".
A popup will open. Under the "Available search engines" option, click on "Select all" and then "Start".
After it's done, right-click anywhere on the screen, and select "Import and add to current list".
Open the first file under the folder "Scrapebox" > "Harvester_Sessions"
Now is the time to apply filters to clean the domains' list.
So, go to "Remove / Filter" and "Remove duplicate URLs".
Then, go to "Trim" and select "Trim to last folder" and "Trim to root".
Next, go to "Remove / Filter" and click "Remove URLs not containing" and enter "tumblr.com"
"Export URL list" > "Copy all URLs to clipboard"
That's it. You can now paste those links anywhere and check the availability of individual or bulk domains.
Just copy and paste your Tumblr domains in an online HTTPS status checker like this one.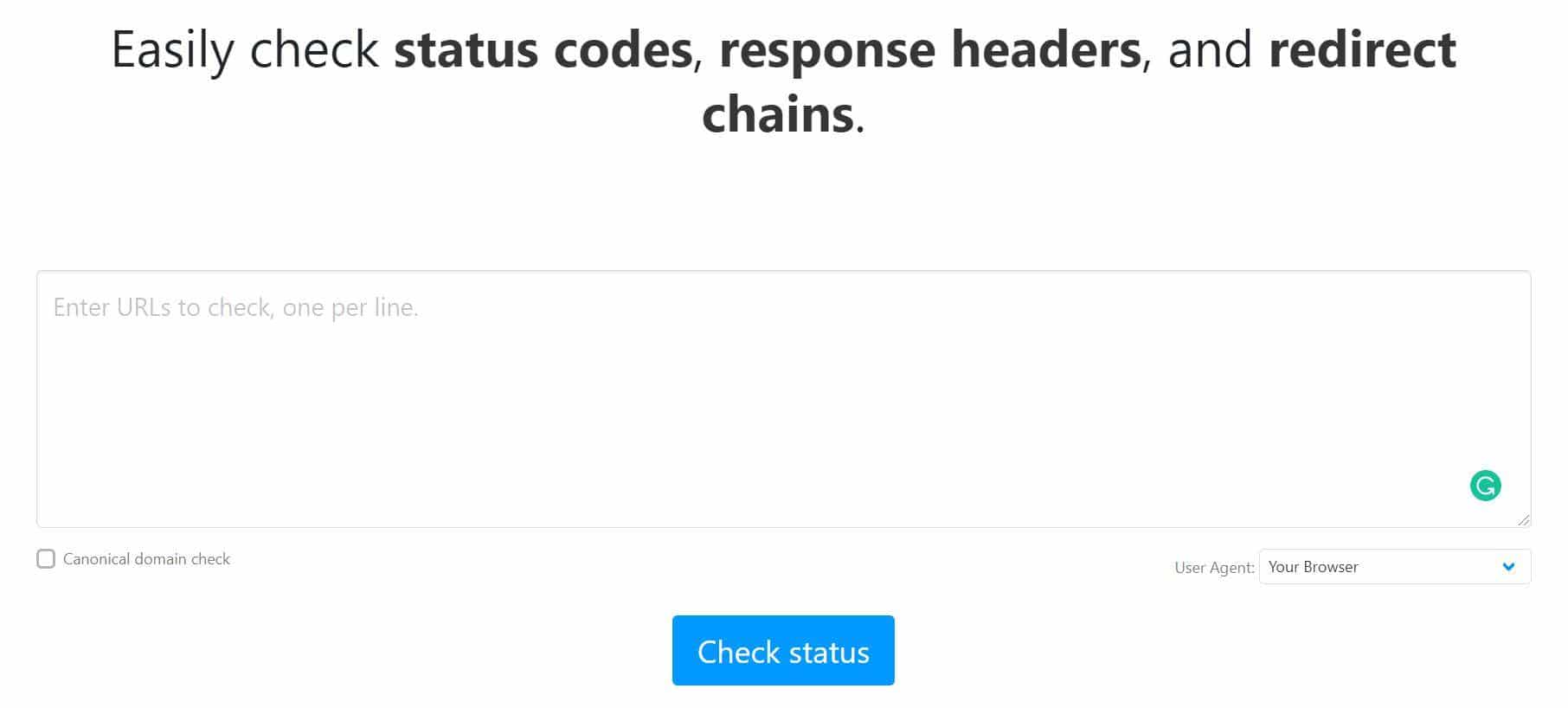 Source: httpstatus.io
All the expired Tumblr domains will have the 404 status code.
How to Find High-Quality Expired Tumblr Domains with AHREFS
This is a ridiculously simple and effective method of finding high-authority Tumblr expired domains. But, of course, you'd need access to AHREFS.
All you'd have to do is, enter a high-authority domain into the site explorer and look for the linked domains (domains that the site is giving backlinks to).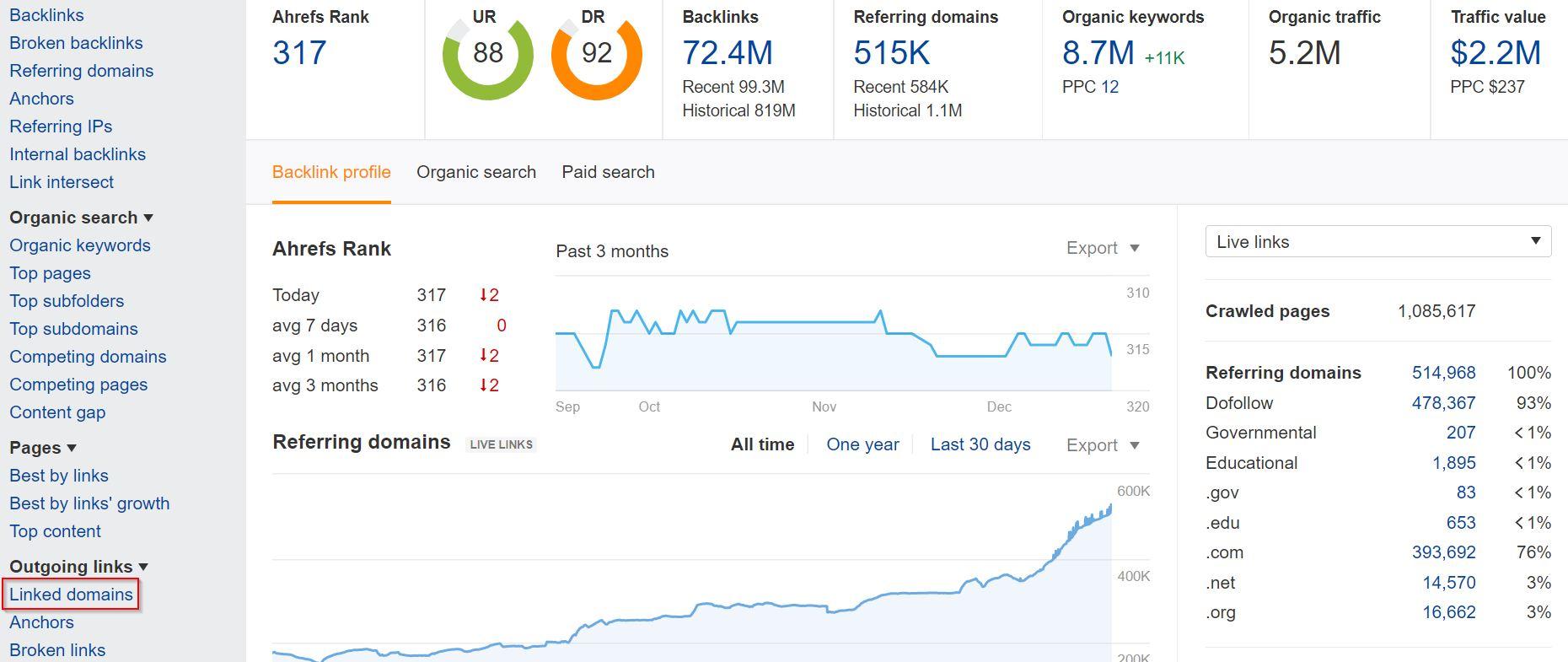 You want to filter out the Tumblr domains linked to that site. So, put "Tumblr" in the filter box.

AHREFS will now list all the Tumblr domains that the website is linking to.
You can just export these domains and check their 404 status on an online HTTPS status checker tool.
Here is something to keep in mind: Not all expired Tumblr domains will be available for registration.
Tumblr makes the ones available that are willingly deleted by their owners.
Whereas, the platform bans some domains because of spamming. You can't register those domains.
Moreover, there won't be many niche-related Tumblr domains out there, so it's not really worth going after them.
Think about it. Who would delete a perfectly fine domain? Probably someone who doesn't understand its potential.
SEOs and internet marketers work on specific niche-related blogs and they are too smart to abandon such gold.
So, why bother hunting for niche expired domains?
Besides, Tumblr users use the blogging platform to talk about all kinds of stuff. So, it's easy to repurpose such blogs for any niche you want.
This makes Tumblr a pretty powerful platform for SEO.
Similar Article – How To Find Expired Domains for PBN
Keeping Your List Clean
So, you have a long list of expired Tumblr domains by now and probably want to create a few decent blogs per week.
The sheer volume of expired domains you are going to work with can make things overwhelming for you.
So, what you can do is, split them by using Scrapebox's DupRemove add-on.
Check SEO Metrics
You can't just go ahead and register every Tumblr domain your find.
Your goal should be to filter out the ones that can actually provide good SEO value.
But, that's not as simple and straightforward as it may sound.
The first thing you should be doing after getting your hands on a long list of expired Tumblr domains is checking their domain authority.
It's easier and takes lesser time than if you were to check the TF (Trust Flow).
You can use a free online tool to check a limited number of domains, say 500.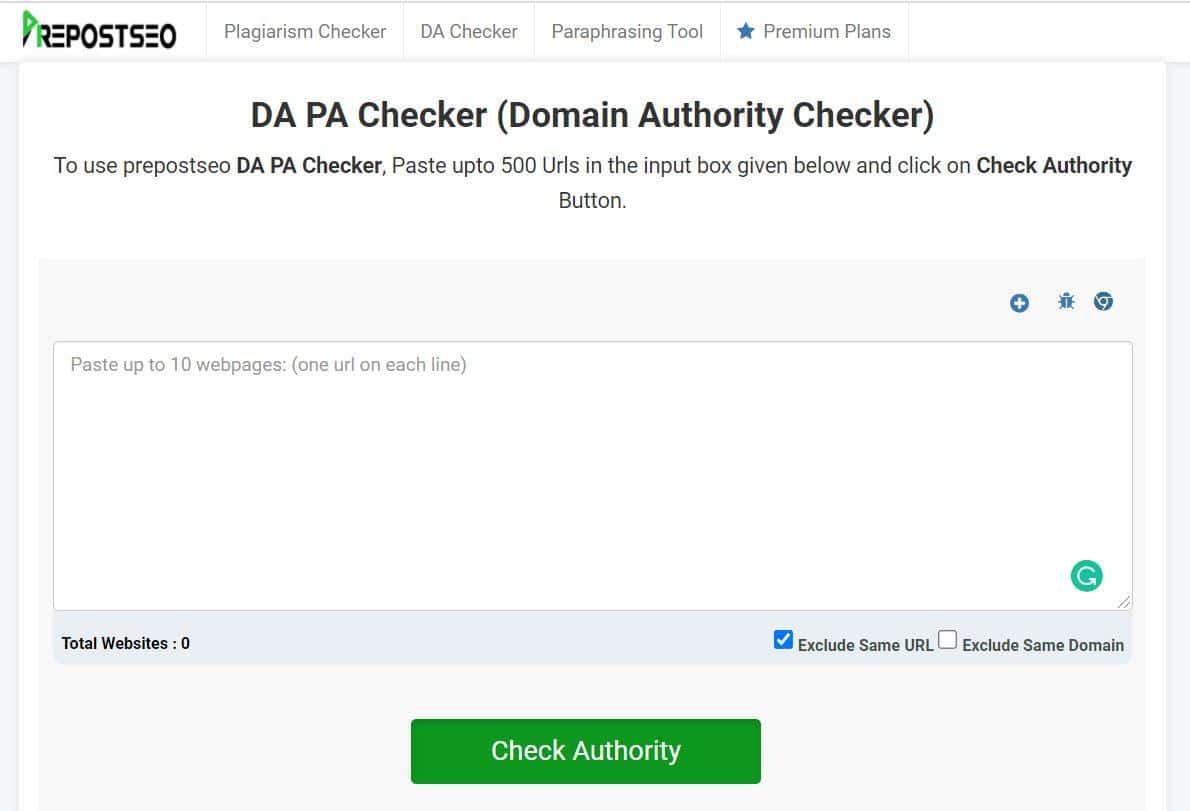 Source: prepostseo.com
Just make sure that you filter out the domain names with a domain authority of more than 50.
After you have the domain authorities of your expired Tumblr domains, you might also want to check their TF.
What's Trust Flow (TF)?
It's a third-party SEO factor that tells you the trustworthiness of a domain name.
The company that calculates it is MajesticSEO. So, you will need to invest in their software to see the TF of your expired domains.
Although there are a few online tools that tell you the TF of your domain names for free, they aren't as trustworthy.
Here is what you should ideally be doing:
Cleaning the list in Scrapebox
Check their PA/DA
Check their availability
Head on to MajestiSEO to check their Trust Flow
Although PA isn't as good as TF, an SEO might prefer it because let's face it, it's free and easier.
A Little About Expired Tumblr Domains
After a user deletes their Tumblr blog, the platform gives them 24 hours to re-register the domain.
No one else can register it in that period So, if a domain has been deleted in the last 24 hours, you won't be able to find or re-register it.
After the 24 hours period is over, anyone can register the domain, and that's when you can use all of the above methods to find good expired Tumblr domains.
What this means is, every day there are Tumblr blogs that get deleted. So, your hunt for them should not end until you find the right ones or enough of them.
Register Expired Tumblr Blogs
You've found a list of high-quality expired Tumblr blogs. Now is the time to own them.
But, before you register these blogs, keep in mind the following two tules:
Clean your browser cookies before registering a Tumblr domain. You can use a free cookie cleaner like the Ccleaner app
Change your IP after every few logins. But, if you are only registering a few blogs in a day, you can use your home IP
Just make sure to clean your browser cookies before every new login.
SEO Benefit of Expired Tumblr Domains
An expired Tumblr domain's purpose is to provide link juice to your authority site, helping its authority and rankings.
Many SEOs think that linking from too many Tumblr blogs might put their blog in the bad books of Google.
But, that's not based on real evidence and is plain conjecture.
If it were true, there would be chaos as people link to blogs from social media all the time.
You'd be registering expired domains from different accounts, so there is nothing to worry about.
Final Thoughts
This was all about how to find expired Tumblr domains. We've talked about three different methods:
Manually finding expired Tumblr domains using three free tools:
Google Chrome, Check My Links, and Mozbar
Using Scrapbox
Using AHREFS
Note: It's important to keep in mind that the Google algorithm is getting smarter and more sophisticated by the day.
So, there is always a risk if you want to go the web 2.0 backlinking route to boost your site's SEO.
You may also like – Expired Domains – Everything You Need to Know in 2021