The Best SEO Marketplace: Where to Find the Top Freelancers
Finding SEO freelancers can be tricky, confusing, and exhausting. There are many SEO marketplaces out there, but most of them lack reliable services that get rankings.
No, you won't get results if you're spamming your site with $5 backlinks without proper on-page optimization.
But not all SEO marketplaces are like this.
Legiit.com has some of the best SEO freelancers in the industry, and it's built by SEOs. 
… Why trust me? I've spent over $260,000 on services here, as you can see below: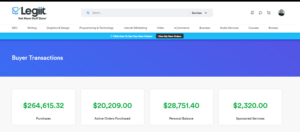 The professionals on Legiit have proven track records, are trusted by top agencies, and can get you some of the best SEO links on the internet.
But Legiit isn't just an SEO marketplace – it offers a wide range of services in fields such as web development, design, copywriting, marketing, and more (more on this later).
SEO Marketplace – Legiit: How Does It Work?
As you'd expect, the way an SEO marketplace works is that freelancers post their services, and customers can purchase the ones they like best.
The problem with most marketplaces, however, is that they're not built by SEOs.
This then leads to just some of the following problems:
The freelancers aren't actual SEOs
The features and optimized for SEO (Ex: Freelancer listings aren't big enough to show off past results and case studies)
Support teams can't handle issues correctly because they haven't been trained by SEOs.
But Legiit solves all these problems, as it's built by SEOs (we'll look at this later).
Outsourcing Your SEO Strategy
One significant advantage of using an SEO marketplace is that you can outsource all your SEO tasks individually.
You can stick to the tasks you're good at and outsource the ones you don't like or find hard.
For example, if you are good at content writing but don't have the network/time, to build backlinks, you can outsource that part of your strategy at Legiit.
Components of SEO
Here are the main parts of SEO that you can consider outsourcing:
Technical SEO
Content creation
Local SEO
Reputation management
Of course, you might not need all these, which is great about using a marketplace where you can buy a range of different types of services.
SEO Freelance Marketplace – Legiit: Features

Here are some of the features that the Legiit marketplace has:
Freelancer Portfolios with Past Results, Case Studies, and Testimonials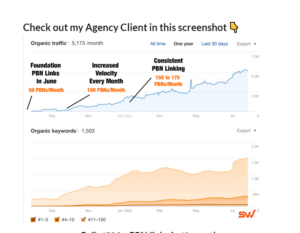 One of the cool things about Legiit is that it gives freelancers a lot of room on their profile to stand out:
A huge sales page
Portfolio feature where they can upload case studies & docs
This ultimately gives you the best chance of hiring the right freelancer.
Premier Services to Help You Find the Best Services Fast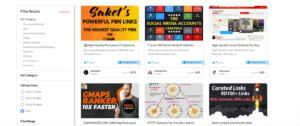 Another thing that sets Legiit apart from other marketplaces is its Premier feature.
This showcases the services vetted by myself and the Legiit team, making it easier for you to find the best of the best.
So if you are looking for previously vetted freelancers, then this page is for you.
Advanced Search Filters to Find the Right Services
Legiit also has advanced search filters so that you can narrow the services by budget, past results, ratings, and more.
Secure Escrow Payments to Ensure the Work You Ordered Will Be Made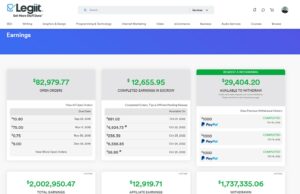 Legiit also has a secure escrow system, so you won't have to worry about the freelancer not delivering. 
The way it works is that after you have paid, the funds go into escrow (open orders) in the screenshot above, and once the delivery is confirmed and approved, the funds go to the freelancer.
If there are any disputes, it's handled by the support team… This brings us to the next point.
Industry-Leading Support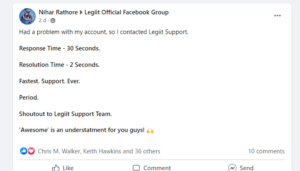 Legiit has an industry-leading support team with fast responses and capable support members that use the Legiit platform themselves.
It can be annoying when the support team isn't knowledgeable enough to offer help. But with Legiit, the support team uses the platform, so that won't be the case.
Community of Over 14,000 Business Owners and SEOs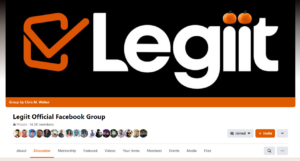 The Legiit Facebook group has a community of over 14,000 business owners and SEOs and is very active.
Not only can you discuss SEO and find the best services or businesses in general, but you can also find exclusive discounts in the group.
I often live stream on Facebook and YouTube to help our customers succeed with Legiit.
Save Orders
You can also easily save your favorite orders and access them easier to re-order them.
A cool feature I like is the ability to save carts so that when you come back, you can easily order multiple services with a click of a button… instead of having to go through and add them all manually.
Legiit Messenger
You can also download the Legiit Messenger app to communicate with your freelancers easily and receive deliverables. This makes it easier to manage your projects or for the freelancer to give a quick update instead of you having to log into the site all the time.
Not Only SEO Services But MUCH More.
Legiit isn't just an SEO marketplace. The initial idea was just for SEO before it launched, but as things evolved, there was a growing interest in other services.
You'll also find services related to:
Writing
Graphic Design
Web Design & Development
Social Media Marketing
Email, SMS, and Chatbot Marketing
Legiit isn't just for services; it also is a platform for course sellers. So you can also find everything you need to learn more and grow in your field.
Some of My Favorite Services from the Legiit SEO Marketplace
Here are some of my favorite services that I've purchased from the Legiit SEO Freelance Marketplace. But, again, the ones shown here are only my favorite SEO ones. There are a lot more too.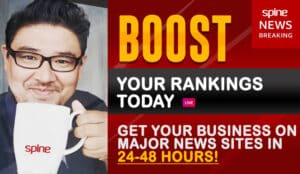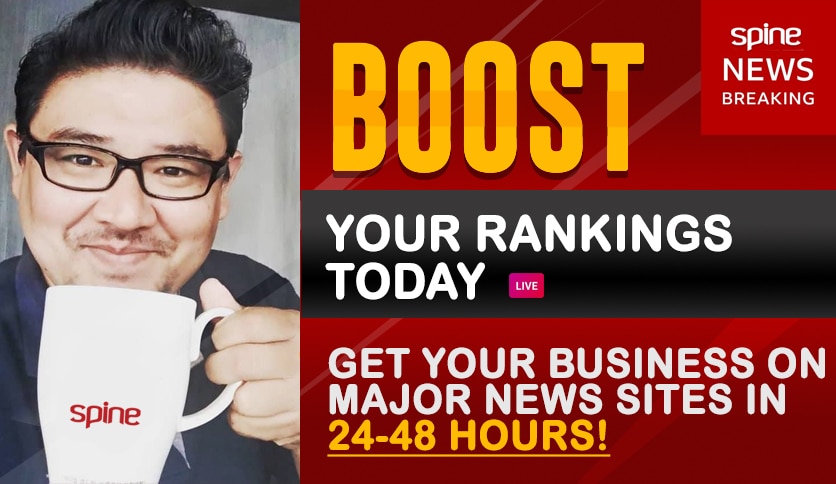 SpinePRs press release service is one that I regularly use. It can help you get press from Yahoo Finance, Marketwatch, and more.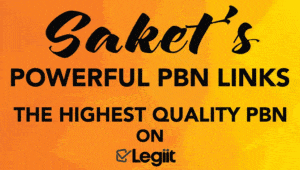 SaketWahi has the best-selling PBN link service on Legiit, and it's easy to see why.
His PBNs have excellent metrics, are a great price, and he delivers them fast.
Additionally, you can also see lasting results from past clients in his service description: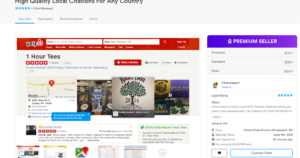 Citations are crucial for local SEO, and CitationExpert does a fantastic job getting high-quality quotations for your business.
He has one of the most popular services on Legiit, with over 3,000 orders, so he can help you get local rankings.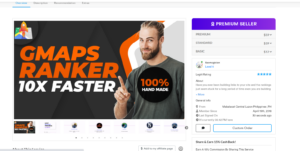 If you want to rank in the local map pack, the GMB MapRanker service by an SEO magician is for you.
It uses a combination of various SEO backlinks and citations to help you rank in the local pack.
I've used this service a few times and have seen great results.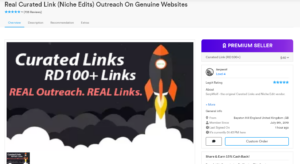 Niche edits are one of the most powerful links you can build.
They involve getting a link on an already established website in your niche, and SERPWolf does a fantastic job delivering them.
The links cost just $40, which is excellent for niche-relevant links with power.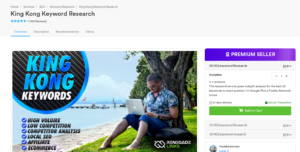 Keyword research is an essential step of SEO, but many business owners don't have the time to open up an SEO tool all the time to find new keywords.
Freddy Edmonds' is an SEO expert and has an entirely done-for-you keyword research service on Legiit.
The service includes:
Keywords with low competition and high search volume
URL suggestions to target the keywords
Competitor analysis
All the data in an easy-to-overview spreadsheet
SEO Influencers Share Their Favorite Legiit Services
SEO influencers like Craig Campbell, Matt Diggity, Greg Ortiz, Barry Page, and more use Legiit for their SEO campaigns.
And don't tell your competitors about this… But Legiit shows you the services they like to use via influencer pages.
For example, here is Craig's influencer page and the services he likes to use: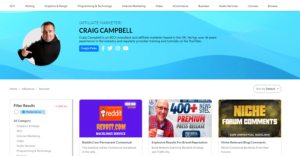 How To Find The Best SEO Freelancers on Legiit
Of course, your needs may vary slightly from mine.
But I want to help you find the right SEO freelancer for your project, so I've put together a few tips to help you out:
Check the Legiit Premier Services
Legiit Premier services are some of the highly recommended freelancers, as vouched for by the Legiit team. They have been tested by myself or the Legiit community and are known to provide excellent results.
For example, I regularly use the Legiit Premier service by Nixon Lee for my PR campaigns which has helped me get some great press like Yahoo Finance, Men's Journal, and more.
Read Reviews
It's always important to get an idea of what past customers say about a freelancer.
In addition, Legiit allows customers to leave public reviews and ratings after working with a freelancer, so be sure to check those out.
Read the Description & Check Case Studies
Legiit is a freelance platform open to everyone; freelancers just starting out and expert freelancers offering higher-end services.
Always read the descriptions carefully if you're interested in some of the higher-end services.
Often, you'll find past results, case studies, and incredible insight that can help you find exemplary service.
Again, compared to most other SEO marketplaces, Legiit gives freelancers much more space within the description to show off their skills. (See example below)
Try to Find Freelancers Familiar with Your Niche
One of the best things to do when hiring a freelancer is to ensure they are comfortable with your niche.
For example, if you're an eCommerce store selling beauty products, try to find freelancers with experience with eCommerce or beauty.
On Legiit, many guest post vendors give your lists of niches they have sites for, so check the description.
Test with Smaller Orders First
You don't have to dive right in with a $1,000 order. You can always try out the service with a smaller quantity and see whether you like the service.
Get Started With Legiit
Below is a step-by-step tutorial to help you get started with Legiit.
The first step is to create a free Legiit account. This allows you to browse the marketplace and communicate with freelancers.
It also allows you to save your orders and offer exclusive discounts from freelancers for re-ordering or buying in bulk.
Figure Out What You Need
Knowing what to order is one of the most critical steps. Unfortunately, many business owners aren't too familiar with SEO, so they call the wrong services…
… Not all links are the same.
… Not all content writing is the same.
Try to analyze the SERP and also analyze your search engine performance.
Browse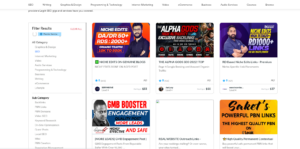 Legiit has many services, from link building to content creation to PBNs. Once you know what you need, browse through the different categories and find exemplary service.
You can also check out the following:
Legiit Premier services
Deals and Discounts
Communicate with Freelancers
Before ordering a service, feel free to message the freelancer and ask for more information or clarification.
This can give you a better idea of whether they are the right fit for your project.
You can also negotiate with freelancers here on Legiit to get a better deal or customize an order to your needs.
Order & Track Progress
Once you've found exemplary service for you, order it and track the progress. Legiit allows you to communicate directly with the freelancer on the order page to keep up to date.
On your "Orders" page, you will see when the delivery is due.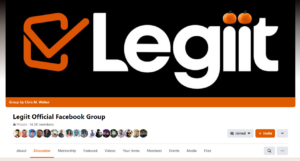 Lastly, make sure to join the Legiit Facebook group. This is an excellent place for learning about freelancing and digital marketing, as well as getting tips and tricks from other Legiit users.
Post a Job or Request a Service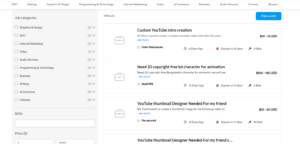 Can't find what you need? No problem.
Legiit allows you to post a job or request a custom service to the community via the Facebook group. You can also negotiate with the freelancer on price and project details.
So what are you waiting for? Join Legiit and start taking your SEO game to the next level.
Why Is SEO so Popular on Legiit?
Before I founded Legiit, my main business was Superstar SEO, an SEO community and service provider.
This meant my network was full of SEO professionals.
Initially, it was only meant for SEOs, but then more and more people started using it, so we branched out into content, graphics, web design, and so on.
But my network was the first to hear about Legiit, and that's why the marketplace is full of the best SEOs, compared to other marketplaces.
Legiit SEO Marketplace For Agencies
Legiit is trusted by some top SEO agencies and has a free program for agency owners.
You can join the Legiit Agency Facebook group here, where we help you find the right services for your SEO agency.
Here's a testimonial of Shannon Pizano who uses Legiit for his clients: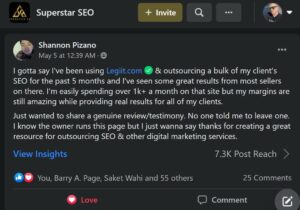 Reminder: Legiit Isn't Just for SEO
We have many digital marketing services, graphic design, content writing, and more. Plus, Legiit lets its users sell courses too.
Some of My Favorite Non-SEO Services
FREE SEO Courses on Legiit
I've also uploaded many of my SEO courses on Legiit for free.
These are great for beginners or brushing up on your skills.
Here are some of the SEO courses you can check out:
SEO Marketplace – Frequently Asked Questions
I also wanted to answer some questions about the Legiit SEO marketplace.
What Is an SEO Marketplace?
An SEO marketplace is a platform where freelancers and agencies offer their SEO services, such as keyword research, link building, website audits, and more.
What If I Can't Find What I Need on Legiit?
If you can't find what you need, you can always post a job or ask in the Facebook group.
We also have a feature where you can request a custom order from any service provider. So you can ask freelancers whether they can provide something more specific first.
What Should I Keep in Mind When Buying Backlinks?
When buying backlinks, it's essential to ensure they are high quality and from relevant sources.
You also want to diversify your backlink profile to look natural to search engines. And lastly, make sure to understand how anchor text works so you don't get penalized.
Can I Also Sell My Services on Legiit?
Yes, absolutely! You can sign up as a service provider and sell your services on Legiit. Plus, we offer perks for top-rated providers and have a program for agencies.
Final Thoughts
I hope you have enjoyed this article about the Legiit SEO marketplace. Remember, we offer a lot more than just SEO services.
So check out the marketplace and see what other freelancers can do for you.
And join our Facebook group for helpful tips to get your site ranked and exclusive discounts.