Sitebulb Review: Everything You Need to Know
Sitebulb is a technical SEO audit tool that crawls your site and provides actionable insights.
But, does it offer enough features to help you improve your site's Google rankings? Is it worth your buck?
You will have to read this review to find out the answers.
By the end of this review, you will know whether the desktop-based site crawler is for you or not.
Let's get started.
What is Sitebulb?
Sitebulb is a desktop-based website technical SEO application. SEO pros use it to crawl their web pages and identify any loopholes and growth opportunities to rank better on the SERPs.
Most SEO tools are web-based; Sitebulb is a little different. You install and use it as a desktop app for your website audits.
Unlike other technical SEO tools like Screaming Frog, Sitebulb is pretty easy to use. If you don't have any experience with the technical side of SEO or are an SEO noob, you'd get the hang of the tool in no time.
First, the right thing would be to download the tool and get its free trial. Test the tool out on your or your client's site.
Let's see how Sitebulb looks from the inside.
Of course, the first thing you do after signing up is to enter the URL of the site you want Sitebulb to audit.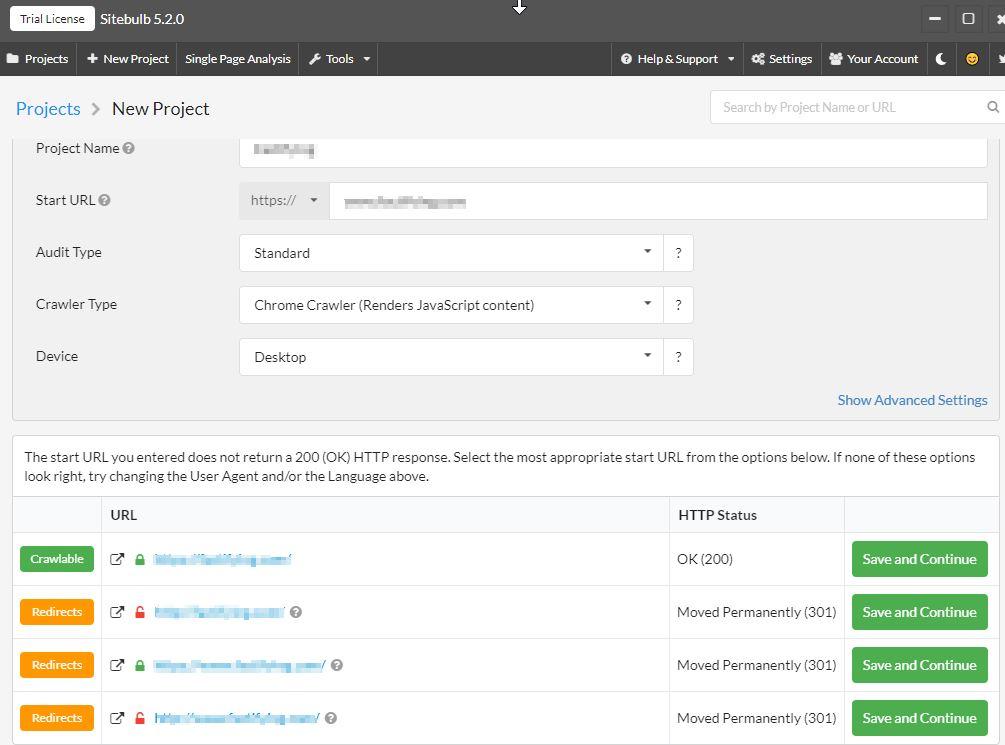 The tool might show different URL variations of your site at the bottom, and that's all right.
Your site's URL has different variations; the important thing is to use a single variation and redirect all others to it.
Now, it depends on you which variation you want Google to redirect to. Just make sure your URL with an HTTPS status is crawlable.
Then, you need to click on "Save and Continue" in front of the crawlable URL.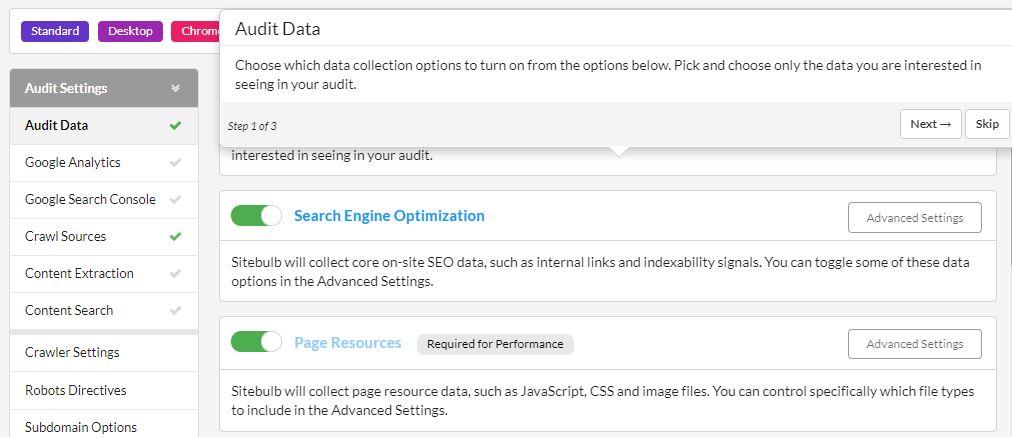 In the next step, you can set your data collection options. This can be anything you want Sitebulb to crawl and show, including:
SEO
Crawl resources
Google Analytics
Google Search Console
And, more
When you are ready for the audit to start, click "Start Now".
This will make the technical SEO tool busy.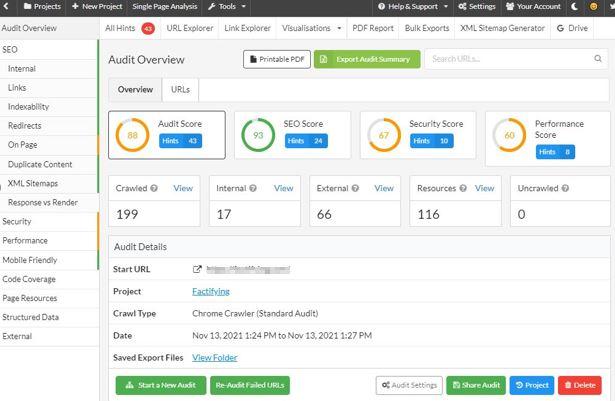 Similar Article – Legiit Leads Review – SEO Leads On Autopilot
On the next page, you will see all kinds of technical SEO data for your website.
The four main Sitebulb scores to optimize are:
Audit Score
SEO Score
Security Score
Performance Score
We will go into further details of every one of those metrics in a bit.
Scroll down a little and you will see your crawled URLs and how far these URLs are from the homepage (crawl depth).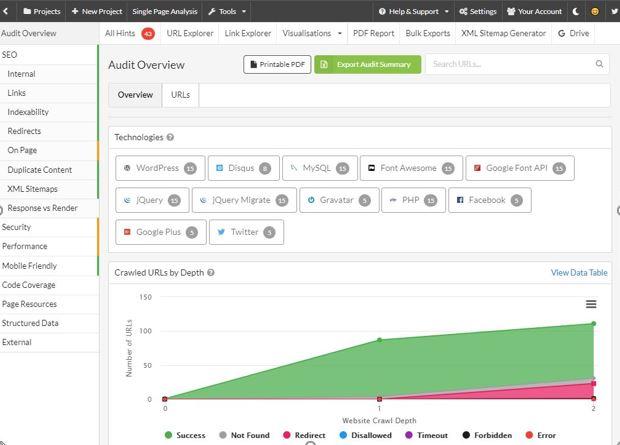 Of course, the lesser the crawl depth is, the easier it is for Google to "crawl" and rank your web pages.
The "Crawled URLs by Depth" overview also tells you which of those URLs are:
Redirected
Forbidden
Disallowed
And, more
Scroll down and you will see the HTTP status codes of your site.

You can then check all the metrics of your site's URLs by clicking on the URL tab to the right of the "Overview" tab.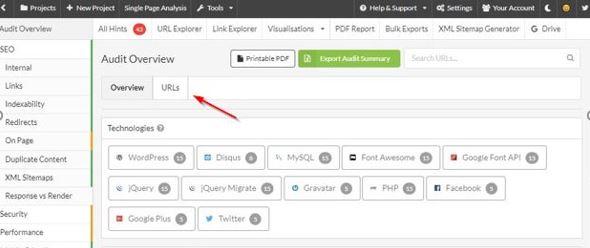 The URL tab tells everything you need to know about your URLs.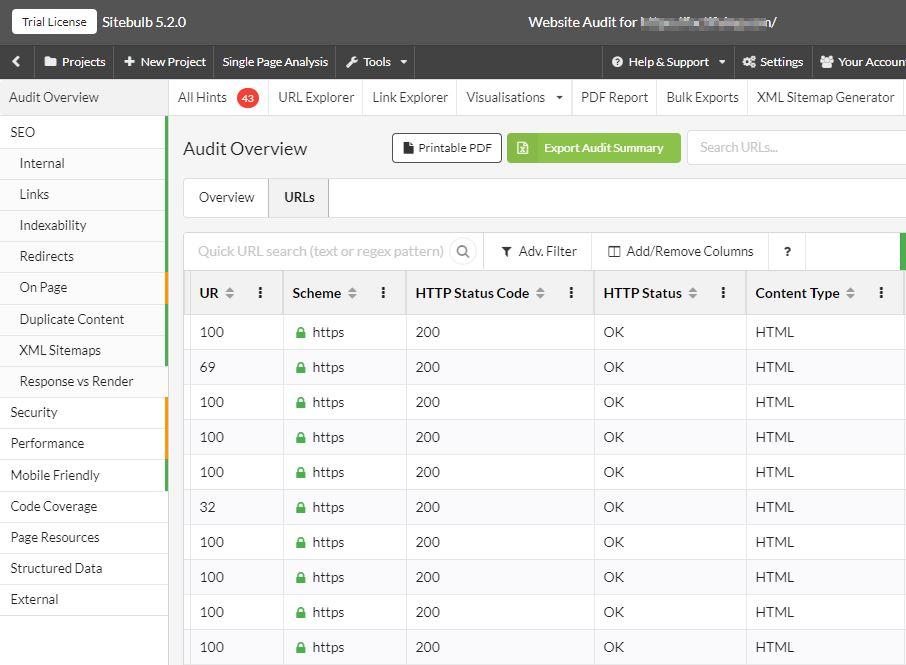 This includes:
UR (URL Rank): Tells you how authoritative a page is
HTTP Status Codes: Whether they are 200 or 301 (permanently redirected)
Titles: A list of titles on your site and their respective word counts
Meta descriptions: The meta descriptions of every page and their length. Remember Google only shows the first 160 characters of a meta description on search results.
Content Words: The number of words for every post
Paragraphs: The number of paragraphs
Sentiments: The sentiment of every post (Neutral, positive, very positive)
Reading Time: The approximate reading time for every content piece
Reading Ease: The ease with which users can read the content of these URLs
Internal Linking URLs: The number of links pointing to that URL
Crawl Depths: The depth of the URLs with respect to the homepage
URL Source
First Parent URL
Sitebulb provides "Hints" for the basic four metrics so that you can improve your site's performance easily.
For instance, you can go to the "Performance Score" in the "Audit Overview" section and see all the recommendations by Sitebulb.
Performance Report
As you can see in the above screenshot, the performance score shows you five types of technical issues with your site, depending on the severity.
Critical
High
Medium
Low
No issue
Of course, you want to address all the critical issues as soon as possible. Then comes "High" and so on.
For instance, here is a critical issue on this site:

The site under audit needs to be using an efficient caching policy. Otherwise, the performance of its pages won't be up to the mark.
As you fix these issues on your site, the site's performance score moves towards the 100 mark.
One prominent advantage of Sitebulb as an SEO audit tool is that it makes a technical audit ridiculously easy.
While other crawlers are nice too, Sitebulb's user-friendliness makes it an ideal software for new bloggers and SEO noobs.
You can do a number of other things in the performance tab of Sitebulb as well.
For instance, the link explorer shows how your site's internal navigation is set up. You can look at site visualization to get an idea of your URLs' crawl depths.
Under "Visualizations", you can see a crawl structure in different forms such as the "Crawl tree".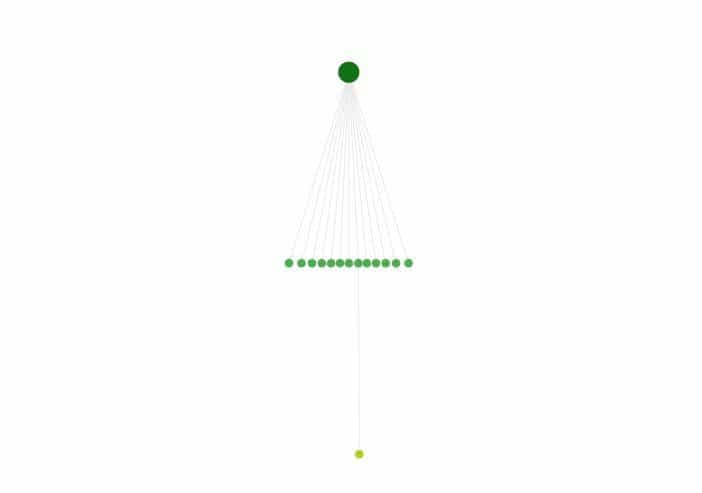 Crawl Tree
Visualization helps you:
Make sure that your priority pages aren't very far from your homepage
Identify whether you have the right internal linking structure or not
Moreover, you could download PDF reports of your site's audit with all the hints and other information and send them to your client or a team member.
You could also create XMP sitemaps with just a click of a button.
Generate XML Sitemap
Similarly, Sitebulb provides an in-depth SEO crawl report with different hints classified as "Critical", "High", "Medium", "Low", "Insights", and "No issue".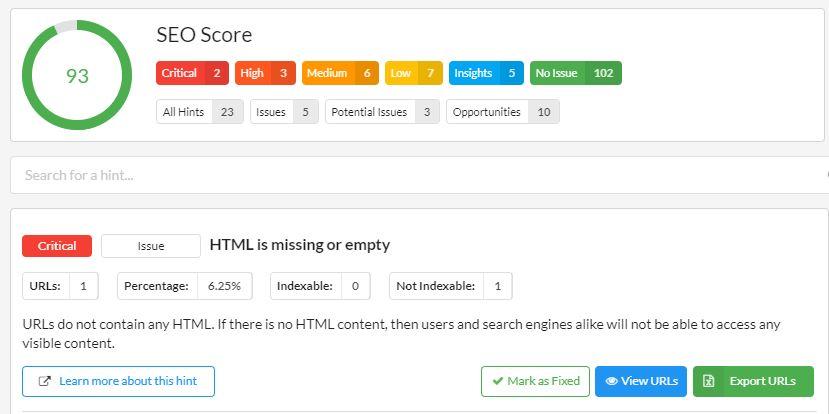 SEO Score
For instance, there are two critical issues to be solved in the above example.
One of them is "HTML is missing or empty", which means that URLs don't have HTML on the page, which can make it difficult for Google and users to see the visible content.
Moreover, mobile-friendliness is something that Google has been giving a lot of importance recently.
And, the way the popularity of this gadget is increasing, it's easy to assume that your site needs to be friendly for mobile users.
Sitebulb's Mobile-Friendly Score is an effective way of knowing whether your site checks all the boxes or not.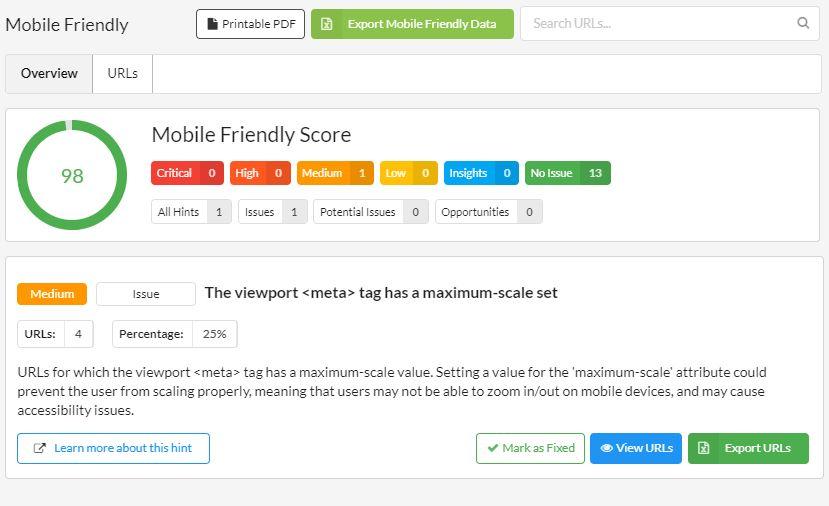 Mobile Friendly Score
Of course, you want to hit that 100 mark if you want your site to be fully optimized for mobile users.
And, you can't afford to avoid the security metrics of your site as well.
Here is how Sitebulb's security score looks like: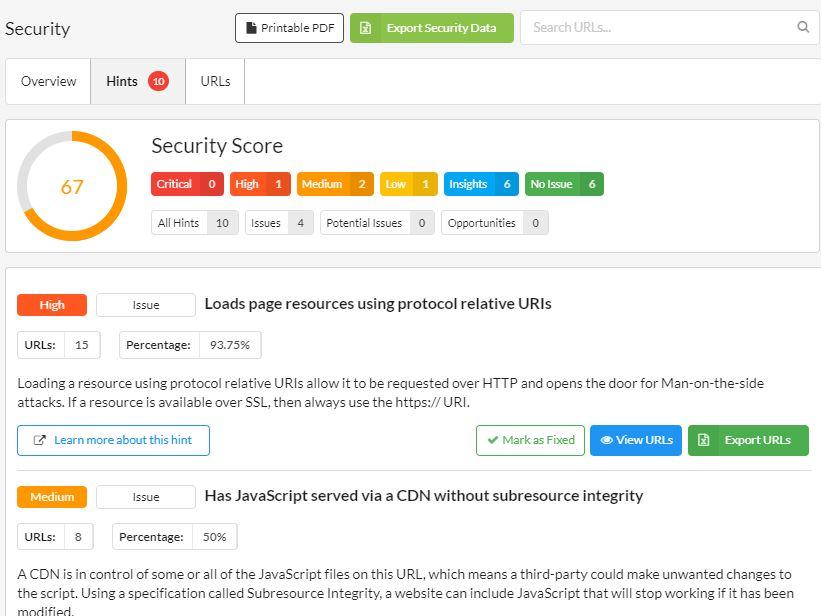 Security Score
Again, the tool provides a simple explanation of the issue and why it's bad for your site.
You probably know that structured data is an important technical aspect of your site. It helps search engines like Google to understand, contextualize, and match your site's content to the relevant search terms.
Sitebulb's Structured Data tab tells you whether your URLs have proper search features and schema or not.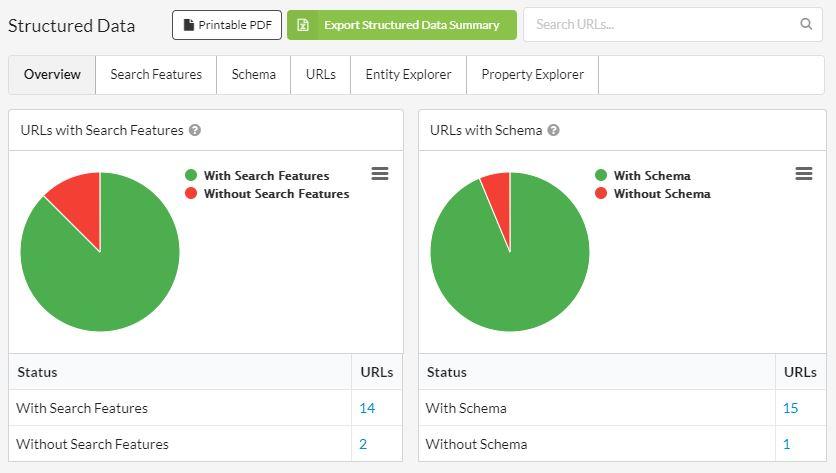 Structured Data
You can even export your audit summary as a CSV/Excel file or Google Sheets to share it with anyone.

Export Audit Summary
You may also like – How To Price SEO Services In Your Agency
How Much Does Sitebulb Cost?
Unlike many other SEO tools, Sitebulb has a pretty simple pricing structure. It can be a little expensive for some users though.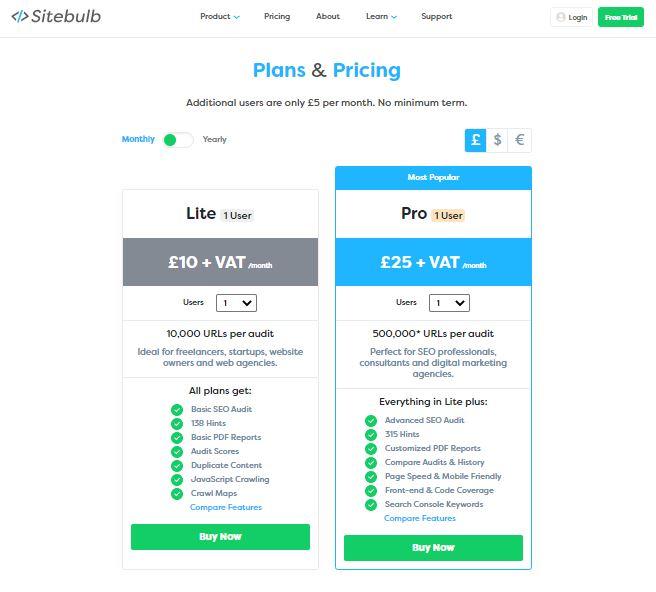 Pricing and Plans
The "Lite" package costs £10+VAT per month while the "Pro" plan comes with a £25+VAT per month pricing.
If you are an agency owner or a consultant, the Pro plan would be a better option for you.
And, if you are a freelancer or a website owner, the Lite plan should be enough. Even though it does come with some limitations like 10,000 URLs per audit.
So, choose either one of them depending on your needs.
Final Thoughts
Sitebulb is an effective technical SEO tool designed to help webmasters rank their site on top of search engines like Google.
It is a desktop-based SEO software that works on both, Mac and Windows.
The technical SEO audit tool can save a lot of your time and money by helping you move your website in the right direction.
Moreover, the technical SEO audits generated by the platform are easy to understand even by SEO newbies.
This is especially true when you compare it with other advanced crawling tools.
Plus, the intuitive visualizations of Sitebulb help you understand complicated SEO problems and effectively communicate them with your team or client.
However, the SEO tool doesn't come cheap.
All in all, Sitebulb is an effective website technical audit tool/crawler with easy-to-use navigation. It provides actionable data/metrics to help you keep your site technically sound.
Related – Screaming Frog SEO Spider VS Sitebulb