There's nothing worse than seeing no gains in your Google rankings or worse when they start to drop off the face of the planet.
You've put a lot of hard work into getting them to where they are in the SERPS, but it doesn't feel like they're going anywhere.
Unfortunately, this is an all too common problem with SEO; it only takes a minor update for everything to turn upside down. But don't panic!
If your rankings are stuck on page two and you can't seem to find your way out, there are few things you can do to give yourself a boost and push your way into the top spots.
Today, I will be talking you through the steps you should take if your Google rankings get stuck.
The majority of the time, if your page isn't ranking, it can be put down to two things:
1. Your on-page SEO needs work
2. You need to work on your off-page SEO
If you're new to the SEO and don't understand the difference between the on-page and off-page SEO, keep reading and let me explain:
What's The Difference Between On-Page And Off-Page SEO?
On-page SEO includes everything you can control on your website; this could be page speed, internal links, or keyword density.
Off-page SEO is the stuff you can't control directly from your website; this includes backlinks and social media.
If you're experiencing problems with any of these SEO factors, you'll endure a stall in your Google rankings.
This article will explain how to identify any of these issues and what you need to do to make them perfect.
The Steps You Need To Take To Increase Your Google Rankings
The key to increasing your Google rankings and reaching the holy grail of the first page is making sure your SEO work is impeccable.But how do you do this?
To make it easier for you to digest, I've put it into a three-step procedure:
Step One – Content Audit
Step Two – Fix your on-page SEO
Step Three – Increase off-page SEO efforts
By completing these three steps, you'll be on your way to ranking success!
Content Audit
The most crucial step of the process is finding out where you're going wrong, which can only be achieved with a content audit.
One of your first steps should be a technical audit, which can be tricky for newbies in the SEO industry.
But there are a few things you can check out yourself, even if you're new to the game. Here are three things I'd check out:
Page Speed
The speed your website loads at has been an important ranking factor for quite some time now, so it's something you need to take seriously.
A slow loading speed can lose your site:
Traffic
Rankings
And conversions.
Ideally, you should aim for the pages to load in under 3 seconds.
The quickest way to check out how your pages are performing is by running it through GTmetrix.
Simply enter your URL into the search bar and click "Test Your Site":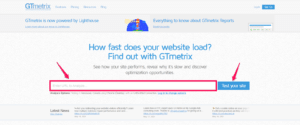 Once the testing is completed, it will come back with your score, which should look like this:
As you can see, my page here is running very well and wouldn't need anything changing. But, if you come back with a low score, you'll have some fixes to apply.
The best thing about GTmetrix is that they tell you exactly where you can improve your score and how to fix it in the summary section.
Go through the list and fix any changes it suggests. If you're still having trouble with page speed, you can use WordPress plugins to speed things up or find a better host.
Related Article: 4 Free Site Speed Testing Tools
Mobile Friendly
Another significant ranking factor is having a mobile-friendly website. If yours doesn't work correctly with mobile browsers, your Google rankings will get stuck or drop considerably.
This is because Google sees mobile browsing as the primary browsing method for users.
If you're not sure how your pages fair in the mobile-friendly category, there's a great Google testing tool for you to use.
Just like Gtmetrix, it's straightforward to use.
Enter your URL and click "Test URL":

It will either come back with a Pass or Fail. If it fails, you know you need to do some work on the page to get everything working the way it should.
Use An SEO Audit Tool
Audit tools are the lifeline of any professional SEO agency. Without them, we have to use experience and a lot of guesswork.
Running your site through SEO audit tools makes your life easier by showing you exactly what problems you need to fix, like:
Broken links
Poor internal linking
Keyword cannibalization
And much more
Check out my article on the best free SEO analysis tools which features some of the best SEO audit tools on the market.
Fix On-Page SEO Problems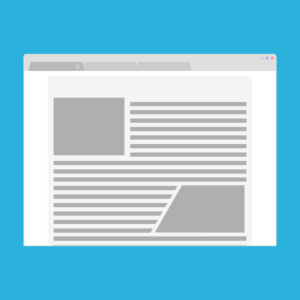 One of the biggest problems I find on my clients' websites is poor on-page SEO. And I'm going, to be honest with you; Poorly executed on-page SEO can have you stuck in a third-page limbo.
There are a lot of factors you need to think about to complete on-page SEO perfection. If you don't want your Google rankings stuck, you need to think about things like:
Content length
Keyword density
Optimized titles
Clean code
internal links
These are just a few of the things you need to implement into your content for on-page success. Here's a complete guide of on-page SEO factors you need to consider.
Increase Your Off-Page SEO Efforts
If you've fixed all the problems in your audit and reached on-page SEO perfection, but your Google rankings are still stuck, there's one more fix.
Backlinks are the key to getting your rankings unstuck.
But here's the thing:
It's not just a case of getting any old link to your page; it needs to be a high-quality link, which means:
It needs to be relevant
Have a high domain authority
And plenty of traffic
If the backlink hits all three of these factors, you've got a strong backlink.
The key to success is building a solid backlink profile with as many high-quality links as possible.
There's no easy way to build backlinks, but my guide on how to build backlinks for beginners is a step in the right direction.
Final Thoughts
Having your Google rankings stuck is a horrible experience, and you end up questioning whether you should continue with your project.
But here's the thing:
By applying the easy fixes I've mentioned above is an excellent step to success. Remember it's a three-step process that involves:
1. A content audit
2. Fixing on-page SEO issues
3. Increasing your off-page SEO
Your success is in your hands; all you have to do is reach out and take it.
You May Also Like: Free Website Traffic