Blogging Vs YouTube: Which One Is Right For You?
Blogging and YouTube both are exceptionally profitable online business models. 
And it's not like you can't work on both at the same time. 
I mean a lot of bloggers are also YouTubers. 
However, the reality is you require a different set of skills for both. 
And both require a lot of time and energy. 
So, it's a good idea to pick one and move forward with focus. 
In this post, I'll tell you everything you need to know to decide between blogging and YouTube. 
Let's jump right in. 
Blogging Vs YouTube: Which One is Right For You?
I'll be talking about both business models in detail. 
By the end, you'd know which business model better suits you and which one's more profitable. 
But, here's the shorter answer. 
If you like writing and don't mind learning SEO, blogging is for you. 
Whereas, if you don't want to write, and like being on camera, start a YouTube channel. 
Keep in mind that you don't have to show your face to be a successful YouTuber these days. 
There's a lot more to know about blogging and YouTube though. 
Let's start with the skills required. 
Blogging Vs YouTube: The Skills Required
As mentioned before, blogging and YouTube require different skills. 
But, remember that these skills are learnable. 
Here are the skills you'd need as a blogger:
Writing Skill
Writing is the number one skill you need to become a successful blogger. 
But, despite what some people believe, you can learn writing as you progress. 
Writing is one of those skills that you get better at with practice. 
Plus, you need to have the habit of reading to be a good writer. 
SEO Skills
Search engine optimization is the next most important skill you need to learn as a blogger. 
Otherwise, no matter how good you write, you won't be able to rank your blog posts on Google and generate traffic. 
Basic Graphic Skills (Optional)
Blog graphics add visual appeal to your content, making it more engaging. 
Plus, images break your text into easy-to-digest parts. 
This retains the visitors on your web pages for a longer time, improving the probability of conversions. 
Let's now talk about the skills required to grow a YouTube channel. 
Video Editing Skills
Video editing is the most important skill you'd need as a YouTuber. 
There are a lot of free and paid video editing software out there. 
You can start with a free one and as your channel grows, shift to a paid one. 
You don't have to be a professional video editor to manage your YouTube channel though. 
Unless, of course, you start a 3D animation channel. 
If you're recording yourself, you'd just be doing small editing tasks to polish your videos. 
However, you don't have to learn video editing yourself. You can just outsource it. 
There's no shortage of freelance video editors who'd be glad to do the work for you. 
Thumbnail Designing Skill
YouTube video thumbnails are super important. 
Other than the video title, they're your only chance to get people to click on your video. 
No matter how good your video content is, if its thumbnail isn't enticing enough, it won't generate enough views. 
Thankfully, designing an eye-catching YouTube thumbnail is super easy these days. 
Online graphic design tools like Canva have made the lives of online entrepreneurs a lot easier. 
You don't even have to design your thumbnails from scratch. 
Canva has tons of pre-designed templates that you can customize to your heart's content. 

But, again, you don't even have to do that if you can afford to outsource it. 
YouTube SEO Skills
Since YouTube is a video search engine, you'd need to learn the basic SEO skills to rank your videos on the first page. 
However, YouTube SEO is significantly simpler than website SEO. 
For instance, you don't have to choose a hosting platform, pick a theme, install any plugins, and worry about the back-end code. 
You just have to pick the right keywords, optimize video elements(title, description, tags), publish great content, and design click-worthy thumbnails. 
Video Recording Skills
Video recording is fairly straightforward. 
But, recording a video for YouTube is a different ball game. 
You need to take care of the lighting and set up a suitable background. 
Plus, your camera settings play a more important role in video recordings than you might think. 
Blogging Vs YouTube: The Equipment You Need
Blogging and YouTube require different sets of equipment. 
Here's what you need as a blogger:
Laptop With a Stable and Fast Internet Connection 
That's it. Literally.
One of the most attractive things about blogging is that you don't need anything except a laptop and an internet connection. 
Of course, your laptop needs to have enough RAM, processing power, and storage space. 
Generally, 8 GB RAM and an i5 processor are enough for blogging tasks.  
But, the best thing is you most likely already have a laptop and an internet connection, which means you can start working on your blog right now. 
Here's the equipment a typically YouTuber needs:
Laptop with Internal 
Of course, you need a laptop to create, edit, and publish videos. 
Needless to say, you need a fast and stable internet connection, too. 
Camera
If you intend to film yourself, you'd need a good camera. 
Thankfully, some smartphone cameras are good enough even for a YouTube channel. 
So, starting with a smartphone camera is a good idea.
But, you might eventually want to shift to a professional one as your channel grows. 
Video Editing Tool
No matter how great your recordings are, you need a good video editing tool to polish your YouTube videos. 
If you're short on budget, start with a free yet effective video editing tool like OpenShot. 
And Camtasia is one of the most popular paid ones. 
Blogging Vs YouTube: Which One's More Profitable?
Let's say your decision of choosing a business model depends largely on how profitable it is. 
If that's the case, you need to know about the different monetization strategies used in both business models. 
Let's talk about the different monetization strategies in blogging. 
How to Monetize a Blog?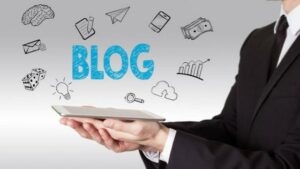 Become an Affiliate Marketer
Affiliate marketing is arguably the most popular way of monetizing a blog. 
This is why most bloggers are also affiliate marketers. 
The cool thing about this monetization strategy is that you don't need to own a product to make money from it. 
All you need to do is create helpful content and get people to buy products through your affiliate links. 
Brands use affiliate marketing to generate more sales and marketers get their pre-decided commissions. 
It's a perfect win-win. 
Let's say a product costs $100 and affiliate marketers get a 5% commission for every sale. 
Generating 100 affiliate sales of that product would mean $500 in commissions. 
What attracts most entrepreneurs to affiliate marketing is that you can pick an already established product and make money selling it. 
As an affiliate marketer, you need:
A niche

A product to sell

A relevant audience
The idea here is to create helpful content on topics around your niche. 
Once you have enough traffic, you can join different affiliate networks. 
These include:
ShareASale

Amazon Associates

Clickbank Affiliate

CJ Affiliate

Rakuten Marketing
Here's something you need to know about promoting affiliate products effectively:
You don't want to "Promote" affiliate products and sound too salesy to your audience. 
Successful affiliate marketers just add a lot of value with relevant, high-quality content. 
Affiliate sales come naturally with great content. 
Ideally, you shouldn't even come across as an affiliate marketer. 
Partner Up With Advertising Networks
You can also generate a steady stream of income by showing display ads on your blog posts. 
Platforms like Google AdSense and Ezoic don't have a lot of requirements.  
You just need to create an SEO-friendly site and publish a few high-quality posts to get approved. 
The cool thing is you can use display ads and affiliate marketing at the same time to maximize your blog income. 
However, keep in mind that display ads can slow your site down, and site speed is now an official Google ranking factor.
So, make sure to showcase banner ads only where they make sense. Don't let them take unnecessary space on your web pages. 
Sell Ebooks
Selling ebooks is one of the easiest ways to generate passive income from blogging. 
It's effective because an ebook doesn't normally cost much. It's fairly easy to sell. 
Plus, you don't have to put a lot of work into creating one either. 
But, how and where to sell an ebook?
You can sell ebooks directly on your blog and keep 100% of the profit. 
Or, you can use other platforms like Podia and Gumroad. 
You can also list your ebook on Amazon Kindle. 
Although platforms like Amazon take a significant cut out of your profits, they offer more exposure. 
But, keep in mind that it's your blog traffic that's going to bring high-quality leads to your sales pages. 
You can also use ebooks to build your email list. 
Just make sure to offer something your audience would want to grab in return for their email addresses. 
How to Create an Ebook?
As mentioned before, you don't have to put in a lot of effort in creating a good ebook. 
Especially because it doesn't need to be a super-detailed, 200-page document.  
Think of it as a long-form blog post packaged as a PDF. 
Alternatively, you can get someone on Legiit to write an ebook for you. 
As for the book cover, Canva's free version will almost always be enough. 
Or, of course, you can hire a graphic designer if you have the budget. 
Create and Sell Courses
The online teaching industry is growing at an astounding rate. 
If you have something valuable to teach, learning enthusiasts won't hesitate to buy your course. 
Most bloggers don't monetize their blogs with online courses because they don't consider themselves experts. 
But, the truth is you can learn most online skills in a matter of months. 
And guess what? You can teach that skill to anyone who knows less than you. 
The point is you don't need to be an expert to help people learn something. 
But, where should you host your courses?
There are essentially two ways to host an online course:
On your own WordPress site

On a third-party site like Podia, Teachable, and Kajabi
With WordPress, you'll have to set up everything yourself, but you'll keep most of the profits. 
And, with third-party platforms, you'll have to share your profit, but the process would be easier. 
Become a Freelance Blogger
Another way to make money blogging is by working with other blog owners. 
Blog owners are always on the lookout for good writers. 
If you understand SEO and can write great content, you can make good money selling your services. 
But, it's not limited to writing only; blogging teaches you a lot of micro-skills that you can sell in the marketplace. 
For instance, you can offer SEO services if you don't want to be a writer. 
Or, maybe you're good at the technical stuff; you can offer technical SEO services. 
A good strategy to get your foot in the door is to offer your services at a competitive price. 
And as you get better at your craft, slowly increase your prices.  
Sell Digital Products
A digital product is anything that can be downloaded onto a computer. 
Ebooks are a good example of a digital product. 
But, there are plenty of other products that sell as digital downloads. 
For instance, if you know how to code, you can create a WordPress theme and sell it on your blog. 
Other popular digital products include:
Software

Graphic templates

Printables

Workbooks

Photographs

Videos

Courses
Build an Email List
A niche-based email list is probably the most valuable asset you can own as a blogger. 
This is because these are high-quality prospects that are genuinely interested in whatever you have to offer. 
And the coolest thing is once you get a decent number of people on your list, you won't have to depend on search engine traffic. 
Not only that, but your email list can be your repeat buyers, whether you're selling affiliate products or your own. 
How Long Does It Take to Monetize a Blog?
As a blogger, you focus on ranking your content organically on the first page of Google. 
And that takes a fair amount of time.
You need to build authority in your industry before expecting to make any money from your blog. 
What this means is that blogging is a business that requires smart work and a lot of patience. 
A lot of bloggers leave this industry just because they're not patient enough. 
And honestly, no one can give you a timeline. 
Your blog could take 6 months to generate its first dollar or it could take years. 
There are blogs that generate a million dollars every month and there are blogs that don't make a penny. 
It mainly depends on your niche selection, SEO strategy, and content quality. 
As far as profitability is concerned, blogging has endless potential.  
But, don't decide just yet. 
Let me give tell you ways to monetize a YouTube channel first. 
How to Monetize a YouTube Channel?
Monetize with Ads
So, the most popular way of monetizing a YouTube channel is by showing Google AdSense ads. 
It's the easiest one too; all you have to do is create great, in-demand content and wait for your channel to fulfill monetization requirements. 
Gone are the days when you could start making money on YouTube right off the bat. 
Today, you have to have more than 1000 subscribers and 4000 total watch hours. 
Here are the complete YouTube monetization requirements: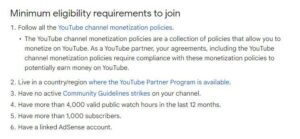 Here's how you can join YouTube Partner Program once your channel meets all those requirements:
Go to your "YouTube Studio"

Click on "Monetization"

You should see a blue button 

Review YouTube Partner Program terms 

Connect your Google AdSense account

Wait. YouTube will send you an email after reviewing your request
Now, YouTube AdSense can be a good source of income, but there are several other ways you can monetize your YouTube channel. 
Let's talk about them. 
Brand Deals or Sponsorship Deals
You can make a lot of money on YouTube by partnering up with brands in your industry. 
All you'd need to do is feature their products in your videos. 
You can even work with multiple brands and maximize your income.
But, some brands might not want you to work with their competitors. 
So, it's a good idea to review all the terms before starting a partnership. 
Thankfully, you don't need to satisfy any criteria to work with brands on YouTube. 
All you need is good content, enough exposure, and an engaged audience. 
Although it helps to have a huge audience, small YouTube channels with niche content can also be highly profitable. 
YouTube Affiliate Marketing
We've covered affiliate marketing in the blogging section. 
But, how does YouTube affiliate marketing work?
The thing is you can promote the same product on your blog and YouTube channel. 
Brands don't generally care which medium you use to generate affiliate sales.
As long as you're adding value and not spamming the audience with links, of course.
Now, how do you get started with YouTube affiliate marketing?
Although there's no shortage of affiliate programs, I'd recommend sticking with Amazon Associates in the beginning. 
It's easier to join and has thousands of easy-to-sell, daily-life products. 
But, where do you place affiliate links on YouTube?
Luckily, you can directly include your affiliate links in your YouTube video description and comments. 
Remember: Only include affiliate links that are relevant to the subject of your YouTube video. 
Also, people don't generally read YouTube video descriptions unless they're instructed to. 
So, you'd need to tell your viewers to check out the affiliate link in the description. 
Lastly, you need to add tons of value before expecting to get any sales on YouTube. 
YouTube Channel Memberships
Channel memberships are another way of monetizing your YouTube content. 
It's just like any membership where your subscribers get special perks and incentives against a monthly fee. 
The amount of a subscription can range from $0.99 to $100 depending on your offer and industry. 
Live Streams
You might be thinking, how can livestreams on YouTube make you money?
In two ways:
Monetize your livestreams with AdSense ads, just like any other YouTube video

Get tips from the viewers during the livestream 
The second method can make you a lot of money if your content is engaging, entertaining, or helpful. 
Your audience can tip you during your livestreams in the form of Super Chats and Super Stickers.
These tips or donations can range from $1 to $500. 
Livestream monetization is generally ideal for creators that have a hardcore fan base. 
YouTube Shorts
So, you might be wondering, are YouTube shorts monetized?
Well, yes, but they're not as rewarding as longer videos on the platform. 
The reason, of course, is the 60-second maximum length of YouTube Shorts. 
It's hard to show ads on such a small video. 
Plus, keep in mind that YouTube Shorts don't affect your channel's watch time. 
So, how do short-form content creators get paid on YouTube?
There's a YouTube Shorts fund and you could get paid up to $10,000 per month if you're eligible. 
But, there's a lot of competition among YouTube Shorts creators. 
Blogging Vs YouTube: Final Thoughts
Both blogging and YouTube are highly profitable business models. 
And there's no limit to how much money you can make with each. 
There are plenty of ways to monetize a blog and a YouTube channel. 
You just have to pick the one you feel more confident about. 
Like writing and willing to learn SEO? Start a blog!
Love to speak and willing to learn video editing? Start a YouTube channel!
Plus, it's not like you can't do both at the same time.
If you can manage, the more income streams the better!