How To Do SEO For a New Website – A Step-By-Step Guide
Search engine Optimization for websites can be pretty overwhelming, especially for new websites.
There are so many technical tasks involved, and just a few mistakes could seriously harm your organic search performance.
Luckily for you, this article will guide you through the entire SEO process for a new website, so you can start generating organic traffic.
Things To Keep In Mind Before Starting SEO for a New Site
Before we dive into the step-by-step process of optimizing, I just wanted to briefly discuss things to keep in mind before starting SEO for a new website.
SEO is a Long Term Process
SEO is a long-term game, and it can take months or even over a year for your website to start seeing results, depending on the keyword's difficulty.
Only 5.7% of all newly published pages will get to Google Top 10 within a year. (Ahrefs)
Most websites start seeing some small traffic increases after a couple of months. However, I just wanted to get that out of the way, so you know what to expect.
The process takes so long because you have to build up trust and authority with Google. The more competitive a keyword, the more trust, and authority your competitors have, meaning you will need more.
But with low competition keywords, the process can be a lot quicker too.
Just don't publish your pages and expect them to rank on the first page the next day.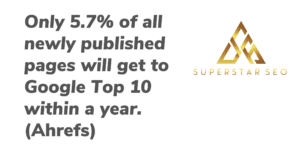 Use an SEO-Friendly Website Builder/CMS
There are endless website builders out there, but the problem is that not all are SEO-friendly. Sometimes, they use certain coding technology that Google won't index, which means you won't be able to rank your website.
Or they also sometimes do not give you enough flexibility or customization, which can make it hard to meet technical requirements.
That's why I suggest researching into whatever tool or CMS you're using and ensuring it's SEO-friendly.
If you would like a recommendation, the WordPress.org CMS is perfectly suited for most websites, and it's also what this site uses.
Don't Blindly Trust 3rd Party Metrics
When we jump into the steps later, many of them involve using tools and looking at metrics from 3rd party tools.
This may be Domain authority, keyword difficulty, etc.
All of these are just 3rd party metrics, so don't take them too seriously. Instead, you should also manually analyze your target keywords.
At the end of the day, you're optimizing your website for Google's ranking factors, not 3rd party metrics.
Understand How Search Engines Work
Many website owners try to jump into SEO without actually understanding how search engines work. This then leads to them targeting unrealistic keywords or having a bad strategy.
In a nutshell, search engine crawlers follow the links around the internet so that when a user searches for a search term, it can present the best matching results.
This is also important for your keywords, as shorter keywords are much harder to rank for. But, we'll discuss this in more detail later on…
It's also important to understand that behind this are search engine algorithms; there isn't the person ranking all the results. That being said, Google does sometimes manually review the results.
Choosing a Domain Name
When choosing domain names for your websites, you'll want to be strategic.
If you can use a domain name that includes the primary keyword you want to rank for, that's great. You can even consider using an Exact-match Domain (EMD).
This gives search engines a clear idea of what your website is about.
It may also be worth checking using a link analysis tool that the domain name you want to pick hasn't been spammed to death a couple of years ago.
This is rarely the case, especially if it contains your brand name, but it's always good to make sure.
With that being said, let's jump into the SEO steps of this article.
Quick Tip: It may be worth taking some notes of the resources mentioned in this article so you don't forget them.
1. Setup Google Analytics and Search Console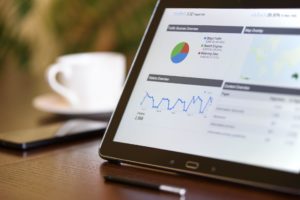 Two places where you'll get a lot of data for your SEO strategy are Google Analytics and Google search console.
Google Analytics will show you insights and metrics about the traffic on your website. And, you can use it to improve your website for your customers which will increase your conversions.
On the other hand, the Google search console will show you insights into your search engine performance.
If you have a completely new site, you probably won't have a lot of data yet. However, it's always good to set this up sooner than later to not miss any data.
Plus, later on, a step requires that you have the Google search console ready.
You can also do the same for the bing webmaster tools, but most SEO strategies like to focus on Google.
2. Perform Niche and Keyword Research
One of the first steps of SEO for your website is to perform keyword and niche research.
This is so you know which keywords you are optimizing your website for to rank in search engines.
Here it's important to look for keywords that connect you with your target audience.
There are many keyword research tools out there, but some of the commonly used ones include:
Keywords Everywhere
Longtail Pro
SEMrush
Ahrefs
As a new website, it's probably easier to aim for "low-hanging fruit" by going for long-tail keywords.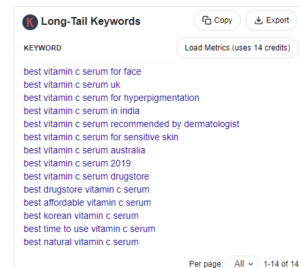 Long-tail keywords are longer keywords with a more specific intent, which are usually easier to rank for because there is less competition.
Below, there's an example of what I'm talking about.
Short-tail keyword: Best speaker
Long-tail keyword: Best waterproof speaker for outdoors.
On the first keyword, you would be competing with every website which has content on best speakers. On the second, you'd only be competing with a much smaller percentage of websites.
Plus, because you know a lot more about what the user wants when they type in a longer keyword, your conversions for that page will be much higher.
A great way to find them is by using a combination of Keywords Everywhere and Longtail Pro.
Then look for keywords where the competitors don't have too many backlinks pointing to that particular page and the domain.
When you create pages on these keywords, you'll find it a lot easier to rank.
If you would like a more detailed guide on finding keywords, you can check out Keyword research made easy.
3. Create a List of Targeted Keywords
Once you have analyzed the competition and found keywords you want to rank for, create a list of them.
From here, you'll want to target one main keyword per page on your website. This will make it easier for you to satisfy the intent of the searcher for that particular keyword.
You can also target other relevant keywords using headings or sub-headings on that page.
For example, let's say your primary keyword is " (Loudspeaker Name) Review," and it has a 900 search volume per month.
But, another keyword is " Is (Loudspeaker Name) Waterproof," with 60 people searching for it.
You wouldn't need a separate page for this; you could add a FAQ section on that page with a sub-heading " Is (Loudspeaker Name) Waterproof."
And, now your website can reach more potential customers with the same page.
What To Include In This List
In the list of pages you create, you can also list the data for each target keyword, so for example:
The difficulty (with whatever score you use)
The Volume
Secondary keywords
You can also find content/editorial spreadsheet templates online, which will make planning your pages easier.
When you create this list, it would also make sense to follow some site architecture.
Your site architecture should reflect the importance of every page and make it easy for the user to access whatever they're looking for.
4. Analyze the Competition
Before you start creating the page content around a target keyword, you must analyze the competition.
One of my favorite SEO tips is simply checking out the search engine results pages (SERP) for the keyword you want to rank for. This will give you most of the answers you need.
Some of the things to look at are:
Wordcount
How they've optimized their text/heading/title tag for the keyword
How they've optimized their images
Then, once you've recognized some common patterns between pages, you can create your pages in a similar way to have a higher chance of ranking.
As you can imagine, this step can be pretty tedious, which is why I created Audiit.io with the help of some of my developers.
All you need to do is type in a keyword, and it will spit out all the information you need to optimize your website.
Currently, I'm running a special deal for new customers, and you can get lifetime access for just $47.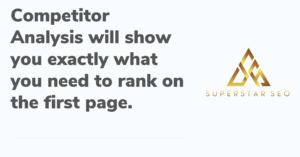 5. Optimizing Text & Headings
While you are creating your website's content, you should optimize your titles and headings for your target keywords.
As a general rule of thumb, you can use the title for the most important keyword and the headings for the less important ones.
For example, if you have a secondary keyword that isn't so important, you may use an H3 or H4 tag.
Many website owners also like to follow certain keyword density rules, but a safer bet is probably to look at what the competition has done. Again, Audiit.io also displays this.
When creating your pages, also ensure that they follow a consistent URL structure.
Optimizing The Meta Title Tag & Meta Descriptions
One important part of on-page SEO for your website is also optimizing your meta titles and meta descriptions.
This is the information that Google shows users before they click on your website.
Your title tag should include your main keyword, as it shows Google what the page is about. Your meta description isn't as important, but it can still impact your CTR (Click-through-rate).
Unlike with title tags, it doesn't matter whether you have the keyword in the meta description, but many website owners like to be sure anyways.
You can use a plugin such as Rank Math or Yoast to do this, allowing you to edit your meta title tags and meta description easily.
Just make sure that your meta title tag and meta descriptions look nice, clean, and match the keyword's intent.
6. Optimizing Images
Just like your title tag and meta descriptions, the images on your website also need to be optimized.
When optimizing your images for your website, the main thing you should be doing is including your target keyword in the alt tag at least once.
Again, if your competitors ranking on the first page have done it a couple of times, you probably should too.
Another thing you can do if you think that visitors may be browsing the image results is throw in a couple of alt text with keywords they are likely using. This may get you some additional traffic to your website, although in most cases, it won't be significant.
7. Getting Technical SEO right
Technical SEO is a part of SEO that many business owners avoid, but you can somewhat simplify it.
Some parts of Technical SEO include:
The big one here is site speed, but the other ones still need to be on-point too.
If you're using WordPress, there are many plugins like WP Rocket that will help you speed up your website. It's also important that you've got some decent hosting too. Otherwise, your site will probably load slowly.
For the other parts of Technical SEO, you can get an audit from your preferred tool. I like to use Sitebulb, but you can use whatever you prefer.
I wouldn't overcomplicate this; instead, just ensure that the audit shows you have a healthy site.
This, combined with an overall good SEO strategy in content, link-building, etc., is the best way to get results.
Some website owners like to put a huge amount of their SEO efforts into the technical parts, but as long as your site ticks all the boxes in an audit, you should be good to go.
8. Strategic Internal Linking
Internal links are a great way to keep readers on your website, and they can also show search engines that you have more relevant articles on the topic.
They also help search engines crawl through your website because links are what crawlers follow. And, if you're linking to a page on your website a lot, it shows search engines that you value that page highly, so they should consider doing the same.
Likewise, if you have a page that isn't so important, you shouldn't waste a lot of internal links on it.
Many SEOs like to follow a SILO structure, which is shown in the image below.

Another good rule for internal linking is to use is to insert them where it might benefit the user. This way, you're keeping it relevant, and you're improving the user experience.
Make sure to use relevant keywords in the anchor texts, so Google knows what your pages are about.
Related (and a real-life example): Internal Linking Best Practises
9. Set up Rank Tracking
If you want to know how your website is performing, you're going to need to track your rankings.
There are various SEO tools out there that can help you do this, and some of the software pieces we mentioned earlier have a feature for this built-in.
Anyways, you'll want to use your preferred choice and set it up so that it tracks your positions for the target keywords.
10. Submit Sitemap To Google
Search engine bots or crawlers will usually find your site naturally, especially if your site is being linked to externally and has lots of internal links.
However, you can speed this process up and ensure that Google will find all your pages by submitting an XML sitemap through the Google search console.
11. Schema
Depending on the type of web pages you have, it may also make sense to use Schema.
This is adding previews on your search results which can increase CTR because it can give the user more information.
Some of the types of Schema available include:
Restaurant/Recipes
Book reviews
Job postings
Datasets
Question & Answer page
Software applications
You won't always need to do this, but it can help CTR alongside having optimized meta titles and meta descriptions.
12. Start Planning your Link-building Strategy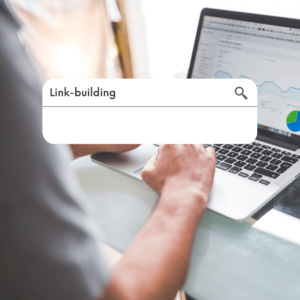 Finally, if you have followed the steps throughout this article, you should have a pretty solid website that meets most technical SEO & on-page SEO requirements.
However, next to content and the technical aspects, one of the most important parts of SEO is backlinks.
Search Engines see a link as a "vote" towards that particular page. Combined with the other on-page SEO and Technical SEO factors, it decides where your page will rank.
If all of your competitors on the search engine results page (SERP) have backlinks linking to them, and you don't, you're likely going to lose out.
Something to keep in mind, though, is that the wrong links can actually harm your site. So, don't go jumping in and buying backlinks from random places on the internet without researching.
Instead, I suggest you read my guide on how to build backlinks for beginners, where I explain some effective strategies that you can apply for your website.
Links can also help you connect with your target audience if they come from websites with content similar to yours.
Final Thoughts
As you have seen throughout this article, there are many little technical tasks involved when optimizing your website for search engines.
That's why it's important to take things one step at a time, especially if you are just getting started with SEO.
Just follow the order of:
Keyword research
Creating Content & Performing On-Page SEO
Making sure Technical SEO is spot-on
Start link-building
But, as it is a long-term process, you'll want to put your SEO efforts into these tasks continuously.
So, keep updating your old content, add more links and ensure that there are no technical issues with your website.
As long as you do this, your organic search traffic should start to rise.
Read More SEO Content & Join The Superstar SEO Community
But, I hope this SEO guide on optimizing a new website for SEO has helped you.
If it has, make sure to check out some of my related guides below.
How To Become a Freelance SEO Expert
SEO 101 For Beginners: A Complete Walkthrough of all SEO steps
Plus, If you would like more SEO tips and news, make sure to join the Superstar SEO Facebook group with over 70,000 members.