You might have heard about reverse engineering a competitor's backlink profile.
But, what if they are leveraging private blog networks to boost their rankings and hiding those PBN links from you?
How do you find those hidden PBN links and replicate them?
In this article, we'll be talking about:
How to hide PBN links from competitors
How you can find hidden PBN links of your competitors and replicate their backlink profile
And, much more
Let's get started.
What are PBN (Private Blog Network) Backlinks?
A private blog network is a set of web pages or domains linking to a single domain for the sole purpose of passing link juice.
SEOs use PBN link building to boost their site's authority.
By using this technique, they aim to have better control over their search engine rankings.
On the flip side, other link-building techniques like broken link building depend on third parties.
By linking these expired domains with your money site, you are essentially transferring most of their ranking power to that site.
But, that can only happen if you hunt and use the right expired domains. Expired domains with high domain authority and trust flow (TF).
SEOs that use this tactic try their best to prevent Google from knowing that their sites are a part of a PBN.
These tactics include:
Registering your expired domains with different registrars
Using different themes or design
Hosting with different companies
Using different domain extensions
And, more
This makes PBNs look like independent sites, keeping your main site in the good books of Google and other search engines.
PBNs are great if they are not caught by Google. Because PBN backlinking is a violation of Google Webmaster Quality Guidelines, your site can end up penalized.
But, SEOs that know their way around use the strategy anyway, especially because it's so powerful.
Why Do Your Competitors Hide Their PBN Backlinks?
One of the most effective ranking strategies SEOs use these days is replicating their competitors' backlinks.
The strategy makes it easier for a webmaster to identify gaps in their competitors' strategies and outrank them in Google.
SEO tools like AHREFS and SEMrush give you a complete backlink profile of a website, making your work so much easier.
So, even if your competitors are using PBNs to rank in Google, you'd know. You can then use similar expired domains and build a PBN of your own.
But, there is a way to hide these PBN backlinks so that these backlink checker tools don't crawl them.
Related – How To Find Expired Web 2.0
How to Hide PBN Backlinks?
Have you ever wondered why someone ranks on the first page of Google without any backlinks?
Now, it's more believable when the keyword they rank for is a low-competition keyword.
But, what if they rank at the top of the first search results page without a single backlink from an authority site?
In such a case, they are most probably hiding their backlinks from popular backlink checker tools.
These could be PBN backlinks that you might want to replicate.
But, how can you hide your PBN backlinks from a backlink crawler tool so that your competitor doesn't get this valuable information?
There are essentially two ways of doing it:
By using the robots.txt file
By using the .htaccess file
Keep in mind that the robots.txt file might not work 100% for every bot.
It's pretty easy though. All you have to do is execute a simple disallow command on your robots.txt file.
As a result, the particular bots that you disallow will not be able to scrape the backlink data from your site.
This will result in your competitors not being able to see the backlinks pointing to your site.
Here are a few examples:
User-agent: SemrushBot Disallow: /
User-agent: AhrefsBot Disallow: /
And, more
But, the robots.txt file might not work all the time, so to make sure these bots don't crawl your site, you can use the .htaccess file as well.
Here is a sample: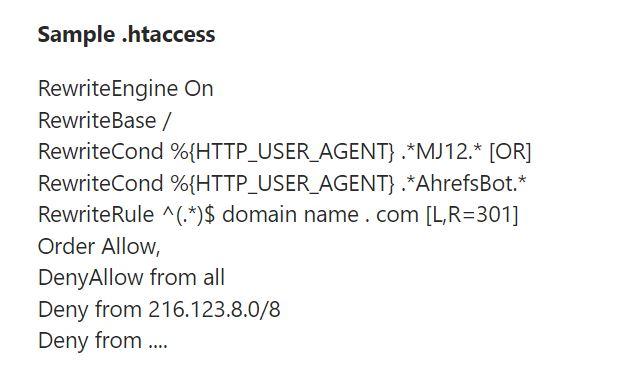 Source: Quora.com
How to find Hidden PBN Links?
Competitors can only block the bots that they know of, right?
They might not know about a few tools that you can use to scrape their backlinks. Maybe tools that are not that popular, but effective?
Unfortunately, there is no other way than to use these tools and see which one can show you the hidden PBN links.
Let's take an example.
John has a PBN setup that's giving his site the boost he always cherished.
He finds out that his competitors can see his backlinks and use his strategies to outrank his site.
He only knows about AHREFS and SEMrush, so he blocks the bots of both tools.
But, you still want to know about John's PBN backlinks. So, here is what you do:
You get a subscription to those tools that are lesser-known.
For instance, Moz.
So, you let Moz scrape those PNB links for you.
Now, John may not know that you've found a way to scrape his site's backlink profile.
This gives you an opportunity to outrank John who is thinking that he has outsmarted you.
Note: The only way to see your competitors' backlinks is by using an online tool. But, there are a lot of tools out there; your competitors won't be able to block all of them.
Let's talk about a few backlink checker tools that your competitors might not have blocked.
Moz
Moz offers effective free and paid SEO tools to help webmasters rank higher in SERPs.
Moz's link explorer tells a lot of things about a website, including its:
Domain authority
Page authority
Spam score
But, we are concerned with backlinks for now.
You can use its Link Explorer to find the PBN backlinks of your competitor's site, unless, of course, they have blocked Moz's bot too.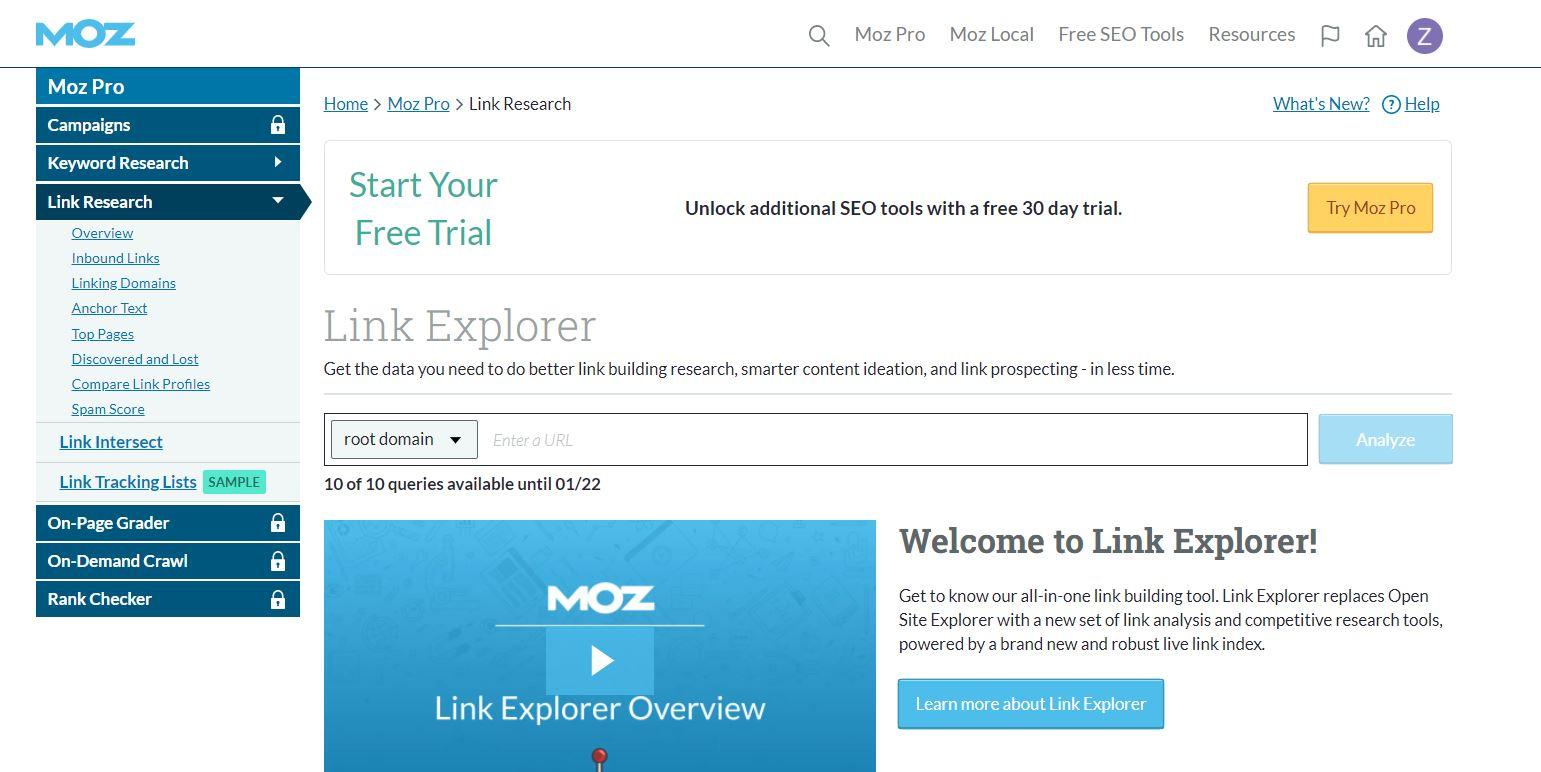 Source: moz.com
The best thing is, you can do a few searches for free. But, if your needs surpass that, you'd have to invest in the tool.
Just go to the site explorer, enter your competitor's domain, and hit "Analyze".
At the left side of your dashboard, you'll see the option "Inbound links".
That's the tab that will give you the complete list of your competitor's backlinks.
But, there might be links that add no to little value. You want to filter them out.
To do that, set the "Link type" to "Follow" and "Link status" to "Active".

Source: moz.com
Moz will now list the websites that are linking to your competitor's site and add real link value as well.
The next step is to export this list of websites into a CSV file.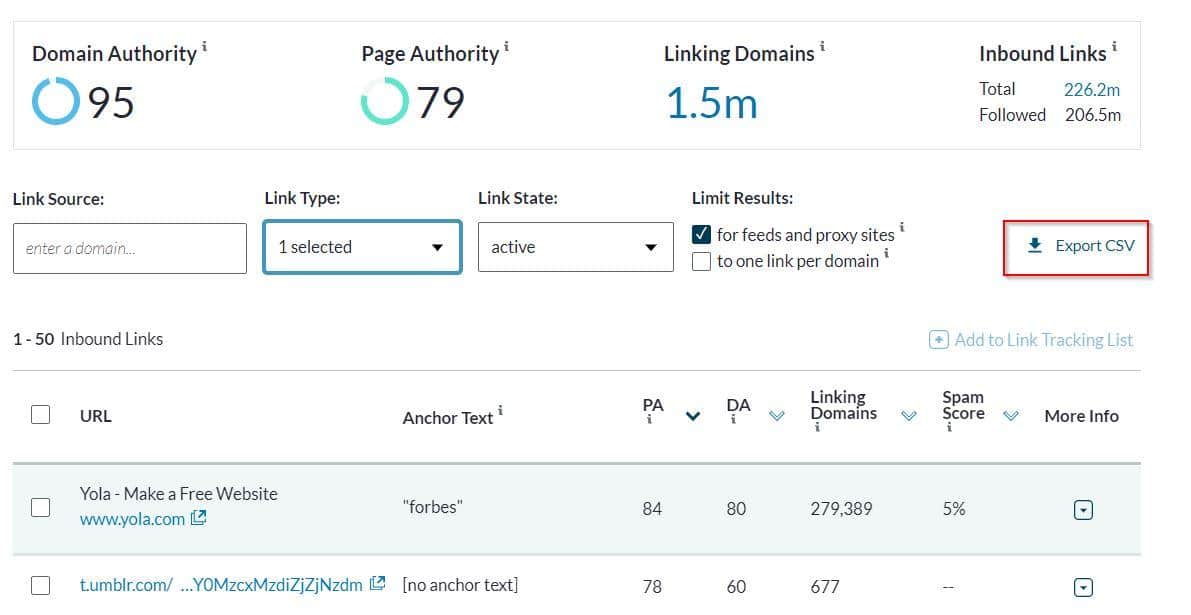 Source: moz.com
Note that you are using the free version of the tool, so it won't show complete data.
To access everything, you can use Moz Pro's free trial for 30 days.
Ubersuggest
Here is another effective and free SEO tool that can help you find your competitors' hidden PBN links.
Ubersuggest is probably the best option if your competitor isn't blocking its bot from crawling their site.
Go to the web page, open the site audit tool, and enter your competitor's site.

Source: neilpatel.com
Click on "Backlinks" and the tool will show a list of web pages linking to your competitor.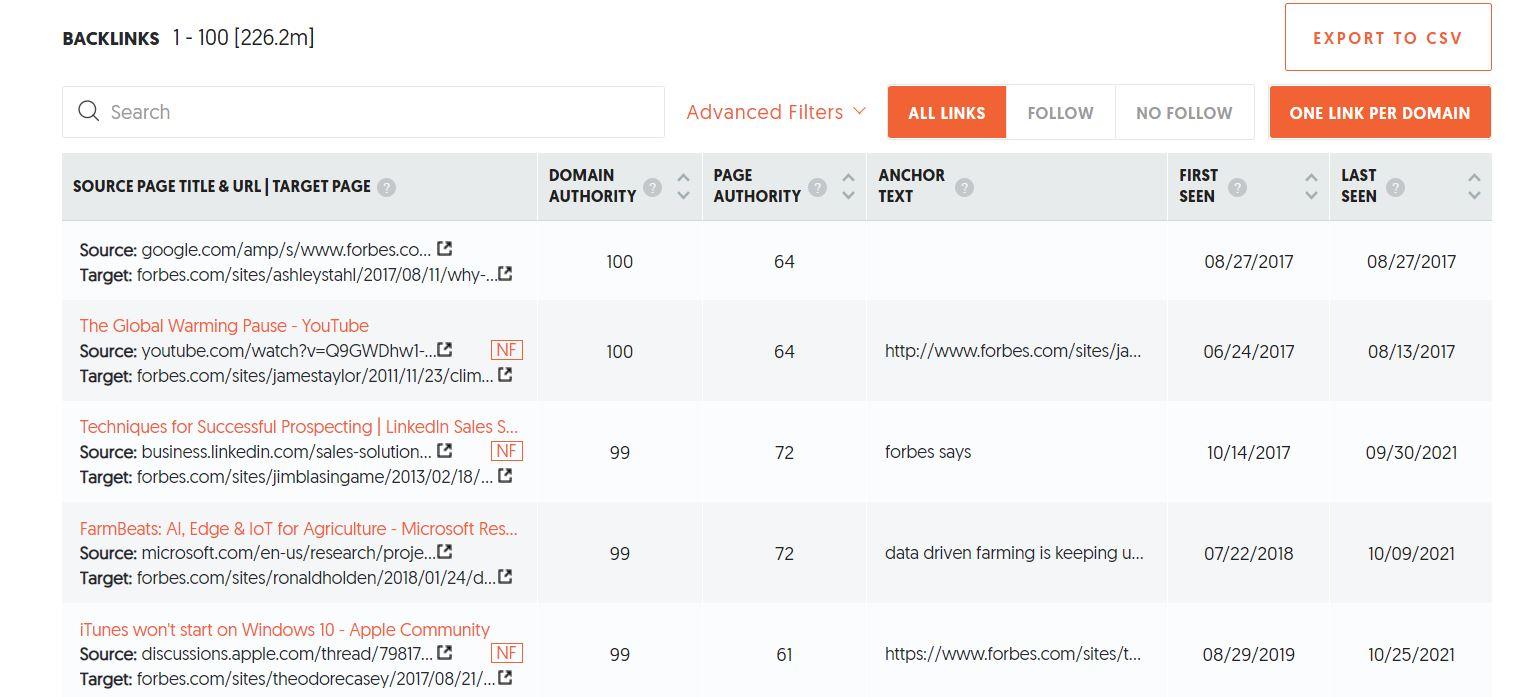 Source: neilpatel.com
You can then export this list and get down to work.
But, wait. You might not want to replicate all of those links.
The "No follow" backlinks don't add much value to a site's ranking or authority.
So, you might want to filter them out.
Ubersuggest makes it easy.
Just select "Follow" and you'll get a list of "Do follow" backlinks to that competitor's site.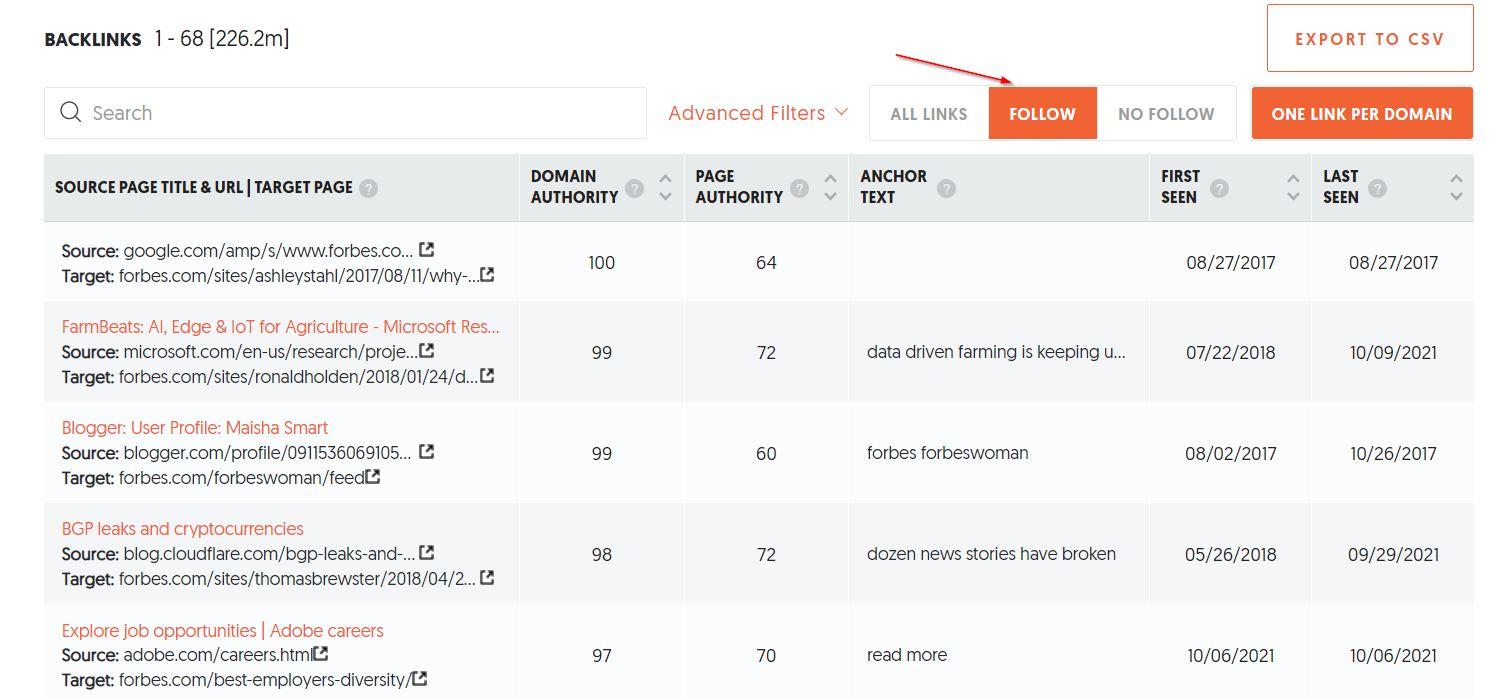 Moreover, you can even filter these backlinks on the basis of referring domain, exact matching, and more.

Source: neilpate.com
But, on a free Ubersuggest account, there is a limit to how many sites you can analyze and how many backlinks you can get.
You can do 3 daily searches
You can get 100 backlink results per search
But, the good thing is, you can get all the data by getting your hands on the 7-day free trial of Ubersuggest.
We'll talk about how you can evaluate those links in a bit.
Let's talk about another free online tool that can help you spy on your competitors' PBN backlinks.
Similar Article – How To Find Expired Domains for PBN
WebCEO Backlink Checker
Your competitors might be hiding their PBN links from popular backlink scrapers like AHREFS, but they can't hide them from every tool.
The WebCEO backlink checker lets you analyze your competitors' backlinks with ease. This means you can find their PBN links even if they hid those links from other bots.
Just go to the tool, enter your and your competitor's domain, and start comparing the backlink profile.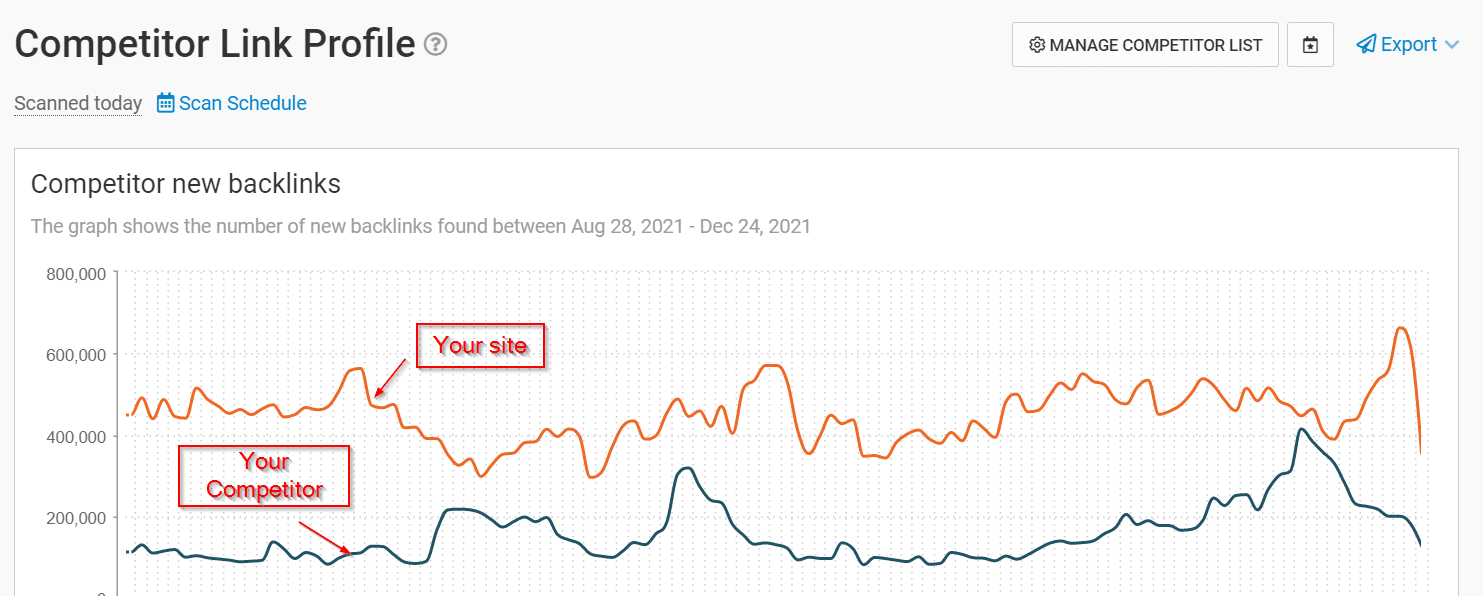 Source: webceo.com
Click on "Competitor Backlink Spy".

Source: webceo.com
You'll get a list of do-follow backlinks of your competitor.
Notice that the tool is also showing the trust flow of every domain linking to your competitor. Nice!
Although you might want to invest in MajesticSEO for accurate Trust Flow metrics, this free tool gives you a good idea as well.
But, like any other software, you don't get everything for free.
Mangools Link Miner
Source: linkminer.com
Mangools link miner is another tool you can use to find competitors' hidden PBN links.
While it might not be as popular as other link crawlers, it gets the job done.
The good thing is, you can get a 10-day free trial without having to enter your payment details.
However, after the 10-day period, you won't be able to use the tool on that particular email address.
How to Analyze Hidden PBN Links?
After finding the PBN links that are passing authority to your competitor's website, you'd need to analyze them.
Check Domain Authority and Page Authority
One of the most important factors to look at is the domain authority.
There are several free tools to check the domain authority of single or bulk domains.
Here is one of them.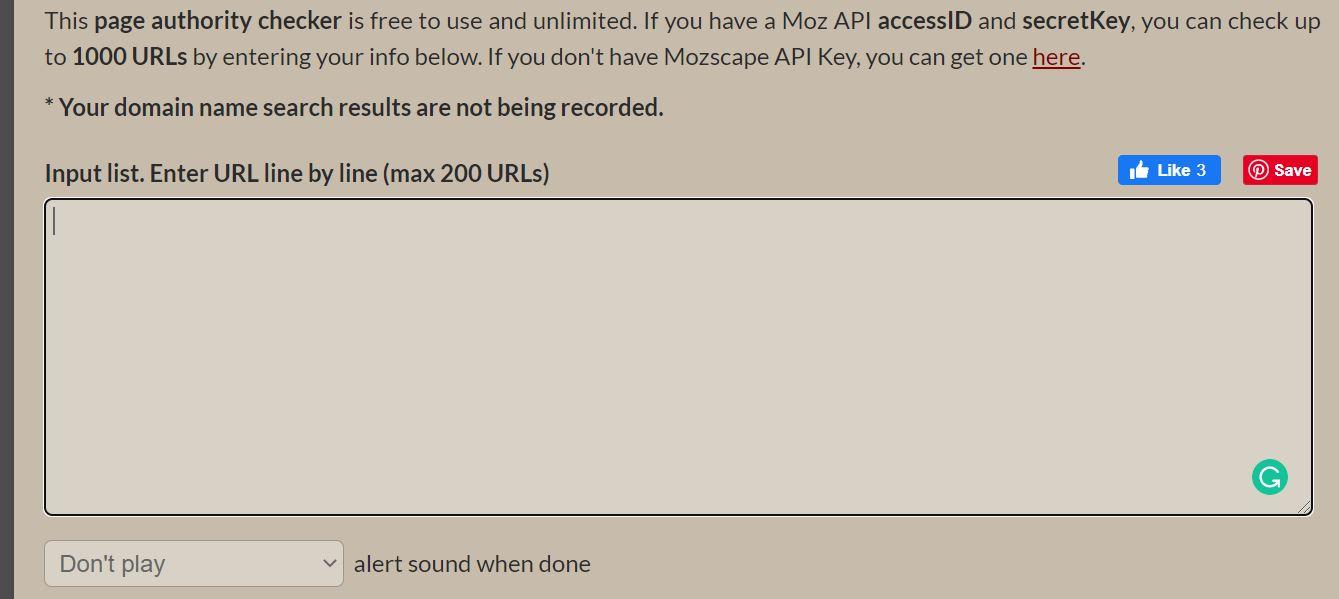 Source: bulkseotools.com
Finding out the domain authorities of your competitor's hidden PBN links will let you build a PBN with similar or higher-quality links.
You might not even have to use a separate DA checking tool as many backlink crawlers show that information, too.
Let's take a look at another important metric to check.
Check Trust Flow
Trust Flow is a metric designed by MajesticSEO, a third-party SEO tool.
The metric tells you the trustworthiness of a domain name.
It's the quality of the backlinks pointing to a particular domain. So, the higher the Trust Flow of a PBN link, the better.
Why Should You Find Competitors' PBN Backlinks?
Think about a keyword that you'd want to rank for on Google's first page.
Now put that keyword in Google search and observe the first page results.
Those are your competitors that you want to outrank.
But, that's not as simple as writing a blog post around that keyword.
Backlinks play an important role in search engine rankings. They build your site's authority.
So, in order to outrank those first-page competitors, SEOs reverse engineer their backlinks.
Webmasters tend to hide their PBN and other backlinks to prevent competitors from doing just that.
Finding those hidden PBN backlinks of your competitors is important because otherwise, it'd be pretty tough to outrank them.
Once you find the hidden PBN links on your competitor's site, you want to replicate them.
SEOs that leverage PBNs create higher-authority backlinks to outrank that particular competitor on the SERPs.
The benefit of Finding Your Competitor's Hidden PBN Backlinks
Let's face it. You can't expect to rank on Google for competitive terms without high-quality backlinks.
Finding and replicating your competitors' hidden PBN links can help you outrank competing web pages.
Otherwise, you'd be taking a shot in the dark; it would take much longer for you to outrank them.
Frequently Asked Questions
What are Hidden PBN links?
Hidden PBN links are private blog networks that a webmaster hides from backlink crawlers like AHREFS and SEMrush.
Smart SEOs try to keep their strategies secret; it helps them retain their search engine rankings.
How Do Webmasters Hide Their PBN Links?
Any website owner can hide backlinks coming to their site by including a few lines of code in their robots.txt and .htaccess files.
Hiding PBN backlinks isn't as difficult and you can do it too.
How are PBNs Built?
A PBN has multiple high-quality domains pointing to a single site, transferring link juice and helping its search engine ranking.
But, you can't just buy any domains from the internet and create a PBN out of them.
These links should have a high domain authority and Trust Flow.
New domains don't have any authority, so even if you linked many of them to your main site, they won't make a difference.
You could wait for your PBN links to grow organically and build authority over time.
Although this would eventually help your main site's ranking, it'd kill the purpose of ranking your site quickly.
This is why SEOs buy expired domains with high domain authority and trust flow and create PBN links with them.
Domains expire when owners discontinue paying for them. These domains gather backlinks over time and build their authority with Google.
So, a PBN is mostly a combination of high-quality expired domains linking to a site to boost its SEO value.
How to Find Hidden PBN Backlinks of any Competitor?
Ever since SEO tools came into existence, webmasters have been trying to spy on their competitors to get ahead of them.
These tools use a bot or a crawler to scrape the backlinks of any competitor.
Smart SEOs block these bots in their robots.txt file or the .htaccess file.
This way, when someone analysis your site, they don't see any backlinks pointing to it.
But, as you have to block every tool's bot individually, your competitor will most likely miss a few tools.
Or, maybe they don't know about all the backlink scrapers in the market?
That's the loophole that you can leverage to find hidden PBN links of your competitors.
Can Search Engines like Google Crawl Hidden PBN links?
Webmasters hide their PBN links to prevent third-party backlink crawlers from scraping their backlinks data.
So, yes, search engines can crawl hidden PBN links.
Final Thoughts
This was all about how to find hidden PBN links.
Competitor research is an important part of any SEO strategy, and it's incomplete without backlink analysis.
Backlink crawler tools like AHREFS give you a list of keywords for any website, making it easy for anyone to replicate any site's backlinks.
Smart SEOs tend to hide PBN backlinks to prevent competitors from reverse engineering their backlinking strategy.
They hide these links by blocking bots of popular backlink scraper tools like AHREFS and SEMrush. Fortunately, you can use other tools that are not so popular to get the information.
We've talked about some tools that you can use to see the hidden PBN backlinks of your competitors. But, these are not the only ones; you can explore more until you get what you want.
You may also like – Expired Domains – Everything You Need to Know in 2021