6 Best Affiliate Marketing Courses (In-Depth Look)
Success in any business is brought by good decision-making. The same applies to affiliate marketing.
One of the best decisions you can make is to enroll in affiliate marketing training as an affiliate. It gives you a better understanding of the affiliate marketing industry, the methods that work, and those that do not.
As a beginner affiliate marketer, it is true that taking a course can boost your efforts in becoming a wealthy affiliate someday.
But what happens when you can't afford the courses offered by industry experts?
Utilize free resources online. Yes, you can build a super affiliate system with the help of free materials online. And not only that, you can even start affiliate marketing without a website by using other affiliate channels like social media.
Nonetheless, if you're looking for the best affiliate marketing training to take, your search ends today!
How to Find the best affiliate marketing course
It is no secret that the quality of learning is not uniform across all affiliate marketing courses. Some will offer you real value for your money, while others may not. Before you enroll in any course, consider the following factors.
Course Instructors
As a rule of thumb, enroll for courses where the instructors are known leaders in the affiliate industry.
It only makes sense after all – Why would you want to be trained by someone that has not achieved any success for themselves?
However, it is essential to note that courses offered by the top minds in any industry tend to be expensive, so be prepared to dig a little deeper into your pocket.
Resources offered in the course.
The best thing about affiliate courses is that they provide an overview of the learning materials offered. It is only wise to ensure you've read the course checklist to determine whether or not you will benefit from that specific course or not. Otherwise, you will pay for a course only to end up finding that the training only entails stuff you already know.
Recommendations 
What do people have to say about the course? Do most affiliate marketers recommend it?
One of the best ways to determine if you should purchase something is by checking reviews from previous customers. It allows you to get a clear picture of what to expect, other than what the course copy sells.
The Best Affiliate Marketing Courses 
SuperstarSEO Academy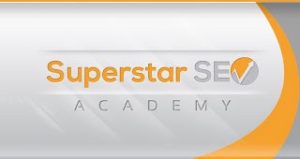 Overview:
Instructors: Chris M. Walker, Jeff Coseo, and Jim Sabellico. Three veterans in SEO, web design and digital marketing.
Cost: $69 per month or $697 one-time
If you're looking to use SEO to promote your favorite affiliate products, then SuperstarSEO is an excellent choice. While the course is not marketed as an affiliate marketing course, it covers Affiliate SEO thoroughly.
You'll learn how to optimize and rank an affiliate site so that you can generate traffic to your affiliate products. The cool thing about SuperstarSEO Acadamey is that it's not only an affiliate marketing course.
This means you'll also learn how to get clients and do SEO for them, which you can charge $1000-$10,000 per month for. Not bad, right?
Plus, it also covers E-commerce SEO, meaning you can use these methods if you ever choose to start an e-commerce store. You can also get access to some of the free training using the link below.
You can join the SuperstarSEO Academy here.
Pros

Cons

Created by industry experts

You'll learn more than affiliate marketing (giving you more opportunities)

You'll get access to a private Facebook group

Flexible pricing
You also get 1 year free of audiit.io

Not focused on affiliate marketing as much

 
The Authority System by Authority Hacker (TASS)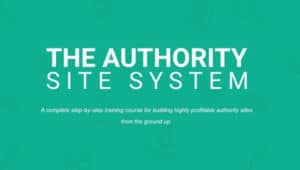 Overview
Instructors: the course is offered by Gael Breton and Mark Webster. Successful online entrepreneurs who've been in the game for over a decade.

Price: $990 regular price with lifetime access.
The Authority Site System is one of the best courses in the market, if not the best. It offers a comprehensive study covering everything involved with building high quality affiliate websites, creating an effective affiliate business model, and affiliate marketing SEO.
A brief overview of their course content shows that the course offers more than 200 videos of content, copy and paste templates that you can use on your authority sites, and a chance to connect with other successful affiliate marketers in their community.
Another good thing about this course is that they do offer a 30-day money-back guarantee! A promising sign that they believe in the product they are selling.
Pros

Cons

Created by industry experts

In-depth learning

Offers a money-back guarantee

White hat techniques

It is expensive for beginners

 
You May Also Like: Best Affiliate Programs For Beginners In 2021
The Affiliate Lab

Overview
Instructor: Matt Diggity

Price: $997 if you decide to pay once or pay $597 in two installments.
The Affiliate Lab by Matt of the famous Diggity Marketing offers invaluable affiliate marketing mastery lessons that most affiliates do not.
The course is built upon tests and trials on hundreds of websites that have turned out successful. As a result, the learning provided allows you to build an affiliate marketing business without the hurdles that come with trial and error.
The course entails 24 hours of training with over 160 videos of content covering niche selection, keyword research, and link building. You also get access to templates and tools that you can use in your affiliate business – the same tools Matt uses in his agency!
Pros

Cons

Offered by an industry expert

Value-packed course

Hundreds of case studies to learn from

You get free access to tools and templates for your use
Passive Income Geek
Overview
Instructors: Morten Storgaad

Price: $299 in your first year and a $99 annual renewal fee
Unlike other courses on our list, Passive Income Geek focuses majorly on income generated through ads. One of the offers included in this course is instant access to Ezoic right from the beginning. On normal occasions, you can only join Ezoic once you attain 10,000 monthly page views on your website.
Morten offers a 30-day money-back guarantee and a relatively low price point, making this course a good alternative for those looking to find a budget-friendly course.
Pros

Cons

Affordable compared to other top courses

Easy to follow learning

A unique approach not offered by others

Instant access to Ezoic

It is relatively new, which means it has few case studies to prove its success.
Udemy Affiliate Marketing Courses 
Overview
Instructor: Multiple

Price: $12-$200 ( not fixed)
Udemy is a renowned learning platform that connects tutors and learners from around the world.
Notably, the affiliate courses offered on Udemy have garnered hundreds of thousands of students collectively, which is quite impressive.
However, considering that these courses are 100 times cheaper in some cases compared to Authority Site Systems and The Affiliate Lab, it is normal to see a massive number of learners.
Can you succeed with Udemy Affiliate courses?
Yes. However, it may take enrolling in more than one course for you to get complete mastery of affiliate marketing as most courses only focus on one area of affiliate marketing. 
Pros

Cons

Affordable

A large pool of instructors

Amazing discounts offered

Most instructors are not industry experts

Content in most courses is too thin
Related: Is Affiliate Marketing Dead? 
Project 24 by Income School

Overview
Instructors: Jim Harmer and Ricky Kesler of Income school

Price: $449 for the first year, and an annual renewal fee of $199 currently
Project 24 is an excellent course for you if you are looking to start building niche websites that rank and make massive passive income. Jim and Ricky have had great success building niche websites, which shows that their teaching methods do work.
However, it is essential to note that this training program is quite different from others in two ways;
Jim and Ricky disregard the use of premium keyword tools terming to be inaccurate and useless.

The course instructors also do not advocate for any form of link building. To them, link building is a spammy practice that's not fit for the success of niche websites.
These two controversial ideas have raised several concerns about their quality of training in their project 24 course.
However, with the success they've achieved doing niche websites, it is fair to say whatever methods they use are working for them and the thousands of students trained.
Pros

Cons

The course gets updated every year

Taught by industry experts

The renewal fee is a turn off considering other courses update their curriculum at no cost.
Decision Time 
That's it, our list of the best affiliate marketing courses in the market. We haven't exhausted all the online affiliate marketing courses, but the ones listed herein are some of the best. 
As you decide on which course to take, also focus on finding the best affiliate marketing tools to use and strategies that will allow you to increase your affiliate sales over time.